Part 4
If you're just joining us, you have some catching up to do! Check out Part 1, Part 2, and Part 3!
And if you'd rather just watch "the movie" – then go for it!
Day 6: Santorini
We awoke on day six anchored about a mile offshore in the Santorini caldera. If you look at Santorini on a map, it's a crescent shaped archipelago, flanked by several islands with sheer cliffs on their inside rims: evidence of the ancient and now-dormant volcano which collapsed into the sea long ago. What's left is a burnt-umber thrust of land that juts half a mile skyward out of the cerulean waters, flanked by beaches of all colors.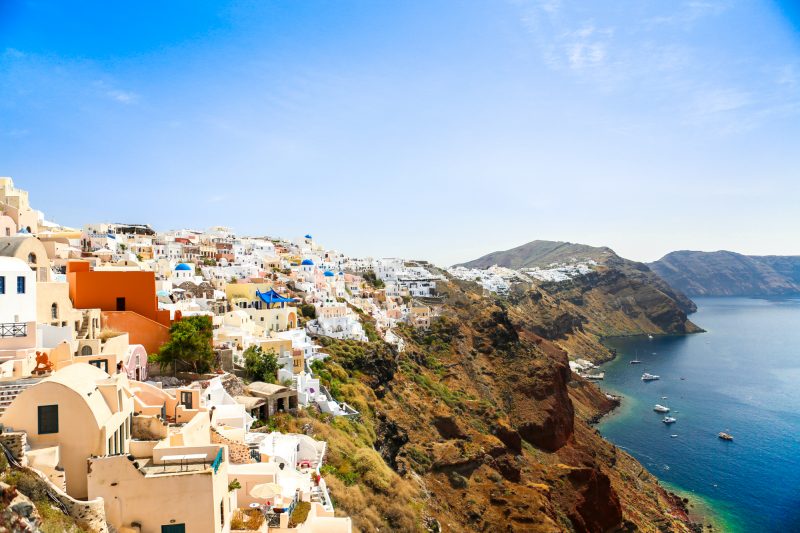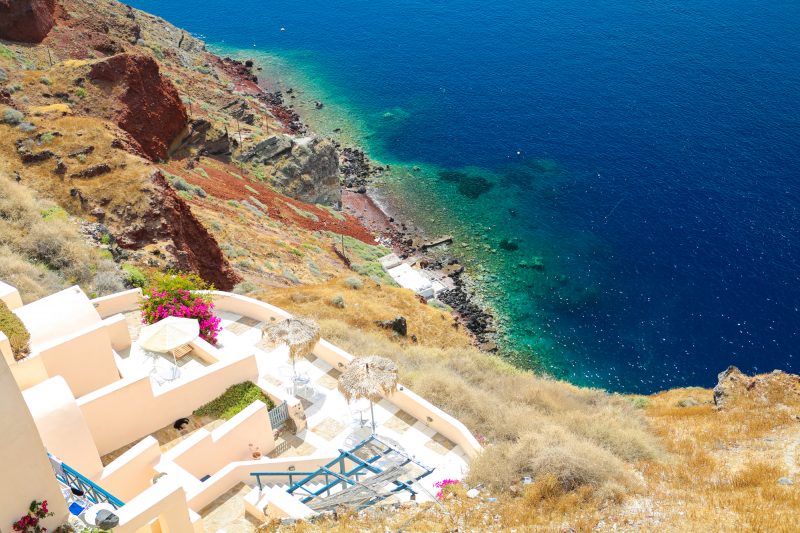 Our goal of the day was to make it to Oia at the northern tip of Santorini. If you've ever seen a postcard of Greece, there's a strong chance it was taken here: White washed buildings on cliffs overlooking a deep blue sea, blue church cupolas, blue skies. It couldn't possibly be more picturesque.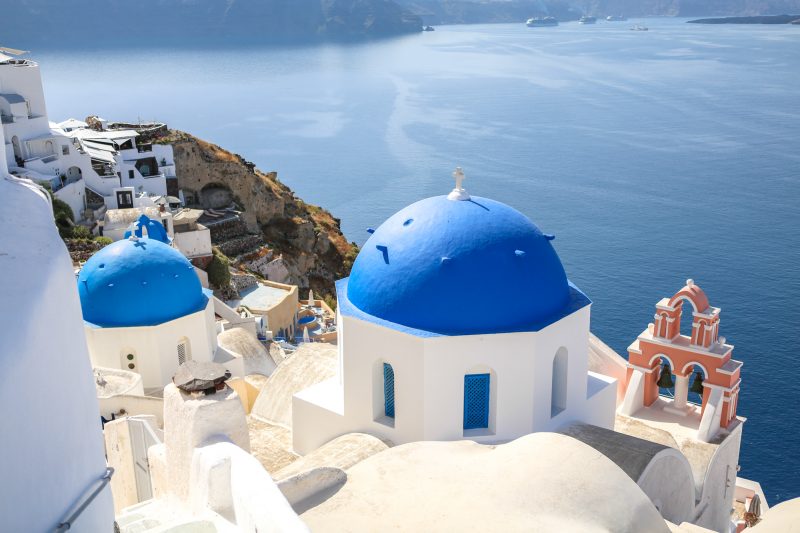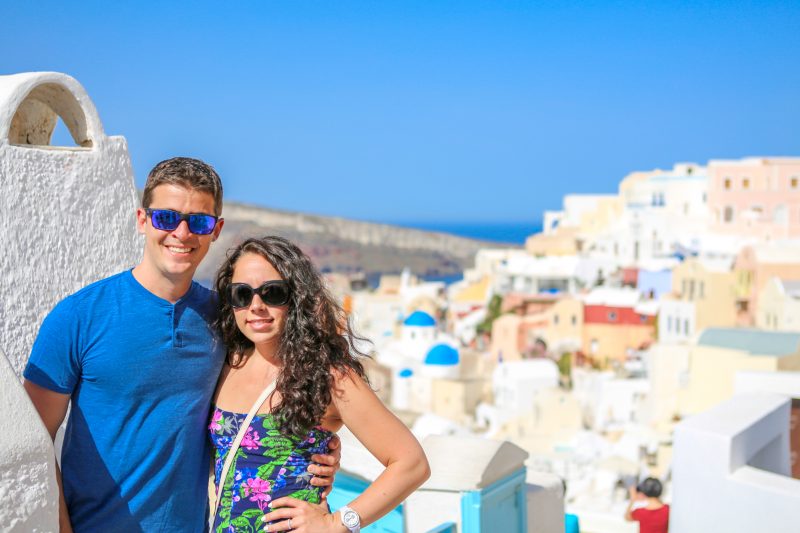 The reason for the buildings being white is that the pigment somehow helps purify the rainwater, but it also helps with keeping the buildings cool in the staggeringly hot Mediterranean sun. Although some say that the blue and white motif is a tribute to the Greek flag. Whatever the reason is, Oia is Greece's postcard image to the rest of the world.
Being there in person is so much more beautiful. The town was built long before cars, so the cart paths are too narrow to let any vehicles pass. This makes for one of the most intimate and unique urban experiences any of us have ever had. In fact, it wouldn't be until the last day of the trip in Pompeii that we would experience something similar.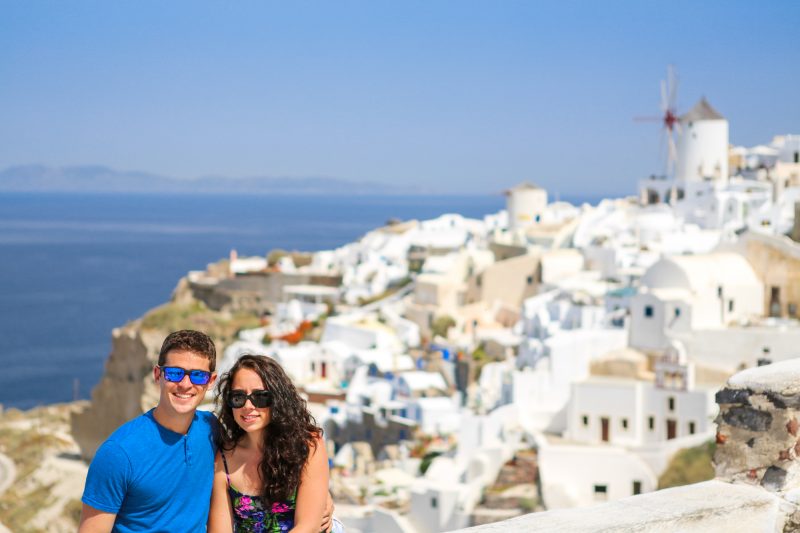 As with other ports of call, we did our homework on places to eat prior to our arrival. According to a few of Nellie's friends (or co-workers, I can't remember), we HAD to go eat at Dimitri's Fish Taverna on Ammoudi Bay, below the town of Oia. You can take a cab there, OR walk down the 280 steps from Oia. Everyone was feeling pretty good that early in the day, so we made the steep trek down the cliff to Ammoudi Bay.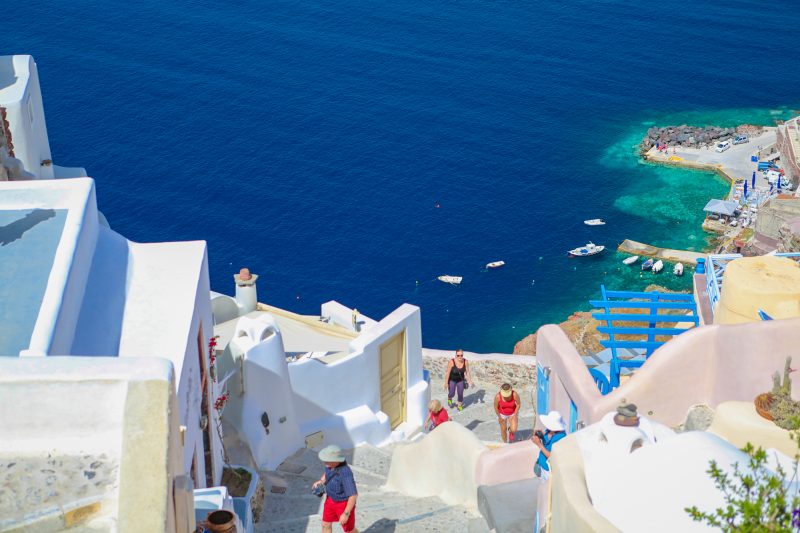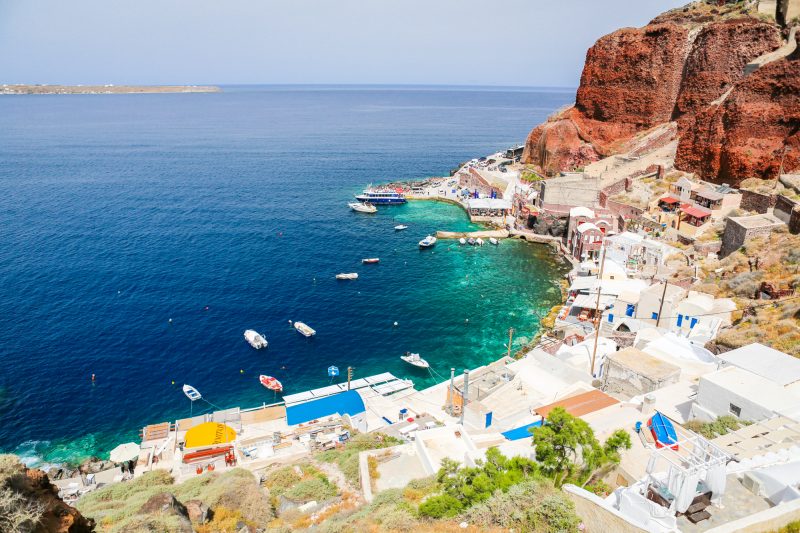 The view on the way down was pretty great!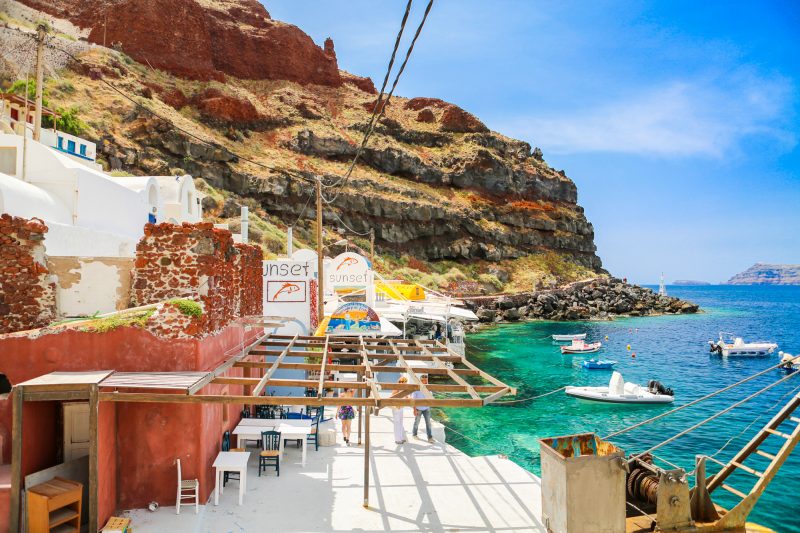 It's the last place, with the yellow awning.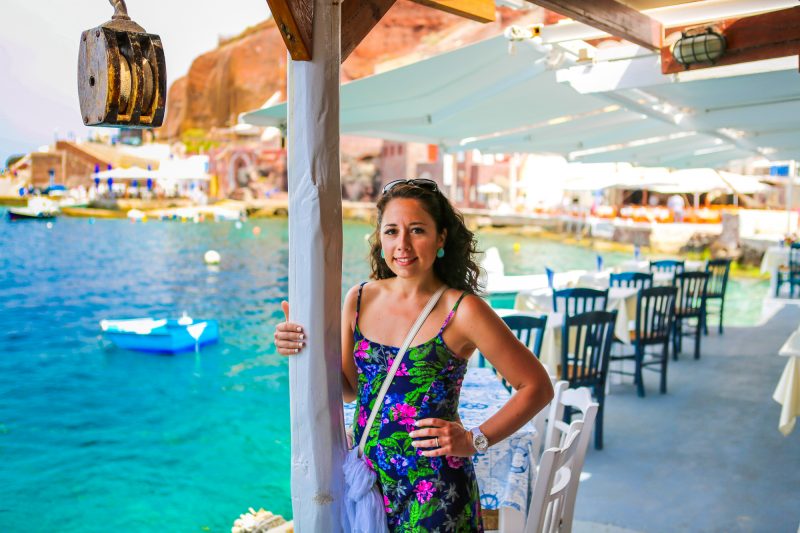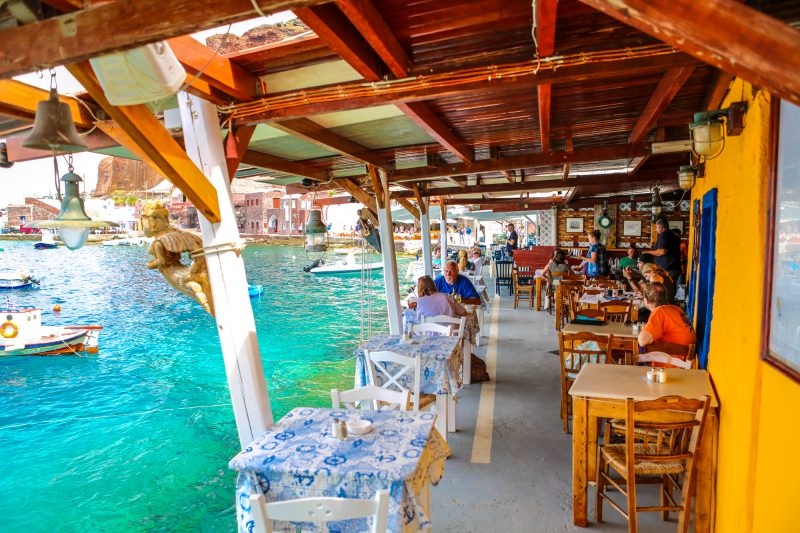 When we arrived at Dimitri's, we were greeted by Joy, who along with her husband own the restaurant. Joy is a Canadian ex-pat, so everyone (Joy included) was delighted to chat in English. She took us back into their small kitchen and showed us the catch of the day, which also happened to be the menu of the day. We just LOVED that.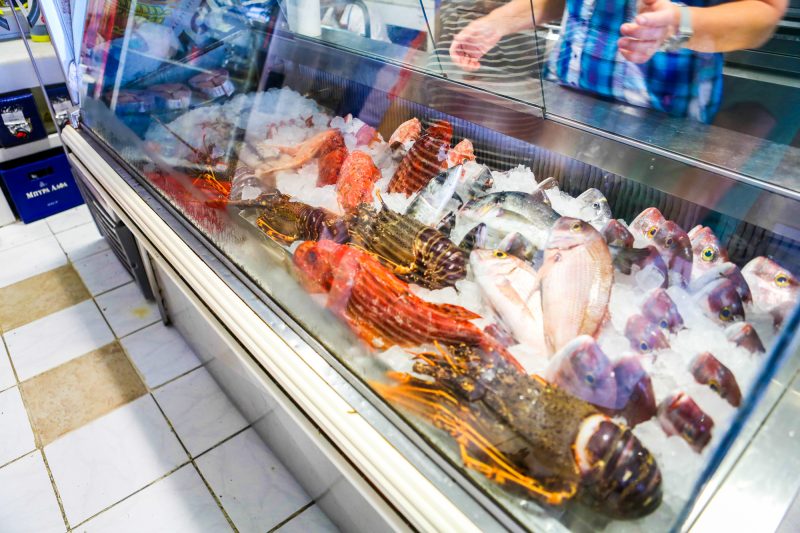 Our good Greek friend (and olive oil guru) Tony Kasandrinos informed us that we needed to eat grilled octopus while in Greece, specifically in Santorini. Now, I'm not one to let a friend down OR not try something new, so I ordered up some grilled octopus. It was a great decision. I don't think many others were too hot for eating octopus, but that meant I got to enjoy even more than I would have otherwise.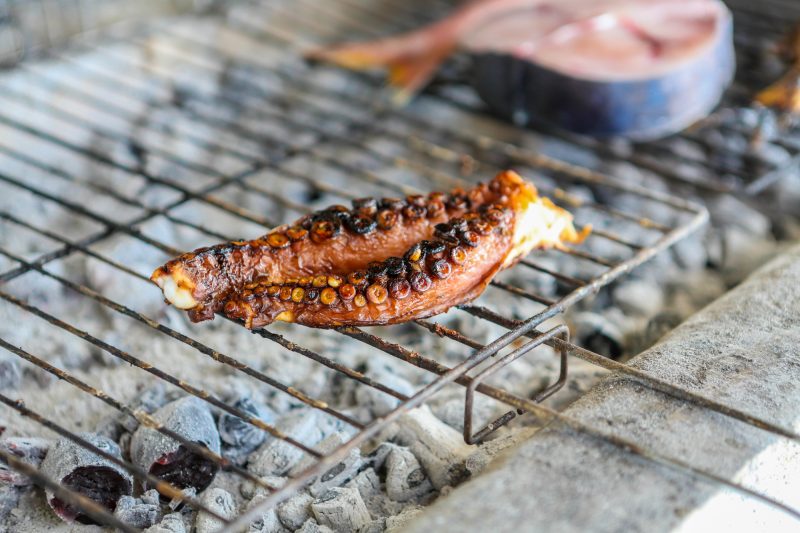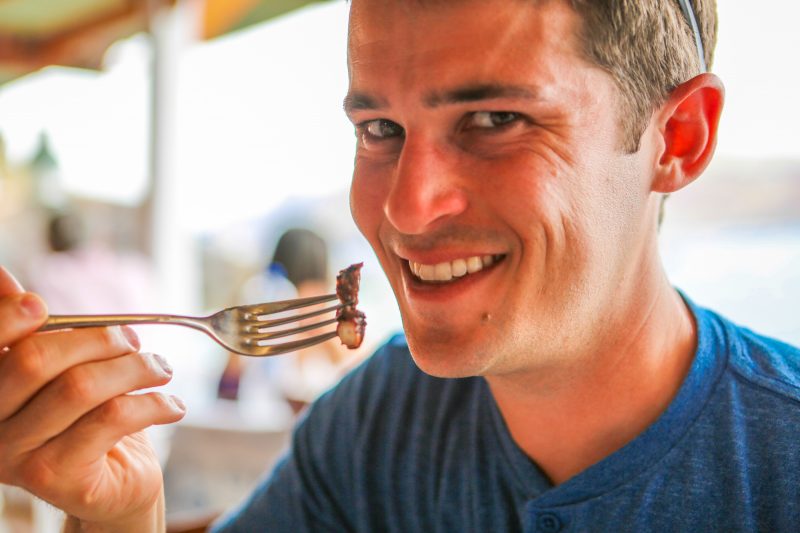 We also got some grilled swordfish, bream (I believe) and another local catch. This meal was a very, very close second to our lunch at Tambakio in Lindos. Joy and her husband have a wonderful thing going at this place.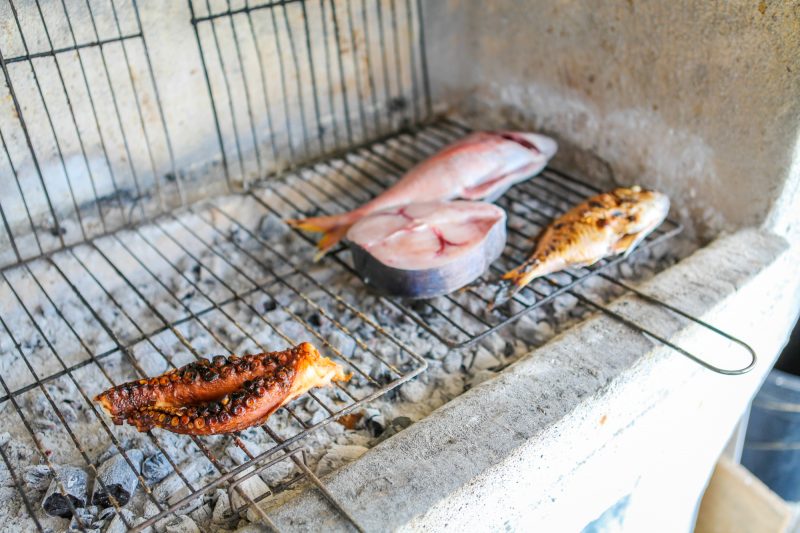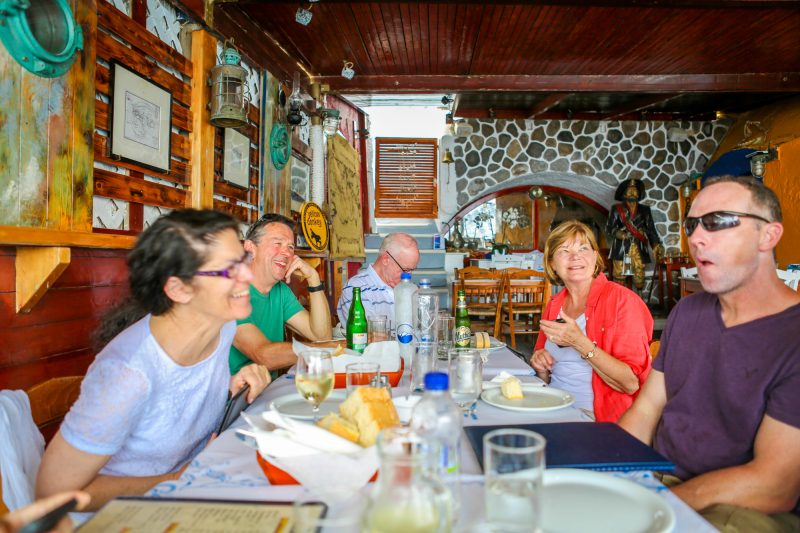 And this little gem of a dish inspired the Santorini Seafood Stew in Make It Paleo 2. Naturally, we didn't have a stew for lunch at Dimitri's, but the flavors were ones we tried to recreate. Delish!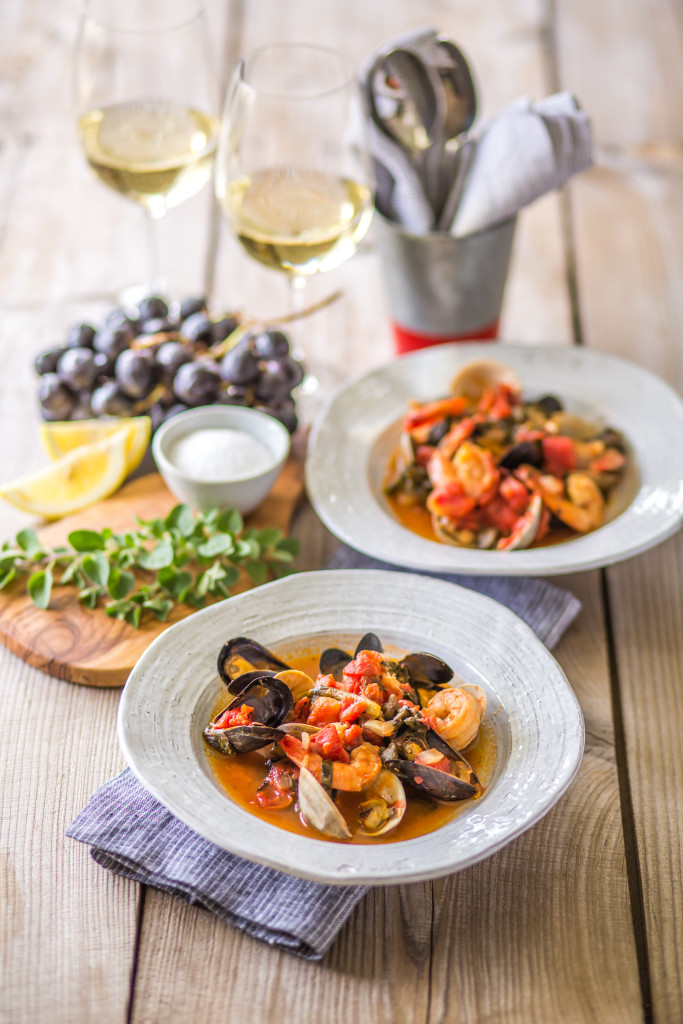 At one point during lunch, I was doing my usual thing … snapping photos of everyone and everything. I turned to take a photo of my beautiful wife and she made the most ridiculous face ever! So we all went around the table making the silliest faces we could!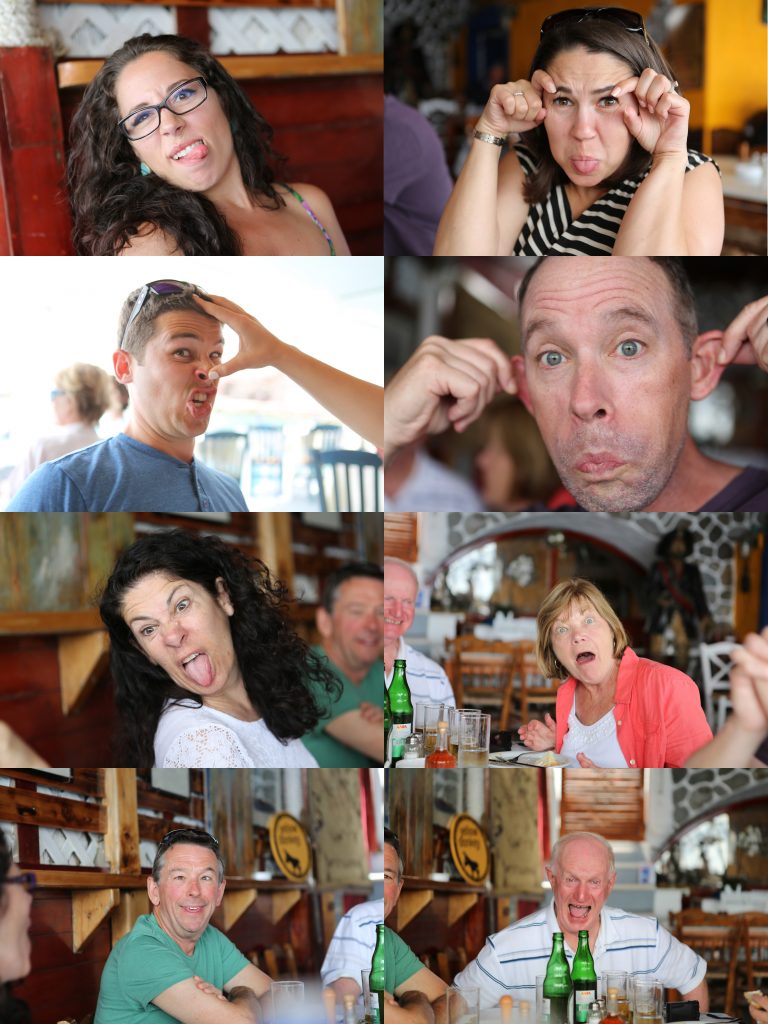 I mean, how could I NOT share these amazing photos?
As lunch concluded, it became evident that the weather was changing on us. The skies had clouded up and the slight breeze had increased to a steady wind. We didn't think much of it, and hiked back up to Oia to do some shopping. However, after another half hour, it became clear we needed to start thinking about getting back to the ship. Others quickly realized this too, and the situation of looking for a cab or bus back to the port looked dire, if not desperate. My dad luckily went into a tourism office and got them to call us a taxi, which picked us up amidst the hordes of cruise goers looking to get back to port.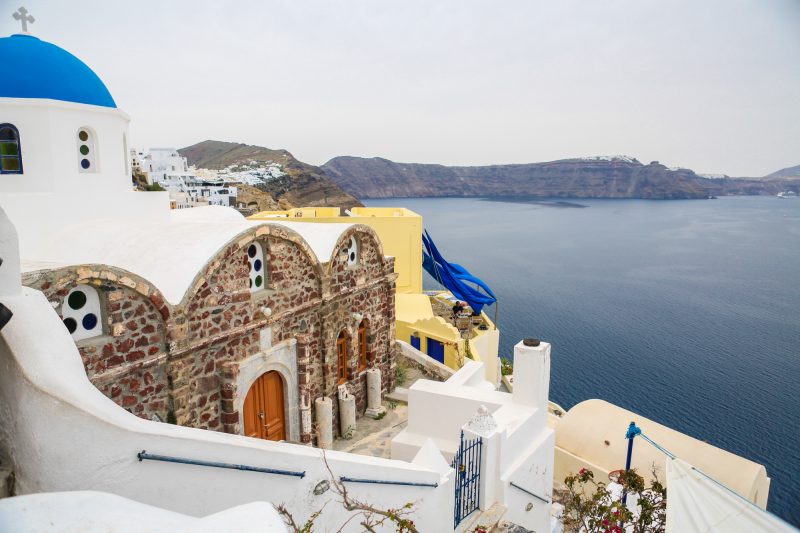 The drive back was scary, to be honest. Very high winds (up to 80 mph) swept dust and debris high into the air and shrouded the island. When we were let off at Fira, the worst of the storm hit the island, and we struggled to make it into a store near the cliffside gondola terminal. Locals said they had not been hit with a storm like that in a very long time. When the freak storm overtook the island, an unlucky group of tourists got stuck between the port and the ship in high seas, and couldn't dock for nearly an hour. Naturally, almost everyone on the boat got seasick – a true nightmare of a situation. Luckily, we got to weather the storm with both feet on the ground.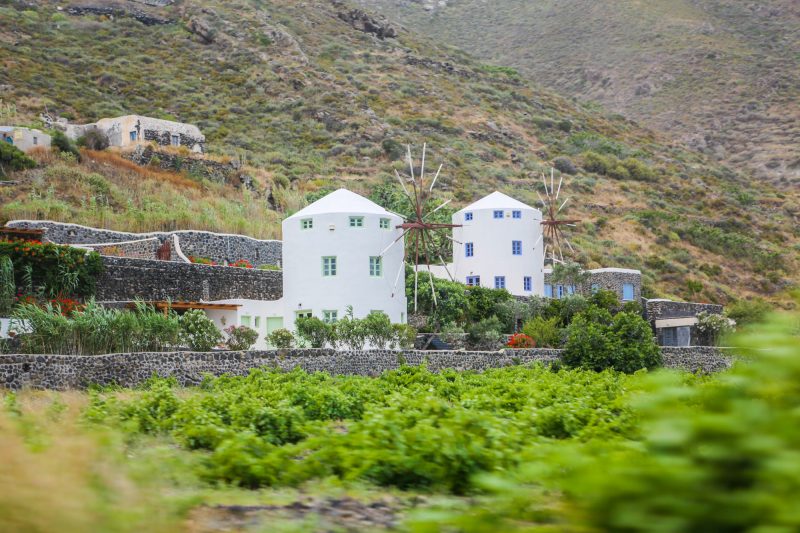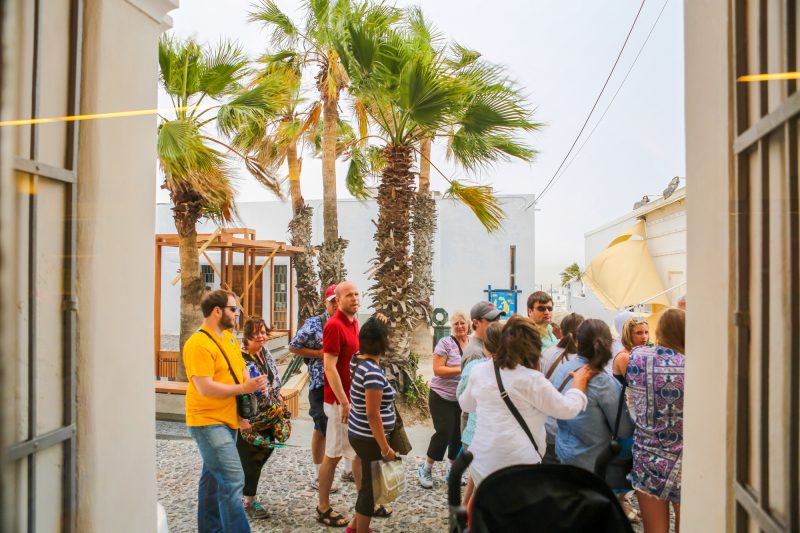 These photos definitely do not capture the madness (check out the awning sheared away from the building on the right).
After we made it back to the ship, I captured this photo of the roiling sky and cliffs of Fira. What a crazy contrast from the beauty earlier in the day.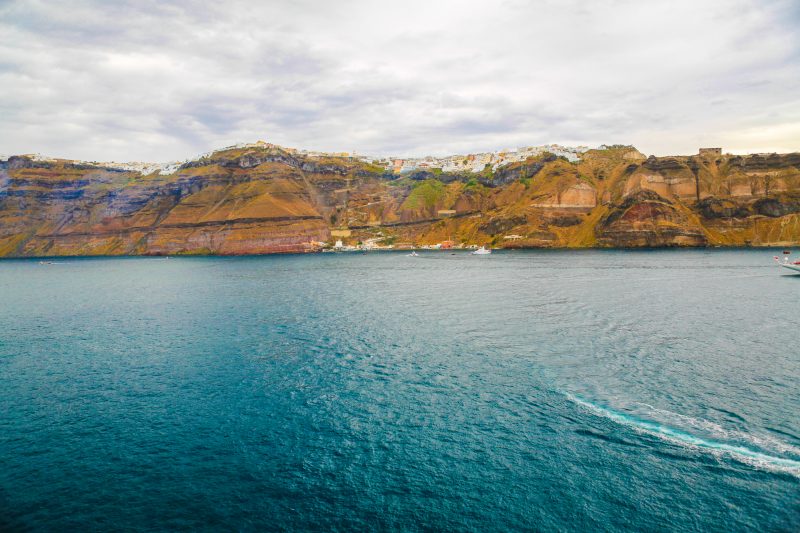 Dinner that night was spent recalling the Jekyll & Hyde-like day we had just experienced.
Day 7: Mykonos… or not!
By day 7, the two of us were full-blown sick- not exactly the ideal situation when you're on the trip of a lifetime. There's very little down time on a trip like we took to rest, and many days out in the heat had us feeling downright ill. That, combined with another iffy tender boat situation again had us feeling like we would rather lay by the pool for the day. Even though we felt like we should have gone to port, staying on the ship was a great decision for us. We started off the day getting therapeutic massages. And since most of the other passengers went ashore, we got the royal treatment from the Spa staff. Our massage room was at the front of the ship with a huge wall of glass overlooking Mykonos. It felt great to unwind a little, and almost 5 hours at the pool that day really helped take care of the rest.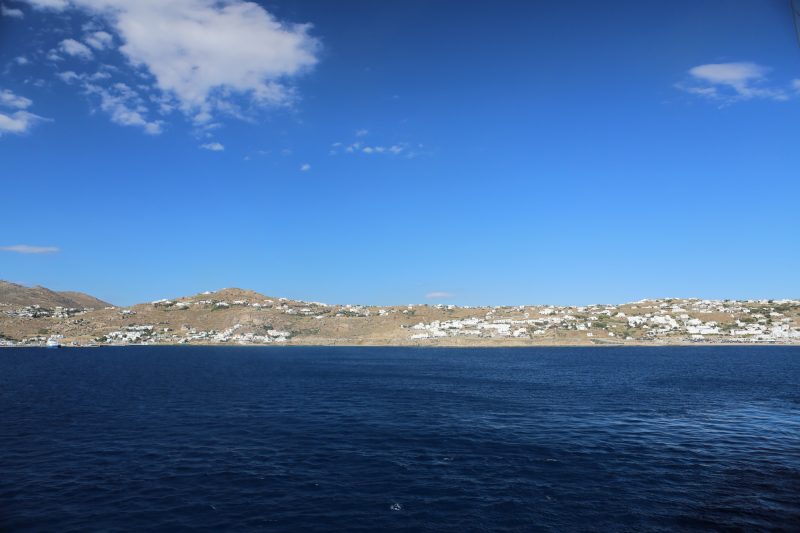 Even though we missed out on seeing Mykonos, we had a great time just having some down time together on the ship. As it turns out, some people never get off the ship in ports (which we definitely think is a little odd). But if you get the unlimited drinks package from the ship, maybe you have to stay on every day to not lose money. I don't know. Either way, we had some great poolside entertainment.
That evening, we raised anchor and set off for our second day at sea on the route back to Rome.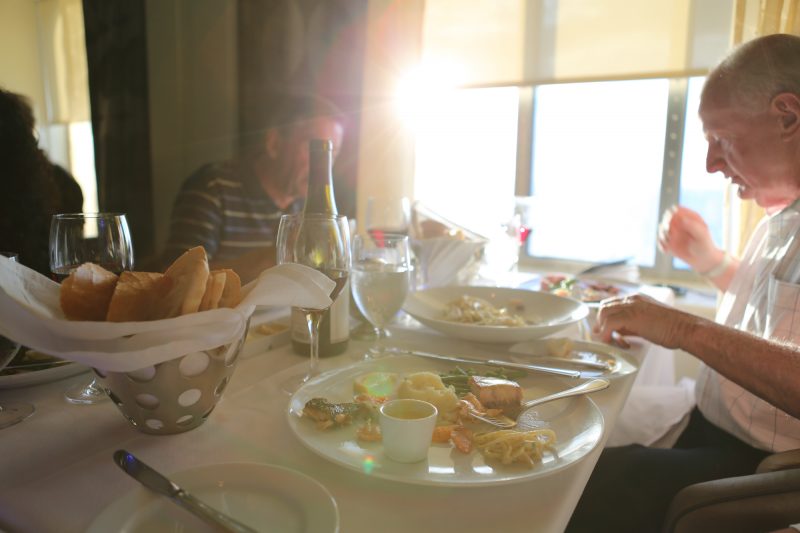 Don't worry, we didn't eat the bread.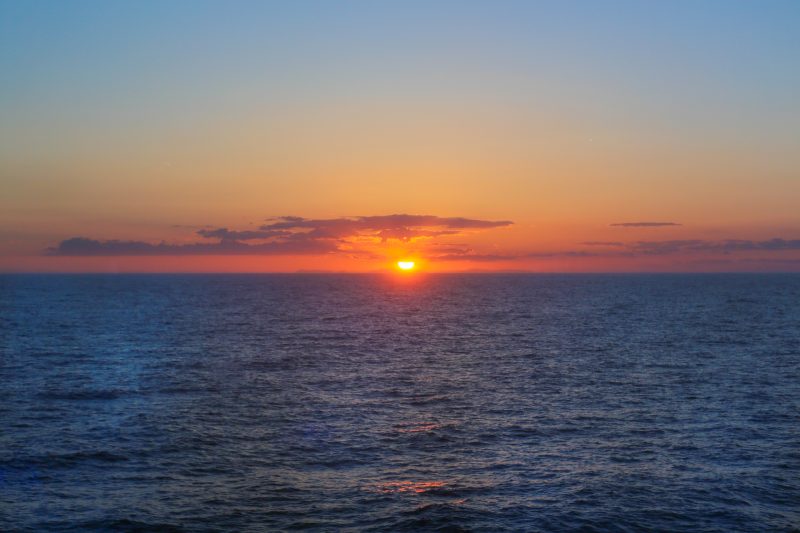 Sunsets over the Mediterranea….. not bad.
Day 8: at sea
Given our state of cold recovery, this additional day at sea was a Godsend. We started off our day by eating breakfast in the sunshine on the top deck (the only time we did it on the trip, since most mornings were a room-service affair before going ashore). What a lovely way to dine!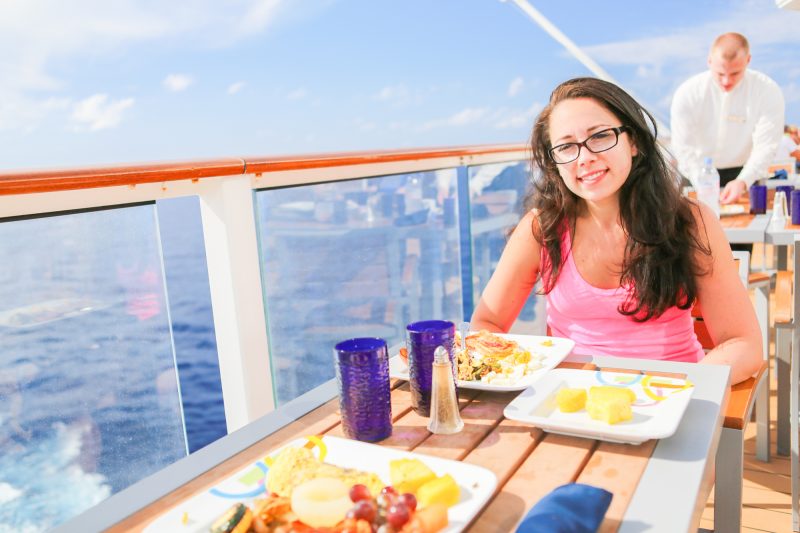 Much like the previous day, we spent a lot of time laying by the pool (sometimes in the sun, sometimes in the shade), eating big salads with burgers, and also ordering the occasional Pina Colada. But unlike the first day at sea, this one was very sunny and warm, so the decks were packed with people. By this point, Hayley and I were feeling loads better and much less sick. It seemed like we both needed a rest from the whirlwind touring.
This was our second (and final) formal night of the cruise. Look how much tanner we were by this point! Wahoo!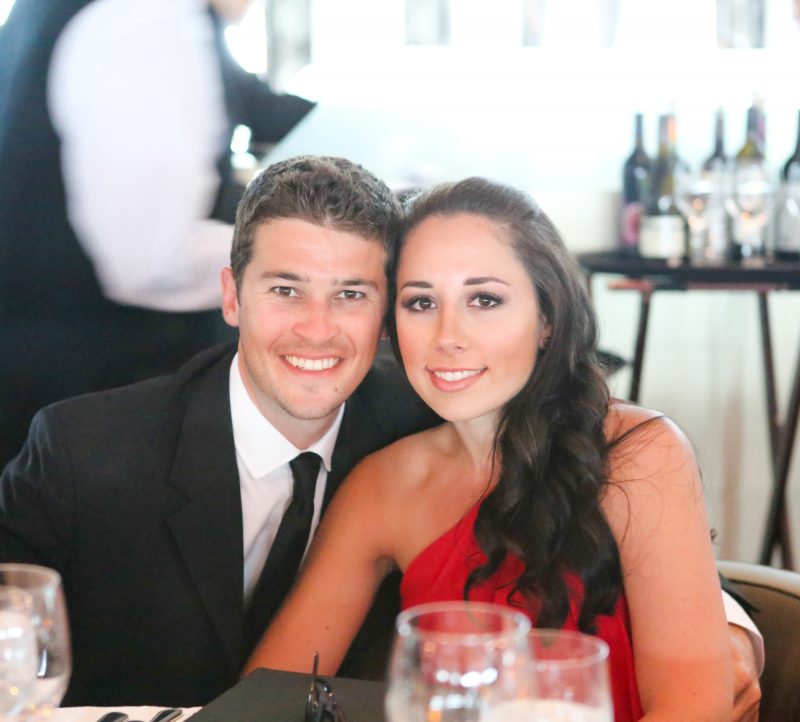 And of course, the day concluded with more gelato!