Hi friends! It's been a while since I posted about my skincare routine. As usual with me, it's always evolving, especially since I joined Beautycounter as a consultant. I try to use as many of the products in the line as I can, so that I can offer the most benefit to my customers about what products they are looking for. I do have some of my favorites that I stick to on a daily basis, so I wanted to share those with you today! I will be posting a follow up to this blog post, which will be all about makeup!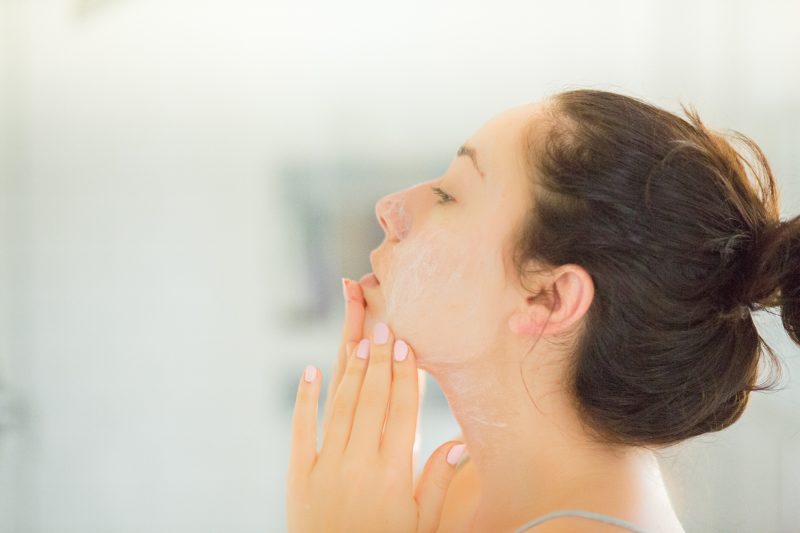 For my skincare products, I really don't stray from Beautycounter. I have found that all of my needs are met just from using this line, and this line alone. My skin continues to improve from these products, and I can feel really good about what I'm putting on my skin, because I know the lengths that Beautycounter goes to to make sure that their ingredients are as safe as possible, while also being high performing.
Daytime Skincare
For my daytime skincare routine, I'm looking to keep my skin hydrated since I'm prone to tight, dry, sensitive skin. I wear makeup almost daily, so I also want to use products that offer hydration for my skin, without being too heavy or greasy, and also prep my skin for my makeup.
Cleanser: For cleanser I rotate between the Charcoal Cleansing Bar, and the Nourishing Cream Cleanser. I primarily use the Charcoal Cleansing Bar, just because I do wear makeup often, so I want a deeper cleanse for my skin, but not in a way that is stripping or damaging to my skin. I really feel like my skin looks clearer, and brighter from using the Charcoal Cleansing Bar as my daily cleanser. I actually just keep the bar in our shower, and Bill and I both use it in there. It is also worth mentioning that the Charcoal Bar lasts FOREVER. Bill and I share, and I think we've only gone through 3 in the last year and a half since I joined Beautycounter.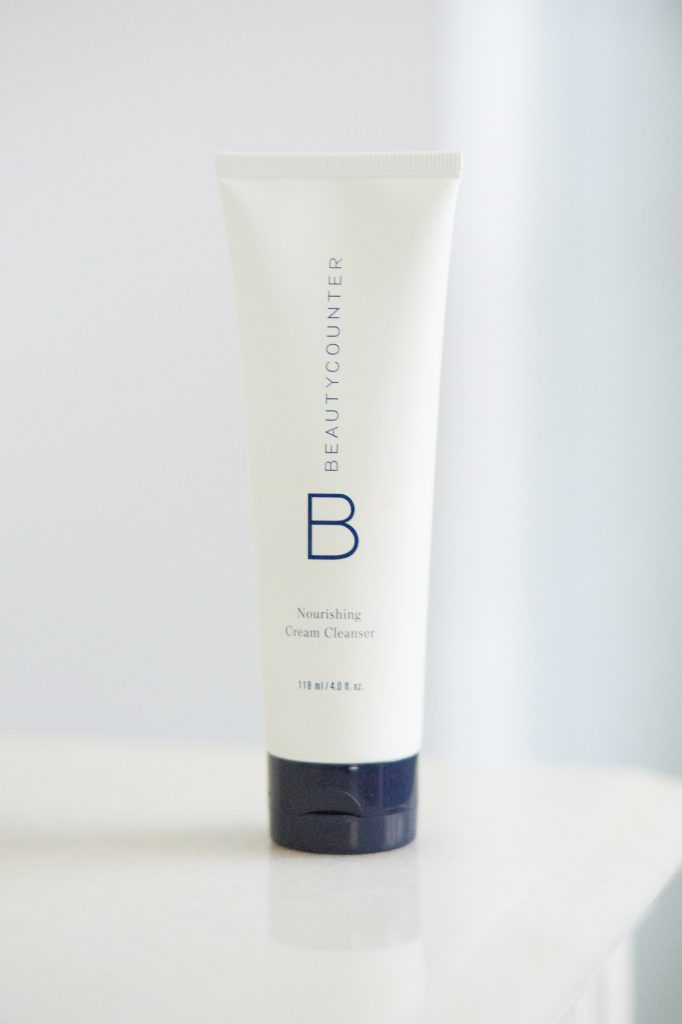 I keep the Nourishing Cream Cleanser  in our bathroom medicine cabinet, and I use that when I feel like I want a little more hydration from a cleanser, or if I feel like my skin is relatively clean, and I just want a little refresher before I apply my makeup. This would be a situation where I showered the night before, and woke up with all of my nighttime skincare products absorbed from bedtime. So my skin is clean and hydrated, but I want to start fresh for the day.
Toner: One of my all time favorite, can't live without, Beautycounter products is the Nourishing Rosewater Mist. You can use this mist any time of day, for any reason. I recently took it on an airplane in case my skin felt dry on the plane. I typically use it for instant hydration after cleansing, but you can use it any time you feel like your skin needs a little pick-me-up, or even to set your makeup!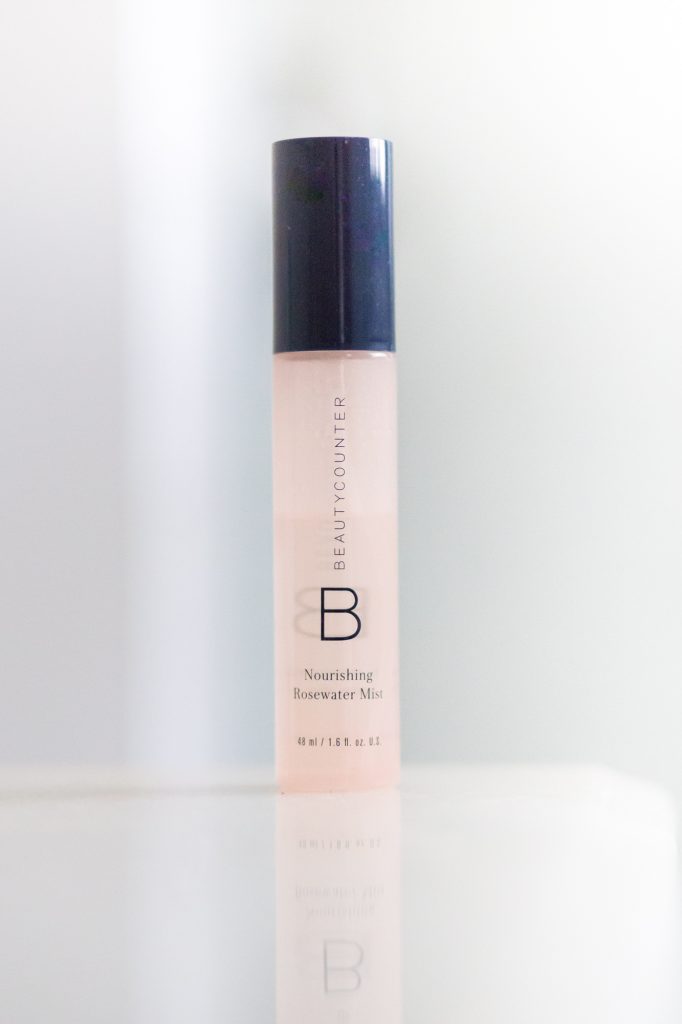 Moisturizer: I've been loving the Countermatch Adaptive Moisture Lotion lately! This is a new formula for Beautycounter, and it is truly inspiring. Through Bio-Mimic Technology, it mimics the structure of skin to provide optimal hydration that adapts to everyday stressors, giving your skin exactly what it needs, and nothing it doesn't!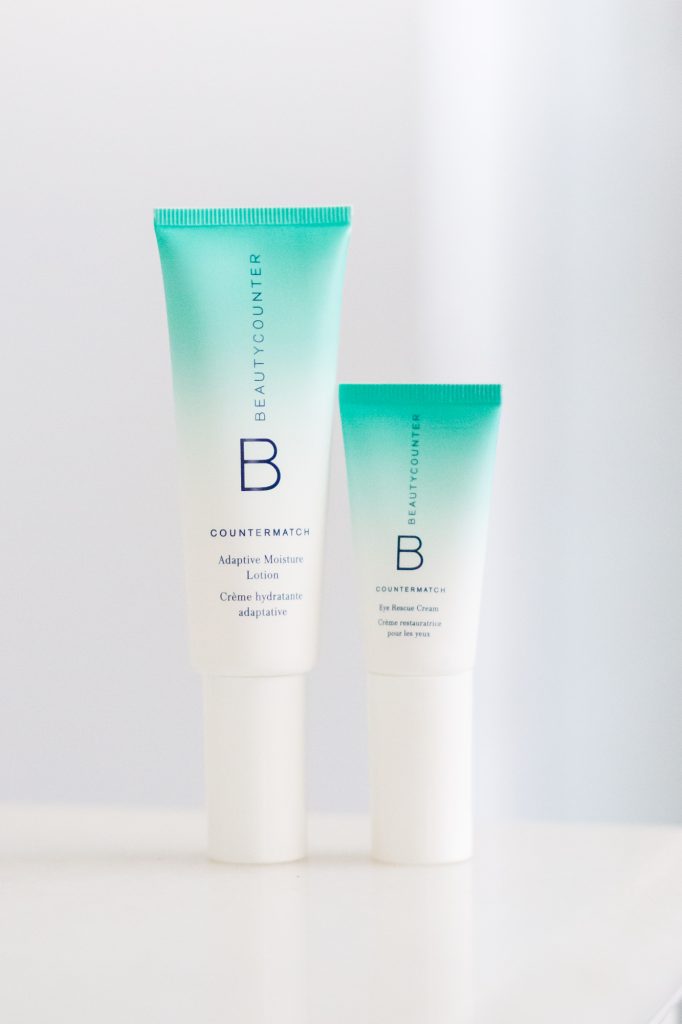 Eye Cream: Eye cream is step that I used to skip, but I've actually been adding it into my routine lately. I've been using the Rejuvenating Eye Cream, which I love. It's anti-aging and really helps reduce fine lines, but I just started using the new Countermatch Eye Rescue Cream which is extremely nourishing, and helps reduce the appearance of shadows for brighter looking eyes.
Nightime Skincare
Sleep is when our body does all of it's work to regenerate and heal, so your nighttime skincare routine is really important! This is the time when you want to use the products that will really feed your skin with all of the nutrients and hydration that you want to really help improve your skin.
Cleanser: Same as daytime. But generally I use the Charcoal Bar.
Toner: Same as daytime.
Moisturizer: One of my absolute favorite products from Beautycounter is the Cleansing Balm. The idea behind this product is that you use it as you would any other oil for the Oil Cleansing Method, however, I have found that this balm is the most amazing nighttime moisturizer. I use about a time size amount, and massage it all over my face, neck, and chest. I wake up with brighter, plumper, and more hydrated skin that keeps improving the more I use it. It helps eliminate blemishes, combats redness, and is anti-aging. I cannot live without this product!
Eye Cream: Same as daytime.
Skin Treatments
No. 3 Balancing Facial Mask: Beautycounter has 3 wonderful masks specific to different skin needs, and I highly recommend all of them, but I always go back to the Beautycounter+ Balancing Mask with activated charcoal. This nutrient-rich kaolin clay mask purifies and balances, absorbing excess oil and drawing out impurities. Activated charcoal minimizes the appearance of pores, giving skin a smooth, refined appearance while salicylic acid stimulates exfoliation. I try to use this mask two times a week, and I always feel like my skin looks brighter, smoother, and nourished after I have used it. It's a great way to apply gentle exfoliation to your skin. Every time I use this mask, Bill sneaks into the bathroom after me and uses it as well. You might want to buy an extra, because your other family members will start using it too!
So there you have it! That is my skincare routine. Simple, yet very effective! If you have any questions about product selection for yourself, please email me at [email protected] I would be happy to help you!
Be sure to make sure you are following me on Instagram, @HayleyMason , and join my Facebook group, Better Beauty with Hayley Mason MUA for more safe skincare updates, specials, and makeup demos!
I am putting a lot of energy into the growth of my team this month, so if you have been considering joining Beautycounter, I would love to share my experience with you as a consultant, and discuss the opportunity with you. Beautycounter is offering double consultant rewards from now until the end of the year for all new consultants, and we have some really exciting new products coming to the line! Now is a really great time to join! If you are looking to join this movement and become a voice for safer skincare, I would be so happy to help you accomplish that!
xo,
Hayley