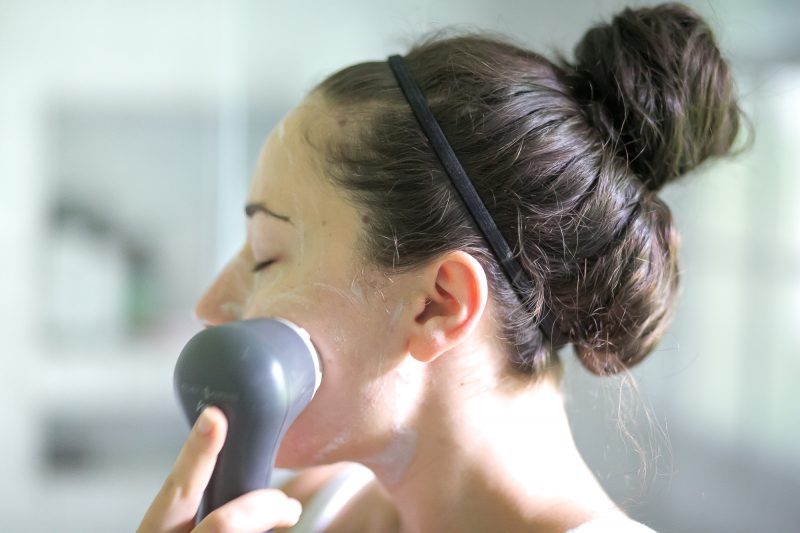 Today I'm talking about my current skin care routine, per all of your requests over on Instagram! I've written in the past about some of my skin care struggles, specifically some issues I had with redness and inflammation and little bumps on my cheeks, and how I healed that over the course of a year by oil cleansing in addition to a Paleo diet.
My skin has been fantastic since then, with just some minor breakouts here and there, usually hormonal breakouts, but the redness has stayed away. I've stuck to strict oil cleansing, but up until recently, I would go back and forth between cleansing with Primal Life Organics Earth Face Wash, and just coconut oil. That protocol has been fantastic for me, and the bad skin issues on my face never came back.
Some things I have still been struggling with are/were dryness/dehydration in my skin despite all of the oils I was using, clogged pores, and not always happy with the texture of my skin. I knew I needed to do some exfoliation, but I wasn't really sure what direction I wanted to go in with that. I was even considering going to get a chemical peel recently, because now that I'm 30, I'm even more conscious about preventative skin care.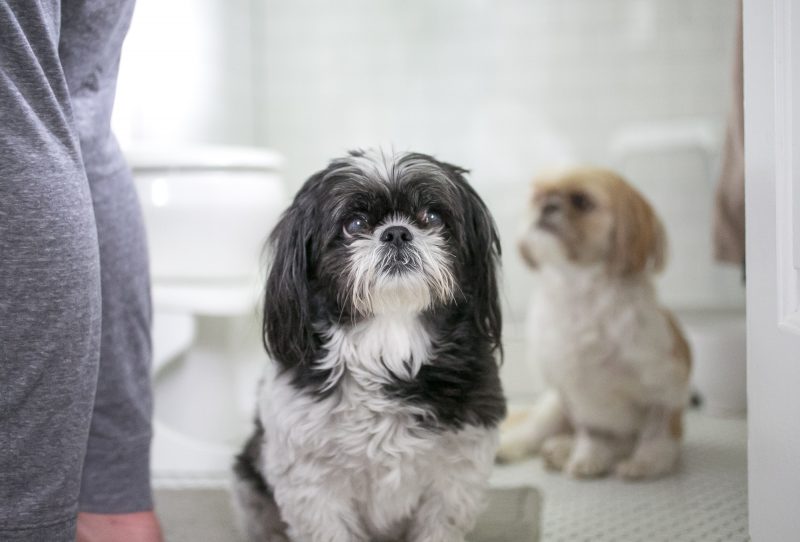 We had lots of thunderstorms yesterday, so these little guys hung out with me while I washed my face!
Since I started working with Beautycounter products, I no longer feel like I need to go get a chemical peel, so I figured now would be a great time to talk to you all about the things I've done to change up my skincare routine, and what differences I've noticed! I was really excited about trying out the Beautycounter makeup, but to be honest, I had no interest in any of the skincare products, because I was so happy with my regimen. It was out of curiosity that I ended up switching to Beautycounter skincare products, because of all of the buzz around the Charcoal Cleansing bar.
So, the first thing I did to change my skincare was that I tried out the Beautycounter Charcoal Cleansing Bar (which is back in stock today!!) This is a bestseller item, and for good reason. I am particularly fond of activated charcoal, because it helped me detox from mold. It's a favorite supplement to have on hand for me. It can help with food poisoning, stomach bugs, you can mix it into a face mask (more on this below), and you can use it to whiten your teeth! I took activated charcoal twice a day for several months, directed by my doctor, to help bind mold and eliminate it from my body. It's one of my absolute favorite detox tools, so I was definitely looking forward to trying it in a face cleansing bar.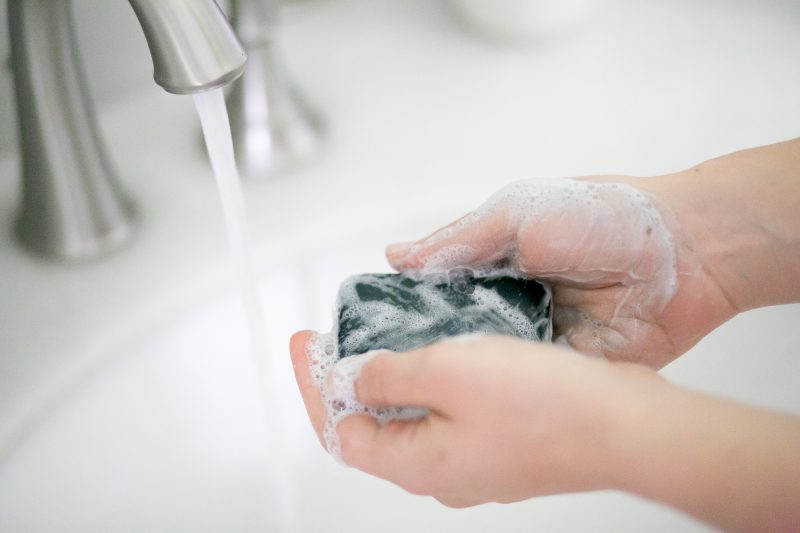 I've been using the charcoal bar for a month now, and I don't think I will ever use another face cleanser again. My pores are cleaner, my complexion is nicer, my skin is more hydrated and softer. I have heard some of your concerns with the price of a $24 bar of soap, so I want to touch on that a bit as well. This is a face cleanser in bar form. I know it's hard to justify spending that much on a bar of soap, but it's a facial cleanser, not just a bar of soap. It also lasts AT LEAST 2 months, if not longer. Bill and I have been sharing one bar, and after a month of use, it's barely halfway gone. You will definitely be getting your moneys worth on this item!
I started using the charcoal bar with my Clarisonic, and that took things to the next level! I typically only use the clarisonic once a day with the charcoal bar, but my skin is so smooth from those two things together.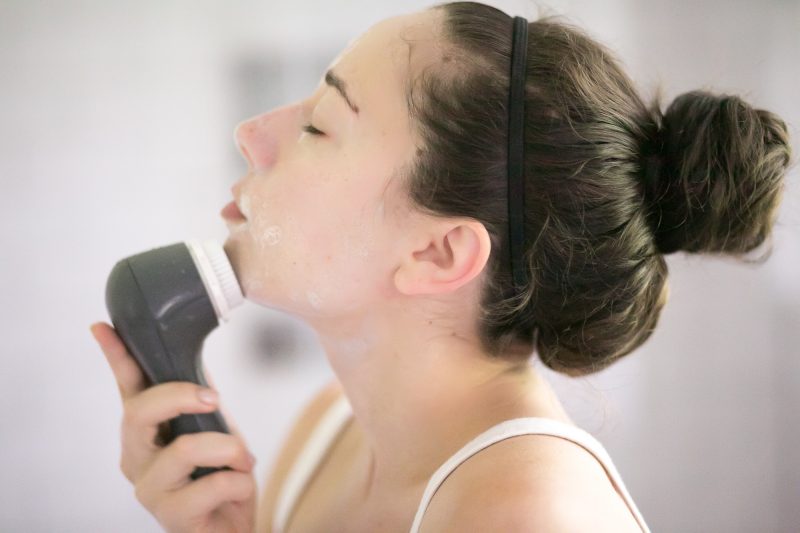 The second product I added in from Beautycounter was the Lustro #3 Face Oil. I took advantage of a gift with purchase promotion that they were running in May, and that's how I ended up trying the Lustro Oil! I didn't know anything about it prior to the promotion, and probably would have waited much longer to try it had they not been running that gift with purchase. This is now my favorite moisturizer.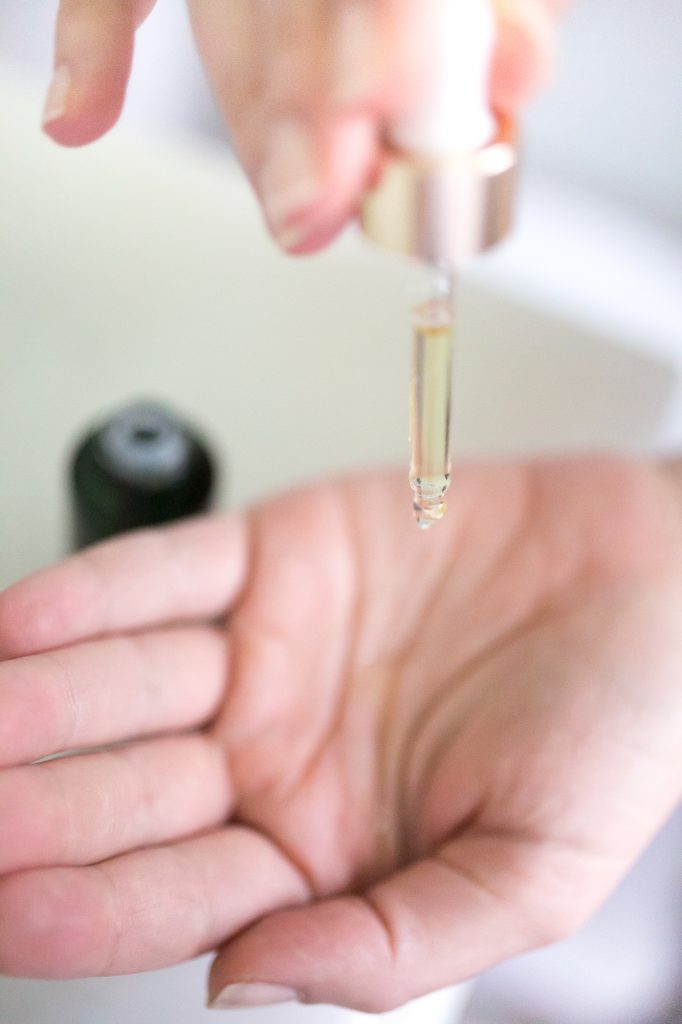 When the Lustro Oil arrived, I was still using my favorite moisturizer from Primal Life Organics, the Beyond Moisturizer. I still love this moisturizer, and I continued to alternate between the Beyond moisturizer and the Lustro oil, until I ran out of the Beyond moisturizer. Since then, I've just stuck with the Lustro oil. A little goes a long way! You only need 3 drops of oil for your entire face, and it feels like silk when you apply it. It has done a fantastic job at keeping my skin hydrated, I no longer suffer from any dry spots, and I feel like it's helping reduce fine lines as well. The Lustro oil is light enough that it can be used under makeup, so it's great for day and night. It's really fantatstic!
The third item I've added in are the Enlightening Treatment Pads. As I said, I am almost 31 now, so prevention is key for me to keep that youthful glow. I definitely want to prevent deeper lines from developing in my face, and I know that I scrunch my face when I'm stressed, which definitely doesn't help. I use the Enlightening Treatment Pads nightly. I cleanse with the charcoal bar, then I use a treatment pad, and then I hydrate with the Lustro oil. I typically do the most treatment for my skin at night, because when we sleep is when our body does all of it's healing. My morning routine is usually just a splash of water, or sometimes cleansing with the Charcoal bar, and then hydrating with the Lustro oil.
I love that the Enlightening Pads contain fruit acids and vitamin C. This offers a boost of antioxidants for your skin, which helps reduce the appearance of fine lines and wrinkles. Just what I'm looking for!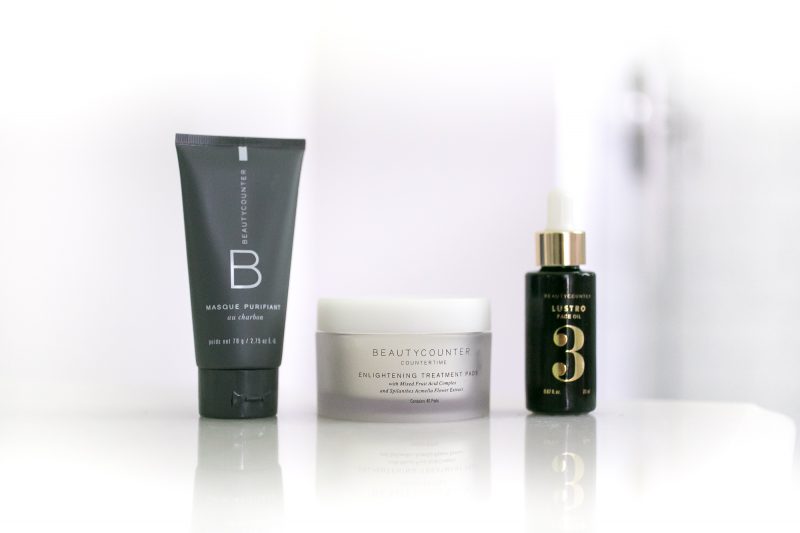 The last item I've added into my skincare routine is the NEW Charcoal face mask. I was hesitant to try this product, because I already make my own mask with bentonite clay, apple cider vinegar, and activated charcoal. I wanted to try Beautycounter's mask, just to see what it was like, so I could share my experience with all of you, but I wasn't dying to try it, because I already make my own mask, which is much less expensive. It just wasn't a product that seemed very exciting to me for those reasons.
Can't smile with this mask on!
After one treatment of the mask, my opinion completely changed, and I will tell you what happened. When I make a mask from bentonite clay, and apple cider vinegar a few things happen. The first is my skin gets really dry and tight after the treatment. My skin also gets really red and splotchy after the mask is removed. It eventually calms down, but it always looks really inflamed after I remove the mask. I also don't notice any major benefit from using the mask. My pores don't look that much cleaner. I mainly do the mask as a detox tool. It's also extremely hard to wash off. These are all things I just ignored, because I figured the mask was beneficial for me, and it was a way for me to feel like I was pampering myself.
When I used the beauty counter mask, it applied very smoothly. It felt cool and calming while I was doing the treatment, and didn't irritate my skin, or feel uncomfortable when I left it on longer than intended. It also rinsed off easily, and I had zero redness after. My complexion was nicer. My skin was hydrated and felt like silk, and my pores were cleaner. Truthfully, I was stunned. I have never had that type of result from a face mask, and I've used many having been an esthetician for several years.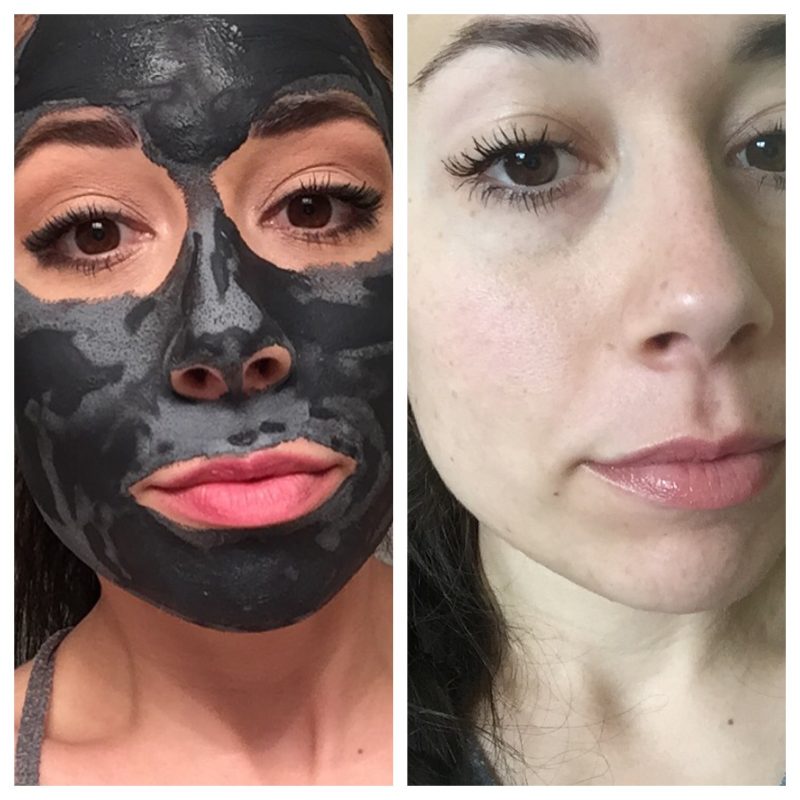 This is a during and after photo from using the mask. I took the after photo the next day, and I didn't have any makeup on, except for mascara.
Beyond those Beautycounter products I've been using, I am still using coconut oil to remove my makeup. I really love using coconut oil to remove eye makeup, because I think it's helped improve my eye lashes as well. My eye lashes have gotten a lot longer this year, and I think it's due to using healthier mascara, consuming Collagen Peptides daily, and using coconut oil to remove my makeup.
When I use coconut oil to remove makeup, I am basically oil cleansing with it. I massage the coconut oil into dry skin, and then "steam" my face with a wet warm towel, and then wipe it all away with the towel. After I do the coconut oil cleansing, I then use an Enlightening Treatment Pad, and the Lustro oil before getting into bed. Sometimes if it's really late, and I'm feeling particularly lazy, I'll just do the oil cleansing to remove my makeup, and leave it at that for the night.
That's my current skincare routine! It's really simple, totally do-able, and it's transformed my skin in 30 days! I am so impressed, and happy with the changes in my skin since I've transitioned to some of these Beautycounter products. My skin has never looked better.
If you have any questions or concerns, please feel free to email me at [email protected]
You can also join my personal email list where I will be sharing updates on skincare and makeup, as well as some tips and tricks!
xo,
Hayley