Today, we are thrilled to introduce you to a brilliantly talented young woman named Alessandra Peters, who goes by The Foodie Teen. Alessandra is FIFTEEN YEARS OLD. Let that sink in for a minute. Do you remember what you were doing at 15? I do, and I'm too embarrassed to talk about it in the context of this post. We sat down with Alessandra to pick her brain and find out how she became such an accomplished cook at such a young age.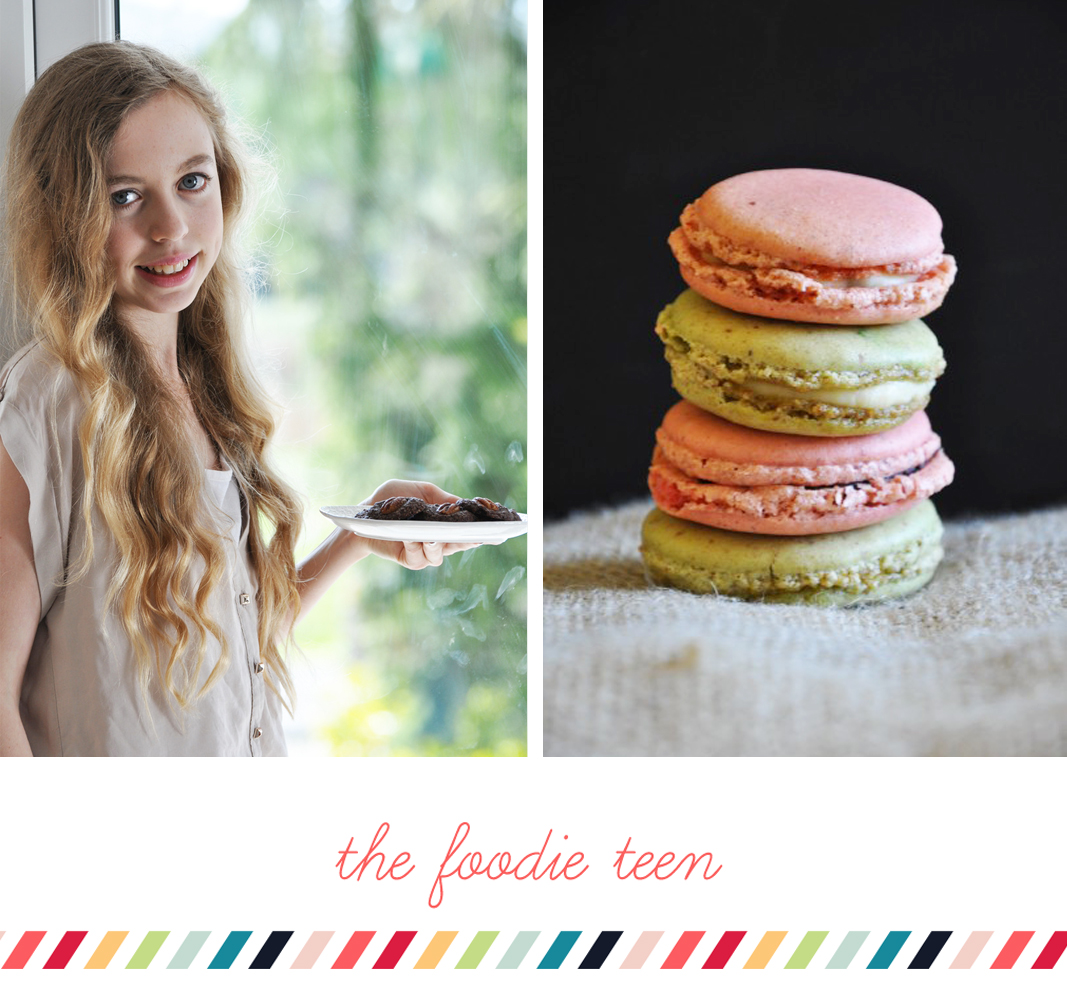 PP: You are 15 years old, and blogging about your healthy food journey. That is pretty inspirational! How did you find Paleo?
TFT: Thank you! I suppose I slowly fell into Paleo after being diagnosed with Coeliac disease at the end of 2012. Before the official diagnosis, I had been sick with a myriad of symptoms for about 18 months, so having a diagnosis meant the world to me; I was ecstatic that the doctors had finally found out what was wrong with me! I followed a strictly gluten-free diet for a few months, and while it helped with my constant stomach pains, I just didn't feel right. I started reading some scientific papers and slowly unearthed the connection between gluten and dairy, so I had some blood work done which showed a severe intolerance to dairy and about 70 other foods! Once I had removed the foods I was allergic to from my diet, I again started to improve and felt a lot better, but it wasn't until I delved even further into the science that I discovered the idea of removing grains from my diet. At the time, I was severely underweight due to undiagnosed Coeliac disease and other food allergies, so it seemed like a crazy idea to remove grains from my diet. My wonderful mum was reading up about SCD & GAPS diets at around the same time, and when friend of hers started telling her about grain-free as well, I stopped eating grains. A few weeks later, I felt absolutely amazing, started researching more, and found Paleo! I started my blog a few months later, and if you look way back in the archives, you'll see that I definitely wasn't 100% Paleo (I was posting recipes with peanuts and chickpeas, even!), but I learn more every day and it's been a great experience. I am so grateful to everybody who helped me find Paleo, and I still can't believe the incredible impact Paleo has had on my health. It was only about a year ago that I could barely walk and was sleeping almost all the time, and now I'm running 5k's multiple times a week, feeling better than I ever have before, and enjoying every second of it.
PP: As a teenager, I'm sure it's quite difficult to follow a healthy diet around friends, since most teenagers love to eat junk food. How do you stick to your healthy way of eating and still enjoy time with friends? Have your friends become more interested in healthy eating because of you?
TFT: Luckily, my friends are incredibly supportive of me and my 'crazy healthiness' (their words, not mine!), even though I haven't actually told any of my friends or family about my blog yet! Of course, they enjoy their candy and pizza around me, but I actually find it very easy to follow my diet when I'm with them. I think it's probably partly because of my many allergies and Coeliac disease, meaning that I'm not enticed by the junk food because I know I'll be bedridden for days afterwards and it's just not worth it, but I also think that it's partly because I'm now acutely aware of what food is made from and where it comes from, which has definitely changed my perspective! When I'm out with friends, I'm always the one dragging the huge bag full of Paleo snacks everywhere I go, and I'm perfectly happy with that because I get to spend time with my friends and feel great at the same time. Although I really try to not force any of my friends into eating healthier, a lot of them will ask about the unusual foods I bring places (like chia seed puddings!) or even about diets they've heard of in the news (like gluten-free or sugar-free). Quite a few people are already aware of things like Coeliac disease and Paleo because of someone in their extended family or someone they know; it's great to see healthy eating becoming more and more popular, and I absolutely love seeing people my own age and younger being interested in how they can adopt a healthier diet.
PP: You are quite the talented pastry chef! When did your love of making pastries start, and what has been the most challenging grain-free pastry you have ever tried making?
TFT: Thank you so much! I've always loved baking, but I really started to become interested in baking and decorating fondant cakes when I got so sick that I had to stop going to school (I'm homeschooled now). Cake decorating was something not too energy-consuming that I could do at home, and I really got into it! I still love decorating cakes for special occasions, but when I went Paleo, I developed an appreciation for the not-so-pretty but far healthier and tastier things such as a lot of the treats I have on my blog. The most challenging Paleo pastry I've ever made has got to be a tie between the macarons I'm sharing here on Primal Palate and a palmier (elephant ear) cookie which is still in progress!
PP: Your photography is beautiful! Are you self taught, and have you always had an interest in photography?
TFT: Thank you! I am indeed self taught and am still teaching myself every day! I distinctly remember getting a bright yellow waterproof digital camera for my 9th birthday and thinking it was the absolute coolest thing ever. I think I started to become interested in photography around that time, but it wasn't until my dad, who isn't into photography at all but just loves gadgets, bought a DSLR about three years ago that I started to take a lot more pictures. At first, they were mostly (okay, all!) of my rabbit and dog, but then I started getting into cake decorating and taking pictures of my cakes. When I started my blog about a year ago, I really threw myself into food photography and learned all I could from manuals, the internet, and any books I could find. I'm constantly experimenting with the style of pictures I take and the different camera settings, and I just treated myself to a new lens which I can't wait to start using!
Alessandra has also been kind enough to share her Macaron recipe here on Primal Palate. You can follow Alessandra on Facebook and Instagram, as well as on her website, The Foodie Teen. Read below for her full guest post and recipe for French Macarons! Thanks for sharing, Alessandra!
>>>
Even as a young child, I used to love macarons. The pastel-coloured two-bite treats called my name whenever we were on holiday and spotted a French patisserie; I spent my childhood in various countries in the Middle East, so French patisseries were a rarity! I still adore their crisp outside and soft, meringue-like centre. I mean, there must be a reason I've made about 20 batches of them in the last few weeks even though I'd cracked the recipe after about 10… all in the name of recipe testing, right?
The thing I love most about macarons is probably their versatility. This was one of the most fun recipes I've ever tested because I could change the flavours – there were some winners, like the combinations in these pictures, pistachio/chocolate and cherry/passionfruit curd, but there were certainly some failures, too! Don't even ask.. I mean, bacon & balsamic macarons?! What was I thinking?
Also, I totally understand why macarons are seemingly so ridiculously overpriced now. They are total divas. Seriously – anything, and I mean anything, can annoy and/or anger them (I sound much funnier than I actually am if I personify baked goods, right? Cool.)
I'm talking humidity, how long you whip the egg whites, how many times you macaronage (I'm attempting the use of the fancy French word for fold the macaron mixture even though I have no idea if it's a verb), and even if the amount of almonds is a few grams off. If you're a throw-it-in-the-bowl-don't-measure-anything type of cook, I'm sorry to break it to you, but macarons are not the cookie for you. Never mind. There are plenty more fish in the sea! Plenty more cookies in the jar just doesn't have the same ring to it.. )
A fair word of warning – non-Paleo French macarons are already notoriously the most difficult cookie to make, so please be patient with this Paleo recipe and expect a few flawed batches! If you're planning to make these for an important event, I would highly recommend trying them a few times before to get the feel for it. Even if they're a bit cracked or don't have the classic 'feet' at the bottom, they'll still taste delicious, and don't feel bad – apparently even Ladurée, the famous Parisian macaron shop, has to throw away about half of their macarons because they didn't turn out right! It took me about eight batches to get a pretty batch of macarons to photograph, and from all my testing, my advice would be to absolutely use a scale to weigh all your ingredients precisely, to make sure you whip the egg whites for the full 10 minutes, and to preheat your oven. You might notice that other recipes tell you to leave the baking tray of macarons out on the counter for about half an hour before baking to form a skin – I found that this made no difference to the size of the 'feet', so I opted for the less time-consuming route (read: I'm a lazy teenager so I skipped a step and luckily for me, it made no difference)!
Lastly, a huge thank you to Bill & Hayley for giving me this amazing opportunity, and to anyone reading, I hope you enjoy!