Today we are pleased to announce the first ever Primal Palate Fall Fest!
Fall is so special to us: all the flavors, the gatherings, and coming together around the table with friends and family over your favorite dishes. It is our favorite time of year. We love the crisp air, the amber and honey-hued foliage, and most of all: the fantastic food.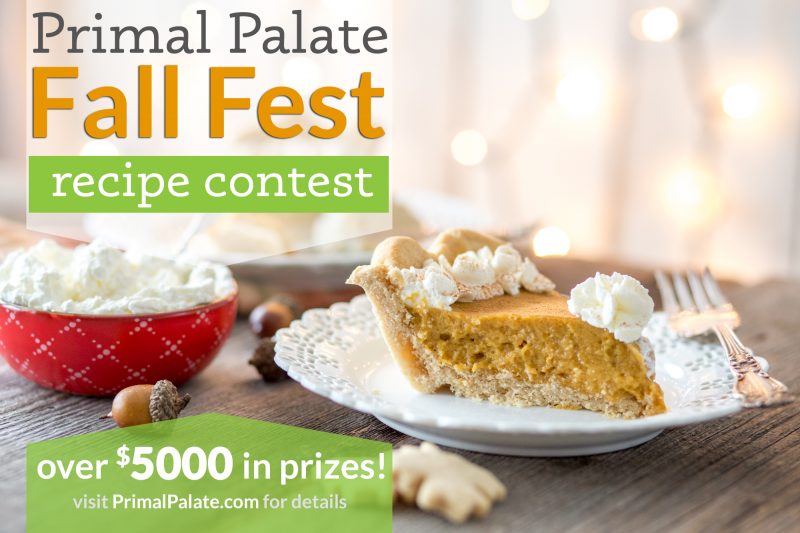 In honor of the arrival of fall, and our new fall line of organic spices, we've decided to throw a month-long recipe competition to celebrate. If you haven't seen them yet, we just released two new packs of spices: we call them the Sweet Pack, and the Savory Pack. These two new packs bring together all the familiar flavors of the season. The Sweet Pack contains our favorite spice blends: Apple Pie Spice, Pumpkin Pie Spice, and Cinnamon Sugar Cookie… all are perfect for making sweet treats! The Savory Pack contains our essential roast flavors: French Grey Sea Salt, Rosemary, Thyme, and Sage. Together, their flavors define the season, from the first freshly picked apple until the last slice of pumpkin pie is served (usually at Christmas dinner for us).
Fall Fest is a recipe competition celebrating the flavors of fall
Starting TODAY, we are accepting your recipe submissions for the Fall Fest Recipe Contest!
Similar to our new Sweet and Savory spice packs, we are looking for your best SWEET and/or SAVORY recipes. One winner in each category will win a fabulous kitchen and cooking prize pack valued at $2300 (each), including a 10-piece set of top-of-the-line Wusthof Classic Ikon knives, which retail for almost $1100. Look for a post later this week about all the fantastic prizes. In addition to these two winners, we are also going to present a "Peoples Choice Award" to the recipe that gets the most votes (voting will happen October 20-26).
Entry Details:
Anyone can enter … and you may enter as many recipes as you wish!
Recipes should generally follow Paleo/Primal/Grain-free philosophies (learn more)
Recipes should be Fall-themed (Holidays, gatherings, comfort foods, use of seasonal produce, etc… )
Contest Timeline:
Submissions: 9/28 – 10/18
Voting Period: 10/20 – 10/26
Winners Announced: 10/27
How to Enter Recipes:
If you are not a registered Primal Palate user, please Register here first.
Login, then visit the Primal Palate Recipe Upload page.
Fill out all appropriate fields (and please be sure to break process description into individual lines!)
*Check the entry box under Recipe Contest Entry (bottom of upload page) for "Sweet Recipe" or "Savory Recipe" ** (this tags your submission)
Click Submit!  (Recipes are generally approved within a day).
View the Recipe Entries here:   Sweet  |  Savory
Winners:
We are looking for three main things: Originality in Recipe, Balance of Ingredients, and a Beautiful Recipe Photo. Recipes previously posted elsewhere are eligible for entry.
Two Grand Prize Winners will be awarded: Best Sweet Recipe and Best Savory Recipe
People's Choice Award will be voted on by everyone the week of 10/20 – 10/26 (if you enter, remember to ask your friends and followers to vote for you!)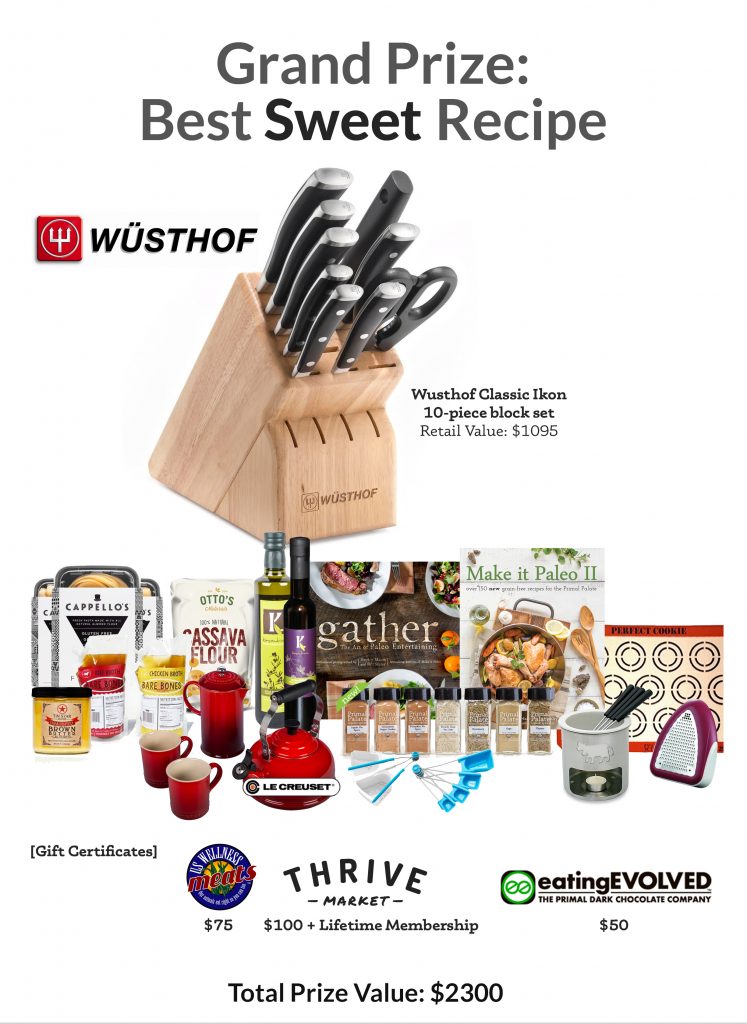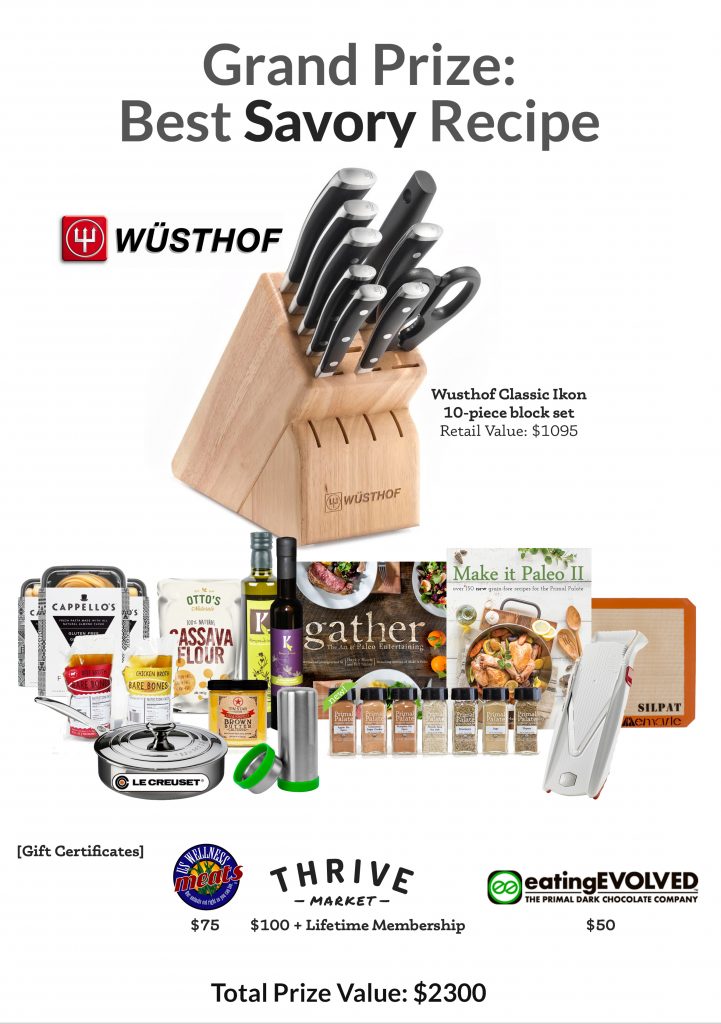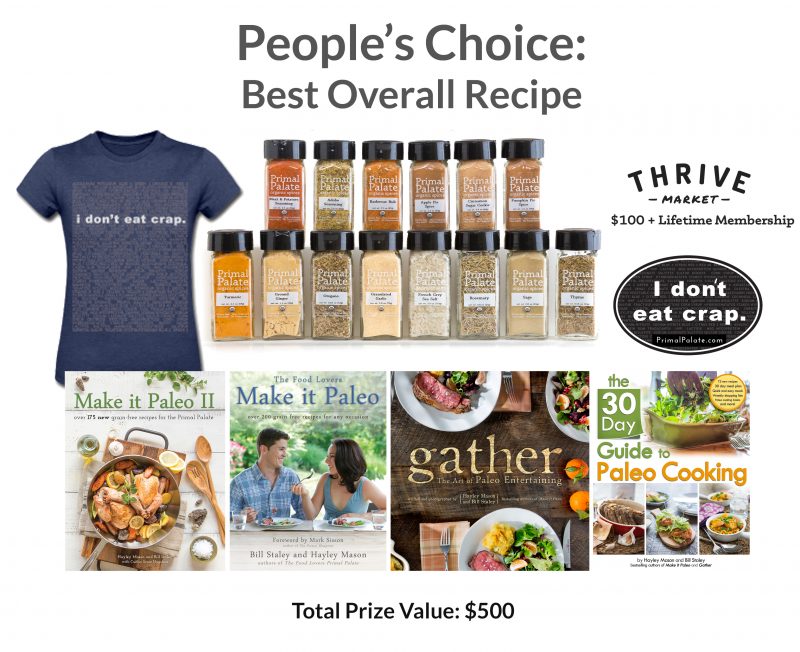 ---
We are really excited about this contest, and look forward to seeing each and every submission.
Ready? Set? GO!

Need some inspiration first? Click to see some examples! (Sweet | Savory)
If you have already uploaded a recipe that you would like us to consider as an entry, please email us.