Hey friends!
If you missed it Monday, we launched our biggest ever recipe contest, which we have dubbed "Fall Fest" … hopefully it'll be something we do every year! Basically, we know fall is a great time of year where our tastes suddenly kick over into craving comfort foods (and warm evenings spent around the table with family and friends. This coziness is what fall is all about! We wanted to create a special contest for those of you that like to create recipes, and are looking for your best fall recipes.
Just like our new Sweet and Savory spice packs, we are looking for your best SWEET and/or SAVORY recipes. One winner in each category will win a fabulous kitchen and cooking prize pack valued at $2300 (each). In addition to these two winners, we are also going to present a "Peoples Choice Award" to the recipe that gets the most votes (voting will happen October 20-26).
The prize packs are something we hand-picked, as reached out to our favorite companies to participate along with us. As a show of thanks, please consider visiting their websites, and let them know how excited you are that they have chosen to partner with us to offer these great prizes. First, let's talk about the prizes that are common to the Grand Prizes: Best Sweet Recipe and Best Savory Recipe.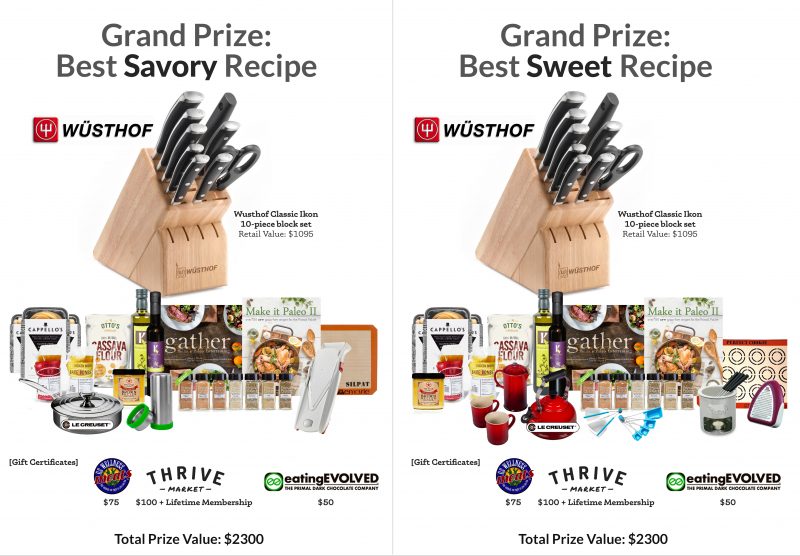 First of all, a huge thanks to Wusthof for pulling out all the stops and offering up TWO professional knife sets for this giveaway! These are the knives we use in our own kitchen, and have for the last 3 years. We love them because of their steel quality and comfortable grips. They continue to amaze us, and with a little honing, have managed to stay extremely sharp. The Classic Ikon chef's knife is hands-down my favorite cooking tool, ever. Not a day goes by that I don't use it. The other knives have a variety of great uses. I love the paring knife to de-bone chicken thighs. The serrated knife is great for paper-thin slices of tomato. Hayley likes the Classic Ikon santoku, which is a little shorter and lighter than the chef's blade. We also adore the come-apart kitchen shears, which is great for getting them 100% clean (great, after you've used them on raw meat). There is so much to love about these knives, and we are really, really excited that they are a part of this giveaway. (Visit Wusthof Online to Learn More)
Cappello's ($100 mixed-product pack) 
We've been huge fans of Cappello's for several years now. This should come as no surprise to our long-time followers, as most of you know that we partnered with Cappello's over two years ago to have them produce our now-famous slice and bake Chocolate Chip Cookie dough. They did a remarkable job helping us create our beloved cookies into a packaged dough that could be sliced and baked for an easy dessert at home. Beyond being the guardians of our cookie dough, they also produce awesome grain-free pastas (a Gnocchi, Lasagne, and Fettuccine). And they recently announced that they are releasing four varieties of grain-free pizzas (including a plain crust). We can't wait to try it! (Visit Cappello's online to learn more)
We love the convenience of having broth on hand made by people that "get it." There's really just no comparison between the stuff you can get at the store and Bare Bones Broth. It's as close to home-made as we've found yet (don't give me a blind taste test, because I might not be able to tell the difference.) They offer Beef and Chicken broth flavors, made from pasture-raised animals and organic ingredients. These guys have quality standards like our own, and we are really excited to have them as a part of this contest. Anyone that wins will truly enjoy cooking with their broth. (Visit Bare Bones Broth online to learn more)
Le Creuset (3 qt Stainless Saute Pan / French Press Coffee Set) 
Home cooks and chefs alike think the same thing when they hear Le Creuset: quality. We've been cooking with Le Creuset stainless pots and pans and enamel pots and pans as long as we've been blogging. We even registered for additional pieces when we got married two years ago. I just know that someday, when we have kids, and they have kids, the Le Creuset pieces will still be around, and passed from generation to generation. We've paired the 3-quart Stainless Steel Saute Pan with the "Best Savory Recipe" prize, and the French Press Coffee Set along with the "Best Sweet Recipe" prize. (Visit Le Creuset online to learn more)
Kasandrinos (Olive Oil and Balsamic Vinegar) 
In keeping with the "Super high quality" theme of the prize pack, we couldn't host an ingredient-based prize without the participation of Tony Kasandrinos. Known to Paleo cooks everywhere, Tony's olive oil is the highest quality stuff available. He's been building Kasandrinos as a company for several years now, and has earned a reputation for his top-notch olive oil, sourced from Greek non-GMO olive trees. Be sure to visit his website, because the way Tony describes olive oil is poetic. You can tell he takes quality very seriously, and that's why cooks everywhere love his Olive Oil. He's also offered up some of his (New-this-year) ultra premium balsamic vinegar, sourced from California. (Visit Kasandrinos online to learn more)
Tin Star is quickly gaining the status of the go-to ghee in the Paleo community, again, because of rigorous quality standards. Made from grassfed, cultured butter, their Ghee is very high quality. We especially like the Brown Butter Ghee for it's 'caramel-like' note, which comes from gently toasting the milk solids (and then removing them) The flavor remains, however, and they aptly call it a "Caramel Kiss of Perfection." We love using it in baked goods, especially, as it brings depth and complexity to recipes. We also use the ghee, just melted with pink himalayan salt, as an accompaniment to steamed artichokes. We also use it for cooking…. so yeah, we use it for almost everything. (Visit Tin Star Foods online to learn more)
Otto's is the first nut-free, grain-free baking flour in the Paleo world that can be used for a variety of purposes. Unlike isolated starches or flours, it's a whole food source. I can be used 1:1 as a wheat flour replacement in many recipes! Cassava is just Yuca (which is a starchy root… the same ingredient we use to make yuca crust pizza, actually). Admittedly, we have not had the opportunity at home to really dive in to creating things with our Otto's Cassava Flour (aside from a killer batch of muffins that Hayley made), but when we can get back into making baked goods every so often, we'll be using it a lot more… guaranteed. (Visit Otto's Naturals online to learn more)
Yep, we've also included some of our own good stuff in this giveaway. We are contributing our Fall Line of spices (The Sweet Pack and The Savory Pack), which includes all organic spices: Apple Pie Spice, Pumpkin Pie Spice, Cinnamon Sugar Cookie, as well as French Grey Salt, Rosemary, Thyme, and Sage. These are the flavors of fall, and what better way to celebrate their introduction than including them in this contest prize package! We've also included our newest cookbook, Make It Paleo 2, as well as Gather – our holiday entertaining cookbook. (Learn More about Primal Palate Organic Spices here)
Our long-time friends (and partners in the development of our myKitchen app), US Wellness Meats has joined in the prize pack with a pair of $75 gift cards. We've visited their family of farms in Missouri, and have seen first-hand the quality of their grassfed beef. (Hanging out with friendly cows is so much fun!) Their grass-fed beef is recognized for its exceptional taste, quality and health benefits by chefs, health experts, professional athletes, and many others. In addition, U.S. Wellness Meats offerings include grass-fed lamb, bison, and goat, as well as grass-fed butter and cheese, free-range poultry, honey, organic nuts, and other wellness products. (Visit US Wellness Meats online to learn more)
We've been big fans of eatingEVOLVED chocolate for many years. Christine and Rick (another business owning couple…. woot!) have done a wonderful job growing Eating Evolved into a national brand of super high quality chocolate. All eatingEVOLVED chocolate is free of gluten, dairy, or soy (that's right, no soy lecithin!). In fact, they use the fewest ingredients physically possible to create chocolate. Made with organic, Fair-Trade certified cacao; Single-Origin cacao ethically sourced from the Dominican Republic; Lightly sweetened with organic and unrefined coconut sugar; Gluten, Dairy and Soy-Free; Each bar contains at least 72% cacao; Flavors include nutrient dense, sustainably sourced ingredients; Crafted in small batches in New York. (Visit eatingEVOLVED online to learn more)
Thrive Market ($100 Gift Certificate + Lifetime Membership) 
New to the Paleo world in 2015, Thrive Market strives to combine some well tested sales models: Acting like a beautifully orchestrated blend of Costco, Amazon, and Whole Foods. Those are three of our favorite places to buy things, so if you're like us, you'll like Thrive as well! Thrive Market is a membership community, they charge just under $60 a year for a membership, and in return, you get HUGE savings on your favorite natural and organic food products at wholesale prices (Many of the products above are also available on Thrive). With supporters like Michelle Tam, Robb Wolf, and Mark Sisson – you know this revolutionary concept has garnered a lot of fans in the Paleo community. We've big fans too! (Visit Thrive Market online to learn more)
Various Kitchen Tools 
As a part of the Grand Prize Packages, we've also included a variety of fun kitchen tools and gadgets.
For the Best Sweet Recipe prize we're also offering a Silpat Perfect Cookie Mat ($24.99), KitchenIQ V-etched Spice Grater ($12.99), Dreamfarm Levups ($19.95) and Levoons ($14.95), Swissmar Swiss Moo 7-Piece Chocolate Fondue Set ($27.99).
For the Best Savory Recipe prize, we're also offering a Silpat US Half-Size Mat ($24.99), a Casabella Garlic Shake N' Press ($9.99), and a Swissmar Borner V Power Mandoline ($60.00)
---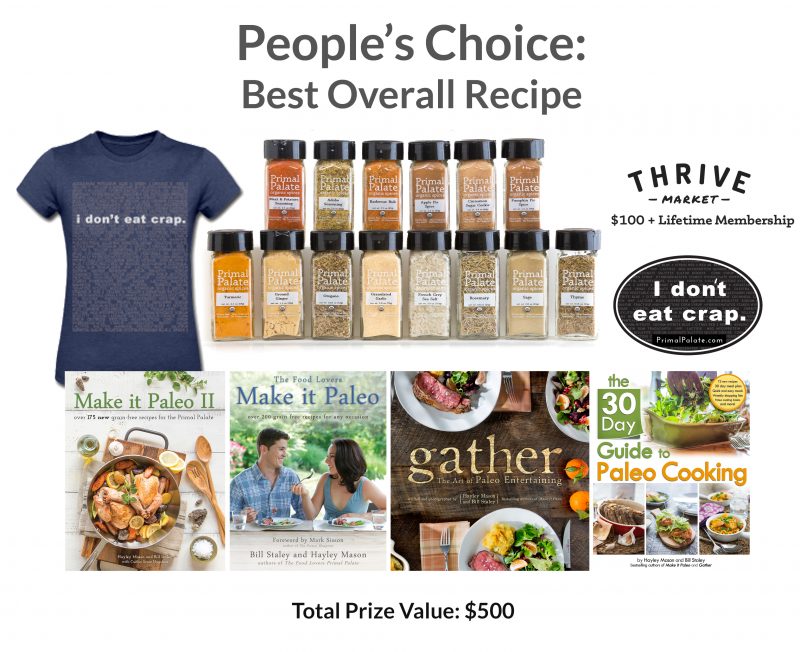 In addition to the two Grand Prize packs, we'll also allow everyone to vote for a People's Choice "Best Overall Recipe" in the contest. We've put together a grab bag full of our own products for this prize:
Primal Palate Organic Spices
Our FULL line of organic spices includes 14 flavors, and 4 packs:
The Sweet Pack: Apple Pie Spice, Pumpkin Pie Spice
The Savory Pack: French Grey Sea Salt, Rosemary, Thyme, and Sage
Signature Blends: Adobo Seasoning, Barbecue Rub, and Meat & Potatoes Seasoning
The 'Healing' Pack: Ginger, Garlic, Turmeric, and Oregano
Learn more about our line of organic, non-GMO, non-irradiated spices here.
Primal Palate Cookbooks
The People's Choice winner will receive all of our cookbooks: Make It Paleo, Make It Paleo II, Gather, and The 30 Day Guide to Paleo Cooking! These cookbooks span a wide range of meals, from simple weeknight meals in Make It Paleo, to some higher level meals in Make it Paleo II, to full-scale entertaining recipes in Gather. Our 30 Day Guide to Paleo Cooking contains easy weeknight meals, as well as a 30-day meal plan and shopping lists. All of the books contain great information on the Paleo lifestyle! (Learn More about our Cookbooks here)
I Don't Eat Crap (Shirt and Sticker)
Our longest running product, dating back to 2010, the classic "I don't eat crap" shirt has been a perennial favorite among fans, even being donned by the Iron Chef, Michael Symon himself. The background words on the design are some common "crap" additives to food (like MSG, food colorings, and chemicals that don't really belong in food). We also have included a sticker of this design in the giveaway too. The winner can have as many as they want, because we literally have a thousand of them.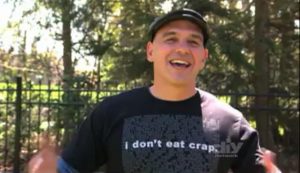 Thrive Market ($100 Gift Certificate + Lifetime Membership) 
Just like the Grand Prize packs, the People's Choice winner will also receive the Lifetime Membership and gift certificate to Thrive Market. Big thanks for them contributing three prizes to this contest!
(Visit Thrive Market online to learn more)
---
We are really excited about this contest, and look forward to seeing each and every submission.
Ready to enter? Click below!

Need some inspiration first? Click to see the entries so far! (Sweet | Savory)
If you have already uploaded a recipe that you would like us to consider as an entry, please email us.