A wise friend (Diane Sanfilippo) of ours once said, "Goji berries aren't a super-food, LIVER is a super-food!"  Liver truly is a super-food, and one everyone should make an effort to include in their diets. Chock full of vitamins, this is one food item that I was on a serious mission to enjoy (especially since it is a good food for the thyroid!) A few weeks back, we were at Bill's dentist appointment and we were talking to the hygienist about her grandson who had some food allergies. When she asked what to feed a baby instead of enriched juice (which are all synthetic vitamins that you don't absorb anyway- YUCK), I replied with "feed him liver." She was extremely kind, nodded, and asked how we knew so much about food and health, but I could tell she was holding back a "who is this crazy kid telling me to feed my grandson liver?" But in reality, it is so true!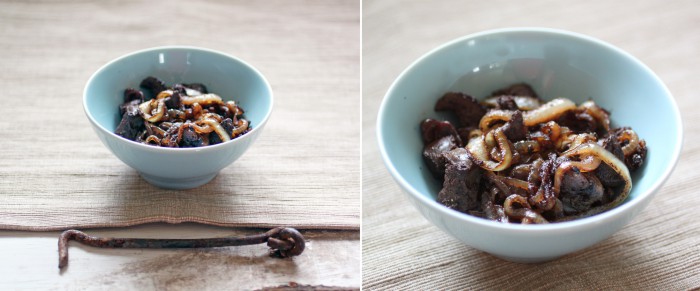 I have tried to like liver in the past and I just couldn't do it, the idea of actually eating an organ doesn't bother me in the least, it is the after taste of liver that I have a hard time with. Bill and I attempted to make chicken liver pâté, and it was so incredibly awful to us that I almost cried over all of the pastured US Wellness Meats chicken livers that we wasted. Bill had the brilliant idea to try eating it with bacon, and even that didn't save it! I tried liver again when Diane was visiting with us. She had brought some of her pâté with her, and I decided to give hers a shot since I knew she was a pâté-making pro. Another no-go. I just couldn't take the after taste.
Since I couldn't seem acquire a taste for liver, I decided to hide it in ground meat. At least that way I could benefit from all the nutrients without having to deal with the flavor. Every time we made lettuce wrap burgers or meat balls, I would try to remember to hide ground chicken livers in the mixture. Lucky for us we feed our cats a raw diet and we always have chicken livers in the house. I was satisfied with the amount of liver I was getting in the ground meat, but to be frank, I was still extremely disappointed with myself that I couldn't find a way to enjoy liver on its own.
My last attempt was guided by my Grandy Kyp. She had a delicious recipe for chopped liver that she used to make with her Bubbie, and she told me that I would love it (fingers crossed)! This past weekend Grandy Kyp came over to teach me how to make chopped liver. I wont go into too much detail on that recipe because we will be posting it soon, but I actually enjoyed it! I had a decent helping of the chopped liver and really loved every bite! When we were in the process of cooking the liver I decided to taste a bite of pan fried liver that had been cooking in schmaltz (chicken fat). I found that I enjoyed the liver more before it was pureed, and after hearing from Bill's mom how delicious liver and onions are, I decided to be brave and cook up a batch for myself for lunch.
Since we were out of schmaltz I used duck fat to saute the onions, and cook the livers. I simply added salt and pepper to season the dish and it turned out amazing! It still had a very slight liver after taste, but it was so subtle that I didn't mind it one bit. The only problem with the dish was that I should have made more. I let my sister take a bite and she almost took it away from me! Liver success! Bill even enjoyed it as well, although he still had some problems with the after taste. At least we are making progress!
A note on livers: when consuming organ meats it is extremely important to make sure that the organs you are eating came from a healthy animal. If you cannot get your hands on organs from a pastured animal, the next best thing is to purchase organic organs. The darker in color the livers are, the healthier the animal was!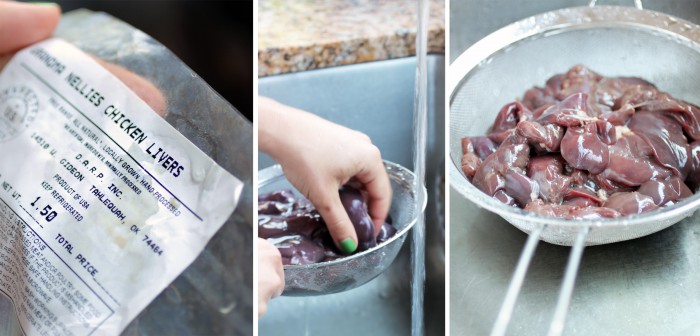 Look at those beautiful US Wellness Meats chicken livers!