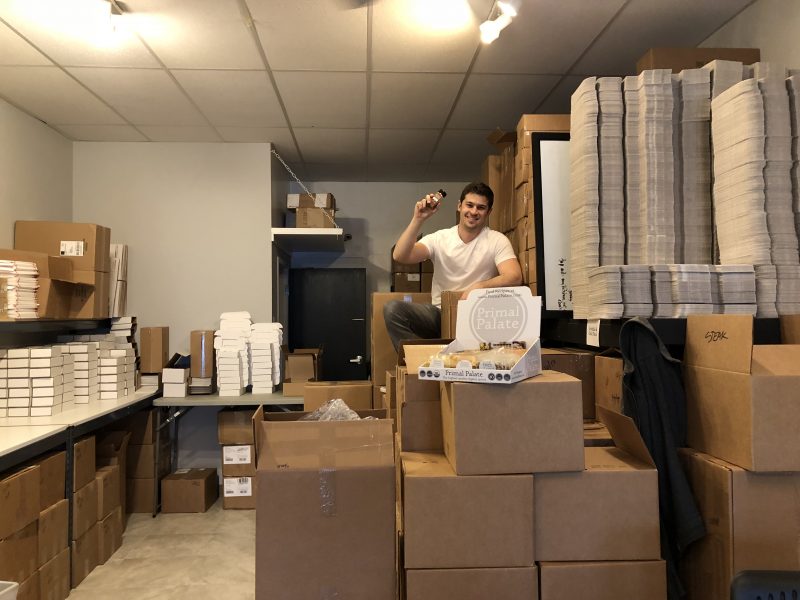 It was around this time last year we started looking around our cramped and crowded office, wondering where in the world we were going to put our desks, let alone the couch and "hang out" area we once had. Our little office was overflowing with cases and cases of spices, waiting for the huge rush of Black Friday orders (which, indeed, was pretty major). We realized we had a problem: we needed more space for Primal Palate.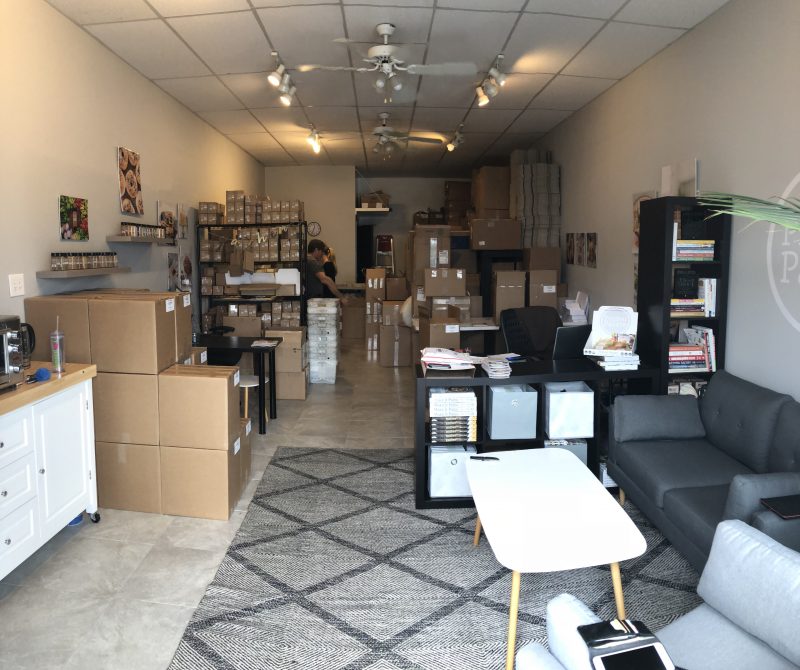 Given that we wanted to be in a specific part of Pittsburgh, we needed to start looking for a new space right away, since there isn't a huge inventory of warehouse or storefront spaces. Around March, we found a storefront about a mile down the road that had more than triple the space, including a downstairs area that could be converted into a test kitchen – something we had always wanted. Since Primal Palate is still so much about the recipes, we wanted to be able to bring all of our business activities under one roof.
In April we signed the lease and began working on the space. With the help of our business partner Tony and my dad, we rented a tool called a Scarifier and ground down the concrete floors and polished them to a beautiful shine. It was a huge project, but very rewarding to see it come together.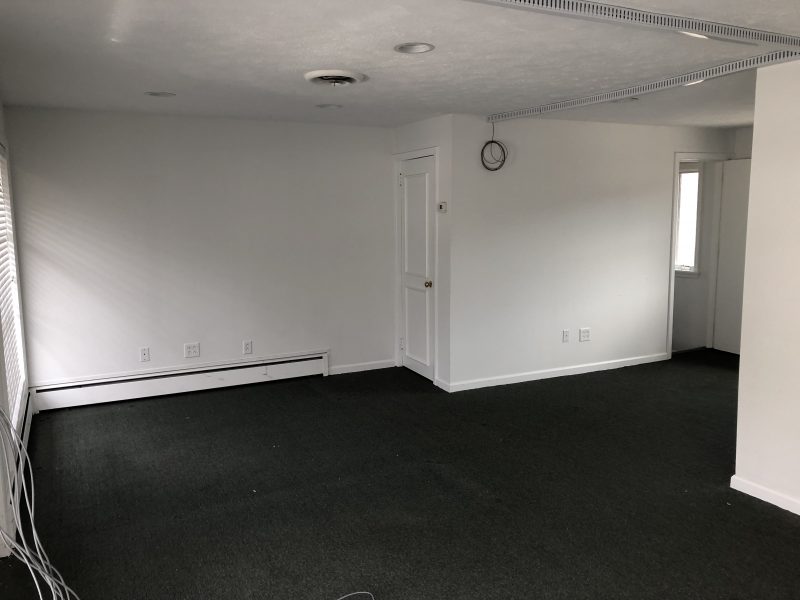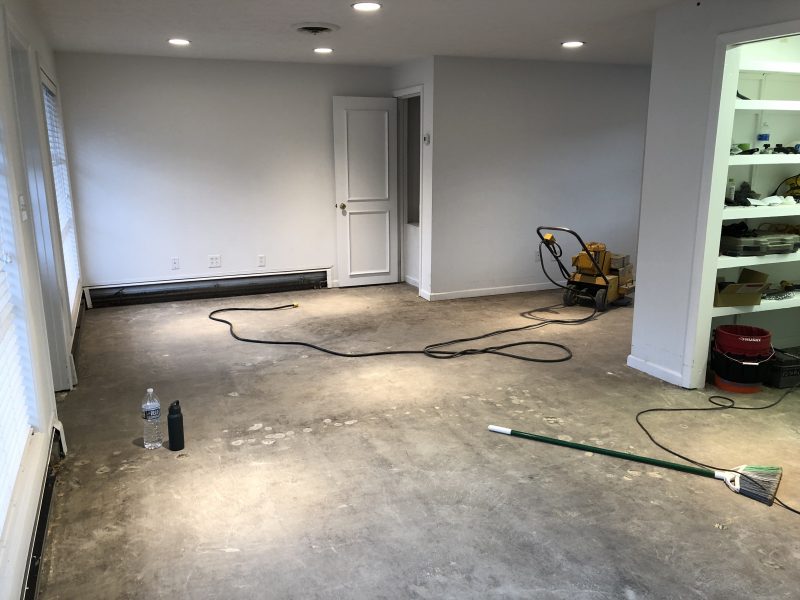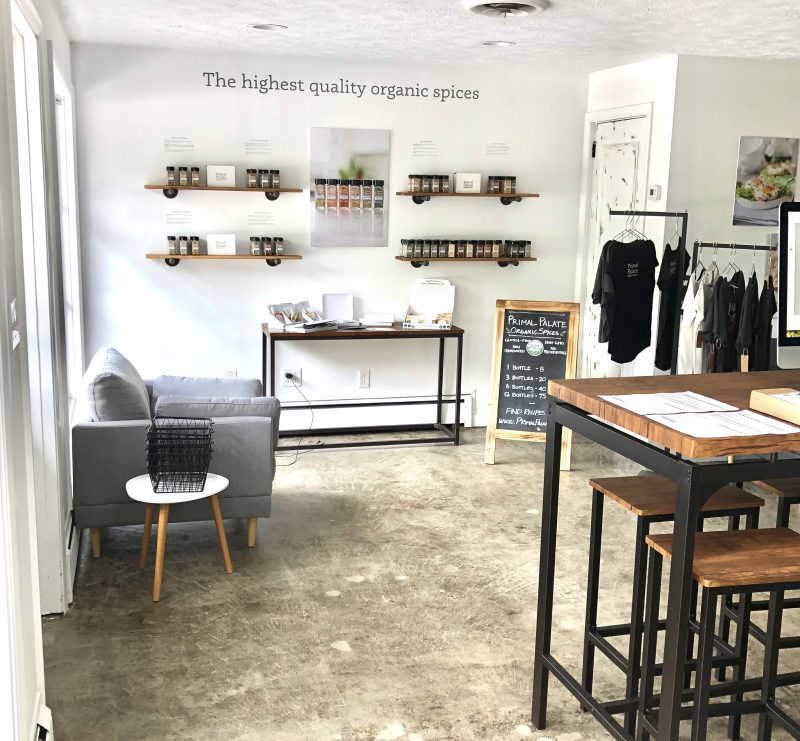 The main level of our space contained enough space for a storefront, in addition to a storeroom where we could fill our orders. Once the main level was finished, we turned our attention to the larger project: building out a working kitchen for making and photographing recipes.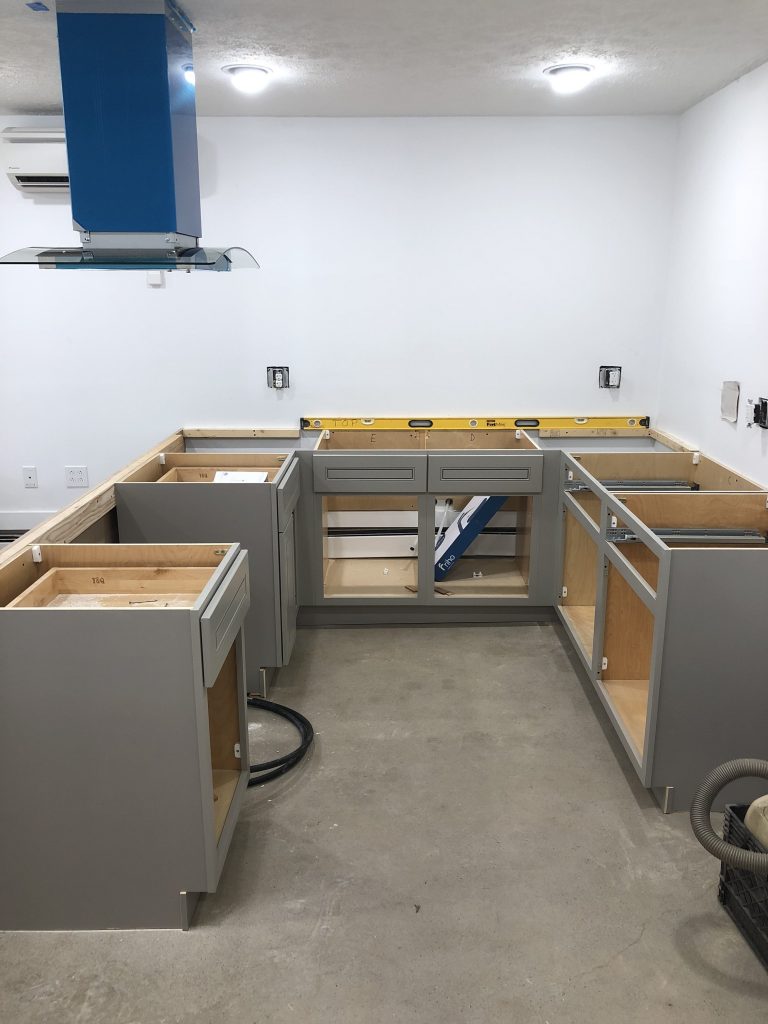 It was around this time that Hayley and I also realized we truly needed to be much closer to our new location. With a storefront to manage and sales steadily increasing (thanks to Thrive Market and Kroger bringing on our products, among other vendors) we were wasting loads of time driving back and forth to our house 20 miles away. So over the summer, we moved closer to our new HQ.
Working with a tight budget and an even tighter timeline, we needed to figure out how to pull off a functional kitchen without going broke (or going crazy). The moment things turned around on our kitchen was when Samsung offered to help us get to the finish line and contribute two of their premium kitchen appliances for the space. It was a dream come true, because we had already fallen in love with Samsung appliances, as we owned one of their amazing refrigerators at the home we sold earlier in the summer.
It's said that people spend about 60 percent of their waking hours in their kitchens when they're home. I would say it's more like 90 percent for us, and perhaps many of you who love to cook, too. Its not just a place to cook, but a place to nourish relationships, recharge, and build memories. The kitchen is really the hub of the home, and at the center of the kitchen is the refrigerator. I think Samsung was pretty clever in naming their Family Hub refrigerator, because it's so true that it can act as a hub in the home.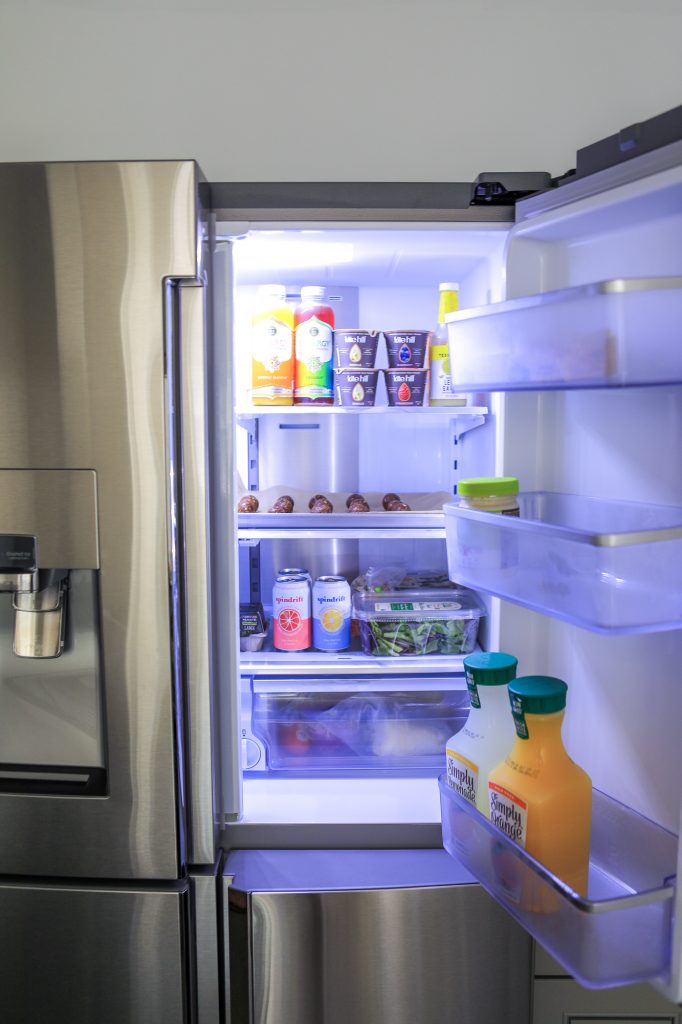 Even more with the technology they've built into it. We've had TWO Samsung refrigerators in our lives now, with our current being their Four Door Flex smart refrigerator. This fridge has a built in 21" LED touch screen, which sparkles in the kitchen like a fine jewel – it honestly steals the show from pretty much everything else, especially when we post extra large photos of Charlie on the slideshow. Just like you would expect from a smart device, there are hundreds of apps that are directly integrated. One of our favorite things is to pull up the Spotify app on the fridge and play music through the big speaker below the screen.
Another cool thing about the Family Hub refrigerator is the integrated trio of cameras inside the door. You can pull up the Family Hub app on your phone and take a peek inside with their View Inside function, which is especially helpful when you're in the grocery store and can't remember if you need more of something. I'm glad Samsung turned everyone's dreams into a reality with that one.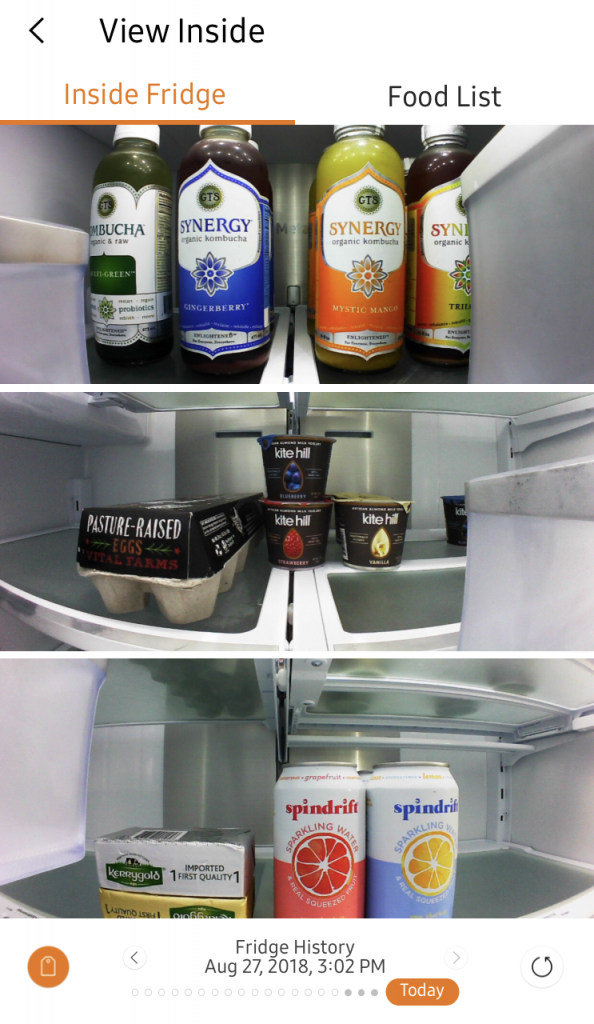 (A camera for each shelf!)
Reading recipes on your phone is a thing of the past with the Family Hub refrigerator. Just pull up your favorite recipe website (ours!) and leave it on the screen to reference while you're cooking. You can really flex the full synergy of the Family Hub refrigerator and our website by doing your meal planning and creating shopping lists through the myKitchen app on Primal Palate, right on the fridge screen!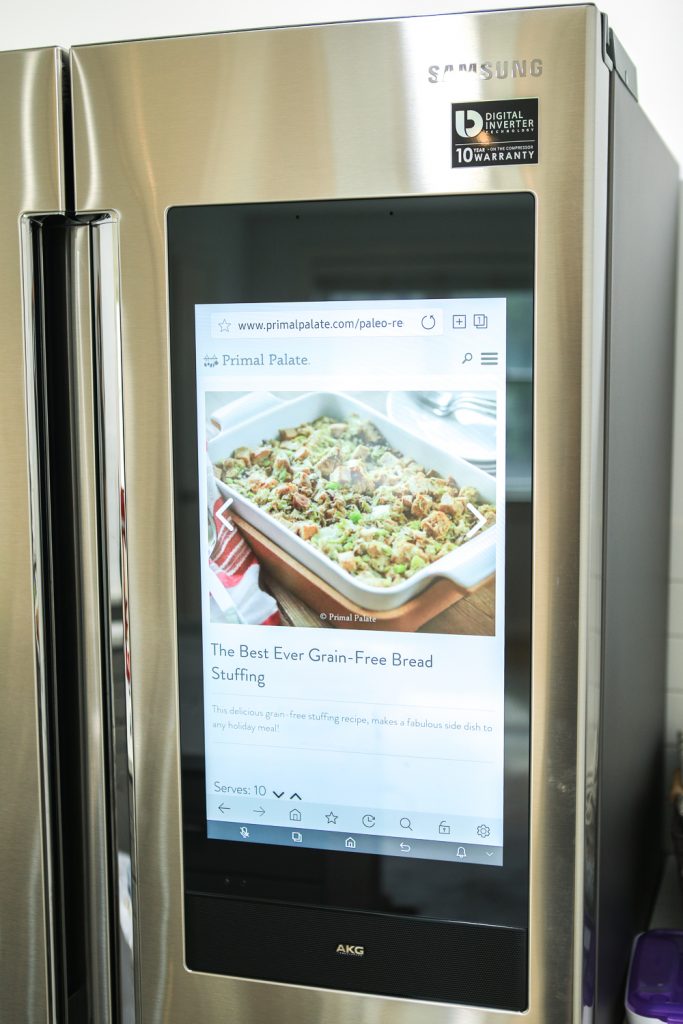 When it's time to get down to business and get cooking, our Samsung Flex Duo Range is a real powerhouse in the kitchen. I was most impressed to hear that the big burner puts out a whopping 22,000 BTU of heat. Stovetop cooking is all about heat management, and the gas range controls for the Flex Duo range are top notch – giving great adjustability and consistency.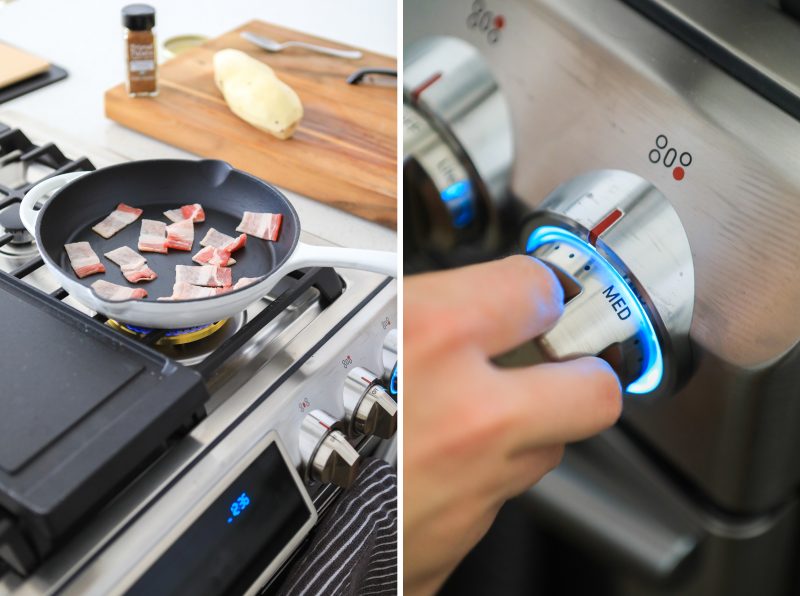 With the holidays in full swing, it's not hard to see how the Flex Duo would be helpful in preparing multi-dish meals. The real beauty is that you can use it as one large oven (turkey, anyone?), or two smaller ones (stuffing, casserole, carrot soufflé…). Cooking multiple dishes for a holiday meal can be challenging when you only have one oven, especially when dishes need to cook at different temperatures. Not to mention trying to get food to the table while it's still warm.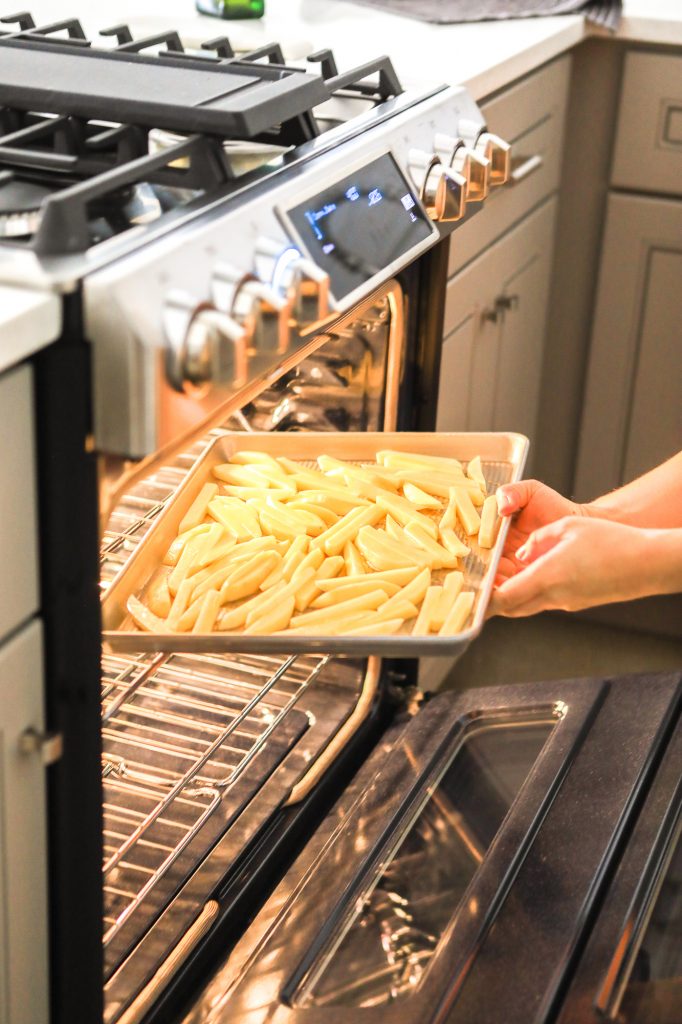 Last week we cooked a pizza directly on the wire rack in the upper oven. Hayley said that even though the pizza was done and looked great, some cheese had slid off the side and into the oven. I just pulled the divider out and the cooked-on cheese literally rinsed right off of it. I was stunned, and yet not surprised at all. Samsung has carefully thought about every aspect of this appliance, so of course baked-on-cheese wouldn't stick to the divider. Genius!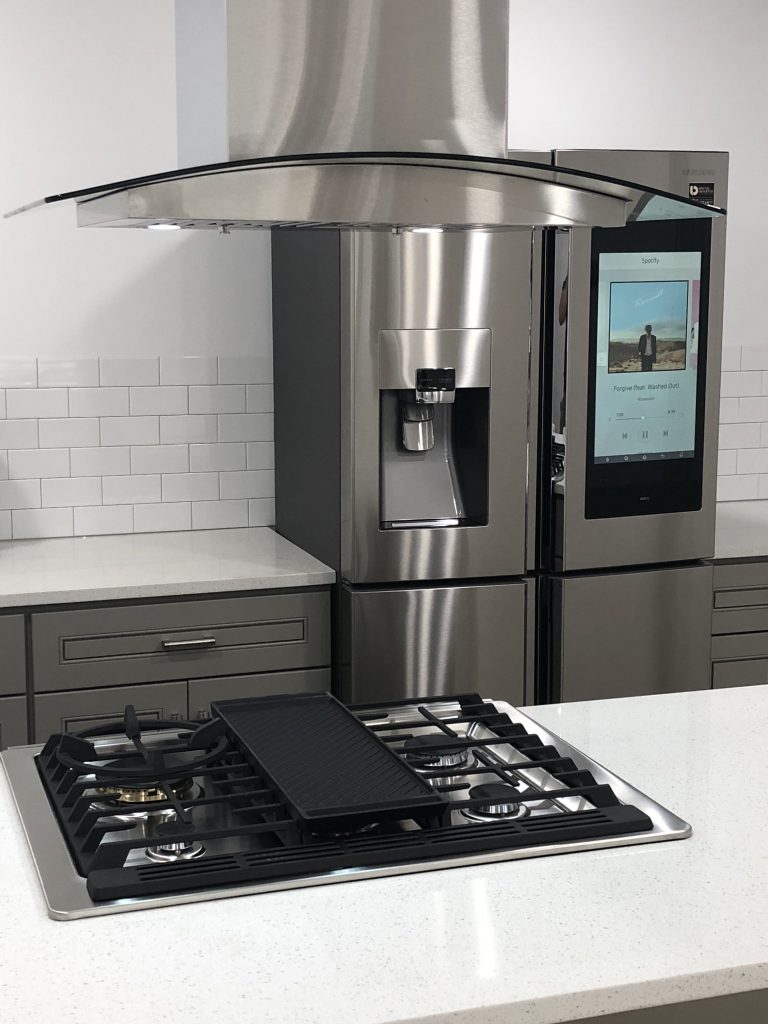 Our office kitchen is complete with the suite of Samsung appliances, and going to work is even more of a treat getting to work in such a beautiful, well-equipped space. With our year of big changes and moves, a real highlight was getting to create the kitchen of our dreams at Primal Palate.