cook:
20–30 minutes per pound
ready in:
20 minutes, plus 20–30 minutes per pound
Serves: 2–4
Lemon Garlic Roasting Chicken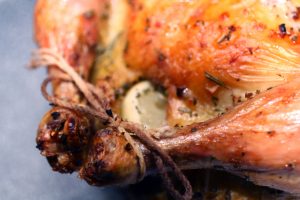 The smell of chicken roasting in the oven brings along a feeling of comfort in our home during cold winter months. This recipe, full of flavor, will also fill your home with the wonderful scent of garlic and rosemary during the cooking process.
cook:
1 hour and 30 minutes
ready in:
1 hour and 50 minutes
Serves: 4–6
Chicken with 40 Cloves of Garlic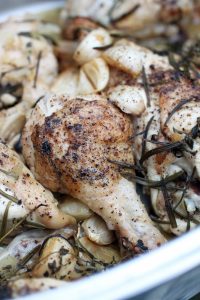 This is a popular dish that has been shared by many respectable cooks. Often, this recipe calls for the use of liquor and white wine. For our version, we keep things simple and allow the flavors of the chicken to be enhanced only by bathing in herbs (and a massive amount of garlic) for a few hours. Do not get so caught up in the tender and juicy chicken that you forget to enjoy the steamed cloves of garlic. They are a wonderful little treat in their own right.
One Pot Steamed Garlic and Herb Scallops with Veggies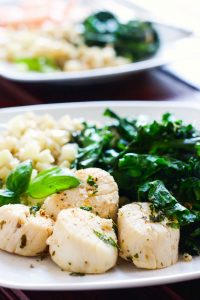 Steamed Scallops with Garlic, Herb, and veggies all cooked in ONE POT! Cooking Scallops can seem intimating for some, but this paleo friendly dish is ready in 10 minutes and is SUPER easy to make. A Healthy Light meal for one or more!
Roasted Garlic and Basil Guacamole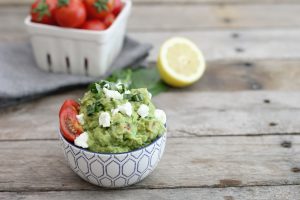 I am a big fan of non-traditional guacamole. Avocados are so versatile and I don't think we give them enough credit. I decided to make guacamole with basically the complete opposite flavor of traditional guacamole. We had gotten some delicious tomatoes, basil and goat cheese from our farmer's market and I decided that I wanted to combine those flavors for the guacamole. I also decided to use some roasted garlic because it lends a sweet garlic flavor instead of a "kill a vampire" flavor. The combination turned out absolutely amazing and really is a perfect seasonal dip. It may take your senses a second to realize it isn't the traditional flavor but it is so worth trying!
Cheesy Turmeric + Garlic Kale Chips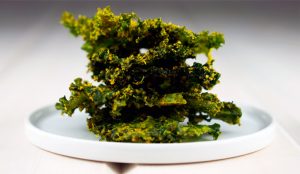 These Cheesy Turmeric + Garlic Kale Chips use nutritional yeast for the cheesy flavor and turmeric for an anti-inflammatory kick. This combo is truly delicious! These have become an Autoimmune Protocol staple in my house. They don't last long so I always make a double batch. If you tolerate nightshades I suggest adding a sprinkling of cayenne pepper for a spicy kick. You can also omit the garlic if it's not your thing. Lots of ways to modify to your taste. Enjoy!
Roasted Garlic Sweet Pepper Soup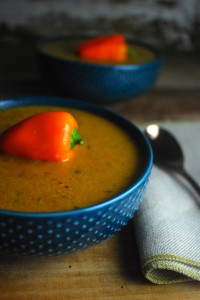 Roasted Garlic Sweet Pepper Soup. Colorful, low-calorie soup flavored with roasted garlic, fresh herbs and a jalapeño pepper. Perfect for detox meal plan, or as the first-course of an elegant meal.
Rosemary and Garlic Maple Glazed Carrots
These Rosemary and Garlic Maple Glazed Carrots are a simple side dish that can be made in about 10 minutes.
Lemon & Garlic Chicken
Easy lemon & garlic marinated chicken that can be frozen or cooked immediately.
Hasselback Sweet Potatoes with Crispy Garlic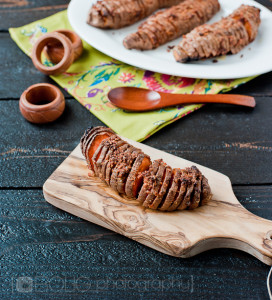 A Paleo twist on the popular Hasselback Potato using Sweet Potatoes, Ghee, garlic and spices to create an addictive side dish that is easy to make and will please the whole family!
Roasted Garlic and Zucchini Turkey Burgers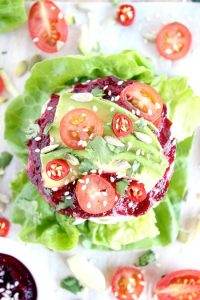 All natural, quick, easy, succulent, juicy, super healthy roasted garlic & zucchini turkey burgers.