Asparagus Soup
Light and creamy asparagus soup is a great dish for spring. Perfect for slightly chilly evenings, this soup will bring warmth and fresh flavor to your table.
"Cream" of Mushroom Soup with Bacon and Leeks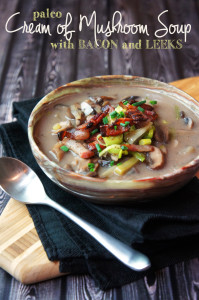 Confession: I love mushrooms so much that it takes a lot of self control not to eat them all while I'm chopping them. Somehow, enough mushrooms actually ended up in the soup pot for this "cream-of" soup to become Cream of Mushroom Soup. You know that saying "good things come to those that wait"? Yea. Good things come to those that wait. See, while the mushrooms sit on the cutting board, they're foamy little bites with earthy flavors that are (IMO) extraordinarily fun to eat. But once they've been seared, seasoned, and drowned in a creamy broth, they become savory, meaty and rich. Homemade Cream of Mushroom Soup blows the canned stuff out of the water, and not just in flavor and style. It is actually truly nourishing with whole ingredients, healing broth, and no mystery additives. Besides, this homemade version comes with bacon, and you can't beat that. Walking the line between creamy and gravy, this soup sticks to your bones. Each creamy bite is infused with the flavors of fresh herbs, leeks, and mushrooms. Little bits of bacon give your something to go searching for. An empty bowl begs to be licked clean. Who invented the canned stuff anyways? No offense, but they were totally off the mark.
"Canned" Butternut Squash Soup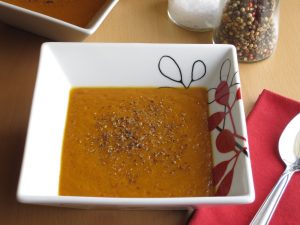 What I love about this recipe is that you get a whole food, home-cooked meal just by opening a few canned ingredients. It's just as easy as opening up a can of pre-made butternut squash soup but so much healthier! Although not required, make this butternut squash soup in your Blendtec. Simply combine the ingredients and blend until heated for a simple meal!
cook:
1 hour and 10 minutes
Serves: 6
Tomato Basil Soup
This creamy tomato soup will bring a taste of the garden to every bite. If you are not a tomato soup fan, we encourage you to try this soup. The tomato flavor is mild and creamy, while the basil adds additional warm, sweet flavors that beautifully enhance this dish.
South by Southwest Chicken Soup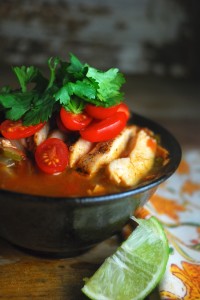 South by Southwest Chicken Soup - full of grilled chicken, veggies and spices - is a healthy, high-protein meal with big flavor.
cook:
30 minutes to 40 minutes
Serves: 6–8
Butternut Squash Soup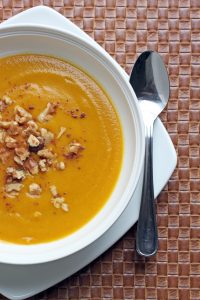 The perfect soup to warm your soul on a crisp fall evening, pureed squash brings together all the flavors of autumn to your bowl. Naturally sweet butternut squash is enhanced beautifully by the use of cinnamon in this recipe. Chopped walnuts give this meal just the right amount of crunch. This soup will have all your senses soaring.
Loaded Bacon Burger Soup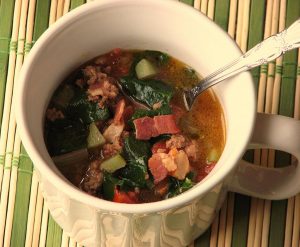 I had a huge pot of beef stock simmering away on the stove recently and wanted something new to use it in right away. I used to make a killer cheeseburger soup in our pre-paleo days, but it contained Velveeta, all purpose flour, potatoes and sour cream. We do eat high quality dairy products from time to time, and everyone but me occasionally eats white potatoes (I'm still in weight loss mode), but I wanted to come up with a recipe we could all eat. I thought about all of my favorite bunless burger toppings, and other than pineapple, jalapenos and banana peppers, this is all of it! It's really easy to tailor this soup to your liking–omit what you don't like, add more of what you like, and/or add your own favorite burger toppings. My finished product does not resemble the stuff I used to make in the least, but once I got to this point, it was so good, I didn't want to mess with it by trying to add anything to thicken it up.
cook:
1 hour and 30 minutes
Serves: 8
Grandy Kyp's Chicken Soup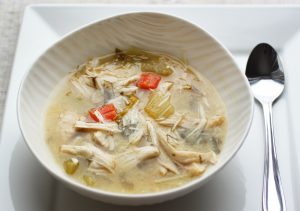 The smell of dill, garlic, and chicken that fills the kitchen when this soup simmers will always remind me of my Grandy Kyp. The original recipe, created by my Grandy's Bubbe, used an entire roasting chicken for some very healing bone broth! I will gladly enjoy this soup any day of the week, but it is particularly comforting when I am not feeling my best.
Autoimmune Paleo Saffron Carrot Soup with Bacon Spinach Pesto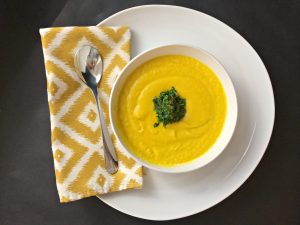 Creamy and earthy with the addition of saffron and onions, this soup is quick and elegant.
Steak Stir-Fry Soup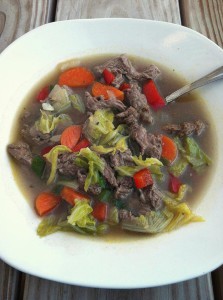 I came up with this recipe when 3/4 of my kiddos brought home the sniffles shortly after school started in September. For dinner one night, I had planned to make stir-fry with some minutes steaks that were thawed in the fridge and a head of Napa cabbage that needed to be used up ASAP, but I also wanted to keep bone broth-loading everyone. So, Steak Stir-Fry Soup it was! Substitute/omit/add ingredients depending on which meats and veggies you enjoy in your stir-fry and how chunky you like your soup.