This Valentine's Day is pretty special to us, because it is 2 days before our new cookbook Make it Paleo II releases! We don't have anything crazy planned to celebrate together, because we are kicking off our book tour the day after Valentine's Day with a huge book release party here in Pittsburgh. These days we'd much rather spend some much needed cuddle time at home with our fur and feather (did you hear that we got chickens??) babies anyway.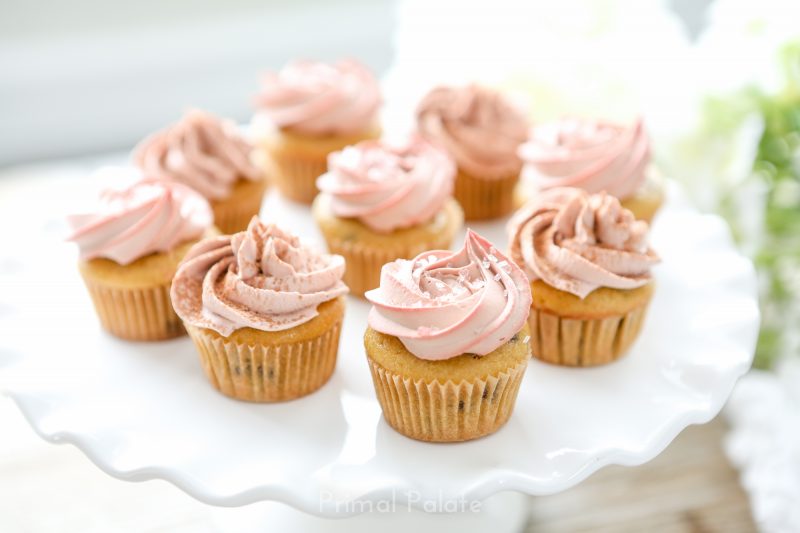 For this Valentine's Day I modified our Luscious Lemon Cupcakes from Make it Paleo II, and made them into adorable chocolate chip mini cupcakes! I love taking a recipe of mine, and getting creative with it in new ways. It makes for some stress-free baking when you already have a base recipe created, that's for sure! Valentine's doesn't seem right without chocolate, so I figured why not add some chocolate chips to the cupcake batter?! Seems totally appropriate, right?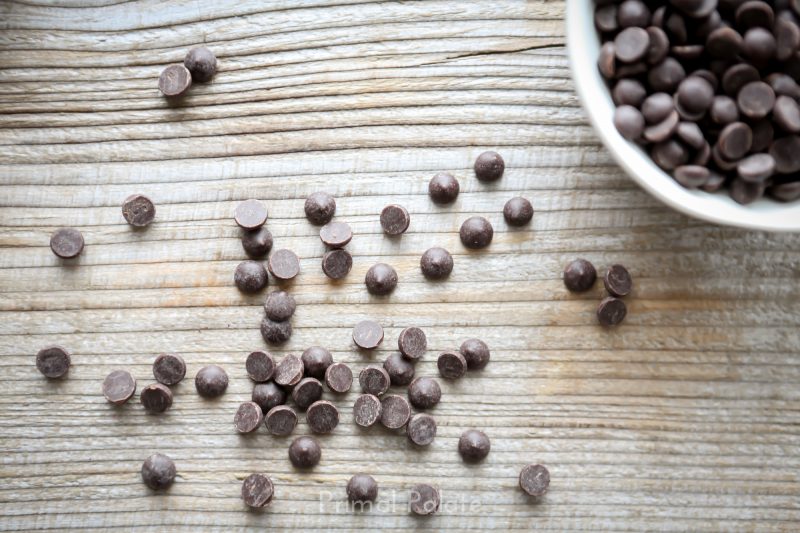 For this recipe I also show you how I use whipped coconut cream as a non-dairy frosting. Whipped coconut cream can be tricky to make, because you never really know when you will get a really good can of coconut milk that separates well, or when you get one where the cream just wants to be with the water forever and ever. That is so annoying. What I usually do to ensure perfect cream and water separation, is I very lightly shake/wiggle the cans of full fat coconut milk when I'm at the store before I choose which ones I want to buy. Usually I can feel if the can already has good separation. That's really the key here. Then I make sure the cashier doesn't toss the can around when they ring it up, and keep it in the upright position driving home. You don't need to be a freak about this, just mindful. Once I get home the can goes right in the fridge, and then it will be ready for whipping!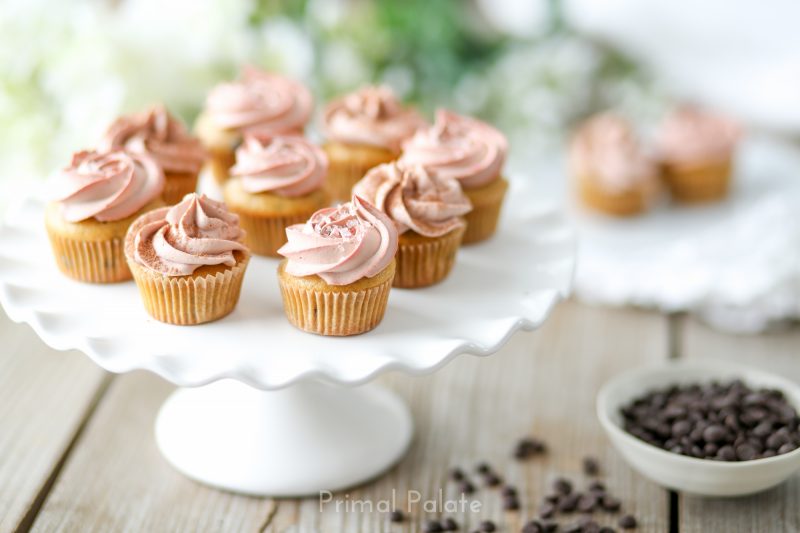 If any water mingles with the cream before you try to whip it, it will not be sturdy enough for piping onto cakes or cupcakes. It will still be delicious if you want to enjoy a dollop on a slice of cake or pie, or just fresh berries, but it will just run through a piping bag if you try to be fancy with it. For your ultimate viewing pleasure, we made TWO recipe videos for these cupcakes. One video for the cupcakes, and one video for the frosting. Don't pretend like you're not excited. I know you are….
Seriously guys. Making video's is hard. It's fun, but hard. First I have to do my hair and makeup, which takes a lot of effort. Especially when we all know that I don't actually leave the house except to go to Whole Foods, so it seems like a waste of time. Then we have to get set up with the camera, and lighting (because we have no light here in Pittsburgh right now), and food of course. AND make sure our kitchen is clean (which really just means move all the crap out of the frame). Then I have to make the recipe AND try to explain it without sounding like an idiot (this is the hardest part), and THEN we have to edit the video. Are you exhausted? Because I am just thinking about it.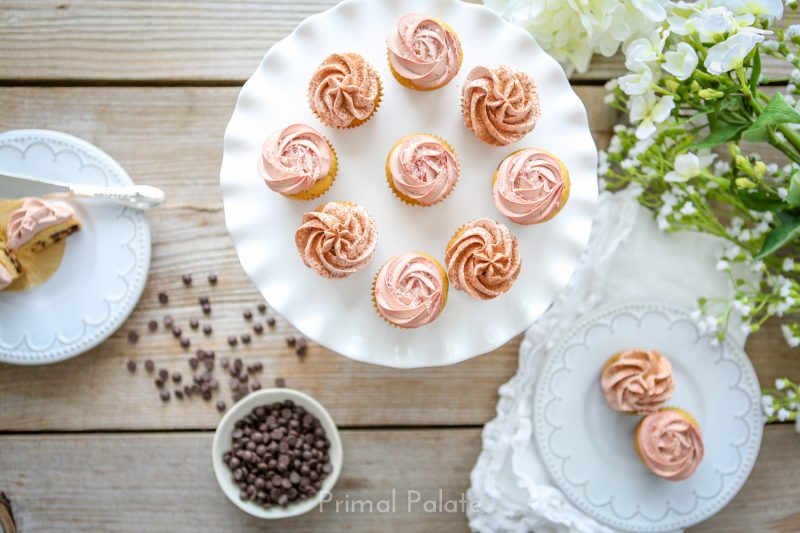 Luckily we really enjoy it also, so it's worth it! It's something fun for Bill and I to do together. An artistic expression just like food photography is for us. We clearly aren't as good at video (YET), but practice makes perfect! If you are wondering why we are doing more video these days, don't worry we aren't trying to get a TV show. Making a 5-10 minute cooking video takes hours, and I like not being on camera the majority of my life. I never wanted to be an actor, and I think most celebrity chefs have to really enjoy the "acting" part of the whole gig. It's just not really my thing. Or Bills. But nevertheless, we enjoy making silly videos for our YouTube channel! (If you want to Subscribe to our YT channel, go for it!) I hope you guys love this tasty recipe for Valentine's Day, and I hope the videos are helpful to you! If you like our videos and want to see more, make sure you subscribe to our YouTube channel! Hope you get lots of hugs and smooches this Valentine's Day!