Hello friends!
We are just a week away from the official release of our new cookbook, Make It Paleo, and we couldn't be more excited to share it with you all! We are just in love with MIP2, and think you all will really appreciate the two years of hard work that we put into making it!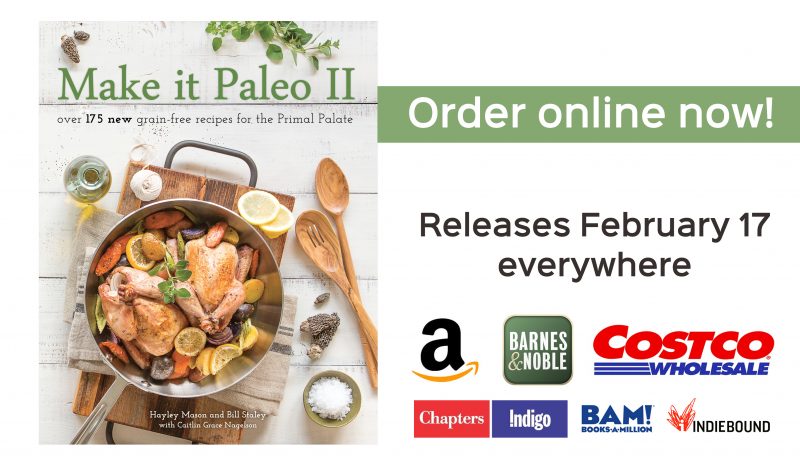 The book released on February 17th, although a few eagle-eyed people have already spotted the book at their local Barnes & Noble (that may have put it out early by accident.) It might be worth checking with your local B&N if you are impatient. Since we're just a week away from the release, we thought we would outline the many ways you can get the book.
1. Pre-order it from Amazon or Barnes & Noble. This is a great way to get it if you're far from any book stores. Plus the price is very good for both (Barnes & Noble has it for a significant discount online!) – so check those out.
2. Grab it at your nearest Costco! All US Costco stores, as well as all English-speaking stores in Canada will be carrying the book starting next week.
3. Other booksellers like Books-A-million, Indigo, Indie Bound, and many others will also be carrying the book. Support your favorite local store!
4. BEST OPTION: Come see us on our BOOK TOUR! Not only can you pick up a copy of the book, but you can hear us talk about what it was like making the book, meet all three of us, and get your copy/ies signed! PLUS – those that come to the signing will be able to snag a free "I don't eat crap" sticker from us! Yep, they'll be free. Just for showing up! 🙂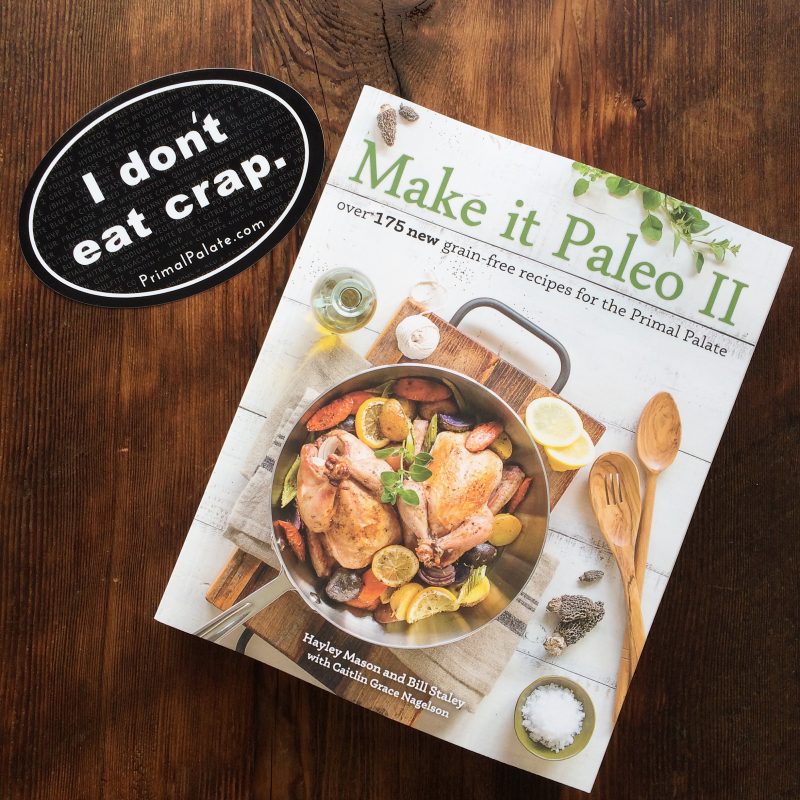 Make It Paleo 2 Book Tour
We are SO EXCITED about our book tour, so we wanted to share ALL the details with you. Now, before you go browsing all the information below, it's important to note that DIANE SANFILIPPO, author of Practical Paleo, the famed 21 Day Sugar Detox, and co-host of the Balanced Bites Podcast will be joining us for the LAST THREE STOPS of the tour (Alexandria, Charlotte, and Orlando). However, she will be with us "in spirit" for the other stops. haha!
Book Release Party @ E2 in Highland Park, 5-8pm (RSVP/More Info)
Book Signing and Q&A, Barnes & Noble in Clackamas, 6pm (RSVP/More Info)
Book Signing Event, Costco in Aurora Village, 5-7pm (RSVP/More Info)
Book Signing and Q&A, Barnes & Noble in Skokie, 7pm (RSVP/More Info)
Book Signing Event, Costco in Naperville, 1-3pm (RSVP/More Info)
Book Signing and Q&A, Barnes & Noble in Glendale, 2pm (RSVP/More Info)
Book Signing and Q&A, Barnes & Noble in Lincoln Park, 7pm (RSVP/More Info)
Book Signing Event, Costco on W. William Cannon Dr, 5-7pm (RSVP/More Info)
Book Signing and Q&A, Barnes & Noble at The Woodlands, 1pm (RSVP/More Info)
Book Signing and Q&A, Barnes & Noble in Potomac Yard, 7pm (RSVP/More Info)
Book Signing Event, Costco in Matthews NC, 5-7pm (RSVP/More Info)
Book Signing and Q&A, Barnes & Noble on East Colonial Drive, 7pm (RSVP/More Info)
We can't wait to meet you all (and are also sorry we can't get to more cities just yet!) If you have friends in any of these locations, be sure to send this post to them so that they don't miss us being in the area! For most of these places, this may be the only time we visit this year. We are super excited! Hope you all enjoy the new book. Cheers! Bill & Hayley