This week, we have two special offers for you to help promote your health for the new year. The first is a very generous deal from our friends (and sponsors) at Steve's Original.
PALEOKITS!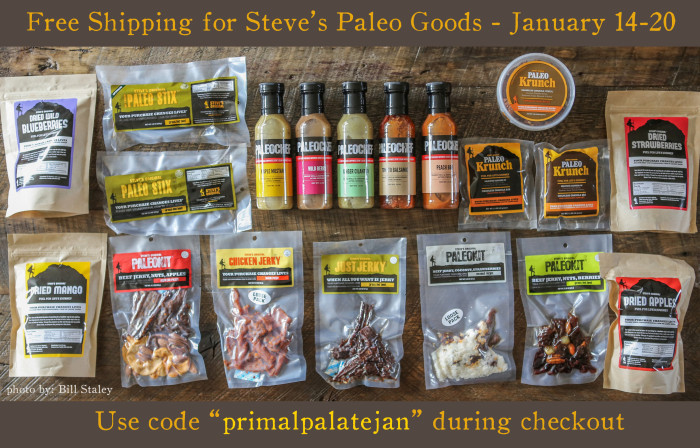 Our good friends over at Steve's Original are offering a week of FREE SHIPPING, and who doesn't love FREE shipping?? I know we do! We always make sure we have PaleoKits on hand when we are traveling, or even when we want a little snack at home. Our current obsession are the dried strawberries, they taste like gummy candy (so it might be best to save those for after your 21 Day Sugar Detox, or Whole 30- hehe). Our other long time favorite is the Berky. A little snack pack of jerky marinated in dried berries is the perfect mixture of sweet and savory. If you are holding tight to your Sugar Detox, then we recommend enjoying the PaleoStix, or Just Jerky. Try the PaleoStix with some guacamole, it is one tasty snack when you need a quick bite of protein and fat!
For this week, head over to Steve's and shop till you drop using the FREE shipping code "primalpalatejan". This code is valid from Monday January 14th (Midnight EST), through Sunday January 20th (11:50 PM EST). Seriously people, get it while it's hot!! Nom nom nom.
A few notes from Steve's Original on the PaleoKits Free Shipping:
Cannot be combined with wholesale offers or any other promocodes (no gift certificates or refund codes)
Sorry, we don't post our sales in advance.  We're spontaneous….
We cannot retroactively apply the sale (sorry if you just placed an order)
All sales are final
Discount is applied at checkout
Orders must be placed online at www.stevesoriginal.com
If code is not entered at checkout, we cannot apply discount after order is placed
Code cannot be used for any orders outside of the continental US.
Primal Life Organics SKIN FOOD! 
Our next exciting announcement is a giveaway from our friend Trina over at Primal Life Organics. If you haven't tried her skin and body products yet, you absolutely must! They are fantastic. I (Hayley) love the Pit Stick, and use it everyday. It has a light lavender smell, which makes me feel girly and fresh, and I know that my pits are soaking up ingredients that wont harm my body. I've used all different kinds of "all natural" deodorants, and this one is by far my favorite. She also offers an unscented Pit Stick, and a forest scented one which I think would be perfect for men. Trina's products are free of harmful ingredients, and literally feed your skin with ingredients from nature. When she called her products "skin food" she wasn't lying! If you have seen skin health success with a Paleo diet, but you still don't have the glowing, clear skin you expect, then a conventional skin care regimen might be what is really holding you back. Our skin is our largest organ, and a permeable one at that. What you put on your skin ends up in your body, so it's important to make sure what goes on there is clean and healthy for your body!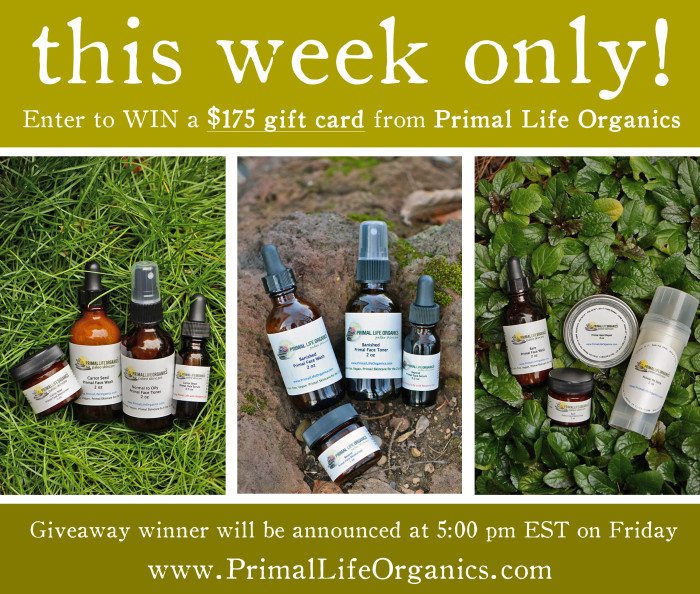 For this giveaway, Trina has generously offered a $175 gift card, so that the winner can purchase the perfect products for their own skin! To enter the giveaway all you have to do is "like" our fanpage on Facebook, provide your email address (so we can contact you if you win), share the giveaway with your friends, and of course "like" Primal Life Organics on Facebook.
If you can't wait to find out if you have won the giveaway, use coupon code "foodlover" for 15% off all orders this week with Primal Life Organics. This discount is good through Monday!
Enjoy, happy new year, and here's to good health inside and out!