If you have not read post #1, Playing Doctor, click here.
Disclaimer: This is a personal journey. This post is not meant for readers to self diagnose themselves, and for that reason I will not be listing any supplements I am taking to restore my thyroid health. If you think you may be suffering from undiagnosed thyroid problems please seek a medical professional like I did.
I can't remember exactly when I weened myself off of armour thyroid, but it was several months before we were contacted by Victory Belt Publishing to write a cook book. I felt pretty okay for a while, although I was starting to notice that it was a lot harder for me to drop weight after a splurge. At that point in our blogging career we were still making a decent amount of grain free desserts, so usually I would clean up my diet by cutting out all sugar after eating treats and feel back to normal. We even participated in a Whole 30 for the new year, and I really didn't see any results with my weight for that. I figured I must have been doing something wrong, been eating too much, or eating too much fruit. I tried to push any thoughts of resistance to weight loss because of my thyroid out of my head, but there was this voice of regret in the back of my mind telling me I caused this to happen by going off of armour thyroid.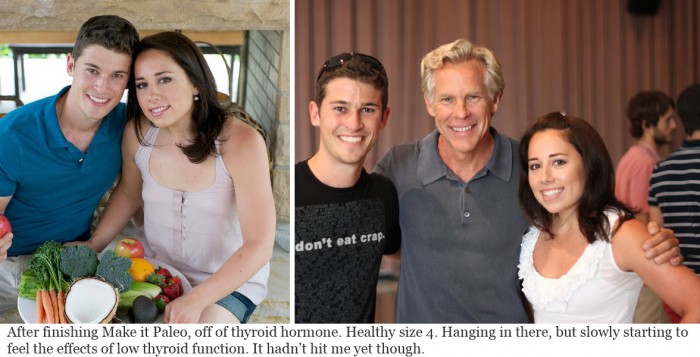 I made it through the book process okay. We had a great time at AHS, and I felt pretty good while we were there. When we got home from LA last summer was when things really started to go down hill for me. We finished copy edit for our book and sent it off to print. After that it seemed as though all of the stress of the book and the editing process hit me like a ton of bricks. I couldn't really control my food cravings, I could barely make myself create new recipes for our blog, and my energy was pretty low. I was starting to get depressed as well. I put on a happy face until the release of Make it Paleo, but Bill really knew how down I was. I put on some weight, and couldn't take it off no matter what I did. I was miserable. To try to fix things, I sugar detoxed, I cut calories, I tried high fat- low carb, I tried higher carb-lower fat, all of this and NOTHING worked.
After a few months of feeling really low, a family member of mine suggested I try an antidepressant. I really resisted the thought of that, and had several temper tantrums about having to take the meds. Knowing that there is some depression and anxiety in my family, I thought maybe this was partially out of my control, I couldn't fix it with food, and I needed some help. I gave in to the prescription and decided to try it out for a few months. I initially (and by initially I mean a week or so) felt a bit better from the antidepressant, but that quickly faded. I was back where I started. Miserable, not able to lose any weight, exhausted all the time with little to no desire to really do anything much more than hang around the house. It wasn't until we went to Austin for Paleo FX that Bill and I realized what was going on. We sat there listening to Nora Gedgaudes, and Chris Kresser talk about thyroid health and we both looked at each other and said…"holy ****!" Here I was miserable, on a dangerous prescription drug, when what I really needed was to be back on thyroid hormone. Interesting how that happened. The reason I took myself off of thyroid in the first place was because I didn't want to be on ANY prescriptions–and here I was on a prescription I didn't actually need because I took myself off of a hormone my body couldn't properly make.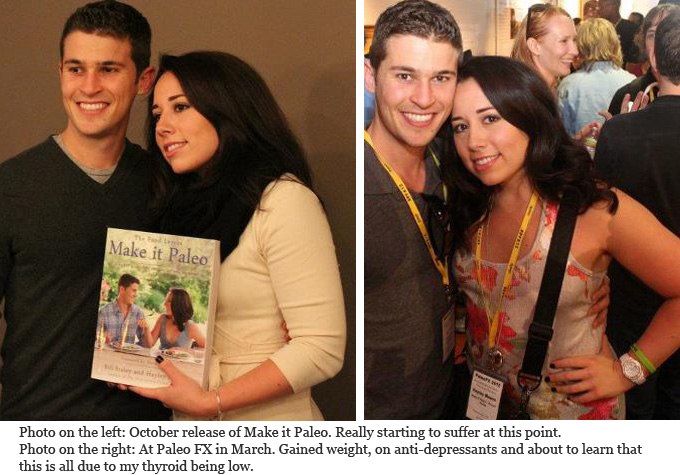 All of my symptoms pointed toward my thyroid– depression, fatigue, weight gain, resistance to weight loss, dry skin, constipation, the list went on. As soon as we got home from Austin I called my grandfather. "Grandpa, please don't get mad at me…" was how the conversation started, and then I told him everything. Of course he was unhappy with me for taking myself off of thyroid, but he was right there to help me with whatever I needed. I immediately made an appointment to see my cousin Franne, and after taking one look at me she said, "You need thyroid hormone, I can tell just by looking at you". She called in my script for armour thyroid, wrote me another script for blood work, and told me not to start on the thyroid until I had my blood work done. She also sent me home with a boat load of supplements, and my protocol began.
Six weeks passed of heavy supplementation, thyroid hormone, and the beginning process of weening off of the antidepressant. My whole world started to shift. I was finally starting to feel human again, and most importantly, I was happy. My grandpa had sent me a ton of serotonin precursors so that I could safely come off of the antidepressant, and Franne had me all stocked up with what I needed to support my thyroid. After the first six weeks I went back in to see Franne. She had my blood work with her, and it didn't look too good. My fasting blood sugar was a little high, iron slightly low, vitamin D low, serotonin levels VERY low–16 when they should have been around 165. No wonder I was miserable. The only slightly odd thing was that my thyroid levels came back normal. My grandfather expected this. He told me he wouldn't be surprised to see normal thyroid levels in my blood work, and told me it was pretty common. I knew this already. Lucky for me I was being treated by doctors that don't just look at numbers on a sheet of paper to determine how a person is feeling on the inside.
Franne wrote me another script for blood work, this time with a lipid panel because of my slightly high blood sugar, and sent me home with more supplements. After a few more weeks I was completely off of the antidepressant (with zero side effects thanks to the supplements), my appetite had pretty much diminished, sugar cravings were gone, and to my surprise my attachment to food had completely changed. For the first time in my life I wasn't thinking about what I would eat next, when that meal was going to happen, or whether or not I was eating too much. I wasn't thinking about food at all! I started losing some weight, slowly, but it was happening, and without me really trying at all. After about 8-10 weeks of being on armour thyroid, all of my brain health supplements, and completely off of the antidepressant, I lost a pant size without doing anything besides taking my supplements and my thyroid medicine. I was actually doing the exact opposite of everything you hear in this community to lose weight. I was eating a lot of fruit since it was a crazy humid summer here, and not worrying about it. I was barely working out, and not even sleeping that well, but things were shifting. My biggest concern was really to just relax and heal. We get 8 hours of sleep a night in a pitch black room, but usually we are in bed way too late.
As far as the food was concerned, I considered myself to be eating like a "normal" person. I had wine or grain free treats if there was an occasion for it, but for the first time in my life, I didn't have much desire for them (the sweets, not the wine, I've never been much of a drinker), or much desire to consume more sugar following "dessert." Previously, eating a treat would result in a downward spiral of massive sugar cravings and too much indulging, not anymore. I stuck to the basics, meat, fat, veggies, fruit. I wasn't really eating nuts because they upset my stomach. The only goitrogen I completely removed from my diet was fermented cabbage, but I made sure not to eat any goitrogens raw. Cooking lowers the goitrogenic properties, fermentation increases them. I stuck to cooked veggies except for salad greens. I was continuing to eat a good amount of fruit, and still dropping some weight. This I couldn't believe. I was also eating sweet potatoes here and there, and all of this was without much exercise. I was really on a mission to heal myself, and I wasn't focusing on weight loss. I was trying to lower stress by not exercising too much, or for long periods of time, and I was making sure not to eat too low carb because that is another factor that can influence thyroid function. It was still a little scary for me in the beginning to really let go and just focus on healing and try not to think about weight loss, but somehow I made it happen.
A few more weeks passed, and I was ready for my second round of blood work. I was terrified that things wouldn't be good enough, but I was feeling completely back to normal–better actually than I can ever remember feeling. When I walked into my appointment with Franne she was thrilled to see me looking like myself again, and she was happy to report fantastic blood results. Another interesting factor was that after coming off of the antidepressant and taking the brain health supplements my serotonin levels went from 16 to 250! Franne told me I should probably cut back on the 5HTP after that report! I left the appointment almost in tears of joy. I finally felt like I had been fixed.
Since my last appointment with Franne I have continued to drop weight, slow and steady, and my memories of how rough this past winter was are slowly fading. The most miraculous thing out of all of this is what has happened to my thoughts. I thought that I would be a victim to self loathing thoughts, and a slave to sugar for the rest of my life due to a poor relationship with food and health in my younger years. I thought I would never feel what I thought to be "normal" ever. Or that I would never be able to be that girl who has one (grain free) cookie, and doesn't want more (I still like having more than one cookie, but now I don't put any negative meaning to it–I enjoy and move on). I thought I was the all or nothing, strict or cheating failure forever. I'm not that person anymore. I'm healthy, happy, and I couldn't be more confident that Paleo, Primal, Ancestral, or whatever you want to call it is what helped get me to this place. I really feel so grateful to have found this way of eating. It has changed my life in so many wonderful ways, and healed my body and mind. My journey is no where near finished, but I'm excited to see whats next.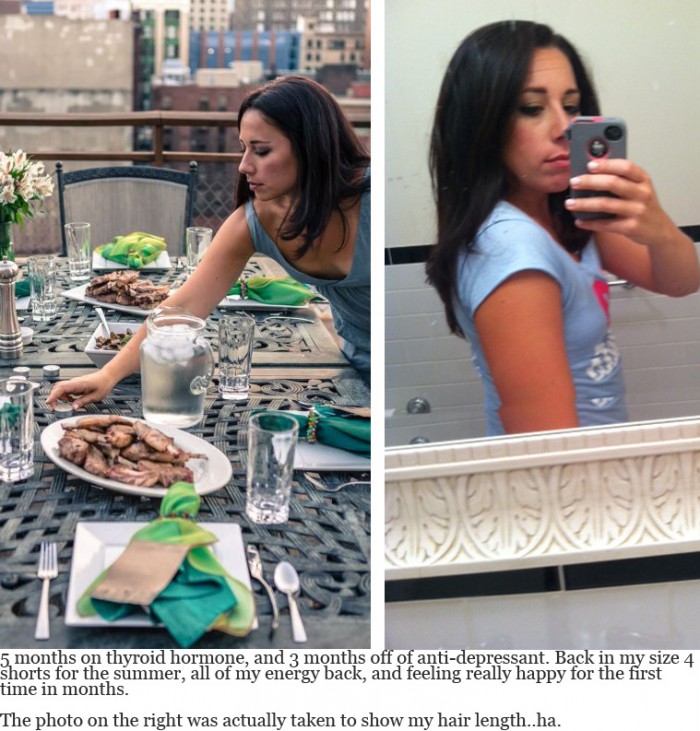 **I am not one to post "almost naked" before and after pictures and you can bet your back squat booty that you'll never see me post a cell phone picture of myself in a bikini to Facebook, but since it's hard for some people to visualize health results without before and after photos, here are a few that I took before starting thyroid hormone back in February (I started back on thyroid in April), and along the way ending in August. I do not own a scale, and do not weigh myself since I consider the scale not to be a reliable source of progress, especially if you have less than 20 pounds to lose. I will say that I have to thank Diane Sanfilippo for encouraging me to take these photos or I really wouldn't have had a clue as to the progress I was experiencing physically.