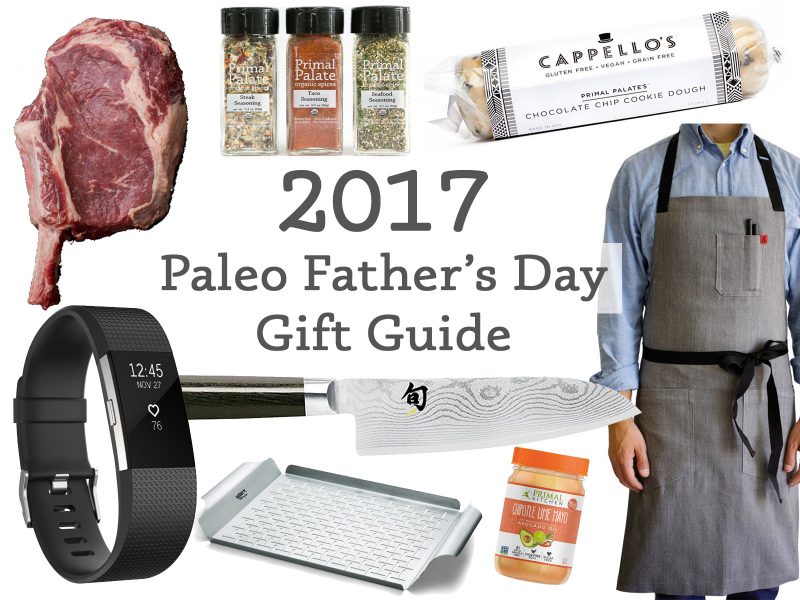 Father's Day is just around the corner, and I wanted to compile a list of cool stuff you could get for someone for Father's Day (June 18th). Now, as a disclaimer, I am not a father (unless you count our dog Charlie), but these are some things I think many fathers may like. Also, none of these gifts below are exclusively for men, so many of you moms out there may find them interesting too! Feel free to pin any of them for later! 😉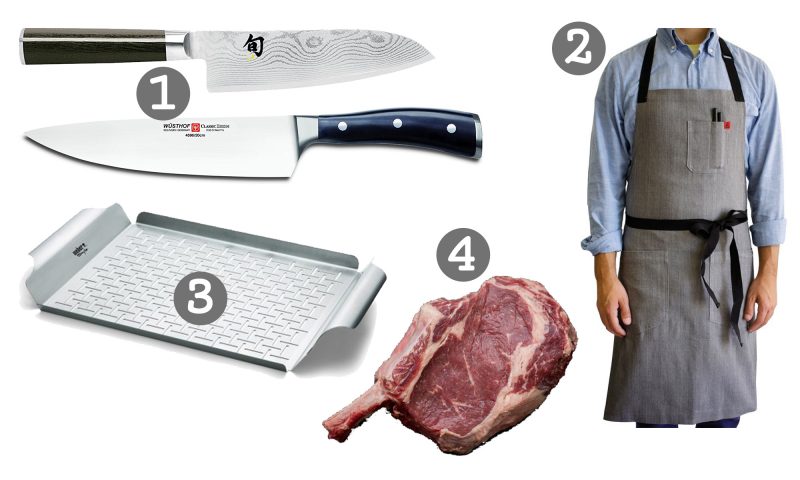 Cooking Gifts
1. A good knife (or 2)
I've said it a million times, and so have many other cooks. A good knife is the #1 priority in your kitchen. For me, there are two knives I rely heavily on. A 5.5″ Shun Santoku (a gift from Danielle Walker), and a Wusthof Classic Ikon 8″ Cook's Knife. If I had to pick a third, I would get a nice paring knife for small tasks. But a good knife, or two, is a big priority in the kitchen. Make sure you pair them with the appropriate type of cutting board (plastic for meat, and wood for vegetables), and some honing steel.
I'm the type of guy that likes to dress somewhat nicely, even when I'm just hanging out at home. I'm not talking about wearing button down shirts when I am sitting on the couch, but I notoriously wear nice tshirts when I'm cooking. BIG mistake. I can't tell you how many J.Crew or Banana Republic shirts I have ruined with grease splatter from a hot pan of oil. If dad loves to cook, get him a sweet apron from Hedley & Bennett. I've seen our good friend Michelle Tam rocking one, and they always look so awesome. I'm partial to the simplicity of the Pho design apron, shown above.
This is one of my favorite grill add-on's, because it's really versatile and expands the range of foods you can grill. I like using ours for fish, and also for cut up vegetables. Because it's stainless steel, you don't have to worry about weird toxins getting up close and personal with your food. And it'll also last a long time too. I prefer cooking tools that can be cleaned thoroughly, and this stainless plate can be scrubbed clean with steel wool. Find it on Amazon here.
It's nearly a universal truth that Paleo Dads love steaks. And hey, bacon too. If you haven't taken a look at US Wellness Meats' new website, it's really a nice improvement over their old site. Same great quality food, but an improved online shopping experience. Hayley and I have visited the family farms that make up US Wellness Meats out in NE Missouri, have met the farmers that tend to the animals, and even fed grass to their cows. It's amazing to see what good, honest animal husbandry looks like, and we feel really good about supporting these guys. The meat quality is fantastic, and it's easy to see why. My suggestion for maximum effect: These gorgeous French Ribeye Steaks.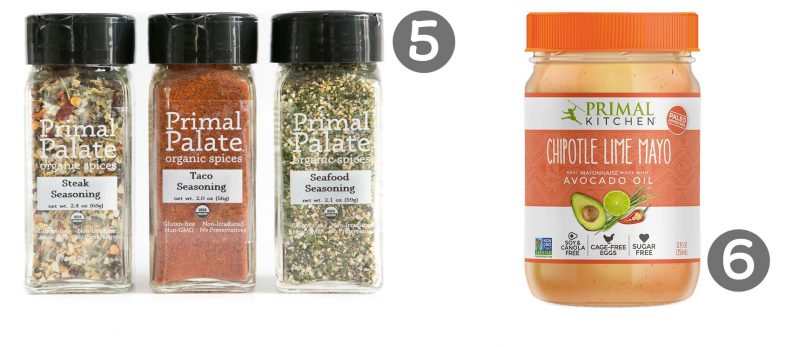 (Currently ON SALE! Use code: GrillFest)
Our Griddle and Grill Pack of spices makes a nice gift for dad. These three bold flavors are obviously great for grilling, but can be used for a variety of dishes beyond the backyard BBQ. Bold and Spicy Steak Seasoning, smoky and complex Taco Seasoning, bright and balanced Seafood Seasoning. This trio can help anyone's grilled dishes shine. Shop Spices Here.
For years, Paleo cooks have been trying to make the perfect mayo. About a year and a half ago, Mark Sisson (Primal Kitchen) came along with his new mayo and said "here ya go!" His line of condiments have been a game changer for everyone who cares about ingredients, but the mayos in particular, have been life changing. The Chipotle Lime Mayo is our current favorite: Mayo with a little kick in the butt. We enjoy making chicken and/or egg salad with it, and it's a great dipping sauce for grilled chicken too. You can get it HERE on Amazon, though many grocery stores now carry it for a few bucks less.
Other Great Gifts
Is dad not so interested in cooking? No problemo. We've got some other nice ideas for gifts for the fellas who like living a more natural, health oriented lifestyle.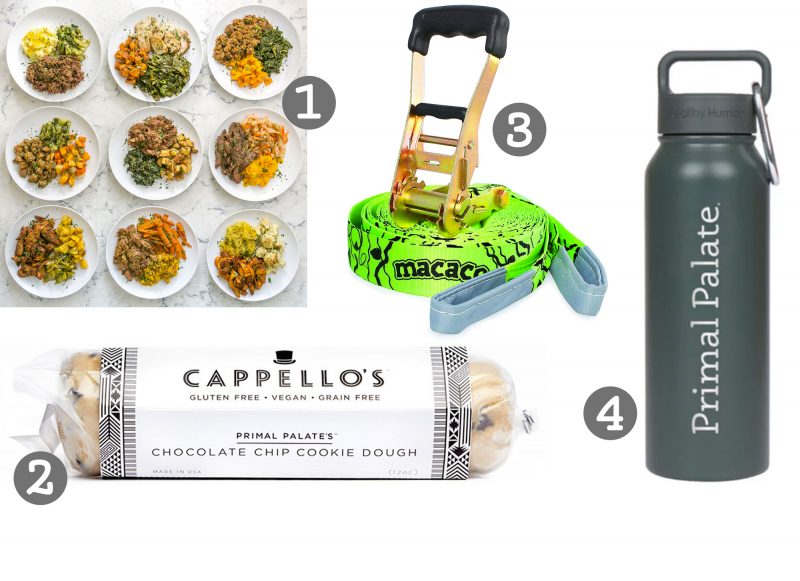 The ultimate gift for dads who are too short on time to cook, or who don't want to spend time in the kitchen. We've known chef Pete Servold for many years now, have been dinner guests in his home, and have also enjoyed Pete's Paleo as a meal delivery service during times when we knew we wouldn't be able to cook as much. All that to say: we love the commitment to quality that they share, and their meals certainly reflect it. Learn More
Dads need cookies too, and if they aren't hip to baking, our slice and bake Chocolate Chip Cookies from Cappello's are the perfect answer to that problem. It's always nice to have a roll on hand, especially for those unexpected situations where a sweet treat is needed.
Be cool like Mark Sisson, and get one of these awesome toys for your backyard. Get back to your primal roots, and introduce some primal play into your life. This super-taut line you stretch between two trees is a great way to work on balance, and have a lot of fun while doing it. There are a TON of options on Amazon. Here's the bestselling one.
These are my all-time favorite water bottles. I take them with me when I go racing, to the gym, and to the office. We love Healthy Human so much, that we had a batch of their bottles custom engraved with our logo on them. The size is perfect for car cup holders. We also love the giant ones, too. The materials and build quality are top notch. Here's a link to get ours, which is my favorite!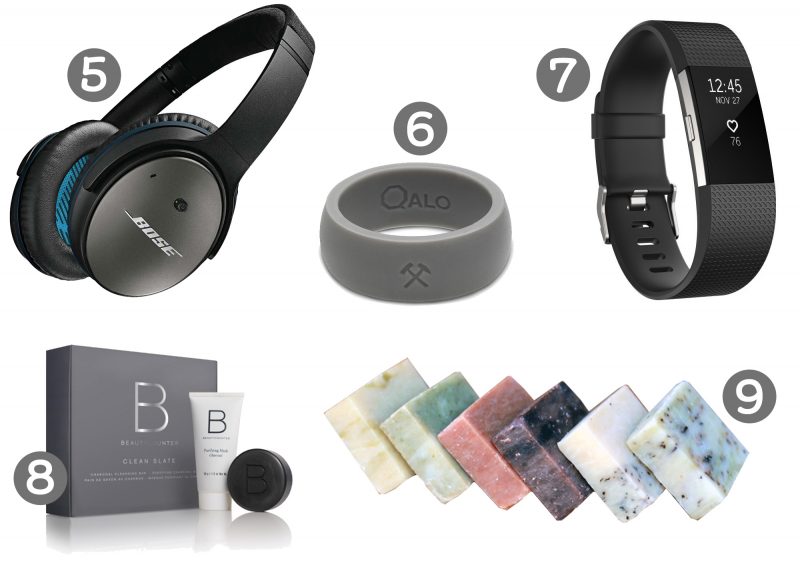 Maybe not the most Paleo gift on this list, BUT I love these for working out at the gym and tuning out the crappy music they play. Maybe your gym (or CrossFit) plays better music? I will also use these to limit sound intrusion from basic power tools, or my lawn mower. They are also great for flights, or riding in loud vehicles. Even though they're a little pricey, I feel like these are so worth it! (Buy on Amazon)
Maybe a bit of an oddball on this list, but if dad likes to do a lot with his hands (lifting weights, working with tools, etc…) then this is the perfect ring for him. These silicone rings can take a beating, and at around $20, there's no hard feelings if you ruin it. Plus, if you really have a mishap and break your finger, just snipping off a silicone ring is no big deal. (Buy on Amazon)
Hayley got one of these recently and I have to say, I was a bit of a skeptic at first, but these little bracelets are really cool. I'm pretty into seeing data, and getting feedback on your heart rate, movement, and sleep is helping in optimizing your overall wellness. I have yet to get one of these for myself, but I think its a great idea. They've been around a while, so I think they're here to stay.
Again, hear me out on this one. Despite the not-at-all masculine name, I'm a huge fan of Beautycounter and their products. Their mission of reducing the toxins in self care products is admirable, and I have also found them to be high performing. I swear by their sunscreen. Right now, they have a Clean Slate pack for men, which includes a Charcoal Mask (kind of like putting on Football War Paint all over your face) and a Charcoal Bar (a black bar of soap which helps lift all the gritty stuff out of your pores). I dig it, and I think the dad in your life will too. (Buy this set)
Speaking of stuff to help keep your skin clean, this is my all time favorite body soap. Made in small batches by a friend of a friend in San Diego, this is the best smelling (and cleanest ingredient) soap I have ever tried. I particularly like the Mojo scent. Great stuff. (Shop Iron Lion)
---
Ok, so I hope these recommendations are helpful in selecting the perfect gift for Father's Day. Let me know what you think, and also, feel free to post more suggestions in the comments below.
Cheers,
Bill