We just got back from almost a week away yesterday, and it's good to be home. I mean, yeah, I'd rather still be at the beach, but the weather turned rainy, and we decided we'd save some vacation days for later in the fall when we might need more. On Thursday, we hopped in the car and pointed it toward Baltimore for our first trip to the Natural Products Expo East (Expo East, for short). While there, we caught up with many of our friends who have natural food product businesses: Cappello's, Eating Evolved, Tinstar, Bare Bones, and many more. In fact, there were a lot of people we didn't get to see, too. The convention is just plain massive. It would be really helpful for them to just put all the Paleo companies together.
Friday afternoon, we co-hosted a special happy hour event with our friends at Bare Bones and Tinstar, as they were making Pumpkin Spice Bone Broth Latte's. I know that sounds a little weird at first, but they were actually quite tasty! We supplied the Pumpkin Pie Spice, of course, and handed out a bunch of sample packs of our spices. It was a ton of fun for us, and gave us a taste of what it was like to attend a product expo. (uh, INTENSE). We're looking forward to seeing Expo West in Anaheim, because people are saying that one is way, wayyy bigger.
After Baltimore, we headed on east to Southern NJ for a little beach time R&R. Even though it's late in the season, we found sunny skies, warm water, and pleasant temperatures. Anyone who really knows the jersey shore knows that mid-late September is the most wonderful time to visit. Fewer crowds, and amazing weather make for a great time. We rolled into Stone Harbor late Friday night, and on Saturday found that they were holding their annual Food & Wine (& Art) festival. It was a small festival with about 50 vendors, but we were able to get fresh made guac, bacon on a stick, and check out many local artisans (including some badass blacksmiths.)
Saturday was cloudy, so we strolled around town and did some shopping since everything was on sale. Many stores planned to close after Sunday, so the sales were great, actually. After shopping, we pumped up the tires on our beach cruisers, and went out for a leisurely bike ride. We love cruising up and down the island, checking out all the beautiful homes.
Sunday and Monday were both beautiful days, so we spent a lot of time on the beach, reading books, soaking up the rays, and I even did a little surf fishing.
A photo posted by Primal Palate (@primalpalate) on
Every night of the trip, we ordered food to go from the Windrift, which was really good. When we go on vacation, we try to keep cooking to a minimum, since we do so much of it at home. In many cases, thats challenging because we also want to find good, clean food. The menu at the Windrift had some great items, so we found our favorites and ordered takeout almost every night. It was great.
On Monday afternoon, the clouds rolled in late in the afternoon, and we knew the rain was going to hang on all week, so we decided to pack up and head home.
Sure, 3 days off isn't much, but it was the most time we had taken off in almost 2 years (except for the holidays, though we didn't leave home). It felt great to be away, get some sunshine (and saltwater). Hopefully we get to return when the weather warms up again in May!
This recipe below is one I totally winged after seeing Pumpkin Spice Pecans in our local grocery store. It's a bit of a Staley Family tradition to make spiced nuts. In fact, my late grandfather (the original Bill Staley) made spiced nuts as his signature holiday treat. He loved calling them "Bill's Nuts" and made sure everyone got the joke. It was always hilarious to hear his variations on the joke each year… you can only imagine.
To start, you'll want to purchase the fancy pecans (pecan halves), which are just better for snacking on. This recipe makes about 1.5 cups of nuts, so you'll want to increase the quantities for bigger crowds. Our recipes all have a button to scale quantities, so no need to bust out your calculator.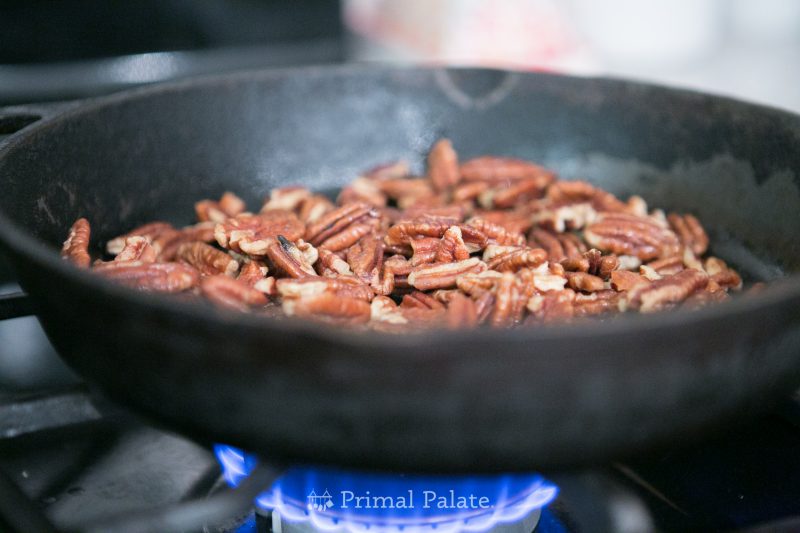 Start by roasting the nuts in a skillet over medium heat with a tablespoon of butter. Stir the pecans constantly to keep them from burning, but give them a light, even toasting (about 5-7 minutes). Once they are lightly toasted, add the remaining butter, coconut sugar, pumpkin pie spice, and water.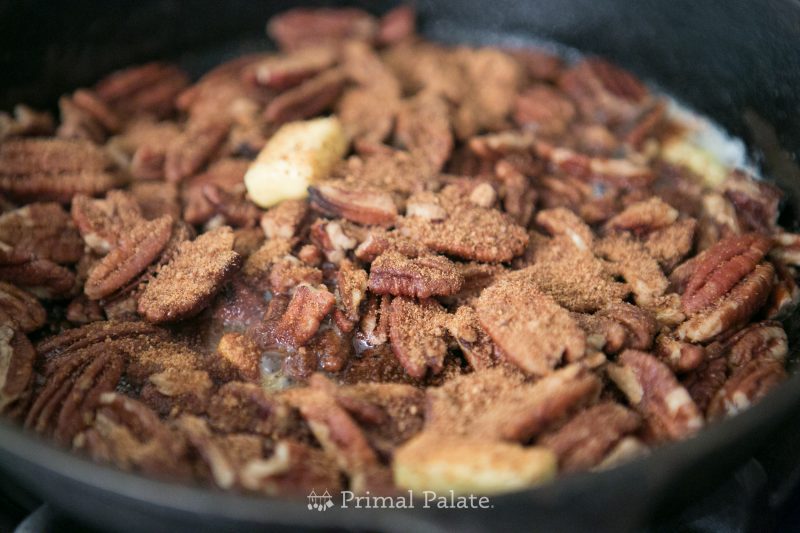 Stir to combine, until the sugar glazes the nuts. Be careful not to overdo it on the heat, or the sugar will burn. You may need to reduce the heat. After stirring together everything for a minute or two, remove the pecans from the heat and place them on a parchment lined cooling rack. Separate the pecans so they do not stick together.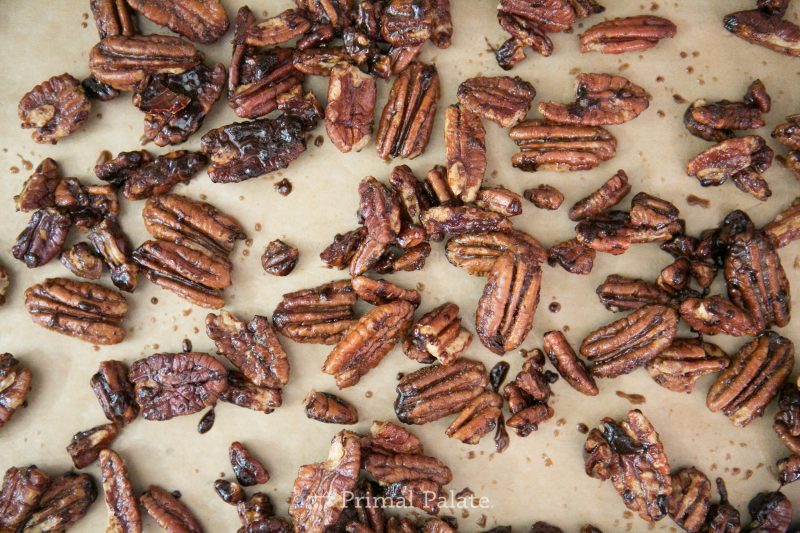 Once the nuts are completely cooled, you can sprinkle a little more pumpkin pie spice on them to give them a final hit of that great fall flavor. Store them in an airtight container in the refrigerator until serving. They'll probably keep a week under those conditions, but the sooner you serve them the better.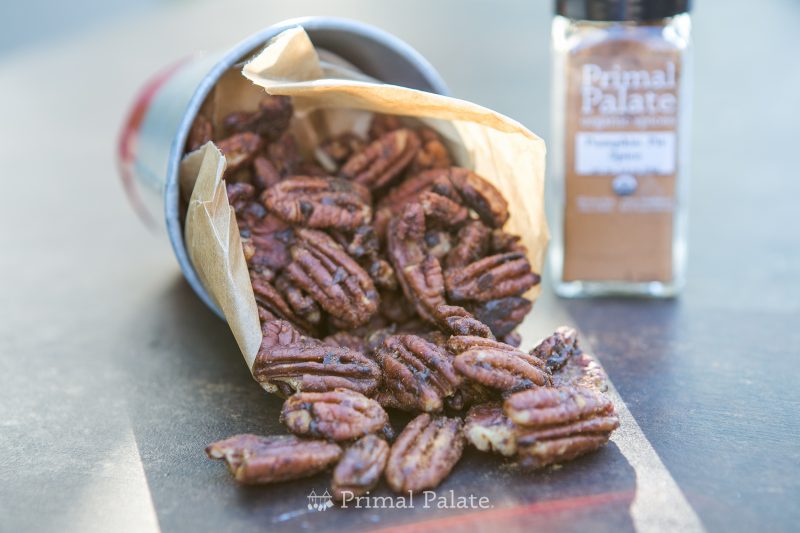 You can find the Pumpkin Pie Spice in our online store. And hey, if you're looking for other recipes to make with our spices, check out our newly launched Spice Recipes page!
In the spirit of the Staley family tradition, here is my own version of Bill's nuts, perfect for any fall occasion.
---