After a long break from Asian-inspired stir frys, we are back at them (at least for now). Why the break? Well, for us it seems like we go through periods of being somewhat obsessed with them, and then over doing it. We've all been there, I think. (Now that I think about it, doing eggs for breakfast for years has us on what seems to be a permanent hiatus from ever having eggs for breakfast again.) It's good to keep your meals diverse, and a good old fashioned stir fry is a great way to get a ton of nutrient-dense vegetables into your meal.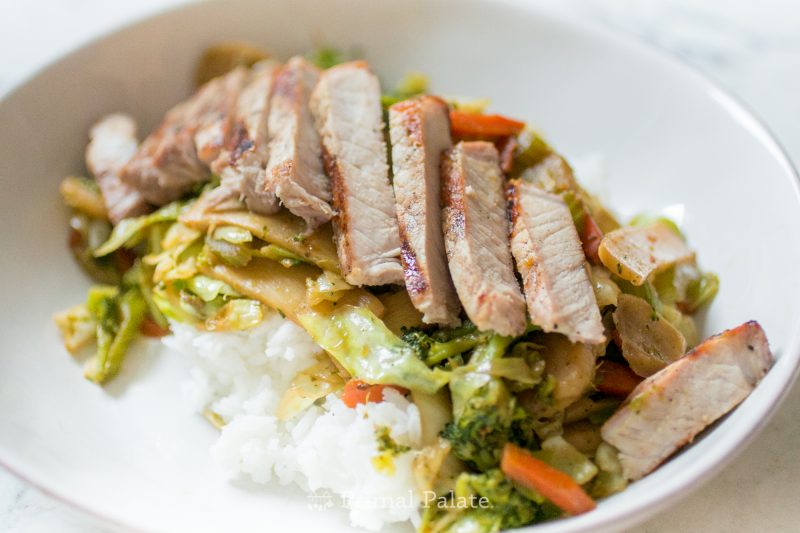 Even though making Stir Fry is relatively straightforward, here are a few tips of our own to making yours especially good. First of all, start with the freshest produce you can find (Carrots, celery, broccoli, cabbage, green onion). Oddly enough, because you want to get these seasonal ingredients, late summer is a good time of year to make this dish! Another tip, for those of you with a gas range, is to get your hands on THE best wok for stir frys: The Lodge Cast Iron Wok. For about $50, this is a tool you'll have forever (trust us, it weighs a ton!) and can pass on to your great grand children. It's a tank, and because it's extra heavy, it can make your stir fry sizzle like crazy (it will retain heat when you add the cool vegetables, which cooks them better.) The last tip is that you can work to prep will simultaneously cooking. Start with the sturdiest vegetables (carrots, broccoli, celery) and add them to the pan. You can then allow those to cook while chopping your next ingredient. Not all the vegetables cook at the same speed, so this is a time saving asset to the process.
We hope you love this recipe! You can serve it over Cauliflower Rice or White Rice (If you tolerate it. Many Paleo folks are chill about eating rice occasionally nowadays). We also like serving this with some pork on top. In the photo above, we actually show it with grilled and sliced pork chop (seasoned with some salt, garlic, and ginger). Or you can serve it with some of our Chinese 5-spice Ribs, like we just did last night (below).
Happy eating,
Bill & Hayley