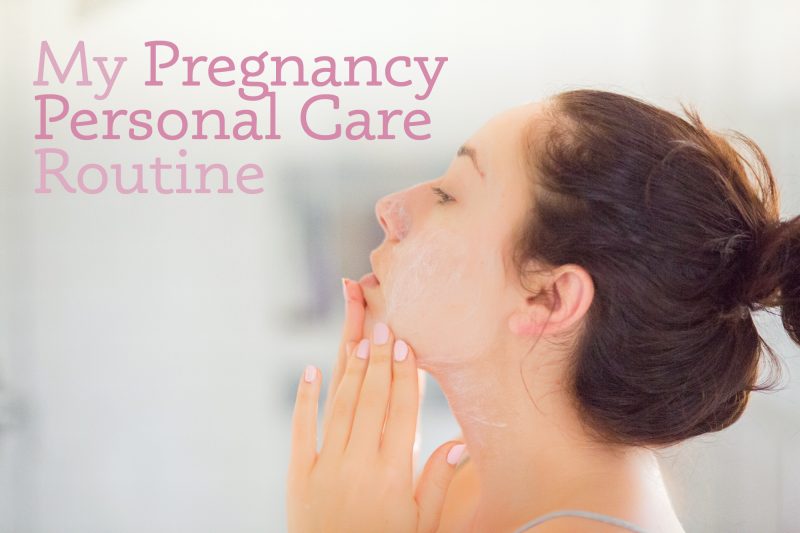 When you become pregnant there's a lot to think about. Rules to abide by. So many foods and drinks to avoid, as well as chemical products. As if pregnancy isn't stressful enough, now you have all these things to think about before you put them in or on your body. With that in mind, I thought I would share my pregnancy personal care routine, in case it helps relieve some stress from someone else.
For those of you who don't already know, Bill and I did IVF for this pregnancy due to unexplained infertility. We haven't shared in detail why we chose to do IVF, but plan to do so at some point, again in hopes that it will help someone else.
IVF isn't known for being a relaxing experience, and when you combine early pregnancy hormones and worries (especially when you worked hard for it) with estrogen pills and progesterone shots, it's a recipe for a whole lot of icky feelings. For me in particular, that meant pretty crippling anxiety and some depression. The last thing I needed was one more thing to worry about, and I'm grateful my skincare products were ones I didn't have to think about.
I switched over to safe personal care products years ago, and now as a Beautycounter Consultant, I'm grateful that I have an array of safe skincare and makeup to use that is not only high performing, but every single thing that Beautycounter offers is safe for pregnancy, and I don't even have to think twice about it!
In fact, my skincare routine didn't change one bit since becoming pregnant! So in todays post, I'll be sharing with you what my skincare routine looks like, as well as what hair products I'm using, deodorant, body soap, body lotion, and sunscreen. I even have some safe perfume options to share with you, if you are someone who really loves perfume.
*All Beautycounter products link to my store, and I would of course appreciate you supporting my business. Any other products I am linking to are not affiliate links. 
Evening skincare routine:
I started showering before bed in the first trimester, because I found it helped relax me, and I prefer to do the majority of my skincare routine at night before bed, so it can all work it's magic while I sleep. I also just got a Rose Quartz facial roller, and tried it out for the first time live on Instagram earlier this week, and took everyone through my evening skincare routine. You can see the replay here.
One-Step Makeup Remover Wipes: I use these to remove any makeup prior to getting in the shower. They can also be used as your cleanser if you are traveling, and want to limit the products you are bringing.
Pure Calm Cleansing Milk: I keep this in the shower, and cleanse my face as part of my shower routine. I never strayed from my Charcoal Cleansing Bar, but my skin was getting really dry during the winter, so I switched over to the Cleansing Milk. My skin has been well hydrated ever since, and I noticed results immediately after one use. I'm not sure I will go back!
Rejuvenating Eye Cream: This is our anti-aging eye cream. It's pretty potent, and with the added stress during pregnancy, I felt that it was showing in my face. So I added in this eye cream, and it's really helped me feel more refreshed.
Cleansing Balm: I sing the praises of our Cleansing Balm any chance I can get. I only use this as my nighttime moisturizer, and have for years. I use it all year round, and I always wake up with glowing skin. I use this after the eye cream, because it is so thick. I do avoid my under eye areas when I apply it, so I don't interfere with the eye cream.
Morning Skincare Routine:
My morning skincare routine is even less involved than my evening routine. I will simply cleanse my face with the Pure Calm Cleansing Milk, and then apply the Countermatch Adaptive Moisture Lotion.
I've been using the Countermatch Adaptive Moisture Lotion on the regular since it came out, and I probably will never switch to anything else. It adapts to your skin depending on stressors in your environment, and gives your skin just what it needs, and nothing that it doesn't. Its amazing hydration prep under makeup, and doesn't leave you feeling greasy, and wont make your makeup run.
ace Oil: Sometimes I will apply our Number 1 Brightening Oil to my skin as well. Any face oils should be applied after using the Countermatch lotion. If you are using any other moisturizer, it's fine to apply your face oil prior, or mix it into your moisturizer.
Body Care:
Body wash: I actually just use Dr. Bronners baby bar soap, and have for years. I also use this to shave my legs and underarms as well. It works great! I just lather up, and shave away. No need for special shaving cream, in my opinion. If you prefer an actual body wash, then I suggest the Citrus Mimosa Body Wash, or the Counterman Energizing Charcoal Body Wash. I would also use these to shave my legs too, haha.
Body Moisturizer: My all time favorite body moisturizer is the Countermatch Adaptive Body Moisturizer. It absorbs in seconds, is non-greasy, and ultra hydrating. I have never used a body moisturizer that works as well as this one. I use it all winter long when my legs are really dry. It's great in the summer after you've been in the sun.
Belly Oil: I have just been using the Baby Soothing Oil for a belly oil. I'm not so sure any oil or lotion will prevent stretch marks, but it does help with itching from belly (and boobs) growing during pregnancy.
Smell Good Stuff:
Deodorant: It took me a while to find a non-toxic deodorant that worked well for me, and didn't irritate my underarms. I've found that I have to use a sensitive formula, because I can't tolerate the baking soda in natural deodorants. It is so irritating to my skin, and leaves me with painful red rashes. The deodorant that I found works best for me is Schmidt's Natural Deodorant. My favorite is the Jasmine Tea Sensitive deodorant. It smells fresh, and feminine, and it doesn't cause me any irritation! We also use Schmidt's toothpaste, and love that as well!
Perfume: I have tried a few non-toxic perfumes, and as lovely as they smell, it's still too much for me. I really can't wear any perfume because I'm so sensitive to the smells, but two brands that I trust are Phlur and Skylar.
Hair Care:
Shampoo and  Conditioner: I have a pretty sensitive scalp, and I have one patch that itches, which my dermatologist told me was psoriasis. It hasn't improved at all in pregnancy, which makes me wonder if it actually is psoriasis. The shampoo that seems to work for me is the Scalp Relief shampoo and conditioner from Derma e. I've been using this shampoo for years, and it keeps me from needing the topical prescriptions from the dermatologist.
If I didn't need the help with my scalp, I would only use the Beautycounter Shampoo and Conditioner. Bill loves the Daily Shampoo, and will not use anything else. I always have to make sure we have it on hand at home, or else he starts bugging me to place an order 😉
Hair styling: All of my styling products are from Innersence, which are all organic plant derived ingredients that are cruelty-free and gluten-free.
I'm admittedly not a daily sunscreen wearer, but when we are at the beach, pool, or outdoors gardening for many hours, I make sure to have proper protection. Your skin is your largest organ, and safe sun protection is really important, whether pregnant or not. When applying sunscreen you may be inhaling chemicals if you are using a spray, applying it to your lips, which then means you are ingesting it, so you want to choose a sunscreen that is safe for your internal organs. Most sunscreens contain "penetration enhancers" to help the sunscreen adhere to your skin, resulting in many sunscreen chemicals absorbing into the body, and being able to be measured by blood, breastmilk, and urine. When in doubt, I always look to EWG.org for more education.
I always opt for a physical block, and one that is full spectrum. As I said, sunscreen is typically my last resort, and I choose shade, or clothing over sunscreen most of the time, especially because a full spectrum physical block, will also block any benefit you receive from safe sun exposure, so when I want a nice dose of Vitamin D from the sun, I make sure to get as much of my skin in the suns rays, but not for an extended period of time.
My go-to for safe sun protection is Beautycounter. It's one I can trust, is full spectrum, and even protects agains blue light rays from the sun, and is reef-safe! All of the Beautycounter sunscreen performs really well, and we have multiple options of application to choose from.
Dew Skin tinted moisturizer for those who prefer to have sun protection on their face as part of their skincare routine.
Countersun Mineral Sunscreen Lotion, for those who prefer the lotion application, which is smooth and creamy, and applies like a dream.
Countersun Mineral Sunscreen Mist, for those who prefer a spray sunscreen. Ours is air-powered, which means you wont be inhaling aerosol chemicals into your lungs, or releasing them into our atmosphere. Better for you, and the planet! Our mist now comes in a tinted version as well. This is like makeup for your body, and will give you a beautiful tan glow, along with safe sun protection.
Countersun Mineral Sunscreen Stick, our stick is great to have in you bag at all times. It makes for easy application, and is great for the face! Bill always has the stick with him when he has autocross race days with his dad.
I hope this post was helpful for those of you who are navigating the new world of pregnancy and skincare. I have been so happy with my skin in pregnancy, and am so grateful that I can feel like I am pampering myself, and using products that I know are safe for my growing baby.