The other day I shared what has been going on in our world this year. It's been a lot to manage, good and bad, but we are working through it all. Recently I realized that I really needed to up my self care.
When we closed on our new house we were working endlessly trying to get to a point where we could move in. We ended up eating more take out meals than I was happy about, and I started to feel the effects of it. Following a Paleo lifestyle, we cook all of our meals, and when we do get takeout, we always order things that are in line with the way we eat, but too much restaurant food can have an impact, and I felt it quickly.
Beyond the food, my body was hurting. I have scoliosis, and doing so much manual labor was really hard on me. My legs and hips felt tight, my back was hurting everyday, and my shoulders were in knots. I could feel the stress throughout my body, and I knew something needed to change.
Here are the things I have changed in my routine to better care for myself. It has really helped me feel better, emotionally, and physically.
1. Chiropractic Care and Massage: I haven't been seeing my chiropractor regularly, and I know I feel so much better when I get in to see her. She has really helped me with my scoliosis, and I knew my body needed some tlc. I've been seeing my chiro regularly, and have had two massages at the chiropractor to help as well.
2. Acupuncture: I always feel so good from acupuncture. It's time for me to lay quietly and meditate, or visualize, or just even quiet my mind and rest. I always feel so balanced when I'm getting acupuncture done, and since we moved, I found an amazing healer who I adore.
3. Walking and Yoga: I have been pretty active lately with the move, but I knew I needed to do more mind/body exercise. I've been doing really slow moving, healing yoga which feels amazing, and when I want to increase my heart rate, I get outside and do a brisk walk around our neighborhood.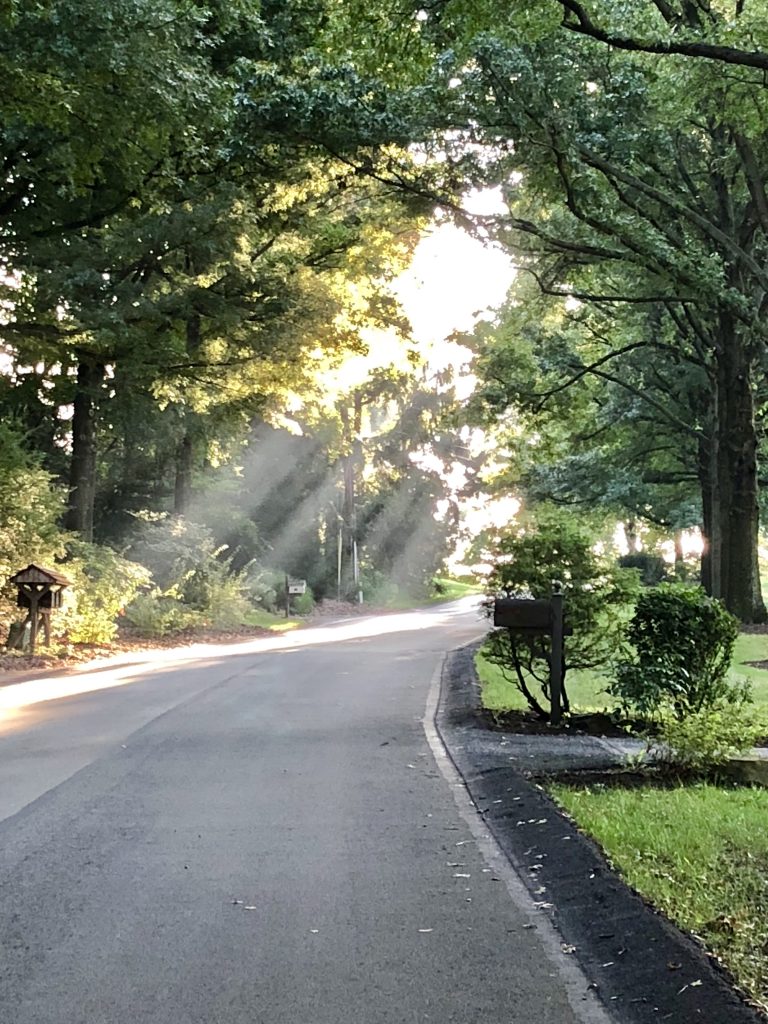 (we love walking around our new neighborhood!)
4. Therapy: I have been seeing the same therapist for a couple years now. I started seeing her when the anxiety I was dealing with was at its worst, and I was giving therapy one more shot. She has helped me tremendously, and helped me fill my toolbox with so many wonderful tools. I really credit her, and the type of therapy that she practices, for my ability to heal so much. I usually meet with her 2-4 times a month, and I've definitely been making sure I meet with her weekly during this time of so much loss and stress.
5. Whole30: We decided to participate in the September Whole30, and the timing was perfect. I wasn't feeling good from eating so many quick meals during our move, and this Whole30 has felt better than any Whole3o we have participated in yet. When I'm under stress, I always try to increase my nutrient dense foods, and eat as healthy as possible to support all that my body is going through. I also make sure that I'm eating starchy vegetables, because going too low carb can put stress on your adrenals, so I make sure I start my day with a healthy dose of sweet potato with breakfast.
6. Supplements: Stress depletes your body of a lot of essential nutrients, like b vitamins, magnesium, and omegas. Stress also impacts your gut flora, and having a healthy gut is important for proper nutrient absorption. I switched back to the Calton's Nutreince to make sure I'm getting the most potent vitamins, and making it as easy on my body as possible to absorb them. I knew I needed to focus on nutrient sufficiency, and Nutreince was the first place I started. I've also made sure that I'm drinking water kefir daily (I don't tolerate kombucha due to the yeast, so I drink water kefir), and taking probiotics. I've also added back in extra virgin cod liver oil, and have been taking that religiously.
7. Hydrate: I've been drinking teas to support my body (ginger always soothes and calms me, because my stomach gets upset when I'm stressed), as well as trying to get in enough water. I always feel best when I'm drinking plenty of water, and I've read that being dehydrated is hard on your adrenals, so hydrating is very important.
8. Sleep: Probably the most important one when under stress, and one I always struggle with. I have been trying to read before bed, or close my eyes and listen to a podcast, rather than watching something on Netflix. I really struggle with fatigue and overwhelm when I'm under stress, so sleep is something I try to work on as much as I can.That is my current self care routine. It has really helped me try to stay more balanced during this time, and I plan to continue it indefinitely. I hope this is helpful for those of you who may be going through a similar time in your lives.
xo,
Hayley