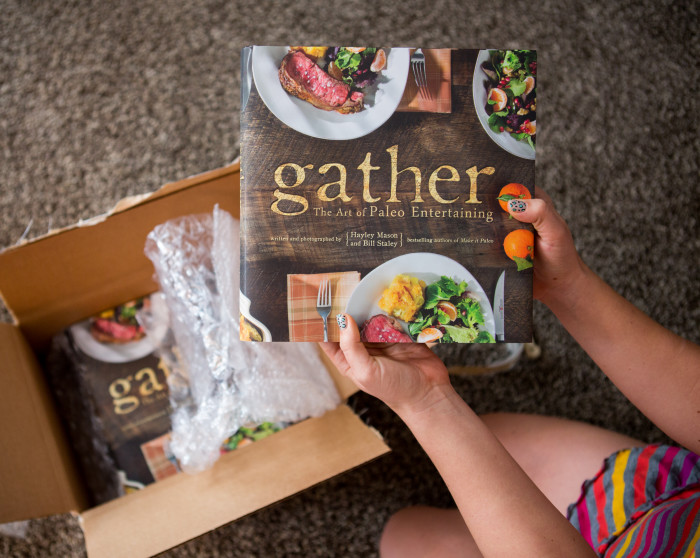 It's hard to believe that it's been exactly one year since we released our second cookbook, Gather – The Art of Paleo Entertaining (and possibly even harder to believe that our third cookbook followed on its heels just 6 weeks later). Gather, for us, was the purest expression of our artistic vision as cooks, writers, and food stylists. Every aspect of Gather was exactly as we wanted it, from cover to cover. When we set out to begin working on it, we knew it would fill a gap in the ever-growing Paleo cookbook stack. We continually heard people asking for complete meal ideas so that they could cook for their friend and convince their friends to go Paleo over a great meal. It all made perfect sense! So we set out to write a book that did exactly that: inspire people with a multitude of Paleo meals. Of course, the book can be used just like any other cookbook. It has a great variety of recipes that can be used individually – but the beauty of Gather is the thought and care dedicated to the next step of pulling together themed menus, all of which are set in picture-perfect places.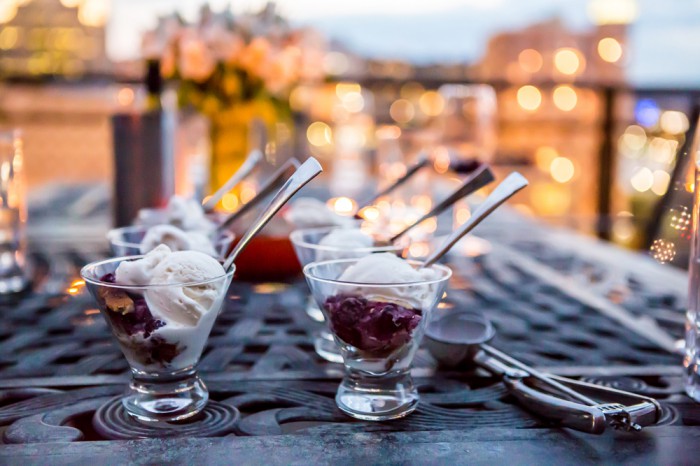 Blackberry Cobbler with Vanilla Bean Ice Cream
This was the first "great" photo we captured for the book, in my opinion (Bill). The Urban Escape menu in the book was the very first one we photographed, so Hayley and I were nervous for how the shoot was going to go. Not only were we cooking in someone else's kitchen (in this case, my sister and brother-in-law's), but we also had to perfectly execute 5-7 dishes, AND photograph them beautifully, and also keep our guests entertained to some extent too, and in ONE SHOT! There were no back up photo shoots for any of the meals in this book since we were cooking and photographing in other peoples homes-we didn't want to inconvenience them more than once, and we were working with natural light so there was a time limit. In some cases while writing Gather, we had to gently remind friends and family that this was a work project and not "real" entertaining-we learned quickly that was a confusing idea! We realized it was best to get all of the "lifestyle" photos while people were eating. With a film crew on the set of two of the dinners, it got quite challenging with one cook (Hayley) and one photographer (me-Bill) to handle preparing the food for photos, photographing the food, and capturing lifestyle photography all at once! Looking back on it, it was probably VERY entertaining for our guests (we even had some people ask us if we could talk to them like a Food Network cooking show while we worked). The Urban Escape menu will always be one of the most special ones in the book for me, because we kicked off the book with a truly enjoyable meal with my family on the perfect summer night. Despite the initial stress, we knew we were about to embark on a special project.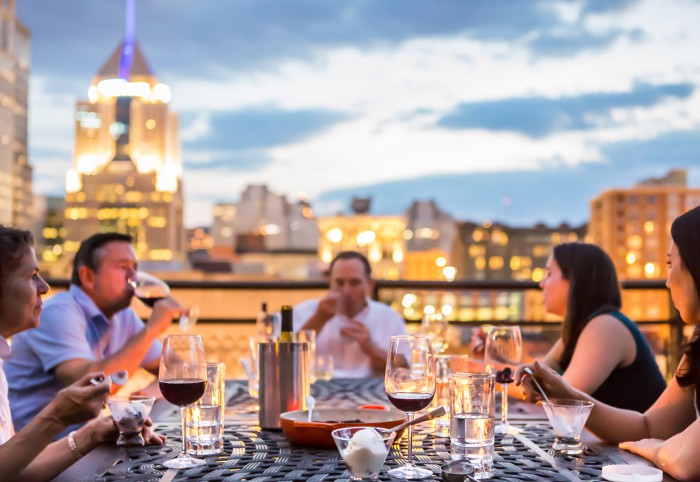 That's my family! My mom and dad on the left, brother in law at the end of the table, and sister who is sitting next to Hayley!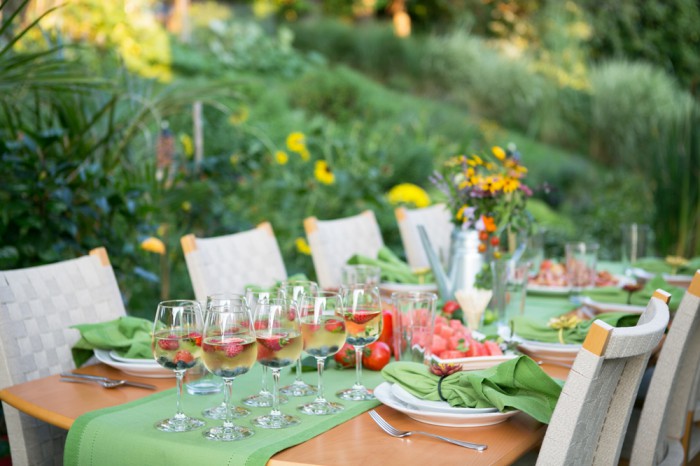 A few weeks later, we shot photos for the "Midsummer Garden Party"
Again, pulling from the resources of our families and their beautiful spaces, we shot the photos for this meal in my (Bill's) parent's backyard. The particularly special thing about this garden is that my mother and I created it together from the time I was 12 up through my mid twenties. From an early age, she encouraged me to get my hands dirty and help her in the garden. I didn't mind. When I was very young (maybe 13?) they let me dig a HUGE pit in the backyard after a lot of research, and transform it into what is now a beautifully vibrant water garden with a large waterfall and graceful koi. This evening was so beautiful, spent with my family and two dear family friends.
the "Tropical Getaway" menu
Shooting the Tropical Getaway menu was perhaps the most challenging menu of all to shoot for the book. (Are you rolling your eyes??) But seriously, it WAS. We were invited to Kamalame Cay by some folks to shoot a menu for the book. What we didn't realize at the time was that there were no local grocery stores, and we would have to rely on what the small resort would have on hand. We literally had to create this menu on the day of the shoot with whatever ingredients we could gather in the resort kitchens. Needless to say, it was quite the challenge, but we ended up with some of the most beautiful photos in the book, and some perfectly simple island cuisine recipes as well.

The setting for each menu in Gather was held in the homes of friends and family, which makes this book extra special. Family members, and family friends can look at this book and say "That's my house!" or "We ate that meal together!" or even "Can you believe those crazy kids made such a mess in my house? At least the food was good." -kidding on the last one, hopefully. 🙂
But honestly, we couldn't have made this book without the help of all of the people that allowed us to come into their homes and make this book, so this book is filled with many, many memories.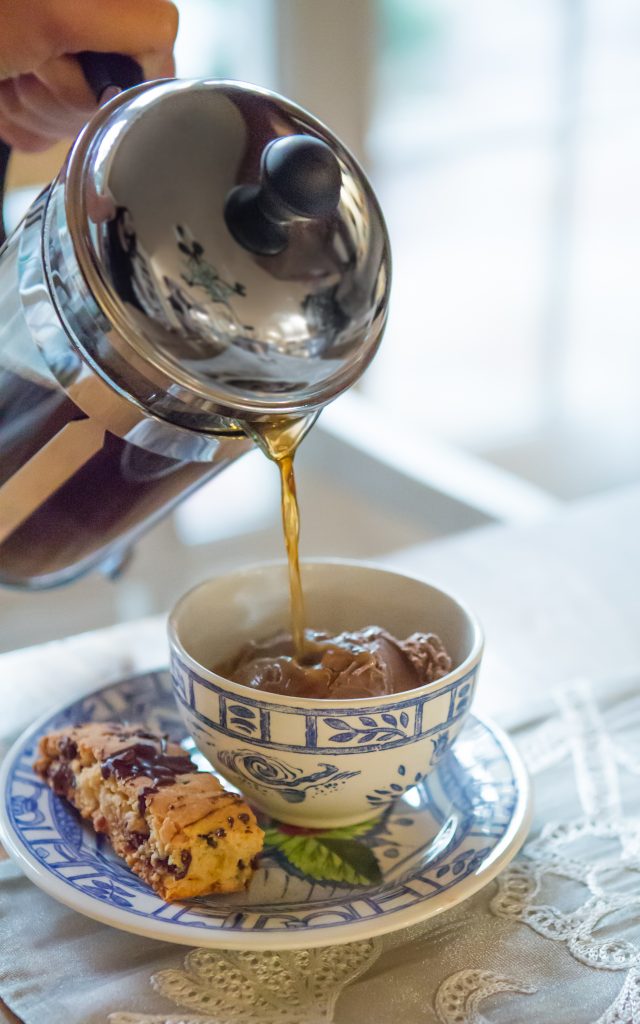 Affogato with Dark Chocolate Gelato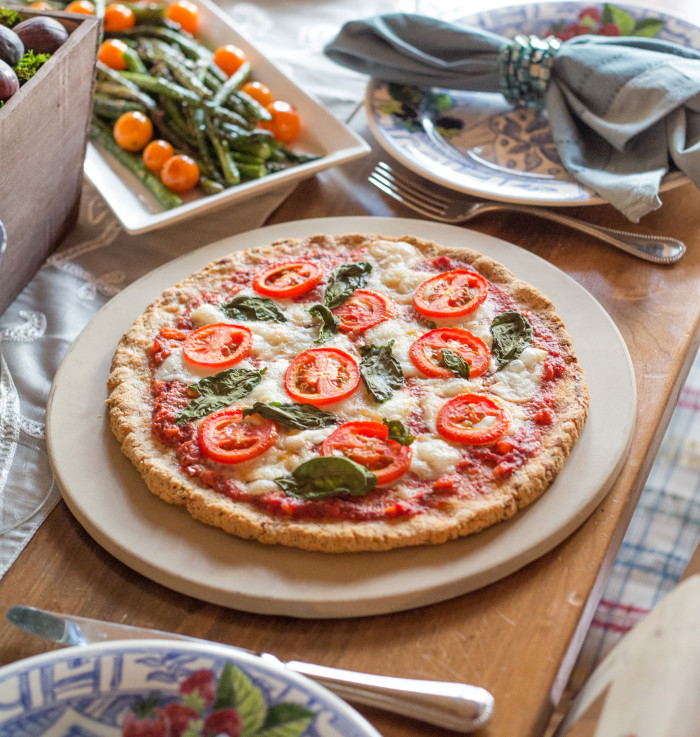 Pizza Margherita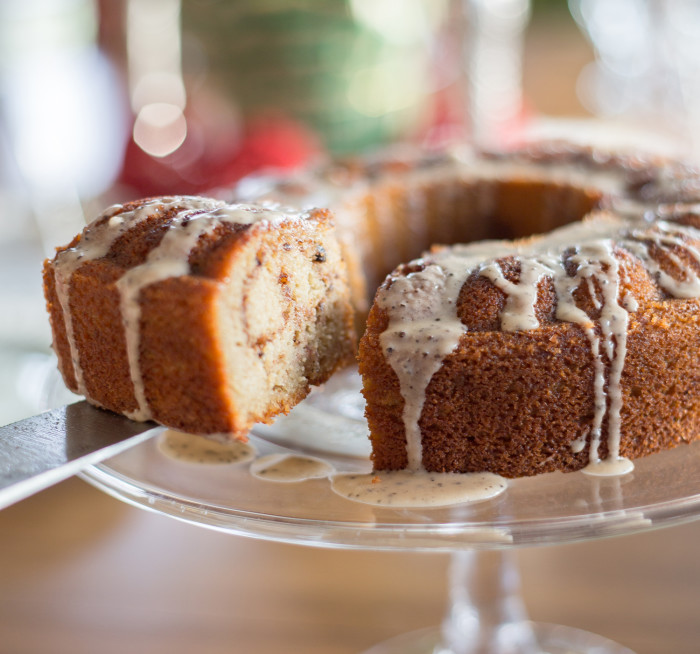 Sour Cream Coffee Cake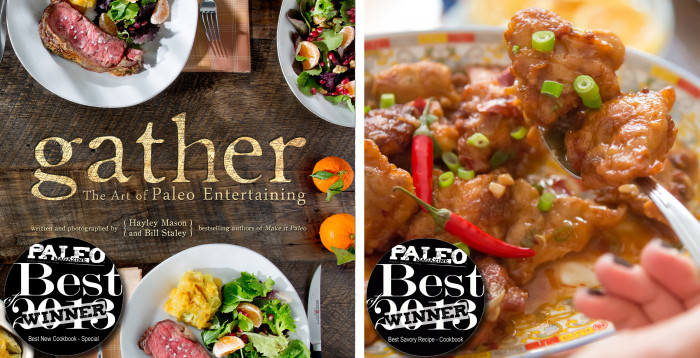 We rang in 2014 with a pair of Reader's Choice awards from Paleo Magazine for Gather! It won the distinction of "Best New Cookbook – Special" as well as an award for the General Tso's Chicken recipe for "Best Savory Recipe – Cookbook." We were thrilled our fans and followers voted us to the top spot in both of these categories, ESPECIALLY amidst the other equally worthy candidates for these awards. We were truly honored, and have placed the awards in a very prominent spot in our house!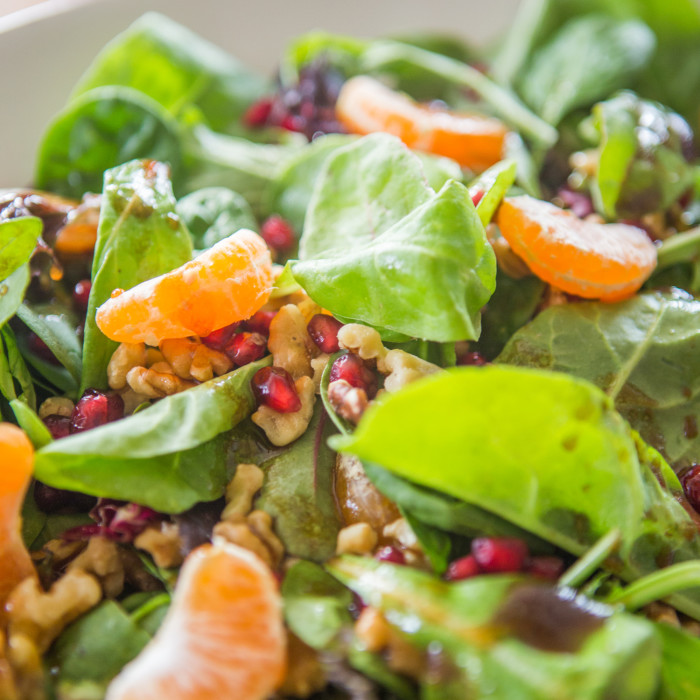 Winter Pomegranate Salad with Fig Balsamic Vinaigrette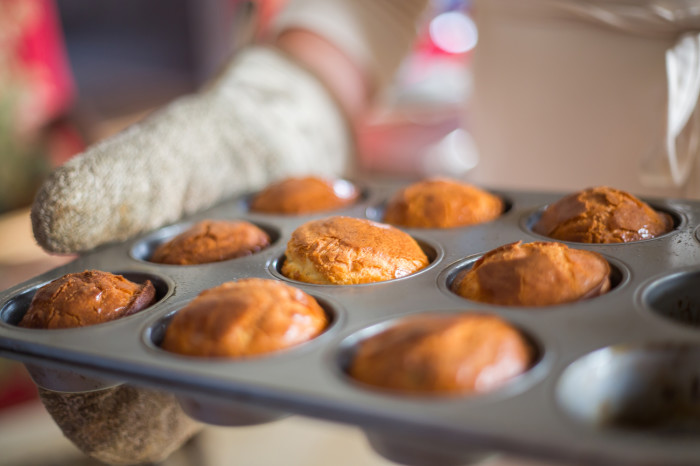 Yorkshire Puddings
Butternut Squash Soup Shooters with Pigs in Blankets
Crostini with Goat Cheese and Fig Compote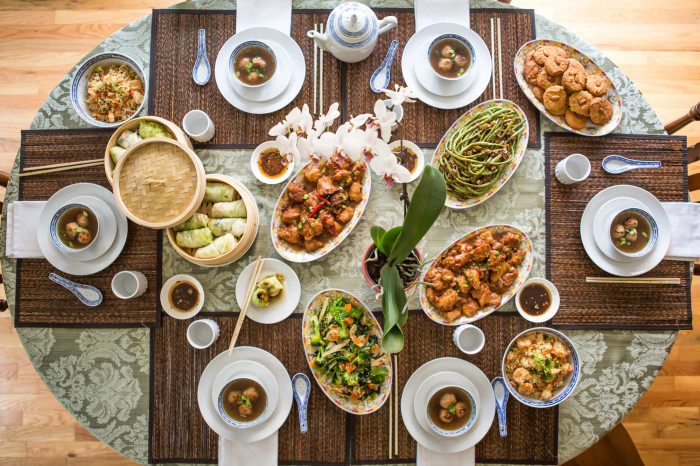 the "Takeout Fake Out" menu, featuring General Tso's Chicken, "Wonton" Soup, Steamed Spring Rolls with Sesame Dipping Sauce, Stir-Fried Vegetables, Shrimp Cauliflower Rice, Long Beans with Mushroom Sauce, and Almond Cookies. It was a FEAST.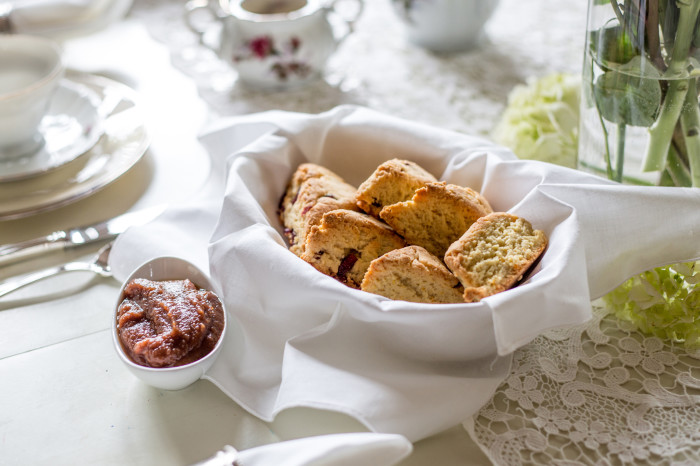 Cranberry Scones and Orange Scones (shown with Apple Butter)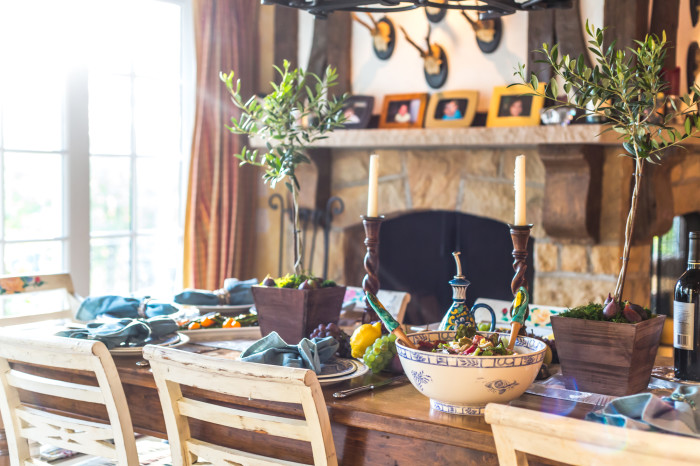 The miniature Olive trees miraculously showed up in our local Whole Foods the day before this shoot. It was fate!
We've been so pleased to hear from many people that Gather is their favorite cookbook of ours. When we set out to create it, we didn't know it would be such a huge hit with people! Of course, we wanted it to be! We continually hear from people that they leave it out on their coffee table to encourage guests to pick it up and have a look. How cool is that?!
If you already own Gather, we would LOVE for you to leave a review for the book on Amazon. Reviews help other people decide on whether they should buy the book, and also help more people find the book in general. This would be a HUGE help to us, and might take you 5 minutes. We'll love you forever if you review it! 🙂
If you don't own Gather, now is the perfect time to buy it! Of course, if you don't need a copy of Gather, you could also pick up a copy of Make it Paleo, or The 30 Day Guide to Paleo Cooking!