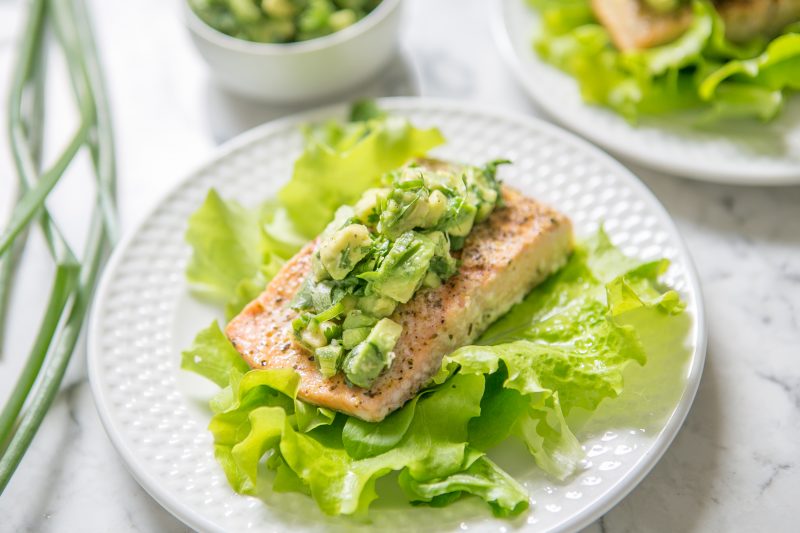 Hi Friends! Before we get to today's recipe, I wanted to talk a little bit about using in-season ingredients, which was a driver for this post. We have perfect spring greens and green onions in our garden that we have been using in a lot of meals. So here's a little more about our gardens and today's recipe ingredients!
If you've been following us for a while, you know that we're pretty fanatical about gardening. I was a Registered Landscape Architect before Hayley and I took the plunge of making Primal Palate a full time thing in 2010. I've been getting my hands dirty outside for a long time, about 20 years, and when we got our first place together we started gardening together also. In April and May, there's nothing we'd rather do than work our gardens. This spring has been pretty normal: mild and rainy, which is wonderful for the plants. As a result, our vegetable garden is kicking some serious butt! Our spring crop of lettuce is already harvestable, and we've been enjoying some amazing salads most days. Also ready for harvesting are our spring onions. We haven't had good luck with getting them to grow into full-fledged onions in past years, but growing scallions is a breeze.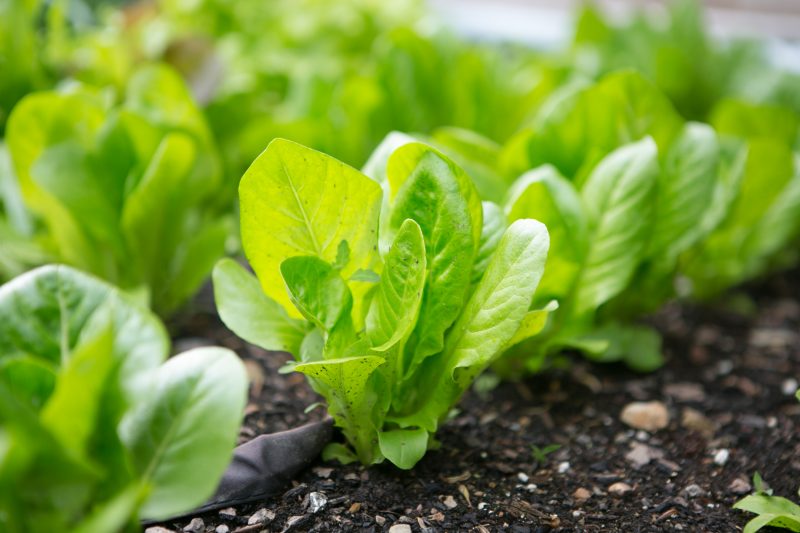 We've planted lettuce in the garden two ways with two intents. The first, above, is closely spaced plantings specifically for spring greens. Anytime we need some, we go out and harvest the largest ones, giving the smaller ones a chance to spread into the void the harvest creates. We have soaker hoses in the beds, but haven't needed to use them in weeks. We haven't gone more than a day without rain in at least two weeks. It's been WET here.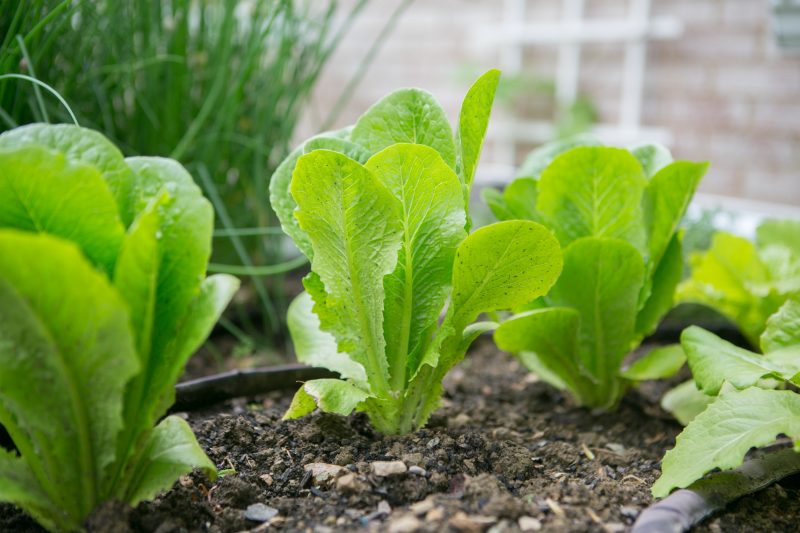 The other way we have lettuce (Romaine) planted is for 'head' growth, like you see in the grocery store. We will allow these to get a little more mature before harvesting. They are planted further apart.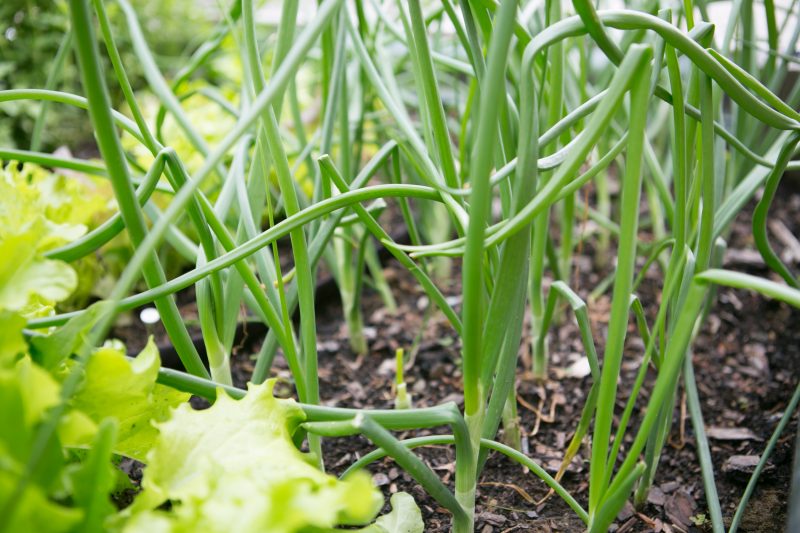 Our closely-planted spring onions are ready for harvest, too. We love having scallions in sauces and dressings (check out this post for making an Adobo-based dressing with green onions!)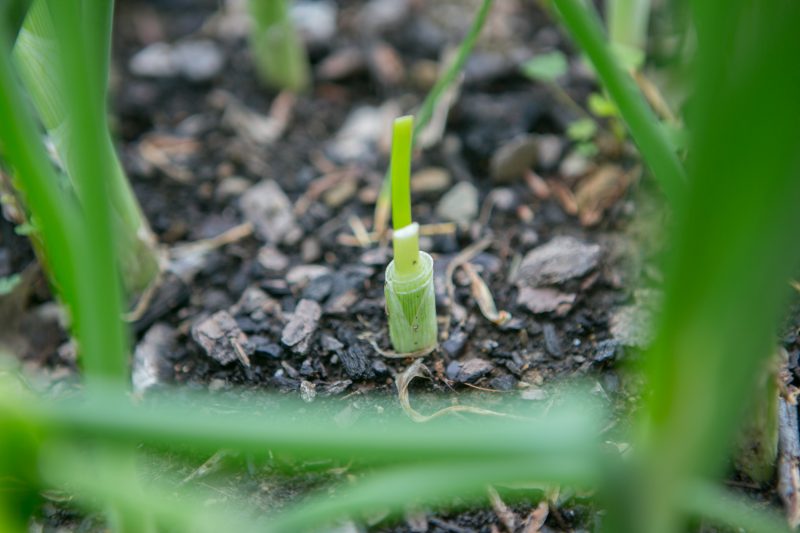 If you decide to plant green onions, and want to sustain your crop, do what we've done to harvest them. Slice them about 1″ from the ground level. They will grow back in no time at all! (See above)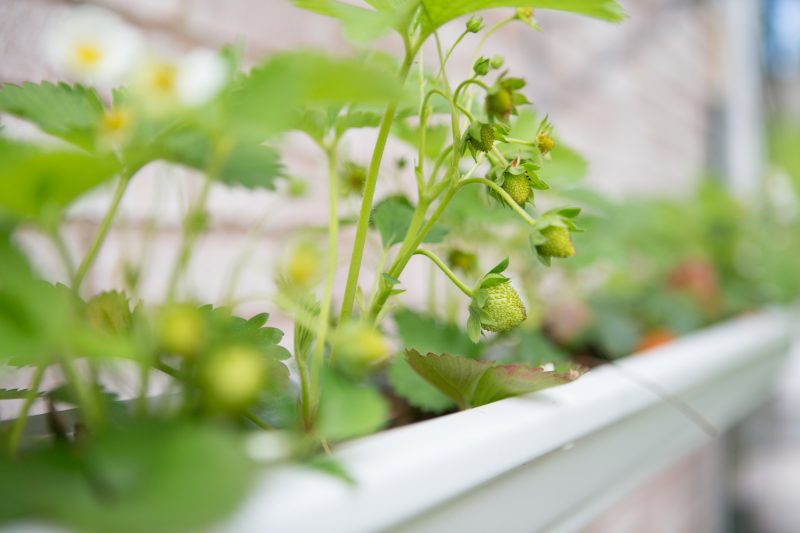 And one last thing to share, while we're at it. We decided to plant our strawberries in gutters this year, and it was a wonderful idea! (No we didn't come up with it! We saw it on Pinterest). The benefit of growing strawberries in gutters is to optimize fruit production, or rather, minimize the loss to ground-dwelling critters (like chipmunks and rabbits), and also limit the amount that might rot due to touching wet ground. They are off to a great start, and we're really excited for them to ripen. It shouldn't take more than a few more weeks!
This recipe uses two "in-season" crops: the green onions and the spring lettuce greens. If you live in growing zones 4-7, this post is timed perfectly! We used some Sizzlefish Salmon for this recipe, which we love having on hand for just this type of meal. It's always good to have a few filets of salmon ready to go in the freezer!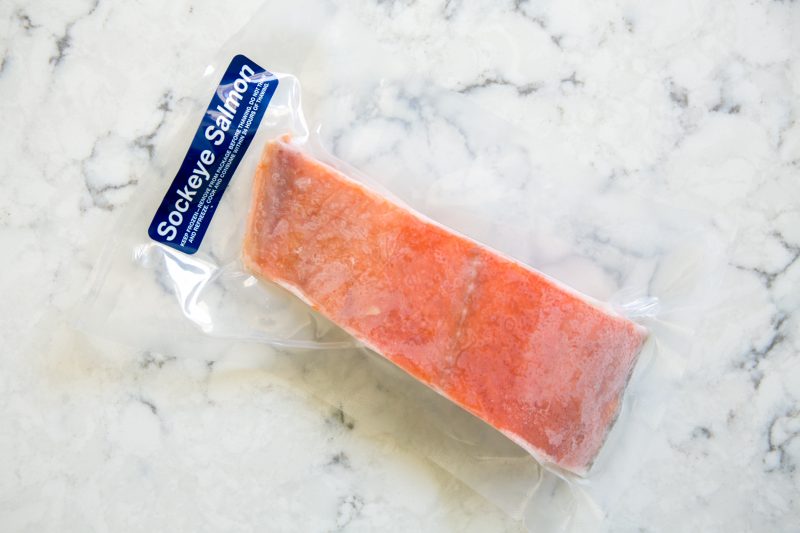 To season the salmon, you want to use our amazingly versatile Adobo Seasoning, which can make almost anything taste better.
The other part of this recipe is an Avocado Salsa that takes a little time to pull together. Knife work can't be rushed, nor should it. I enjoy the time and care spent in making this salsa. This is so fresh: diced avocado, lime juice, and cilantro are all notes from guacamole, plus some added heat from minced Serrano pepper, and the fresh green onion from the garden. You could use this salsa in a variety of ways, but topping it over a grilled piece of Adobo Salmon is the best!
I hope you guys like this recipe! Hayley and I collaborated to make it, and it really showcases both of our sensibilities in the recipe (and it's extra good as a result!)
Cheers,
Bill