When I made my new pizza crust recipe, I decided to bake half the dough in a loaf pan just for kicks. It turned out a bit too gummy, since it contains a lot of starch, but Bill cut a slice and toasted it, and told me it would make a pretty great english muffin. Thanks to Bill's suggestion, I made it my mission to make English muffins!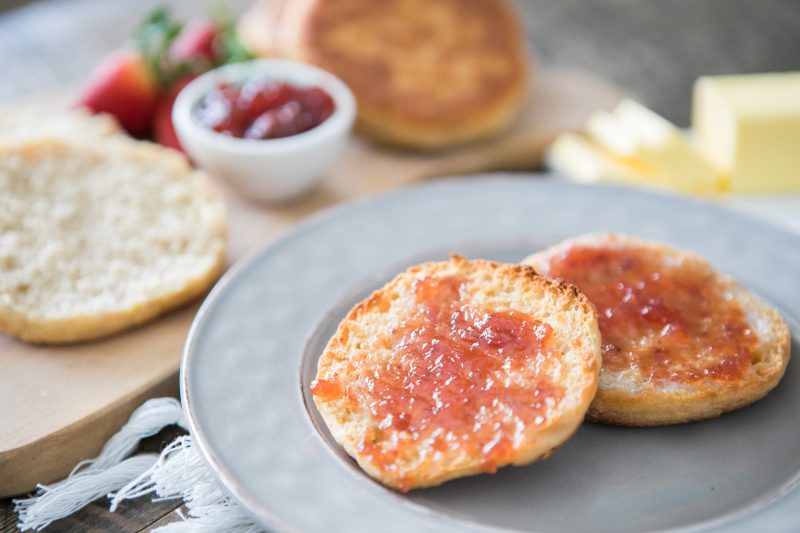 This recipe took me several tries to get the texture right once they are baked. For grain-free breads to turn out well, you need a good bit of starch, because almond and coconut flour can be so dense, but too much starch makes things gummy, so that wont work either.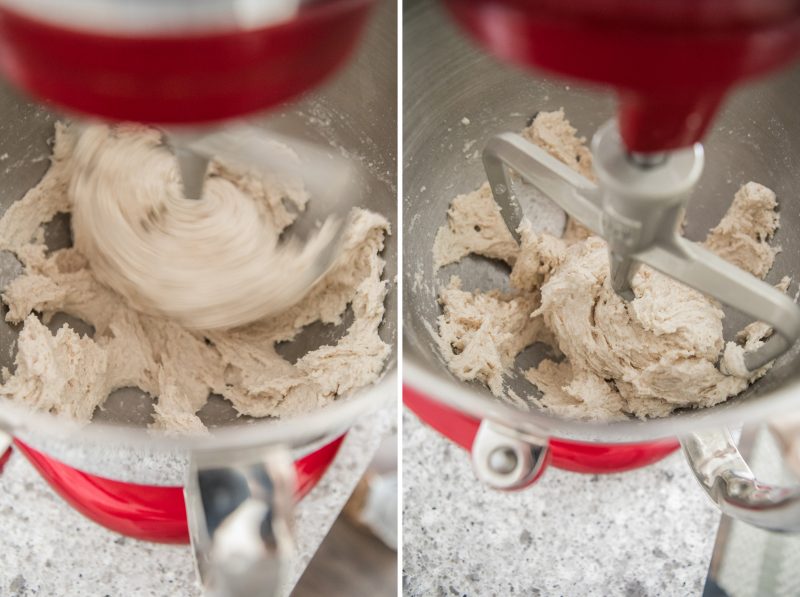 Similar to the pizza, this recipe calls for rapid rise yeast, as well as baking powder. I think this is a combo I will stick with when making breads, because it really makes a difference in how much the dough rises. It's so crazy to see!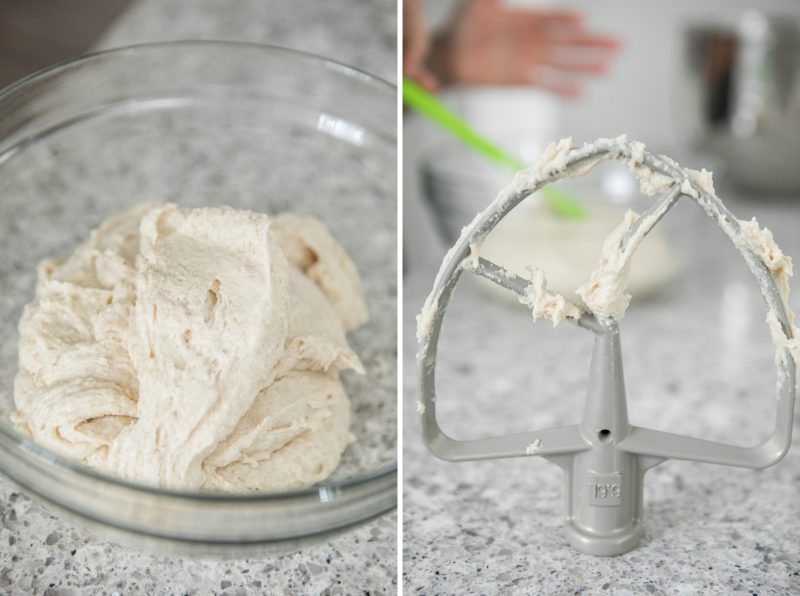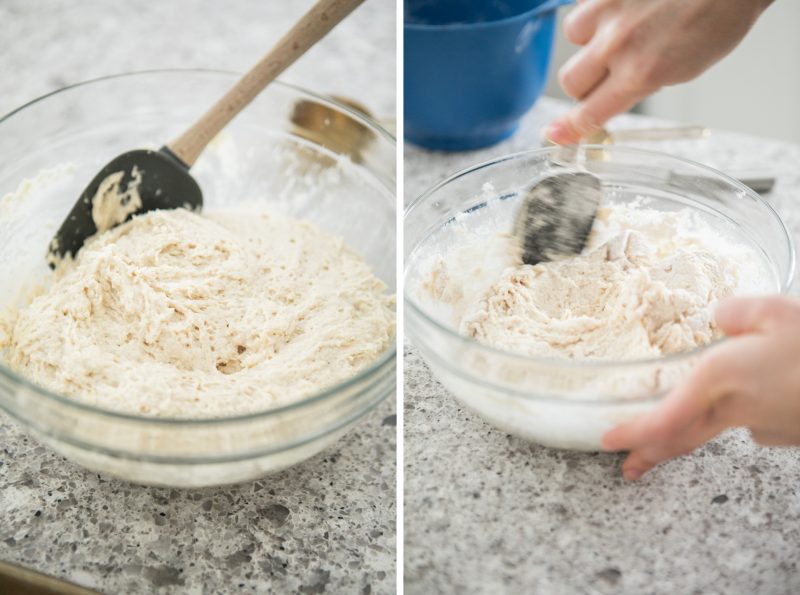 This dough is very sticky, and you need it to be that way for the English muffins to turn out properly. You want them to be light, not solid pucks of dense grain-free dough. With that being said, it takes some patience to work with this dough when its raw. Once you get it formed into pucks, it's much easier to handle when you cook it in the skillet or on a griddle, but getting it rolled into balls and then formed into pucks is tricky.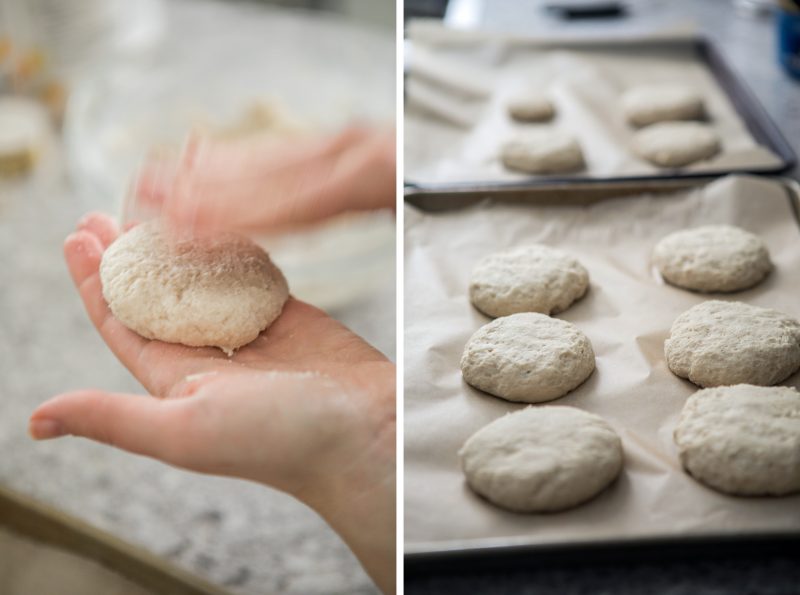 What I have found to work, is working with the dough quickly. It also helps to be sure that you have clean hands. I will rinse my hands as needed, because once you have a lot of dough on your palms, it will keep sticking to that dough. I grab about a palm full of dough, and with very little pressure, I roll the dough into a ball with my palms, working quickly. I will pat it down into a puck shape, and place it on a parchment lined baking sheet.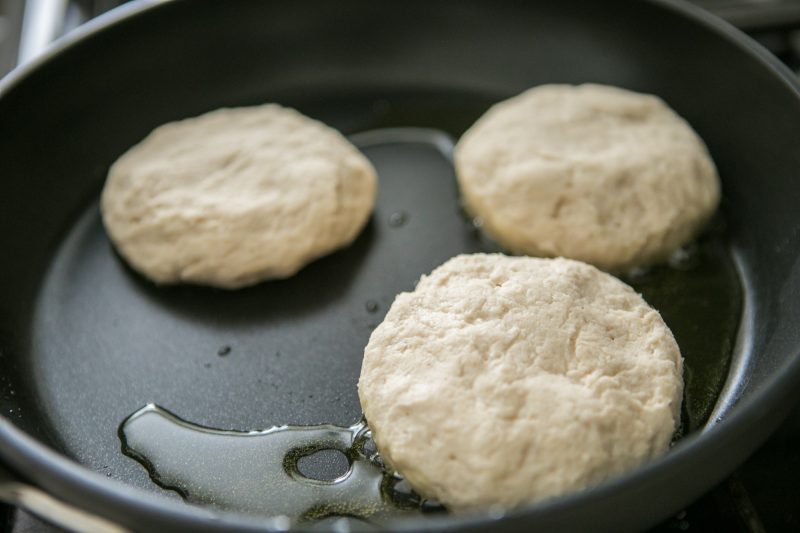 This dough will continue to rise once it's formed into pucks. You can cover it with a towel, and allow the muffins to rise once formed for 30 more minutes, but it's not that necessary. I typically just start cooking them once they are all formed. I start cooking the first ones I formed, and I figure by the time I'm through they've all risen more just in the time it takes for me to get through forming them and then cooking them on the stove top. Did that make sense? I feel like it sounded better in my head.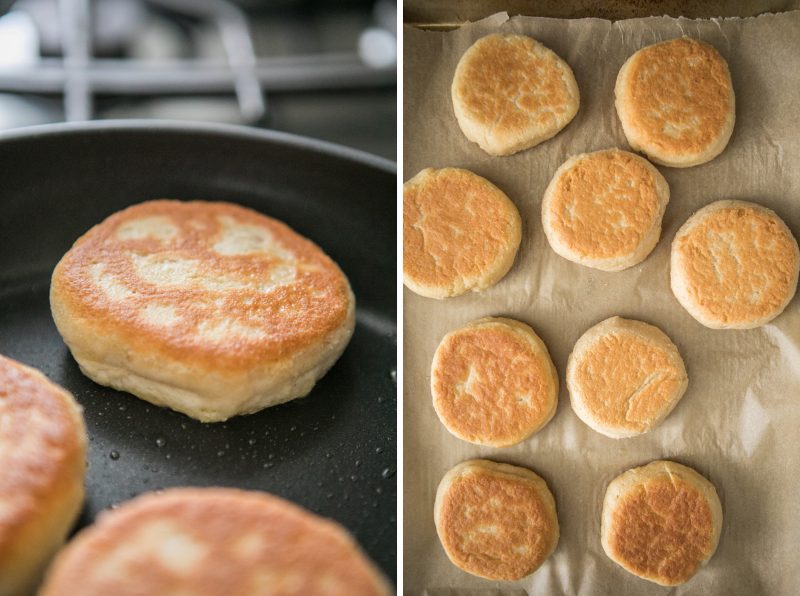 I actually think cooking these beauties is the easiest part of making them. We've been loving our new All Clad non-stick skillet lately, and it worked beautifully for these! I add plenty of ghee to the skillet, and warm it over medium heat. Once the skillet is hot, I add 3 muffins at a time, and allow them to cook for 5 minutes a side. They will flip easily, and just add more ghee if needed. You may need to play around with the temperature of the skillet. If it heats up too much, just turn it down a smidge, and if it doesn't seem hot enough after you turn it down, then just turn it back up. Babysitting the heat of the skillet is really the only thing you need to worry about.
Once you have cooked the muffins on the stovetop, place them in the oven to bake at 350 for 20 minutes. Once they are done baking, and the smell of yeasted, buttery english muffins fills your home, this is the truly difficult part of this recipe. You HAVE TO let them cool for at least 1 hour. If you do not do this, they will seem gummy in the center. They are even better the following day. I allow them to sit at room temperature in a sealed container over night, and the next morning they are perfect! After that I refrigerate or freeze them.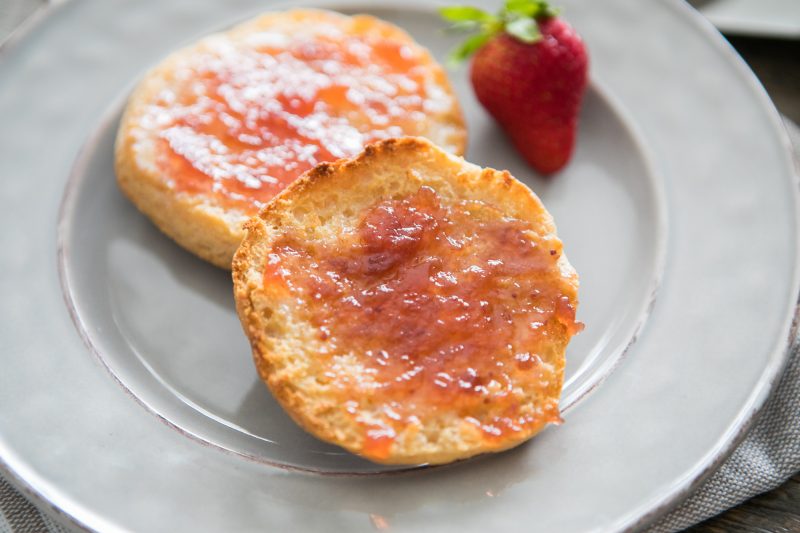 To open them up, you just use the classic method of using a fork. From there you can toast them, smother them with ghee or butter, and jam, or make a breakfast sandwich, or Eggs Benedict (I have a recipe for that coming soon!)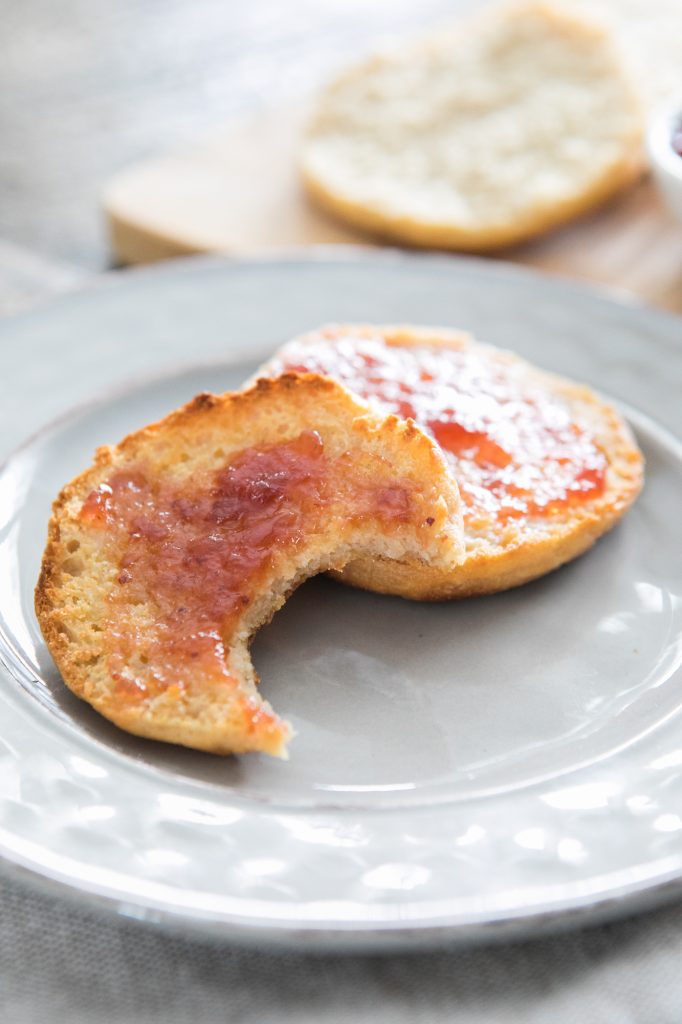 These English muffins take quite a bit of time, but they are fun to make, and even more fun to eat! I hope you enjoy them as much as we have!
-Hayley