We are in the final days before print craze here with our latest book, Make it Paleo 2, and I finally realized that December is half over, and I haven't worked on any of the holiday baking recipes that I planned on. Time flies when you're finishing a book!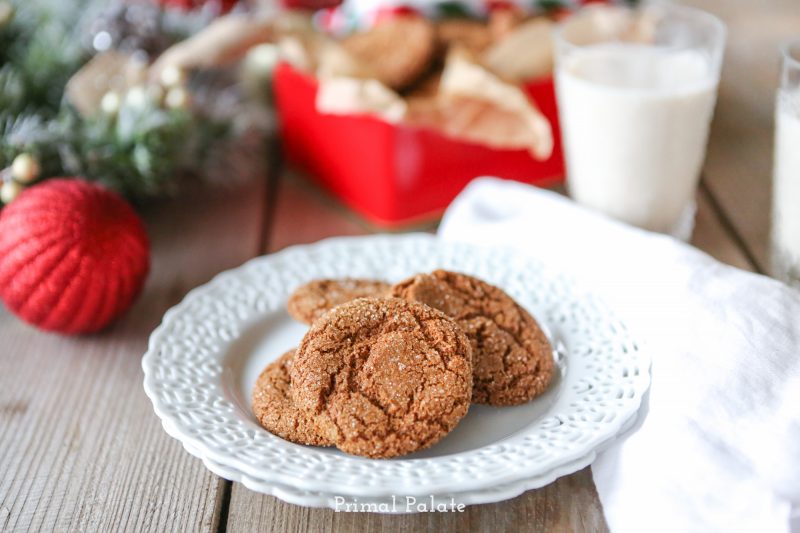 Saturday night Bill headed out with his dad to a Christmas party with all of their friends that they auto-cross with, so I was home alone with the shih tzunami. I was feeling pretty stressed out, and when I get stressed out these days with all my Candida and anxiety stuff going on, I tend to get pretty hard/down on myself about it. One of the things I've been working on lately is being kind to myself, and accepting myself even though I might feel anxious, and not try to do anything about it. It's working, but retraining your brain is a journey, so learning to allow the feelings of taking a few steps back is part of the process.
In my attempt to nurture myself, instead of reprimand myself, I took 15 minutes to sit in our new sauna. We recently made a big investment in our health as both being homozygous for MTHFR (me 677, and Bill 1298), and we ordered a
High Tech Health far infrared sauna
.
Those saunas are designed for detoxing, and usually found in doctor offices, and are the only saunas recommended by Dr. Ben Lynch. But more on that topic later… I sat in the sauna for a few (working my way up in temp and time according to the High Tech Health protocol to not detox too fast), and then decided to bake some cookies. I really wanted to try making gingersnap cookies, and for some reason the idea of being home alone and baking quietly by myself seemed really relaxing at the time. Charlie decided to be less of a tsunami at this point too, which helped. I don't usually enjoy being alone, and even though Bill and I work together all day every day, we both really hate being away from each other. I think the reason I enjoyed my time alone was because I knew that if Bill were home we had to be working on book edits, so having a couple hours of some "me time" was really nice. Of course as soon as I did all of those things to be kind to myself, the anxiety and stress I had all day calmly faded, and I started feeling happy. Funny how that happens. Thoughts become things. Think nice ones. 🙂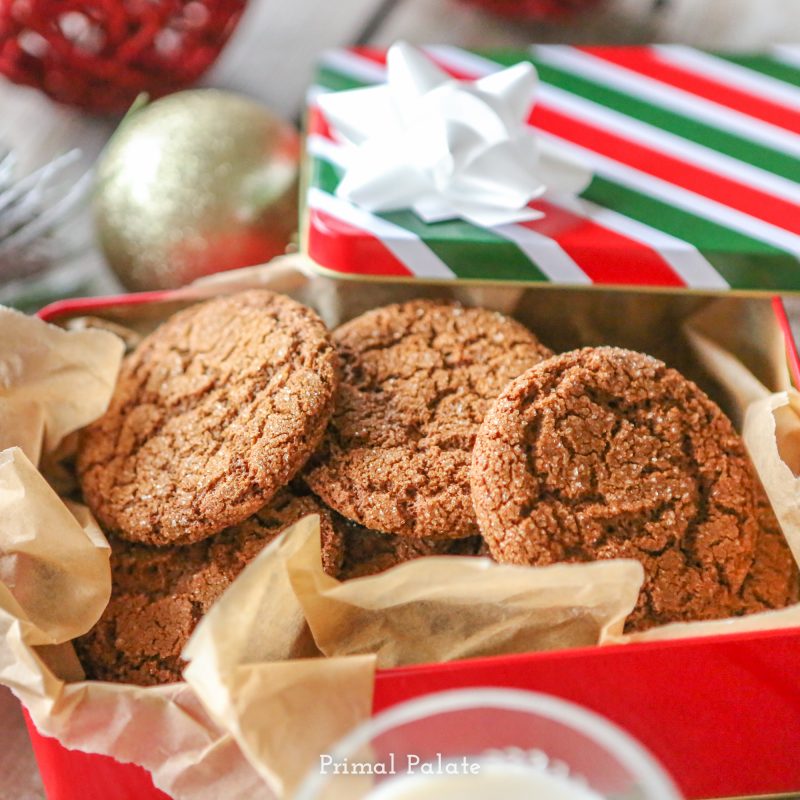 I had never made gingersnap cookies before, so I did what I always do when I'm attempting a new recipe. I google around and try to learn how that type of dish is made before I try to wing it, and that's exactly what I did. I looked at Alton Brown, and a few others, and then just went for it. The one thing that stood out to me with every gingersnap recipe was the use of baking soda in the recipe. I even tried googling "why so much baking soda in gingersnap cookies?" to try to learn why they called for so much. Usually there isn't too much baking soda added into recipes because it can add a soapy flavor to what you are making. It's also four times stronger than baking powder, but needs an acid to activate it. In this case, the molasses helps with that. I was really confused about why all of these recipes called for so much baking soda. Despite being confused, I decided to have that be the one thing that I did, that every conventional recipe did. I used two whole teaspoons of baking soda. It wasn't until the cookies were made, and I had tried a few (yes I broke my candida diet for this-more on that in a bit), that I figured out why that amount of baking soda is so important for these cookies. If I'm wrong, then I will feel like an idiot, but I'm pretty sure I'm right… 😉
The first batch of this cookie dough turned out perfectly. I did find out quite quickly that you cannot flatten the cookie balls before baking them. I mean you can, but you'll get giant cookies. That's really not a bad thing at all, but if you want adorable gingersnaps with cracks and crevices on the top, instead of monster gingersnaps (I'm not sure which version sounds better?!), then you want to let them bake as balls of dough.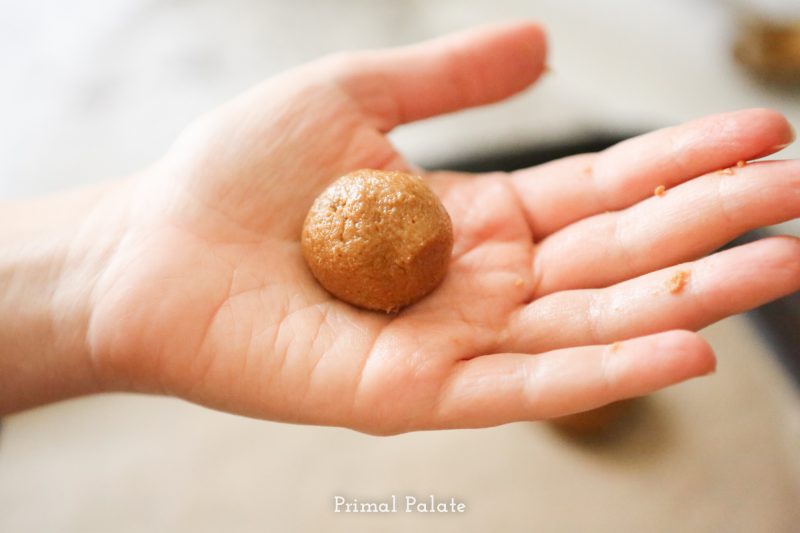 I usually flatten cookie dough, because with grain-free baking you never know how much it will spread or rise, and you might end up with cookies that look more like macaroons, so I flattened them to start. Well, these pretty much quadrupled in size! I posted a photo to Instagram showing how huge they got. I didn't expect that to happen at all, so for the next tray I baked them as little balls and they turned out perfectly! Also, I did roll the cookie dough in organic cane sugar (eek!).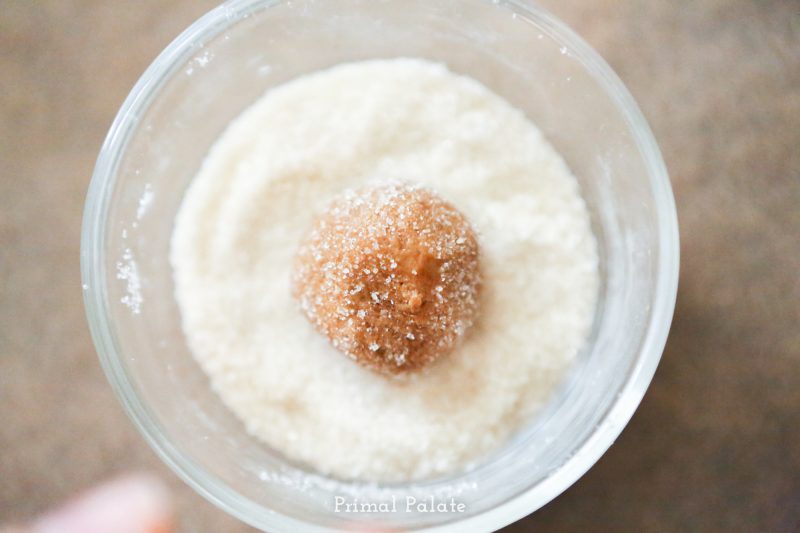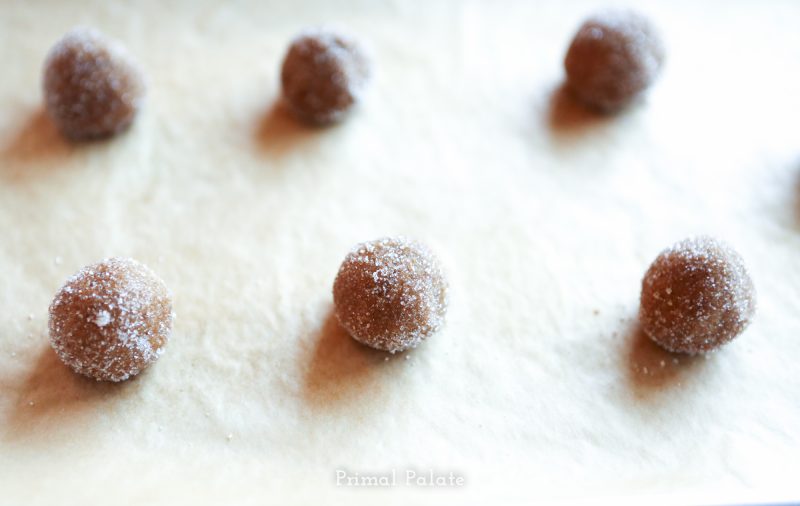 This step is totally optional, but if you can't have a cookie rolled in sugar at Christmas, when can you? The cookies will be fabulous without being rolled in sugar, but it really adds a special touch to the cookies, and the granules of sugar make the cookies sparkle like they were dusted with little specs of diamonds. It's really magical, and makes me think of holiday time.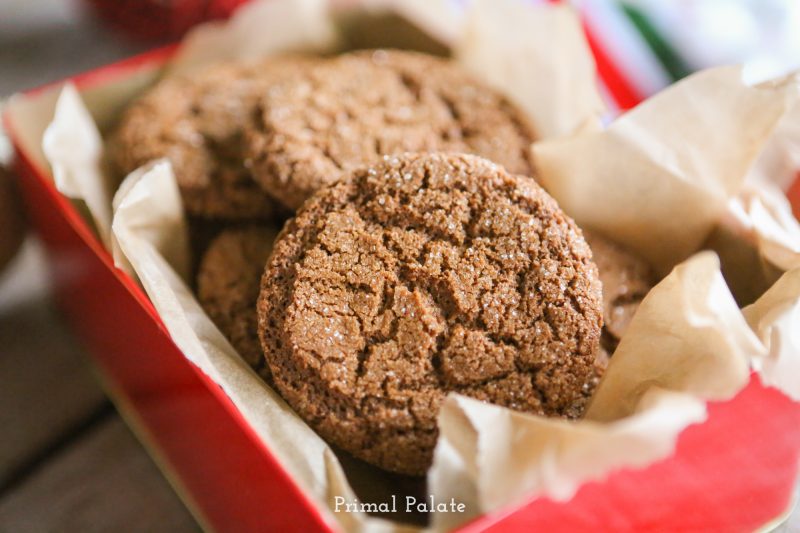 Since I was alone and didn't have Bill home to taste test for me, I had my first bite of real sugar in almost 10 weeks. Bill and I are both starting The Whole Journey Candida Cleanse after Christmas, and I've felt pretty uninspired by my candida-killing progress lately, so I gave in to the little gingersnaps (actually I ate the giant ones, don't say you wouldn't). I'm really glad I tried them for several reasons. The first being that they were delicious, and I loved eating them. The second being that I got to taste them and find out that the flavor and texture was perfect, and the third reason being that I reacted so badly to eating sugar that I know I have some serious yeast/gut issues. I already knew all of that from the awful die off I've experienced, and everything else I'll talk about when I finally write about my Candida process, but I immediately got bloated and gassy (cute, right?), my heart started racing from the sugar, and I was woken up by acid reflux about an hour and half into falling asleep. Bloating/ digestive issues, and reflux (which is a digestion issue) are big signs of yeast overgrowth. So although the cookies made me feel pretty bad, I'm glad I had that test to know that I just can't do that right now. Kind of like when you go gluten-free for a month, and then add it back in to see what happens. It was a good test!
Okay, back to the fun stuff. So the flavor was perfect. I added a mixture of ground ginger, ground cinnamon, and allspice to give the cookies their kick, and the classic gingersnap flavor.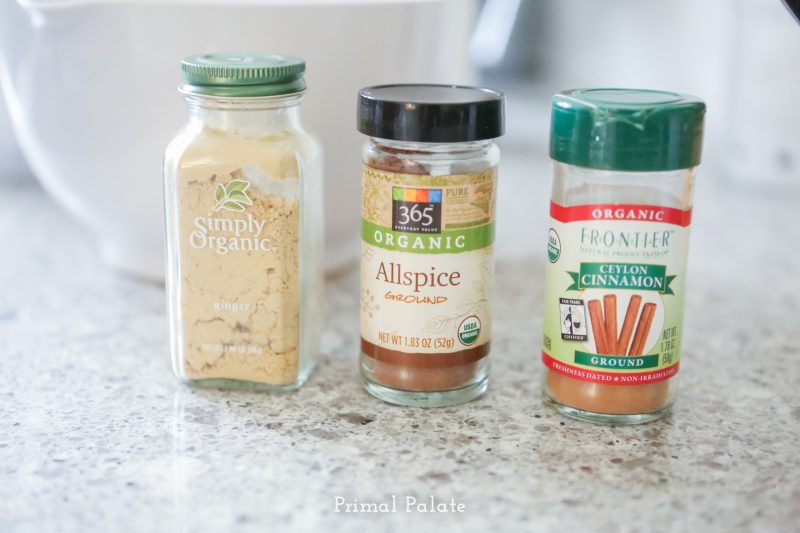 I only used 1 tablespoon of organic unsulphured molasses, because I didn't want the molasses to overpower the cookies and possibly make them taste bitter. I wasn't sure if the maple sugar would be sweet enough to offset the bitterness of the flavor of the molasses, so I figured err on the side of caution, and say less is more with the molasses.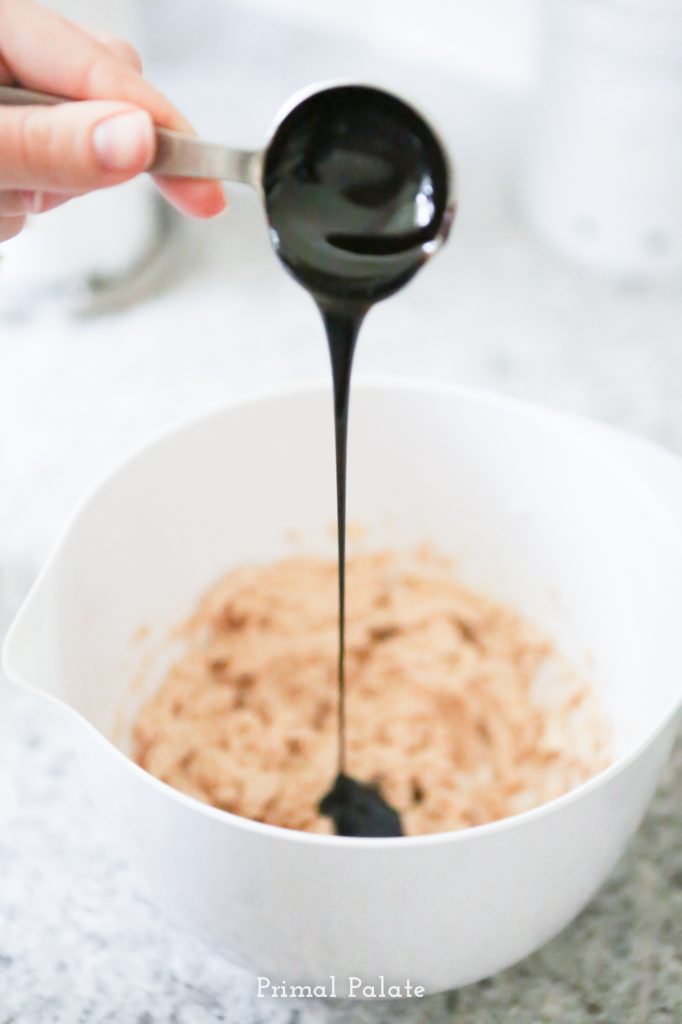 Thankfully I was right. One tablespoon was just enough for flavor, color, and texture, without being too much. The use of maple sugar in this recipe is also fantastic, because the warm, sweet maple flavor just adds more dimension to this recipe. It's really perfect!
The texture was also perfect for these cookies, and this brings me back to the baking soda… When Bill got home it clicked. He had a cookie, and I had one more (don't say you wouldn't), and it hit me. That's why you need all that baking soda. That makes the little air bubbles in the cookies, and makes them so crispy.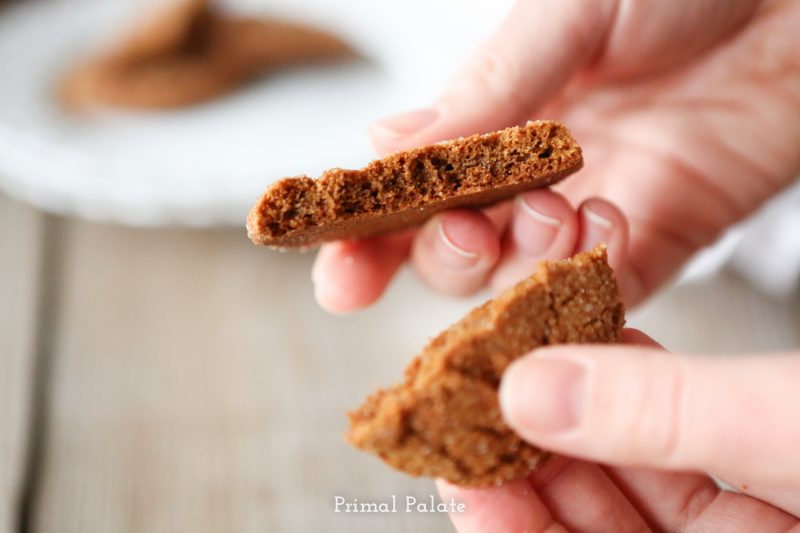 The baking soda gives the ginger cookies their snap! Now, I'm sure the flour blend I used also played a little bit of a role, since that influenced the consistency of the dough. Had I used coconut flour and more eggs, I don't think I would have gotten a crispy cookie, even with all the baking soda, and the cook time probably played a roll as well. Baking for less amount of time might yield a chewier cookie. The molasses also could have been part of it, but I couldn't help but remember Nigella Lawsons recipe for "Hokey Pokey" , also known as honeycomb. That is a candy made from sugar, corn syrup, and 1 1/2 teaspoons of baking soda. When you add the baking soda to the melted sugar syrup it erupts with bubbles, and then you pour it onto a cool, hard surface (parchment lined), and it hardens. Once it's fully cool, you bash it with a knife, and it breaks into a million shards, and you have a crunchy golden candy filled with bubbles that looks like honeycomb! My mind immediately went to that recipe of hers when I took another bite into these crispy cookies. So that's my explanation for why these cookies are so crispy. It would probably take a bit more recipe testing to know for sure, but even still…science is fun.
Since I was home alone and it was like 8 pm when I made these, I decided to make another batch the next day for photos. Not that the time of day really mattered, because lately it's looked like dinner time all day long here. FUN. In making the second batch of cookies, I realized my recipe wasn't quite right. How could it be? I did everything the same. I then realized that I probably accidentally used a scant amount of the almond/tapioca flour in this recipe for the second batch. I was correct that I didn't use as much almond flour and starch the second time, and when I made the third batch I measured in grams to be sure that you all can make it properly. The batch that had less flour still tasted great, but didn't look as fun as the batch that used the correct amount.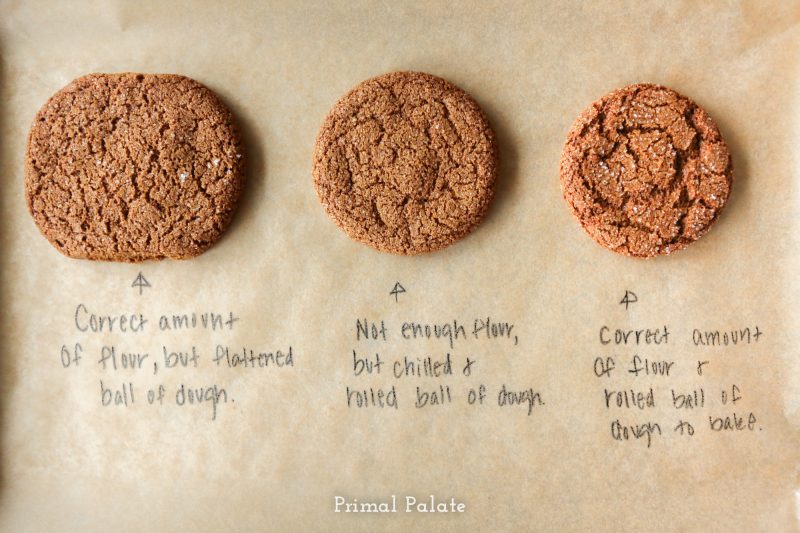 A few cooks notes for this recipe…
Bake them (if possible), on a light colored baking sheet. We have several baking sheets with a ton of character, which we love, but I used my light colored Chicago Metallic baking sheet for these, because our darker ones made these cookies burn on the bottom.
Chilling the dough really helps for making sure these bake in little balls. This is not a gooey, sticky dough, but it's still soft, so if it's cold then it just works better. If you are making these cookies in batches, be sure to keep the dough that isn't being baked at the time chilled, don't leave it out at room temperature.
When you remove the cookies from the oven, allow them to cool on the baking sheet before moving them to a plate or rack. They cool very quickly, and harden as they cool, and then they can be very easily moved.
Trim your parchment paper to fit the bottom of your baking sheet if you are using a rimmed baking sheet. If the parchment is lifted at all on the sides or corners, this will disfigure the cookies. Making sure that the parchment is flat will ensure the cookies stay flat while baking, and they will turn out to be the cutest little circles you've ever seen.
Since I made several batches, I didn't think to count out how many cookies one batch makes. I'm pretty sure its 24 cookies, but it could make slightly more or less depending on how big you make the cookies. The typical size for gingersnaps would use a 2 teaspoon sized disher, or rolling into balls about the size of a walnut, and that would make at least 24 cookies, if not more.
Now that I've written a whole book on making gingersnaps, I'm going to freeze all of these cookies that I made so that I can package them in holiday tins to bring as gifts to parties. I'll let you all know how they freeze, but I'm pretty sure they will be just fine.
Enjoy and happy holidays!