The release date for Gather is drawing nearer, and we want to encourage you all to pre-order the book. This does several things which will benefit us both. For us, it means we might have a better shot of landing on the New York Times Bestseller list for the first week the book is out (often, an author's best chance of receiving this accolade!) For YOU, it means you are guaranteed Amazon.com's lowest price between now and when the book is released. It also means that you will receive your book earlier than most other people, maybe even before the release date. We had people receiving their orders of Make it Paleo up to 10 days before release date back in 2011!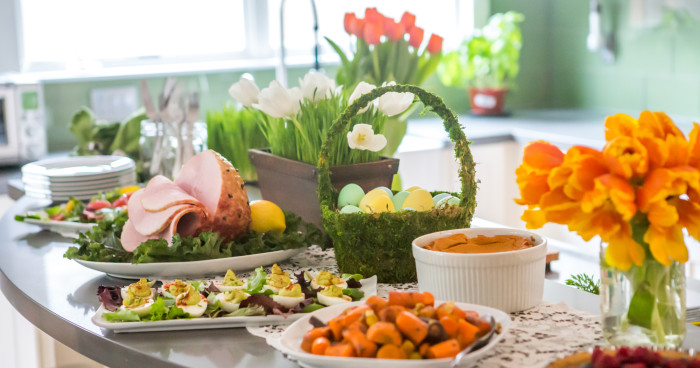 To encourage you to place your pre-order, we wanted to offer up a bit of an incentive. Anyone that pre-orders our book through March 31st will receive the entire Easter section of the book as a  downloadable PDF. This means that you can use the menu NOW to plan for Easter, instead of waiting an entire year to use it. We're all about instant gratification, and have a hunch you might feel the same way.

IMPORTANT:
Forward the email receipt of purchase to [email protected] – use subject line "Gather Easter Download"
Please give us up to 24 hours to reply with the download link.
Here is a little more about Gather, if you're hearing about this cookbook for the first time!
Enjoying good food with friends and family is one of the greatest pleasures of life. Yet many home cooks shudder at the thought of entertaining guests for even a simple meal. In Gather, The Art of Paleo Entertaining, you'll find everything you need to make cooking for family and friends a care-free (and delicious) affair.
The book is organized by season, providing inspiring menus to enjoy throughout the year. Whether you are planning an informal Sunday brunch with family or hosting an elaborate feast for a crowd of friends, Gather provides inspriation through gorgeous photography, concise recipes, and a foolproof plan for effortless entertaining. Inside, you'll find recipes for holidays such as Halloween, Christmas, Easter, and New Year's Eve. It includes menus that celebrate Chinese, Italian, and Caribbean cuisine. It also incorporates creative ideas for cooking with game meat, hosting an elegant farm to table dinner, organizing a garden party, or even enjoying traditional afternoon tea.
The beauty of the recipes in Gather is that they can be used together as intended, or individually. You'll find a flavor for any palate herein, with recipes for popular classics such as General Tso's Chicken, Margherita Pizza, Lattice Crust Apple Pie, and a collection of decadent desserts, all of which will convert any naysayer who insists they cannot live without their favorite foods.
In Gather, you'll discover that following a grain-free, Paleo lifestyle can benefit anyone, especially those who feel confined by the idea of a "diet." The wealth of recipes and inspiring menu ideas in Gather aim to make the Paleo diet easy, accessible, and delicious for everyone and any special occasion.
Thanks for your support – we hope you will consider ordering our new cookbook!