Michelle Tam and Henry Fong (otherwise known to the masses as Nom Nom Paleo), are two of the nicest people we know. Not the nicest Paleo people, but the nicest people in general. Plus they have two super adorable boys who we love to visit with.
Since the early days, we've traded a few posts here and there (oh geez, here are a few more!), and even got the chance to take over Nom Nom Paleo (the blog) for a guest post! Michelle and her boys sometimes make our Chocolate Chip Cookies when they feel like going over to the dark side for a sweet, grain-free treat.
Early on in our Paleo days (when they were just starting out blogging too), it was plain to see that they had something very special going for them. With Michelle's sharp wit and rich sense of humor, Henry's artistic ability with the camera (and illustrations), and their wonderful recipes – they quickly grew what continues to be, in our eyes, the best Paleo blog on the internet. After we released our first cookbook, we were eager to see if Michelle and Henry would follow suit (a little too eager actually because we kept bugging them to make one). However, they took the road less traveled and created a kick ass iPad cooking app instead. Not, surprisingly, the Nom Nom Paleo app went on to be a bestselling app in the iTunes store! When quizzed, Michelle and Henry insisted they still had no plans to write a real, honest to goodness cookbook. Paleo folks everywhere waited patiently.
Fast forward a couple years (who needs a literary montage, anyway?) and their fabulous cookbook Food For Humans is sitting in front of us in all its glory. Michelle and Henry are sneaky like that, and we're glad they are. When we found out they had written a cookbook, we were so excited!
What can you expect in this cookbook, and why should you get it? Well, to start, it's chock full of great recipes and dazzling photos. And that right there, is reason enough to buy any cookbook – especially a Paleo one. Most authors could stop right there and be happy, but not Michelle and Henry. The book has a HUGE amount of process photos that perfectly depict the cooking process of every recipe. The book also has cute and charming comic-book-style illustrations of their family throughout. And the best part in our opinion, is Michelle's writing. If you've never been to their blog, you can get a big taste for free of what to expect in the book.
We're so excited to share this book with you, because it's so much more than just a cookbook. You can tell from the first 20 pages that Food For Humans is a personal book for Michelle and Henry, dotted with family photos, adorable pictures of their boys, and a collection of personal stories to go along with them. Before you're through the first 50 pages, you feel like you KNOW their family.
When we cracked open Food For Humans, so many tasty looking recipes jumped off the pages and said "Make ME, Make ME!"  However, the Slow Cooker Kalua Pig was our top choice for a recipe to make. There were two reasons: 1) we love recipes that deliver big flavor without a lot of steps, and 2) we LOVE pork. If it were summer, we would have been hard pressed to NOT use our smoker for at least a portion of the cook time on this recipe, but seeing as it's snowy and cold outside this time of year, we happily stayed inside and followed Michelle's recipe as-writ. Michelle's inclusion of bacon in this recipe does a nice job of adding smoky flavor to the pork without needing to bust out the smoker, so that was a really nice touch!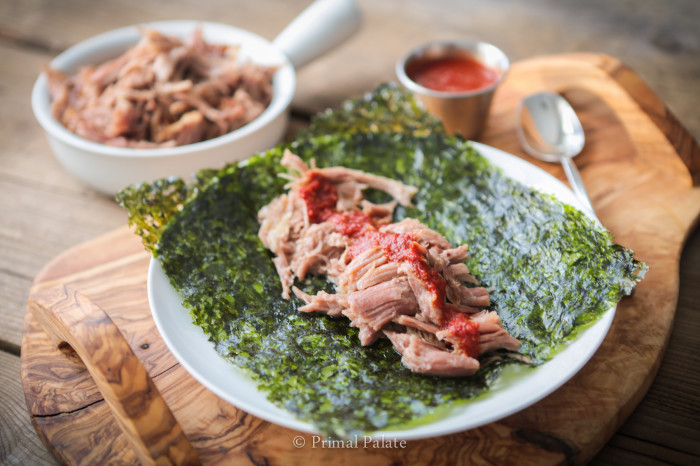 Food For Humans is one of our top picks for Paleo cookbooks you should buy this year. Snag it where ever books are sold (and on Amazon). If you're still left wanting more, be sure to check out their iPad app and website as well.