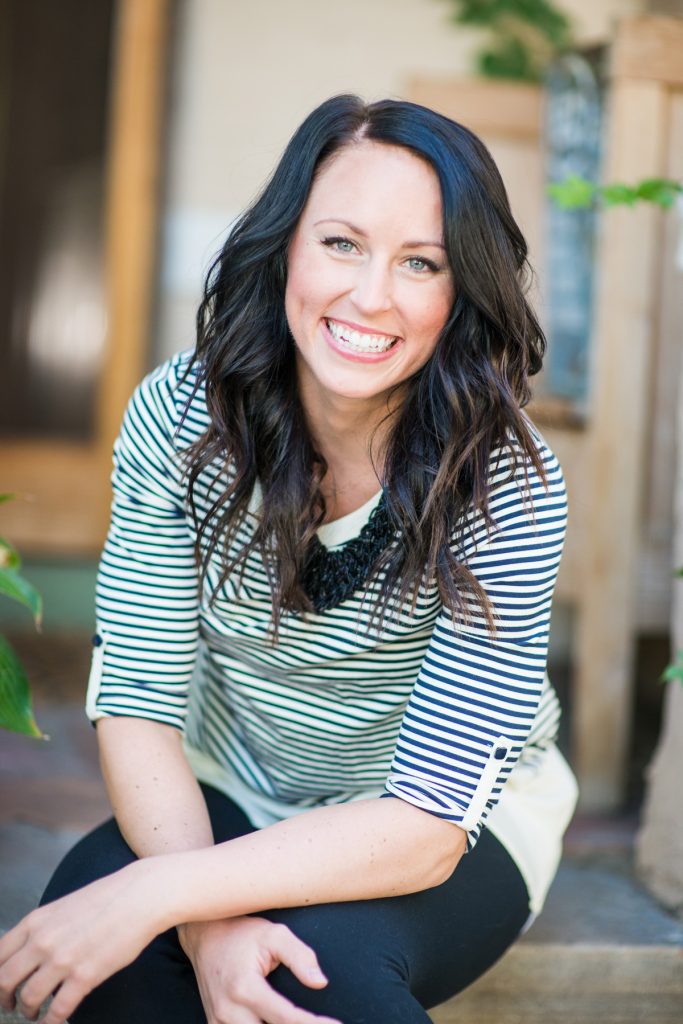 This week, we bring you another installment of our Featured Contributor Spotlight with someone that hardly needs an introduction: Juli Bauer from PaleOMG! We've been huge fans of her writing and recipes for a long time now. If you haven't visited her blog, then you're missing out on something seriously special. The way Juli writes is effortlessly funny, honest, and just generally fun (you'll be entertained – pinky swear). It's no wonder she has a gigantic devout following from all over the world. Plus she's a great cook to boot. As we speak, she is wrapping up edits on her second book The Paleo Kitchen which she has co-authored with another Paleo mega-celebrity (and future Featured Contributor), George Bryant. Juli and George are like a two-person Paleo Captain Planet, if that makes any sense? Their powers combined are something to behold.
Despite having the tedious task of final editing on the manuscript for The Paleo Kitchen, we somehow convinced Juli to be our latest Featured Contributor on the site this week. We lobbed a few questions her way to get a little more insight into the inner workings of what it's like to write one of the most popular Paleo food blogs in the world. We really enjoyed reading her responses.
PP: What is your favorite recipe you've ever made?
JB: That's a tough one. Can I give you multiple? Ok great, you're the best. Some of my latest favorites are my coffee cake banana bread http://paleomg.com/coffee-cake-banana-bread/, my 5 ingredient spaghetti pie http://paleomg.com/almost-5-ingredient-pizza-spaghetti-pie/, and my teriyaki beef stir fry http://paleomg.com/teriyaki-beef-stir-fry/

PP: You just finished writing your second cookbook. What was it like working on this one?
JB: It was a completely different experience than my first one. I worked with a new publisher and then also worked with George from Civilized Caveman to create this second cookbook. This cookbook will include over 100 recipes that are all brand new. So not only did we make a ton of new recipes, but we had to work together when both of us are use to working by ourselves. So it was a complete learning experience. It was like doing a group project with someone like you did back in college or high school. But the more we worked together, the more our separate ideas would begin to meld together.
PP: When you don't cook for yourself, where do you go to eat (and what do you get?)
JB: Well my favorite thing to "make" at home is a gluten free pizza that is in the freezer section at most grocery stores called Against The Grain. I think it's the best gluten free pizza on the market. But I absolutely LOVE getting street tacos so I tend to go to taco joints such as Pinche Tacos and Moontower Tacos in Denver because I can handle corn tortillas just fine.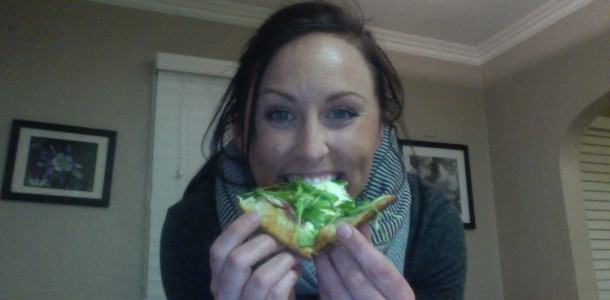 PP: Your daily grind is writing one of the most popular Paleo food blogs on the web. Whats your favorite part about that job, and whats the part that *ahem* makes you scratch your head?
JB: Honestly, I just love writing my blog. I love hearing that people enjoyed the food or laughed because of what I wrote, so I keep trying to come up with food that satisfies all different taste buds or at least makes a person smile. The only issue I tend to run into is angry people on Instagram. I totally understand if you're not a fan of my food or my dry humor, but there are just some really hateful people out there that want to voice their opinions about anything. Like saying I'm fat, or saying my food is paleo junk food, or saying that I'm an idiot. People are totally entitled to their opinion, but I don't think everyone should always voice those opinions. Never once have I emailed someone to tell them I think they're fat. That's not normal. Ok, now I'm just going off on a tangent.
PP: Okay, last question (and it's a tough one). Frenchies or Shih Tzu's?
JB: I'm going to have to say Frenchies. Mostly because my parents already have Shih Tzu's so I can visit them anytime I want. But Frenchies, well, I don't have one of those quite yet, so I want that way more!
>>>>>
Well thanks for chatting Juli! We're so excited to get our hands on your newly co-authored cookbook The Paleo Kitchen! If you watch closely, you might even see your favorite food lovers (behaving badly) in the background of their cookbook trailer.
In addition to being kind enough to take some time to chat with us, Juli has ALSO been super generous in sharing
TEN whole recipes
on our site that can be used on our
meal planner
and are also at your fingertips on our
app
! We also created our first SIGNATURE menu just from Juli's recipes – "
A Day with PaleOMG
"! We're always looking to share more great recipes, so if you have some of your own you'd like to share, you can do that here on our
Recipe Upload
page.  Thanks again to Juli for taking the time to hang with us this weekend. Well, virtually. You know what we mean.

But wait, that's not all!
(sorry, did that sound super corny?)
While we have you here, we wanted to let you in on downloading our BRAND NEW 30 Day Guide to Paleo – Tips and Tricks eBook. We are so excited to share our brand new 30 Day Guide to Paleo Tips and Tricks Guide with you. A few months ago we released The 30 Day Guide to Paleo, a holistic program geared toward helping people go Paleo. The guide includes over 180 recipes, two different 30-day meal plans, each with their own set of shopping lists. As you might expect, the program guide is also chock full of information on the Paleo diet, and how to implement Paleo in a practical way. To supplement this guide, we asked YOU (people of facebook, twitter, and instagram) about your own tips and tricks for going Paleo. We got a huge outpouring of responses which we truly felt we needed to compile into a new document of it's own. So here you have before you our community-created 30 Day Guide to Paleo – Tips and Tricks guide. Please feel free to send this on to any family members or friends that you may feel would benefit from this free guide!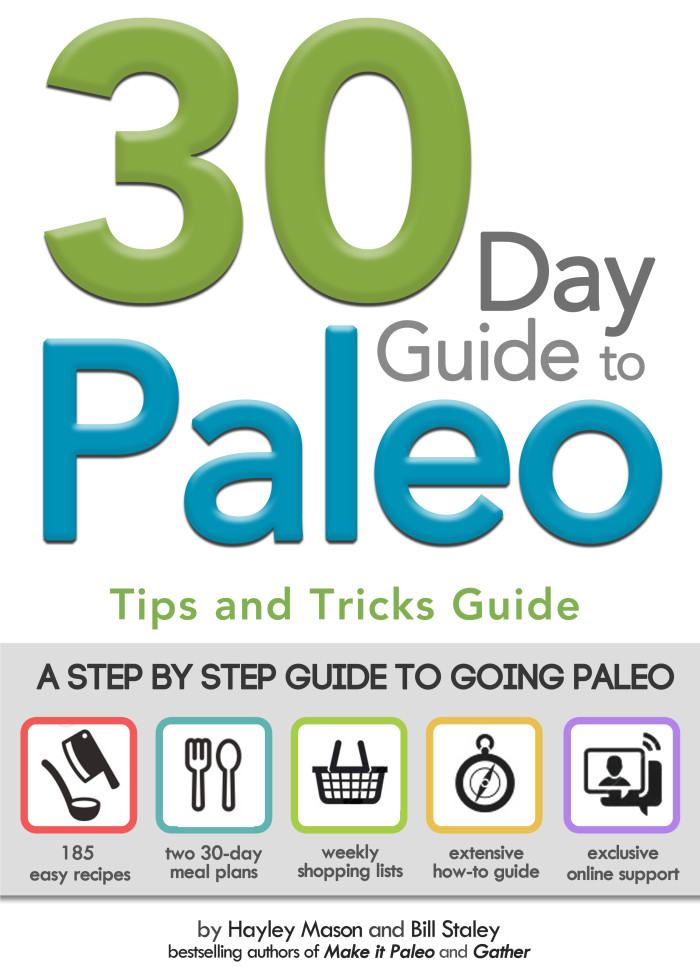 To get the free Guide, simply sign up for our email list below. Once on the list, you'll receive an email from us containing the link to download the Tips and Tricks Guide. Simple!