Today, we're thrilled to feature a few recipes from the ever-talented Josh Weissman. We've been fans of his work ever since he hit the Paleo scene like a ton of bricks in late 2012. Josh quickly became a notable figure in the Paleo world not only for his amazing 100+ lb weight loss story, but also for his insanely beautiful and delicious recipes. Oh, and did we mention he started his blog when he was just 16?!
We had a chance to chat with Josh at Paleo Fx this past spring, and he was kind enough to oblige and let us sling a few questions his way.
Josh has a great new Paleo cookbook out called the Slim Palate Paleo Cookbook (#SPPCookbook on twitter and instagram). If you're swimming in a sea of Paleo cookbooks right now, know this: the SPP Cookbook is critically acclaimed by none other than Michael Ruhlman, who lists it as one of his favorite new cookbooks. To quote Ruhlman,
" I find (Josh) so inspirational. Here is a kid who transformed his life by cooking (and then by writing about it). He was a bullied fatso reliant on junky food, who turned his life around by eating carefully, and thoughtfully."
You can visit Josh's site, SlimPalate.com to see his incredible transformation story. It's pretty inspirational. So anyway, back to the food. This past Easter, which seems like ages ago, we cooked Josh's Rosemary and Coriander Crusted Rack of Lamb. We love cooking lamb chops, and his recipe seemed like a perfect fit for the spring holiday, so we gave it a shot. (You can get the full recipe in his cookbook, The Slim Palate Paleo Cookbook, which we highly recommend!)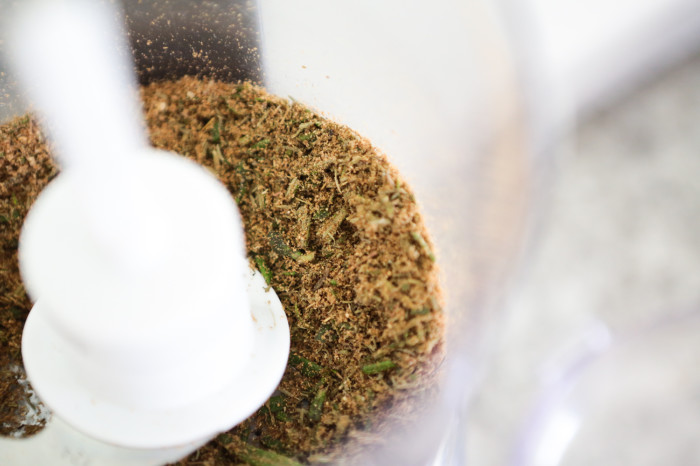 First, you're going to mill your spices. We use our fun little "mini chop" – a sort of miniature food processor. (Available in our store!)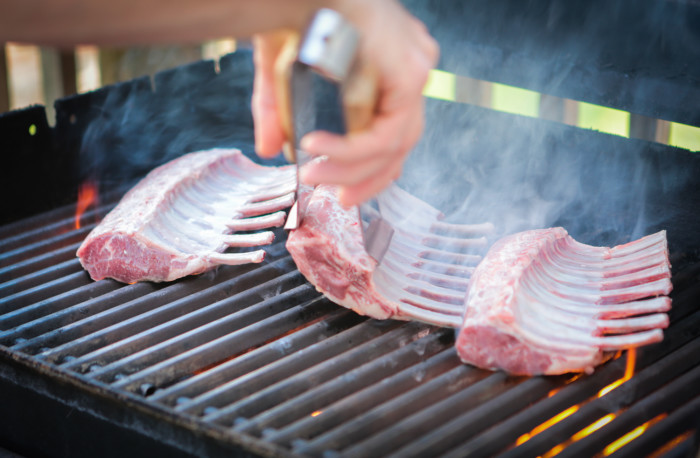 Now, the recipe calls to sear the rack of lamb (singular) in a cast iron skillet. We had three, so I opted to give them a sear on the grill instead for the sake of saving time (and dishes).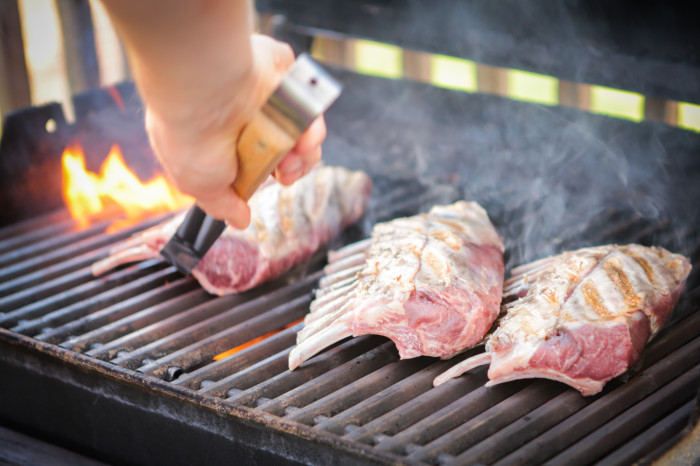 Besides being efficient, I just love grilling things. I'll grill just about anything. We were at my (Bill's) parent's place for Easter, so I'm using their grill in this picture – but we both have Weber propane grills. They have the Genesis model (an older one), and I have the Spirit. As far as propane grills go, these are really nice because they get very hot, have even heat, and seem to be made REALLY well. I think they've had theirs for over 20 years. I hope to have ours that long too!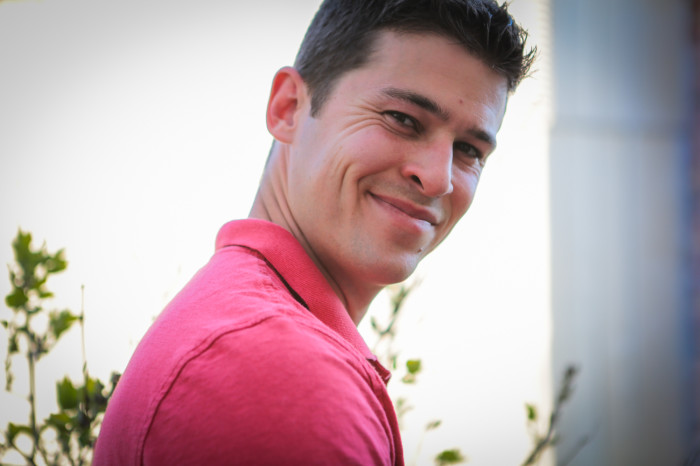 It's hard not to smile when you're grilling lamb chops. Honestly.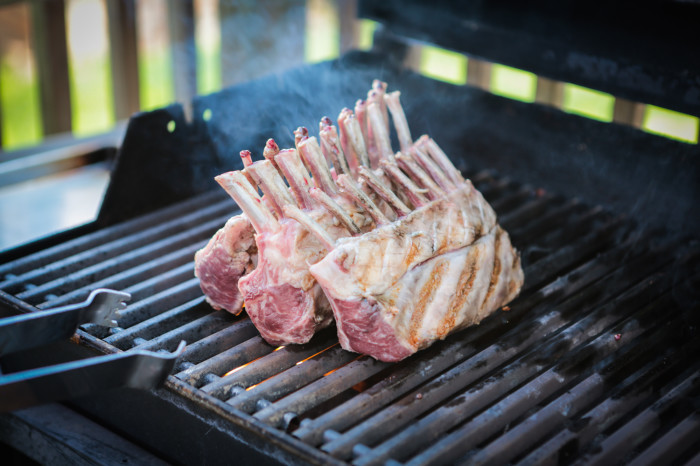 I seared the top and bottom of the chops, then turned them on their "butts" to sear that side too.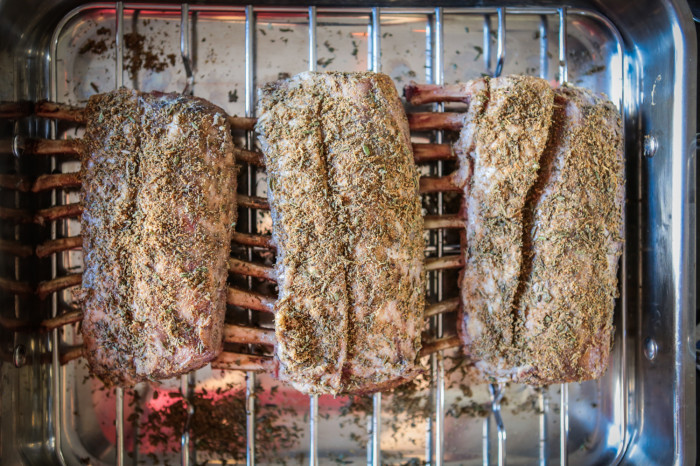 Now, we put the herbs on the lamb AFTER their adventure on the grill. If you follow the recipe as written, you'll put the mustard and spices on the lamb before going into the screaming hot cast iron pan. I was afraid the herbs would burn on the lamb, given the 500-600 F heat.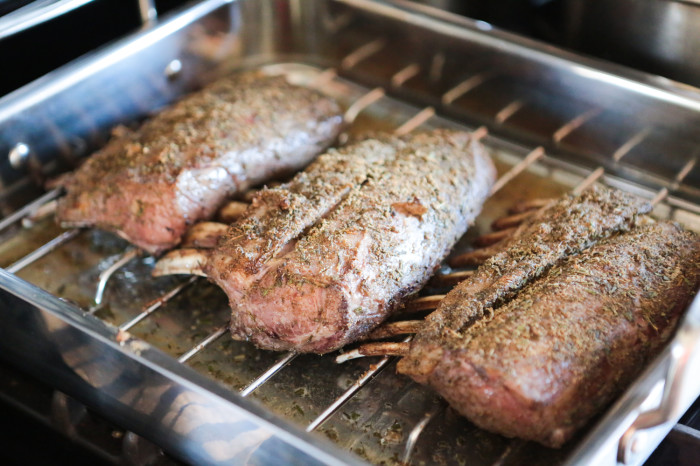 Since we had 3 racks to prepare, we transferred them to a roasting pan (instead of leaving them in the cast iron skillet). This seemed to work out just fine, though I'm betting you develop some pretty amazing flavors if all of the searing and cooking action happens in the same pan (as it is in the recipe).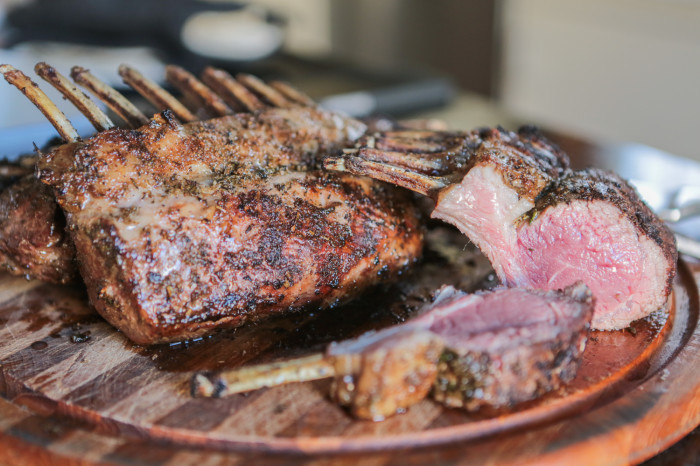 Here is the finished product! Ton's of flavor, and a perfect medium rare color.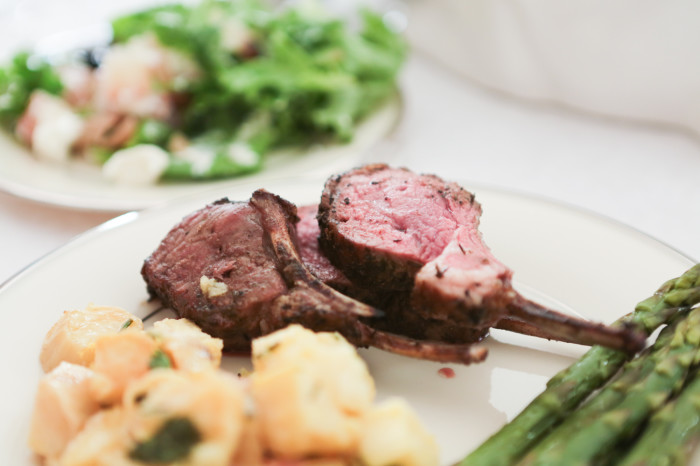 We paired the lamb chops with roasted asparagus and a white sweet potato dish, as well as a poached pear salad (from our second cookbook, Gather). If you want the recipe, we highly recommend that you pick up a copy. You can get them at Barnes & Noble and also on Amazon.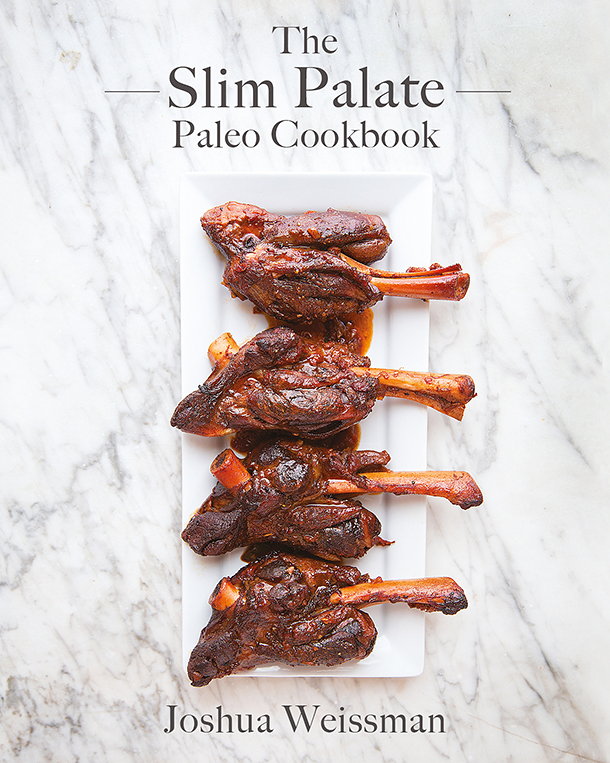 If you live in the Bay Area or Southern California, Josh is doing two book signing events later this month which you should check out .
July 19 – San Francisco
Book Passage in the Ferry Building, 12:30 pm
July 25 – Los Angeles
Pages A Bookstore, 7:00 pm
We're thrilled to share several of Josh's amazing recipes on our site for his Featured Contributor Spotlight. He joins this ever-growing list of featured contributors. See ALL of our fabulous contributors on our Recipe Contributors Page.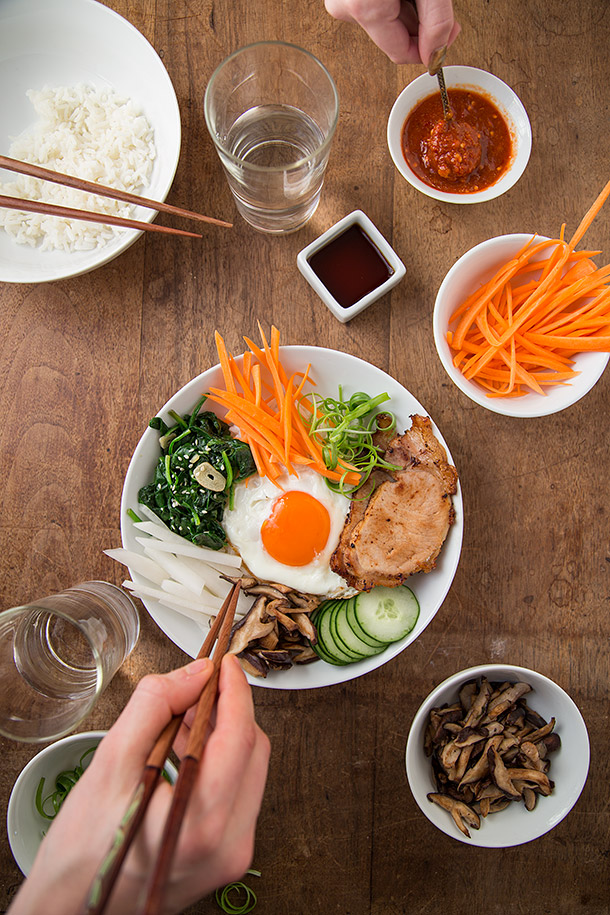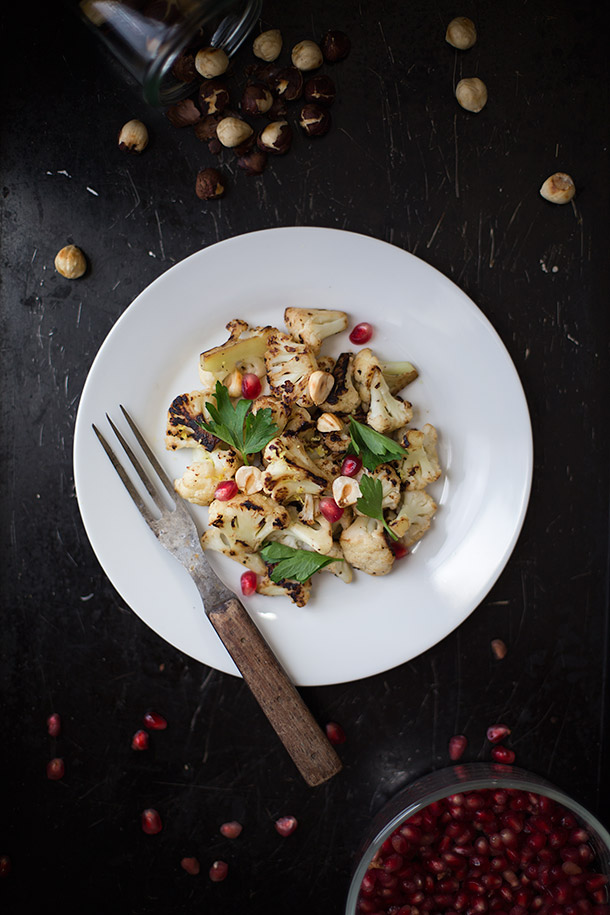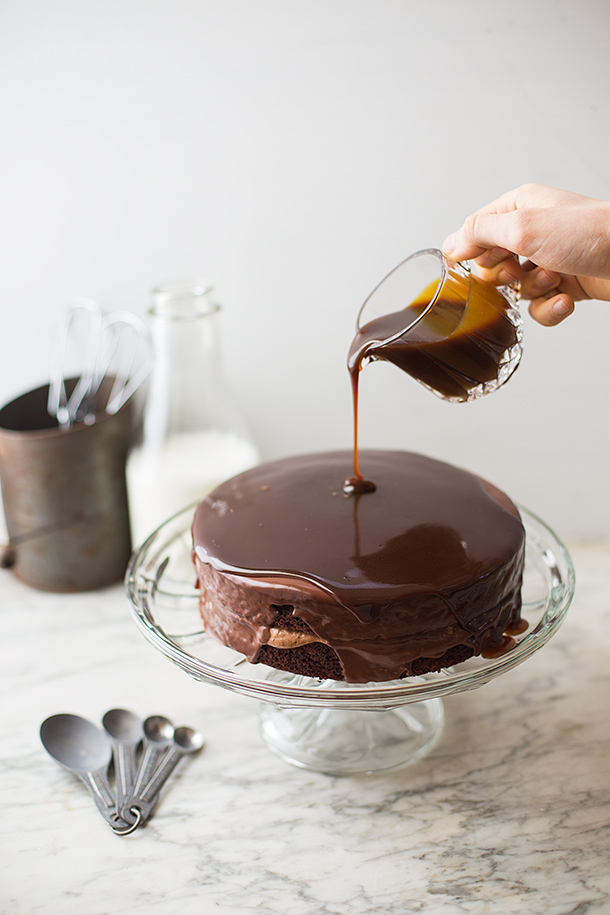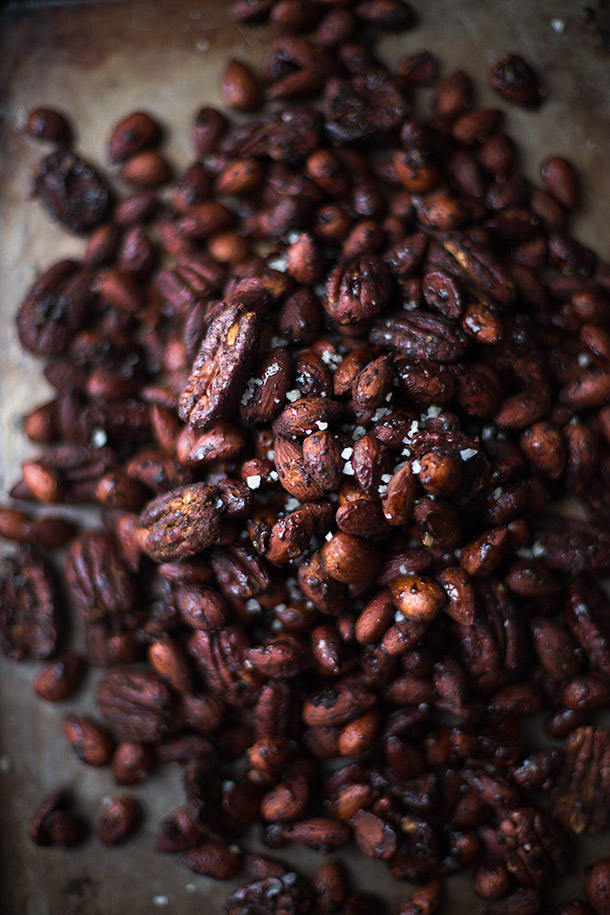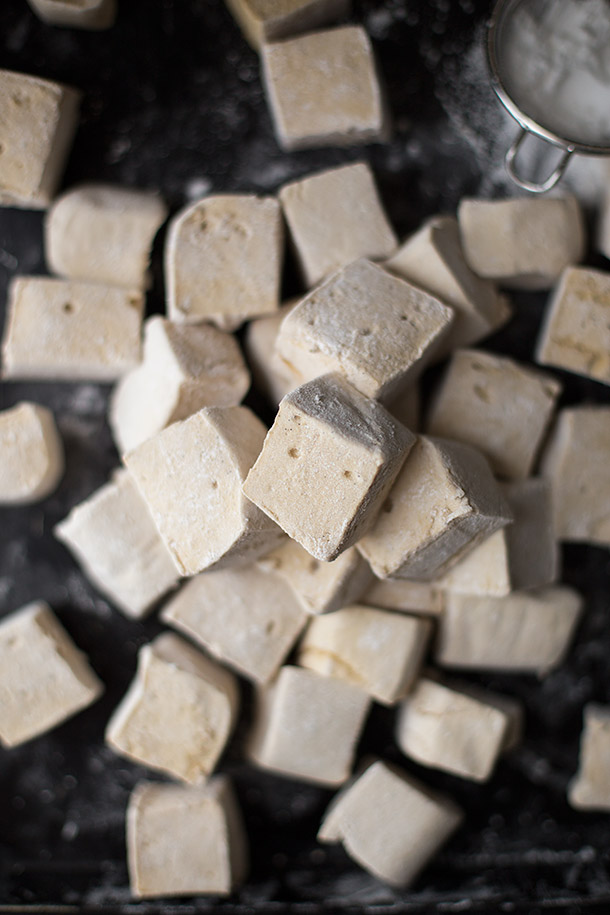 Thanks for sharing your recipes and passion with us Josh! We're so excited about your new book, and can't wait to see what you tackle next! And of course, visit www.SlimPalate.com to follow Josh!
Still Hungry?  
Upload Your Own Recipes
We would love to see your own recipe creations, and maybe they will even be featured in future posts. Once you register for our site, you'll see a button that says "upload" at the top right corner of the page. We look forward to seeing what you submit!
Visit the Primal Palate Paleo Store
If you feel inspired by this post and want to set yourself up with the kitchen tools we recommend, visit the Primal Palate online store! You'll find all the cooking gadgets we love, handpicked, just for you.
Summer Cookout Menu
We have several cookout-themed menus on our site. Browse our entire collection of menus to see them all!
Plan Your Meals
Plan all your meals for the coming week- Use our free meal planner, called myKitchen (also available as an app for both iPhone and Android)
We challenge you to 30 Days of Paleo!
Think you can handle doing Paleo for a whole month? Get our extensive (and popular) 30 Day Guide to Paleo program! It includes everything you need to get started today! (click the link below)

Get ALL of our recipes – purchase our three fabulous cookbooks!