Hello friends!
Fire up your keyboards, get your smart phones ready, it's time for three awesome Cyber Monday deals! If you have been off of your computer all weekend and avoiding stores, then you probably didn't see our Black Friday deal on our spices. NOT TO WORRY! We are continuing this deal for one more day only! We are also discounting our 30 Day Guide to Paleo ebook 35%, which is the biggest discount we've ever offered on it. And finally, we have the deal to end all deals on an AIP resource bundle put together by Sarah Ballantyne (The Paleo Mom) and her team. Read on for details.
---
Cyber Monday Deal #1
$24.95 off

our One Of Everything pack \ 10%-off all other packs

ENDS: Dec 1, 9:00am pst

Our new line of Organic spices have been a smash hit in the Paleo community this year. We have been developing our spice blends for years, and finally pulled the trigger on making them a reality in 2015. We're so glad we did: they've come to be a beloved ingredient in many of your kitchens, streamlining daily cooking and spicing up your holiday meals and treats. Our spices are USDA-Organic, certified gluten-free, Non-GMO, Non-Irradiated, Kosher, Whole30 Approved, and bottled in a Nut-free Facility.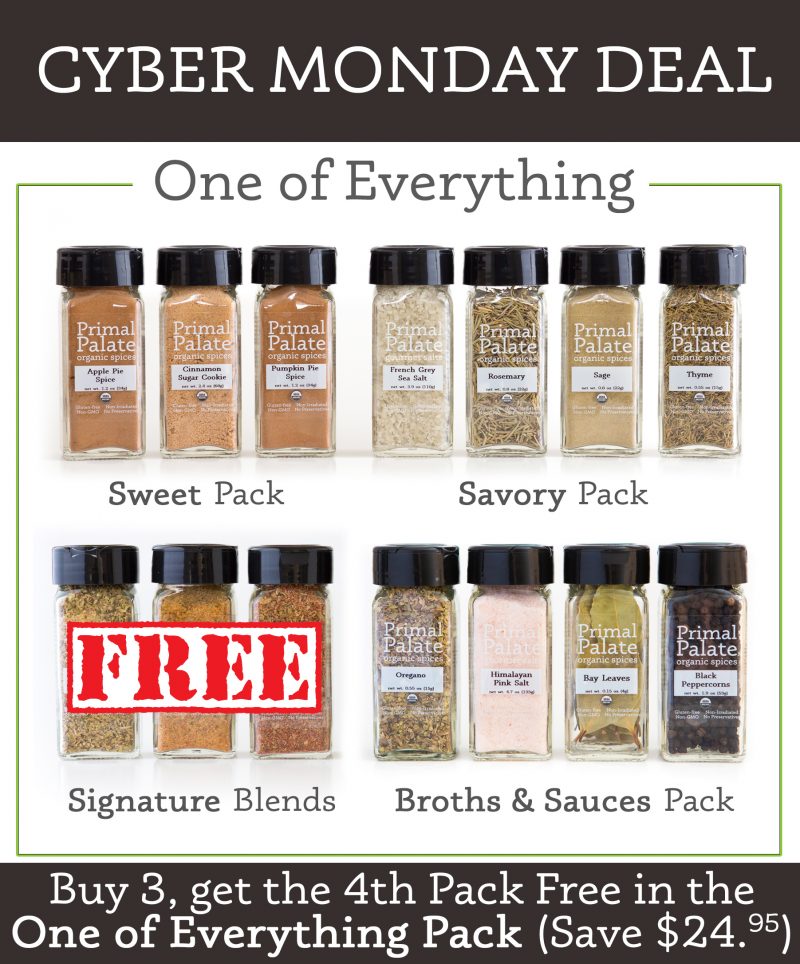 With our One Of Everything Pack, you get everything we make! This makes AN AWESOME GIFT!! Here's what you (or the lucky recipient) get:
The Sweet Pack:  Apple Pie Spice, Cinnamon Sugar Cookie, and Pumpkin Pie Spice
The Savory Pack:  French Grey Sea Salt, Rosemary, Thyme, and Rubbed Sage
The Signature Blends:  Adobo Seasoning, Barbecue Rub, and Meat & Potatoes Seasoning
The Broths & Sauces Pack:  Salt, Pepper, Oregano, and Bay Leaves
If you're not ready to go "All in" with this pack, you can still take 10% off your order using code "Thanks" at the checkout. We also have Signature Blends refill packs that have 3 of your favorite flavors. If you're already addicted to those blends, you can use the 10% off coupon for them as well.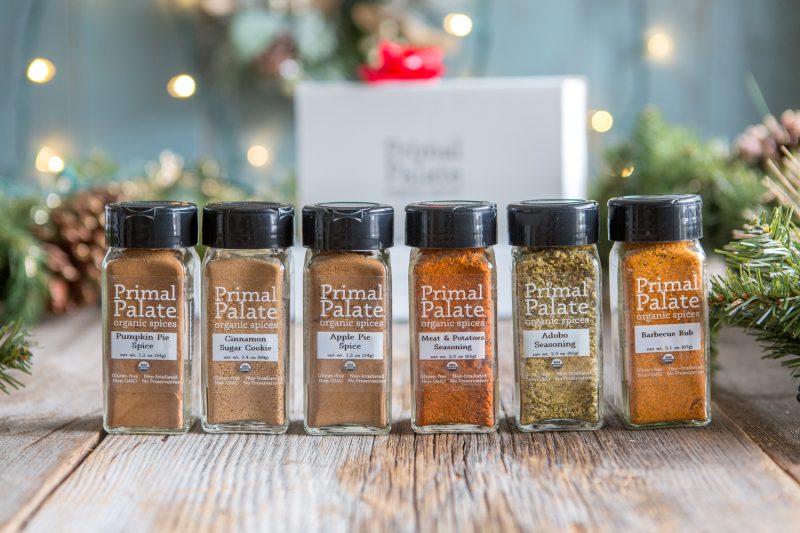 ---
Cyber Monday Deal #2
35% off

our 30 Day Guide to Paleo eBook

ENDS: Dec 1, 9:00am pst

The 30 Day Guide to Paleo is an absolutely fool-proof guide for anyone that wishes to give the Paleo Diet an honest shot for 30 days. When someone says "try it for 30 days," we actually show you how to do it. Nice, right? Adopting a foreign way of eating can be a major challenge, and one that we have vastly simplified in our 30 Day Guide to Paleo program.

The 30 Day Guide to Paleo Program Includes
Two different 30-day meal plans (that's 60 days of meals planned out for you!)
Over 180 recipes that are amazingly delicious, and easy to make
All the information you need to start Paleo today
30 Paleo Tips and Tricks Guide
Exclusive emails for two months of guidance, encouragement, and tips
Access to the 30 Paleo forums on our website
and, Additional online support via our facebook page 
That's 31 cents per day for our foolproof 60-day meal plan with over 180 recipes.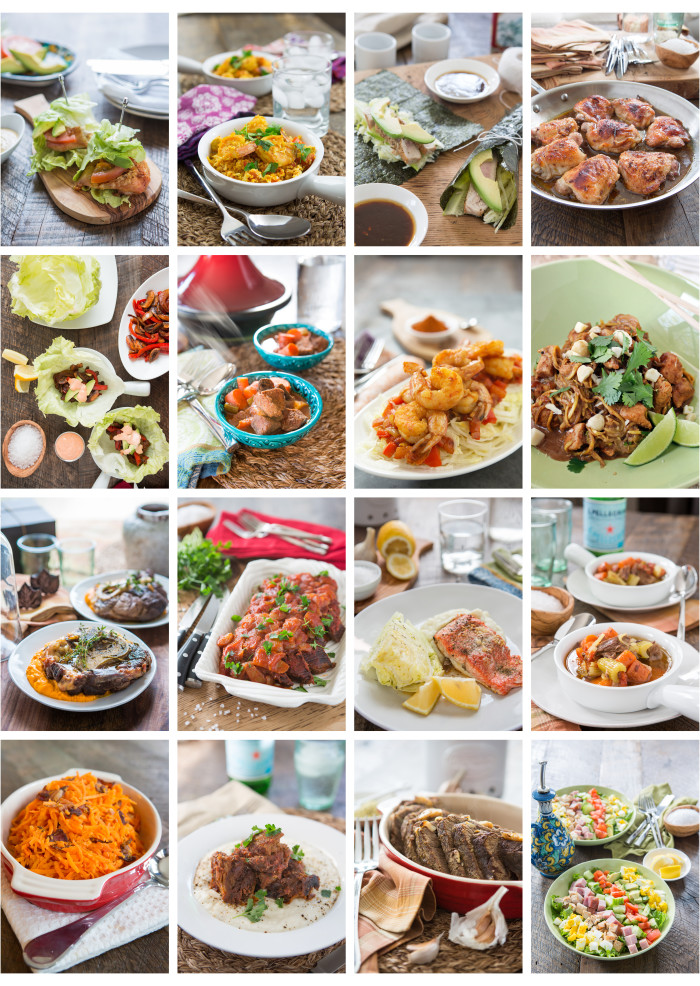 ---
Cyber Monday Deal #3
INCREDIBLE

 AutoImmune Wellness Bundle ($500 value for $39)
ENDS: Dec 1, 3:00am pst
This is an updated version of the AutoImmune Wellness Bundle that Sarah Ballantyne (The Paleo Mom) and her team put together earlier in 2015. Some of you may have purchased that original bundle, and received the updates that are included in this version. If you didn't get the original offering, now is your chance to get an even BETTER value. According to Sarah, this is everything you would need to start your AIP wellness journey. Honestly, how could it not be? It has over 40 eBooks, meal plans, guides, coupons, an exclusive recipe ebook (Which cannot be purchased anywhere else, containing 190 recipes). It's really a comprehensive package that should keep you knee-deep in information well into 2016.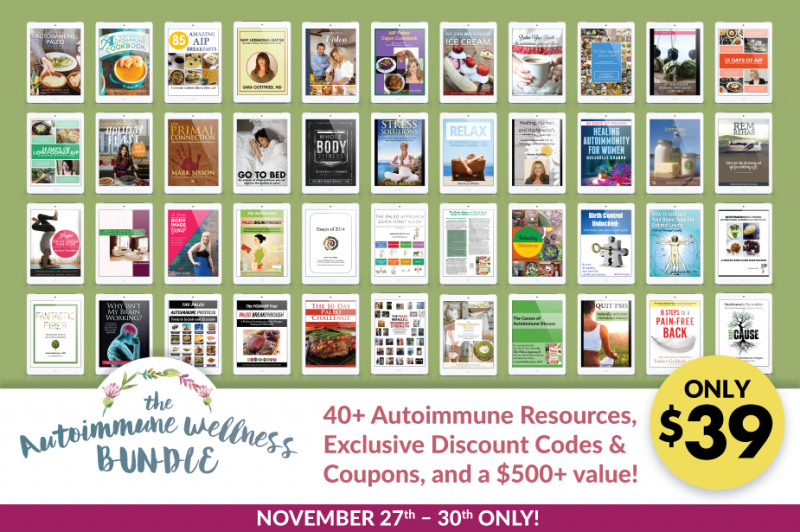 Today, November 30th, is the LAST DAY to get this bundle. It's a great deal, and we wanted to let you know about it!

 (This is an affiliate link. You don't pay more for this, but we get a small commission. Thanks!)