We're lucky enough to live in a part of the United States where we get four normal seasons. Well… "normal" is relative. But here are the four seasons we get: Football, Cloudy and Freezing, a very brief but beautiful spring, and then Hot as Heck summer. I kid… spring, summer, and fall are all beautiful here, but do have the potential to be really hot. This week will be around 90F all week, which by most standards, is pretty hot. To beat the heat, we've been trying to not cook too much in the kitchen (that automatically makes the house feel 10 degrees warmer! And we've also been trying to eat cooler foods. Ok, so ice cream sandwiches are not really food… they're more of a treat. But hey, treats happen.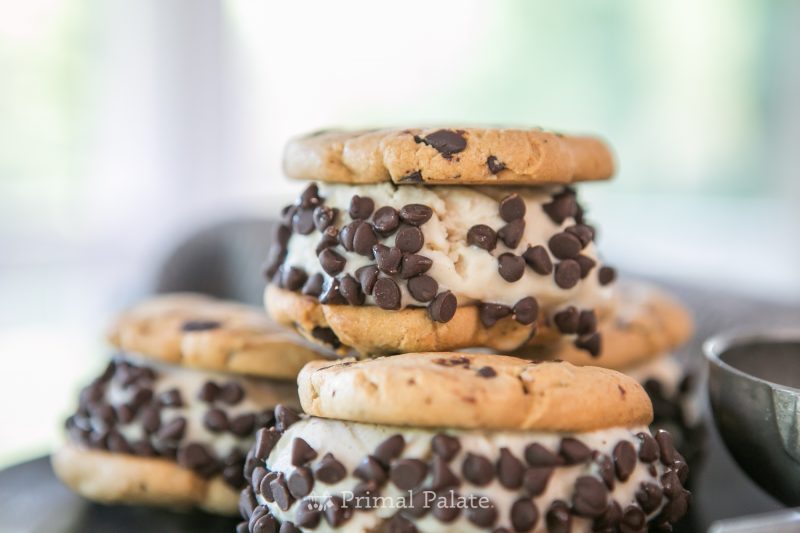 This treat is a throwback to the days of boxy cars, Nintendo, and cassette tapes. If you great up in the 80s or early 90s, you'll know the Chipwich right away.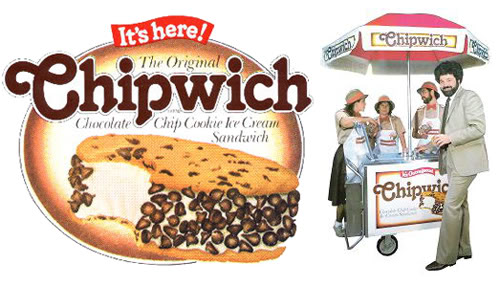 Doesn't this image just scream "80's"?
Although the original Chipwich is no longer produced, bloggers everywhere have memorialized it with their own versions. It's not so much a recipe as it is a method. Chocolate Chip Cookies + Ice Cream + Chocolate Chips = Chipwich. It's so simple, and yet so genius.
Last week, we saw Vanessa Barajas (of Clean Eating With a Dirty Mind) recreate these, and we knew we just had to make them as well. She's amazing with treats, and you really have to see the photos she took… they are stunning. We thought it would be super fun to make some of these too. It was either these, or her Cookie Dough Ice Cream Sandwiches…. so maybe next month for those!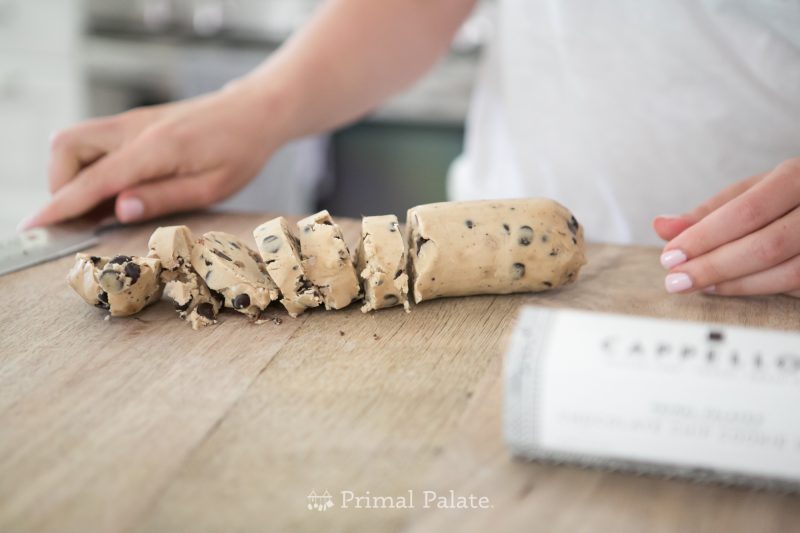 We use our Chocolate Chip Cookie Dough, by Cappello's for this recipe. It's just too damn easy and delicious not to, right? Just pull it out of the freezer, slice it, and bake it. DONE. You can get it online, but it's also available in a TON of stores now, in almost every state. Check the Cappello's Store Finder to find a location near you.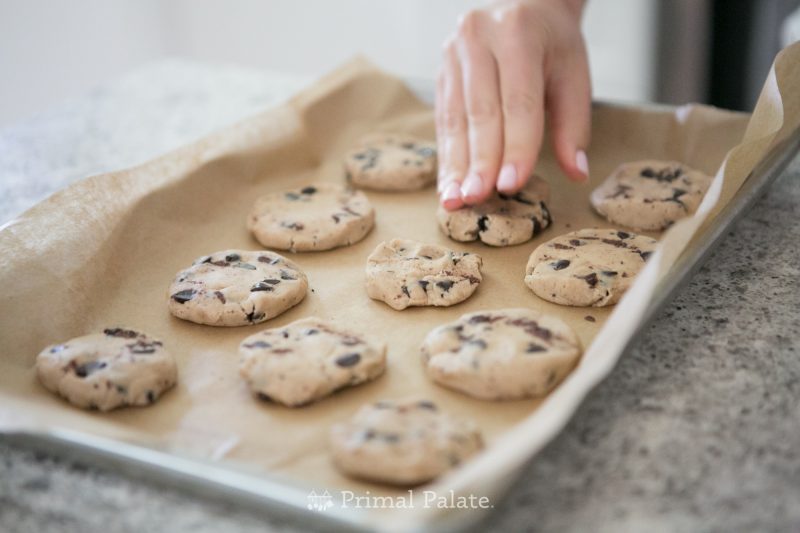 After slicing these, we'll pat them down into perfect little cookies. The chocolate chunks are pretty sturdy, so slicing the dough makes them slightly crumbly. Just work them with your hands to put them back into cookie shapes, and they'll bake perfectly!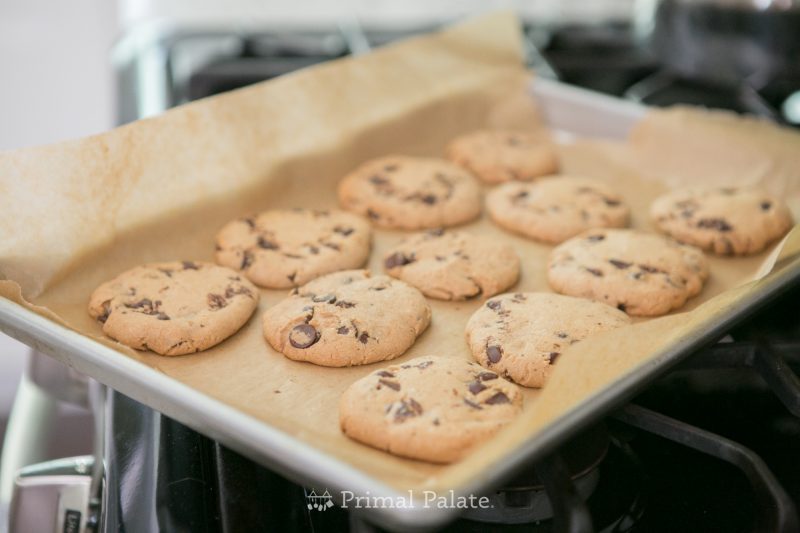 Once they're baked, you need to let them cool completely. And hey, if you end up with an odd number of cookies, treat yourself to a warm one while you wait. The roll of cookie dough will make around 10-14 cookies (the package says 13). We slice them thick and get 11. So you might end up with more than we did.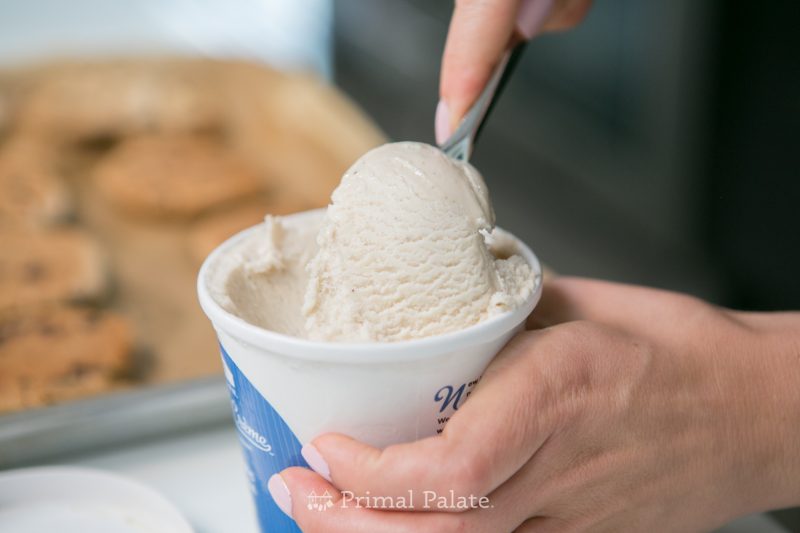 Next up, you'll scoop some ice cream for each pair of cookies. We tried out a new-t0-us brand of almond milk ice cream, and it was pretty good. Use whatever brand you like, or make your own! Let your ice cream soften a bit before trying this, or you'll break the cookies when you press them together. It'll be a little more messy, but it will work out.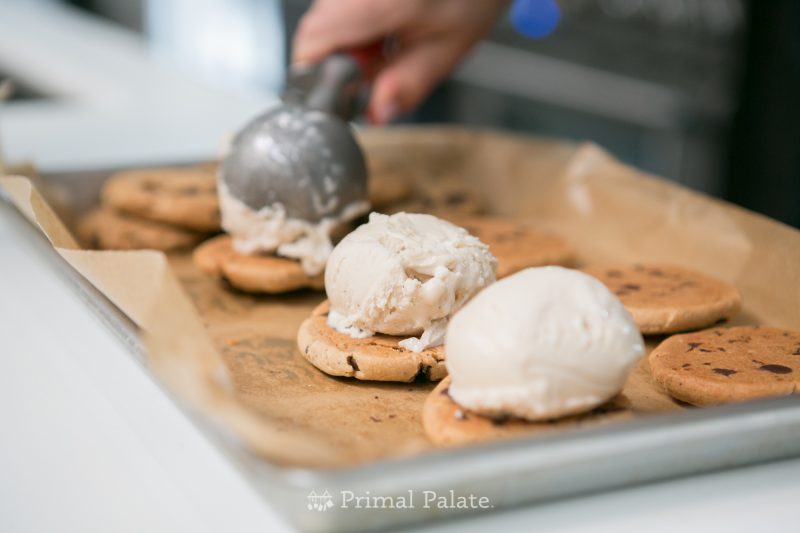 Don't be deterred by melty ice cream. You'll pop these into the freezer to firm up, once assembled.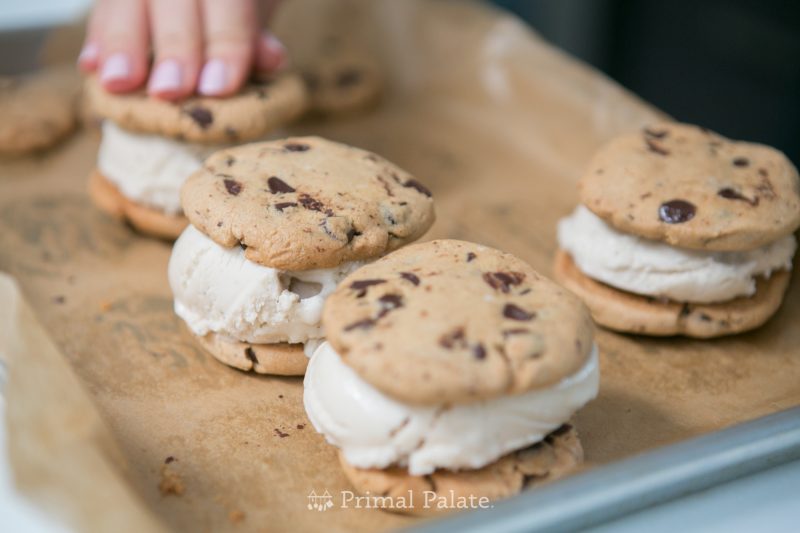 Assemble the sandwiches, then put them in the freezer to firm up.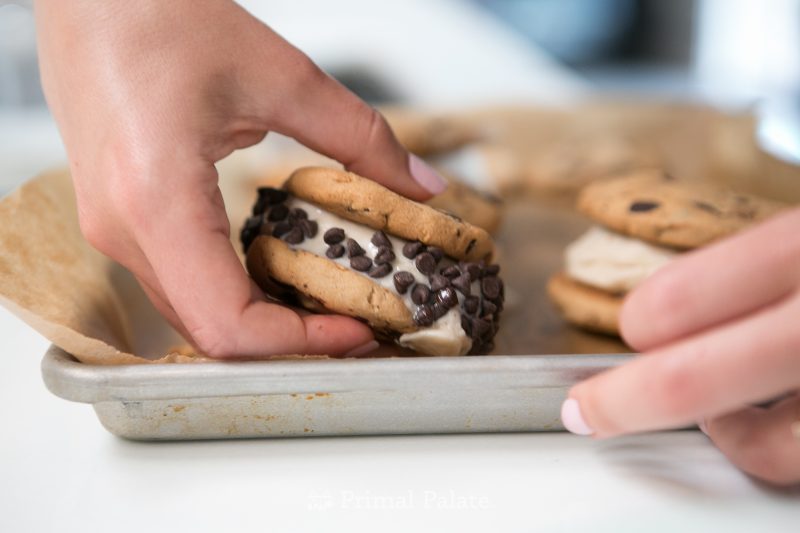 Next, roll them in chocolate chips and return them to the freezer for more chill time. About 30 minutes. Then they'll be ready for prime time!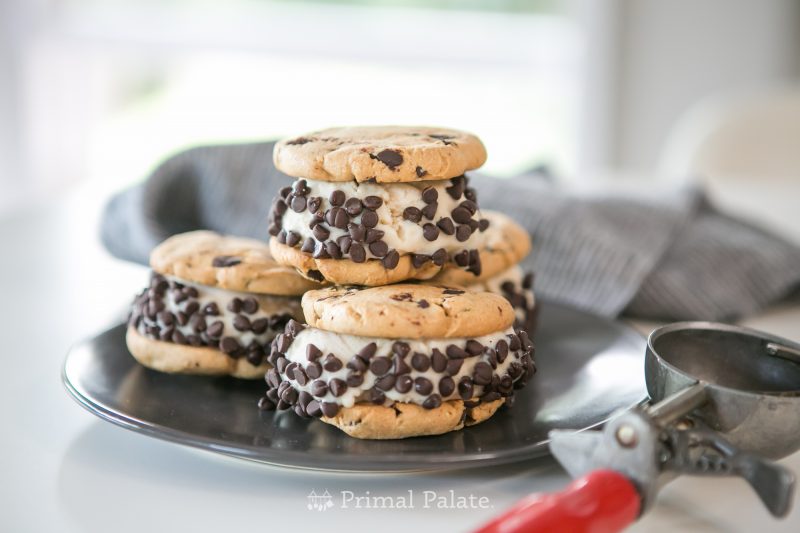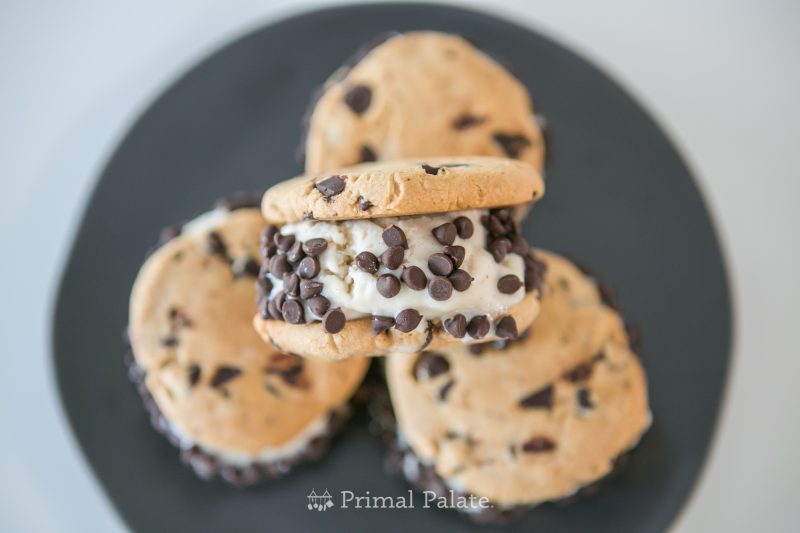 We hope you enjoy these as a throwback to a beloved treat of the 80s and 90s. Enjoy!
Bill & Hayley