I've been craving pulled pork for weeks now. Maybe months. But for some reason we didn't pull the trigger on making some until the craving reached fever pitch. Maybe a little hyperbole, but we wanted to get some on the menu. Even though we make Chinese inspired dishes quite often in our weekly meals, not too many of them make it to the blog. I think our standards are pretty high for what makes it to the blog, anyway, and Chinese is one of those foods you have to nail. No one likes mediocre Chinese food. No one.
From the moment this one hit our plates, we knew it was worth posting, though. The fusion of American and Chinese cuisine in this dish is really fun and tasty. It's like an American pulled pork with all sorts of exotic flavors in it, served over Vegetable Stir Fry, and drizzled with our Sweet and Sticky Sauce. Probably one of the best dishes we've made all summer, and we want to hear what you think! Let's dig in:
First, you're going to procure a 3-4 lb cut of pork shoulder or boston butt. Either will do. Larger or smaller is fine, too. A 4lb hunk of pork feeds us for about 2 days (Dinner, plus lunch the next day, and some extra snacky leftovers). We try to plan all our meals that way, so that we don't spend our lives cooking (hmm… seems a little silly to say that. Oh well, it is what it is.)
Rub the pork shoulder down with Chinese Five Spice and Pink Himalayan Salt (part of our Broths & Sauces Pack!) This is a nice combo on the meat, and gives it a really great flavor.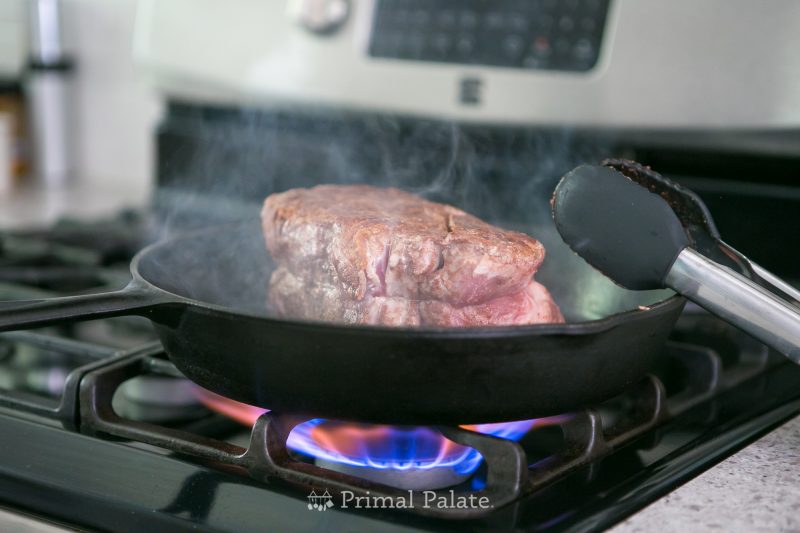 Heat 2 Tbsp of lard in a large cast iron skillet, and sear the pork on all sides for 2-3 minutes per side. If your shoulder is tied with butcher twine, leave it in place so it doesn't flop all over the place. Also, check out that flame… it's a notch below high heat. Turn your vent fan on high before it starts smoking, or your pets will freak out when all the smoke detectors go off. I speak from experience.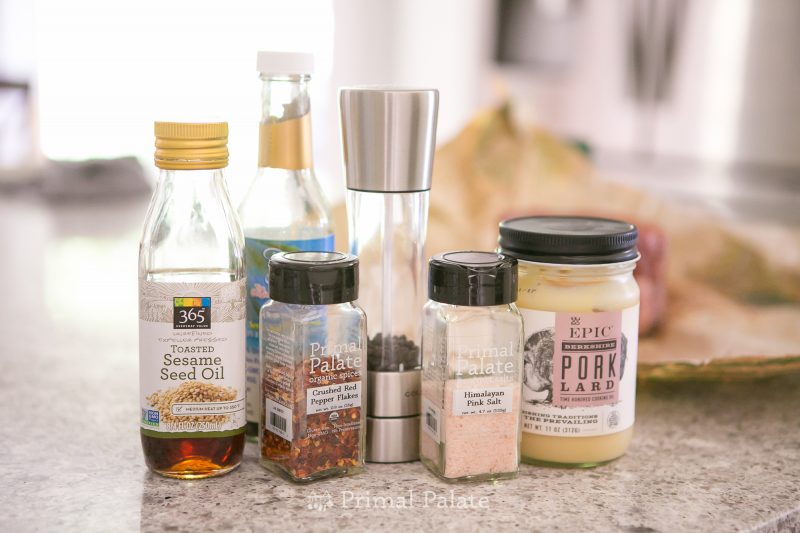 Gather your broth ingredients (chicken stock not pictured). Start with 16 oz (a large, straight-walled mason jar) full of chicken stock, and put it in the Instant Pot on "saute" to get it simmering. Add coconut aminos, toasted sesame oil, Red Pepper Flakes, and ground black pepper. Let it simmer while the pork shoulder is searing. (Don't have an instant pot? You can do this recipe in your slow cooker on low for 8-10 hours. But the Instant Pot is really a great tool, and one we wholeheartedly recommend for any kitchen! We gave ALL our family members each one for Christmas last year. They all love them now, too! Here's the one we have, from Amazon)
Next, add the pork shoulder and lock down the lid. Change to the Meat/Stew setting and set for 90 minutes (medium pressure). Go do something else for about an hour. Since we serve with Stir Fry, I use the last 30 minutes of cook time to get the stir fry and sauce going.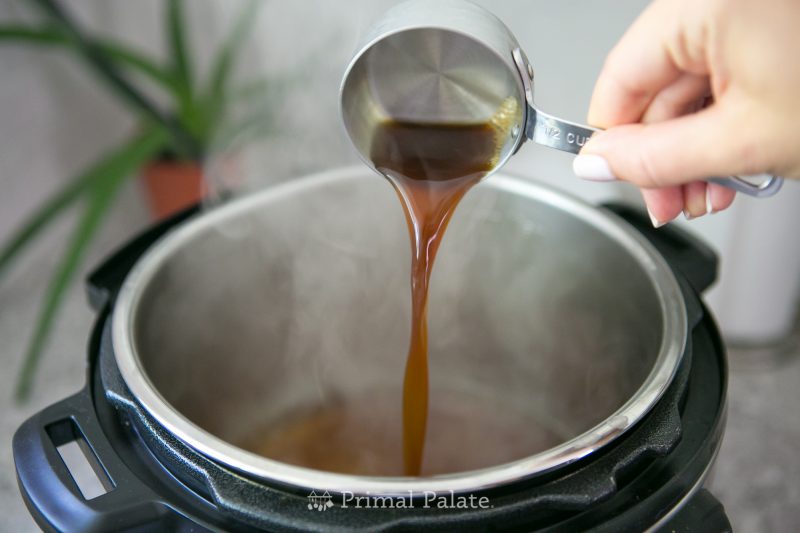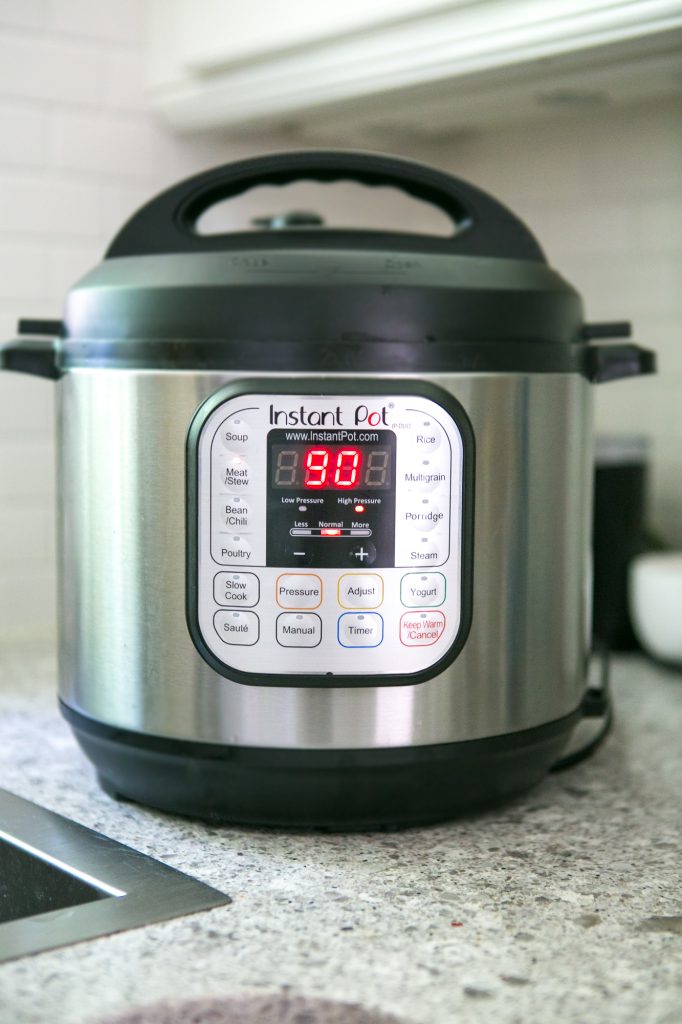 After 90 minutes, wait an additional 10 minutes to allow the chamber to naturally depressurize. Your meat is going to look awesome, and should shred easily with forks. Leave it in the Instant Pot on warm while you make any side dishes. We serve ours with Vegetable Stir Fry and a drizzle of Sweet and Sticky Sauce. (click links for recipes, or look below in this post)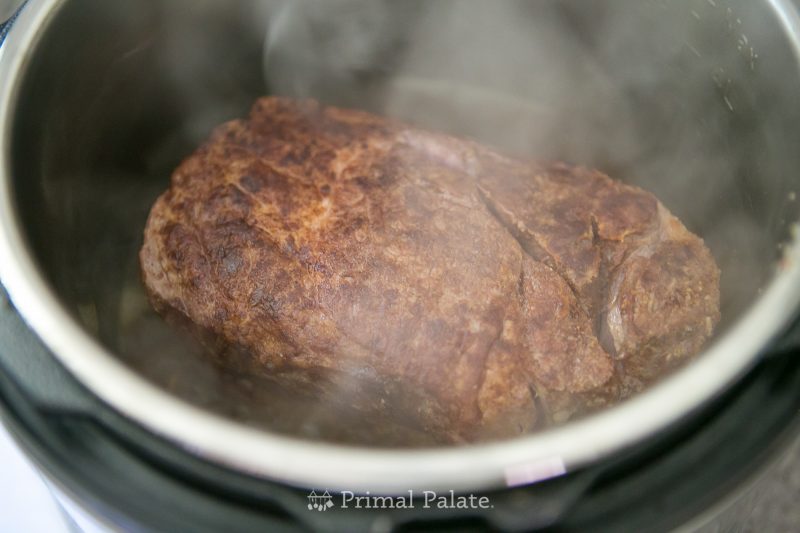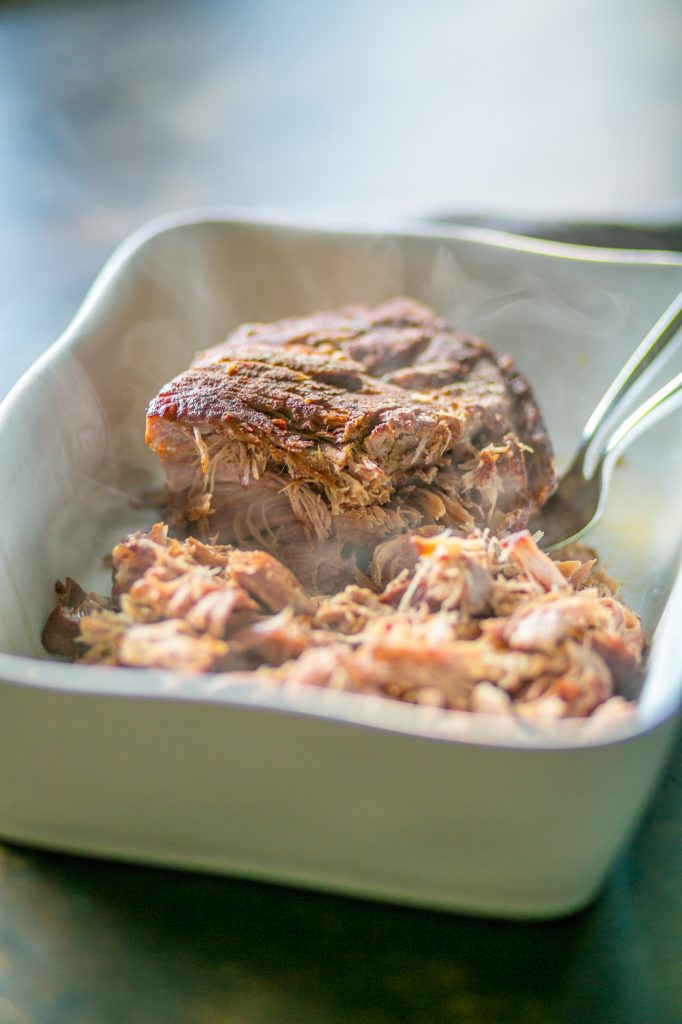 To bring this dish all together, plate with some Vegetable Stir Fry, top with the shredded Chinese Pulled Pork, drizzle with our Sweet and Sticky Sauce, and top with sliced scallions. Voila!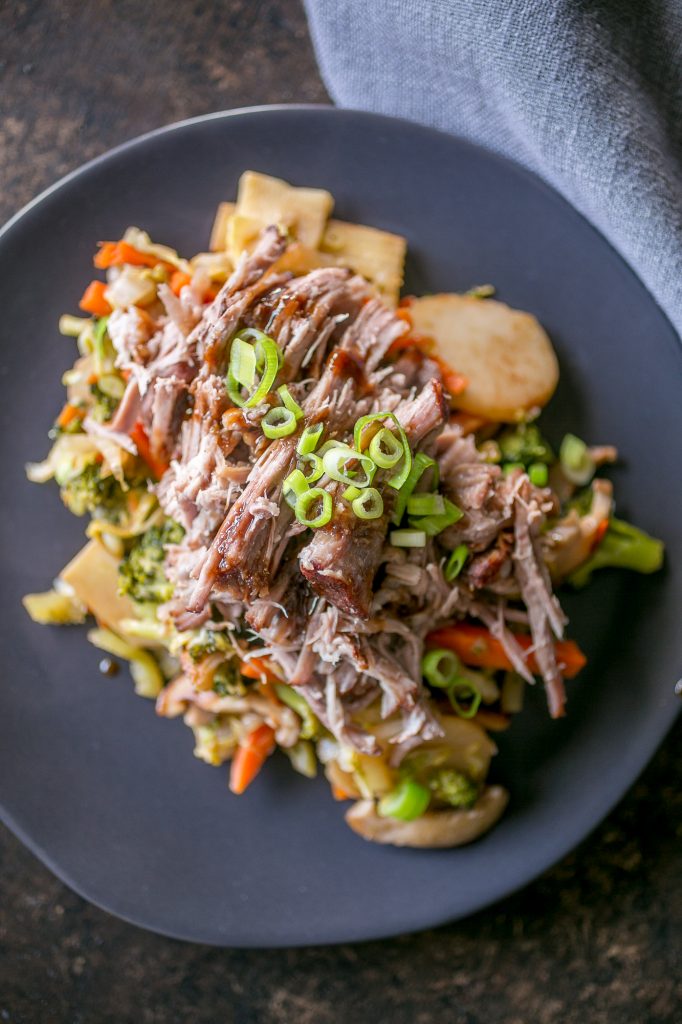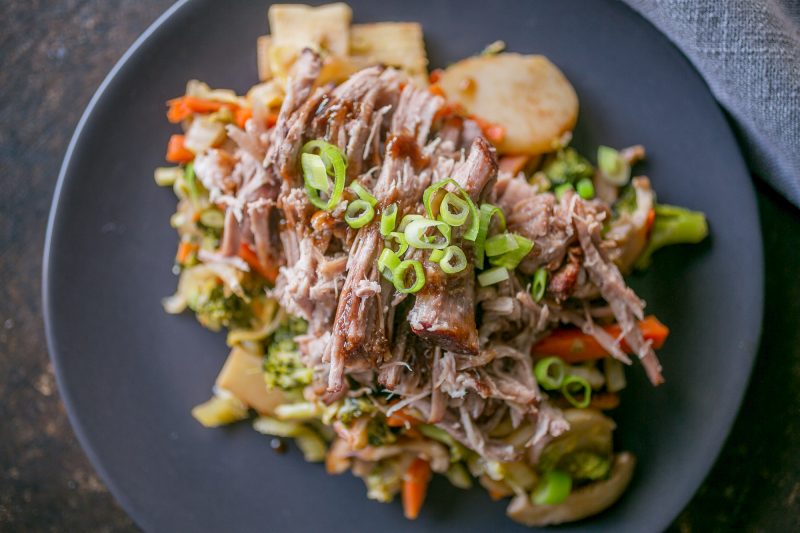 We hope you guys love this recipe as much as we do. It's going to be on heavy rotation for the next few weeks, because we're obsessed.
Cheers,
Bill
cook:
1 hour and 30 minutes
Difficulty



This recipe mixes influences of American pulled pork and popular Chinese flavors, hence the name: Chinese Pulled Pork. It's not exactly Char Siu, either. The flavors of this dish are decidedly Chinese, though - and we think you're going to love it! Try it over stir fry, like we've shown here, or topped on your favorite grain-free / gluten-free bun.
Process
Note, these instructions are written assuming the standard serving size, since you have modified the number of servings, these steps may need to be modified for best results
Remove your pork shoulder from the refrigerator about 15 minutes prior to cooking.
Rub the pork shoulder down with the chinese five spice blend and pink salt. Make sure to cover all the sides.
Heat the lard in a large cast iron skilled over medium high heat. Sear the pork shoulder on all sides for 2 minutes per side.
Add the chicken stock to the instant pot, and press the "saute" button to get the stock simmering. Add the coconut aminos, sesame oil, ginger, red pepper flakes, and black pepper.
When the pork shoulder is seared on all sides, add it to the Instant Pot and close the lid (locking the vent). Cancel the "saute" then press "Stew/Meat" and increase the time to 90 minutes.
Cook for 90 minutes, then allow to rest for 10-15 minutes on warm after the programmed setting has concluded. Serve with your favorite stir fry (we have a great recipe on the site), or on your favorite gluten-free bun.
Our recipes are created using Paleo, Primal and Gluten-free guidelines.
Learn more
about our diet and lifestyle
at www.primalpalate.com
.
---
If you're really into cooking recipes like this, consider picking up our Essential Spices Bundle, which is perfect for anyone who loves to cook from recipes. These individual spices are extremely flavorful, and bring out the best in your kitchen creations. You can save 50% off the Staples Pack when you order this set.