I've never been super interested in making sandwich bread. I don't care for sandwiches anymore, and any other loaf of bread I've made was more of a dessert (like our banana bread, or our zucchini bread from Gather.) The only bread I've ever been interested in making was french bread (which ended up as crostini in Gather), and that was because Gather is an entertaining book, and who doesn't love crostini for entertaining?
I was even really set on making stuffing forever without bread, and stuffing isn't really stuffing without bread. I do love our stuffing recipe in Gather, and we have a pretty tasty one here on our site as well. But some people really don't like to have a double side of meat for a meal. Plus my Grandy has an AMAZING stuffing recipe that I grew up eating, and I really wanted to recreate it.
This year for Thanksgiving I decided to make a homemade loaf of gluten-free bread. I was a bit nervous about trying to use grain-free bread in a stuffing recipe because I wasn't sure how it would hold up. After making the gluten-free bread, I realized I was silly to think that, because the consistency of that bread was similar to what grain-free bread would be… A bit dense. This year we opted out of doing stuffing inside the turkey. This upset my mom a little because she loves inside stuffing, but I knew that the bread would end up too mushy. We stuck with outside stuffing (didn't stuff the bird at all), and it turned out great! I will say one of the key ingredients to this recipe is champagne (which is not Paleo-but we don't "paleo-police" here). It is really important to the flavor of the stuffing. You can use white wine also, but we prefer the champagne. You can leave it out, but if you try it with the champagne you wont want to leave it out, ever. 🙂

Now that I had my grandmothers stuffing back in my life, and remembered how amazing it was, I decided that I had to make it grain-free so that I could share the recipe. So with that started my mission of making grain-free sandwich bread. The thing about grain-free bread is that if you want it to have the same texture as wheat bread, and rise, and not turn it a solid brick of nut flour, you need to do one of two things…either add active dry yeast, or fold whipped egg whites into your batter. In both cases you also really need some sort of starch to help lighten the batter as well. The other key ingredient is apple cider vinegar. This can be used in place of active dry yeast to help the bread rise a bit, but it also is really important for the flavor of the bread.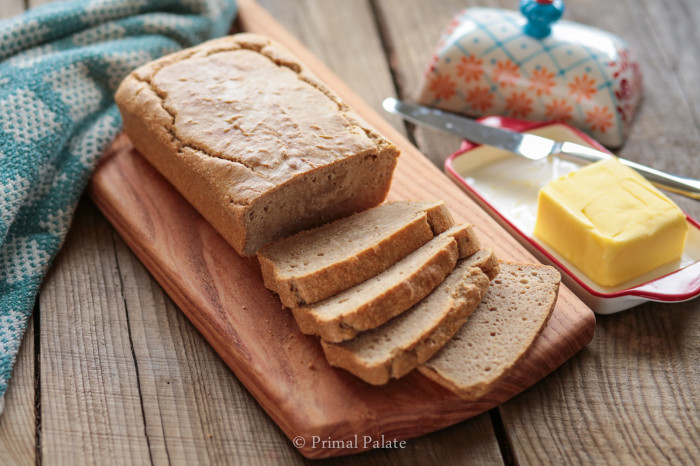 I made two different loaves of bread to try, one with active dry yeast, and one with whipped egg whites. Both turned out great, but I actually liked the whipped egg white bread better. The two recipes were actually pretty different, so it wasn't just the exchange of egg whites for yeast, but the second recipe which I used the whipped whites for was a revised flour blend and I also used more eggs. The added moisture to the batter, along with the whipped whites helped create a better looking crust. It was more rounded on the surface, and smooth and shiny. The bread loaf with yeast, and fewer eggs did not look like bread on the top, and it was not smooth or shiny. It also burned easily. I would consider trying this revised recipe with active dry yeast to see if it would get really fluffy….maybe someday.
For this recipe I created a grain-free flour blend using super fine blanched almond flour, chestnut flour, sweet potato flour (the sweet potato flour I used was more like potato starch), and arrowroot flour. This blend was key to making this bread have the correct flavor and texture. The other thing to note is that this bread was NOT eggy, and did not sound squeaky. That's the best way I can describe it. Sometimes a batter that is lightened up with eggs can sound sort of squeaky and feel eggy, and this was not that way at all. All in all, it was a success! I really hope you all enjoy this bread recipe (and the stuffing).