The week of Christmas Bill made a fantastic recipe for Fish and Chips.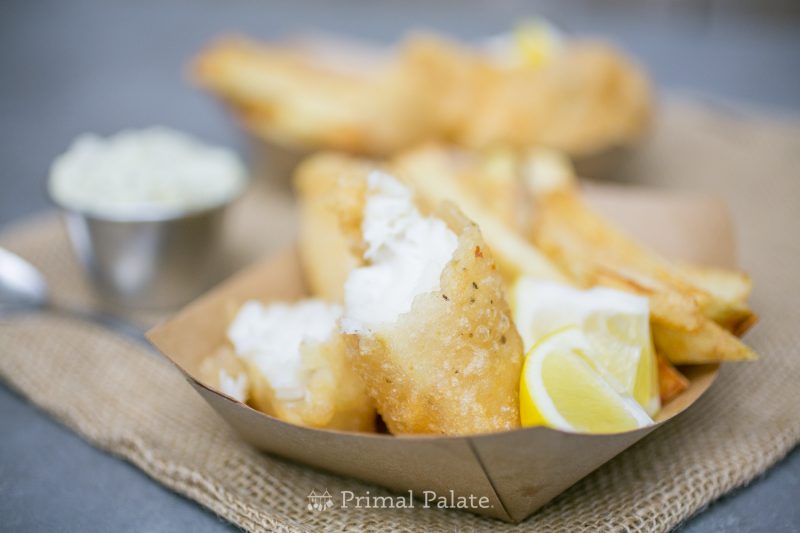 As soon as I saw how that recipe turned out, I immediately wanted to make tempura shrimp. I don't even know why. I don't think I have ever had tempura shrimp, but it always looked tasty to me.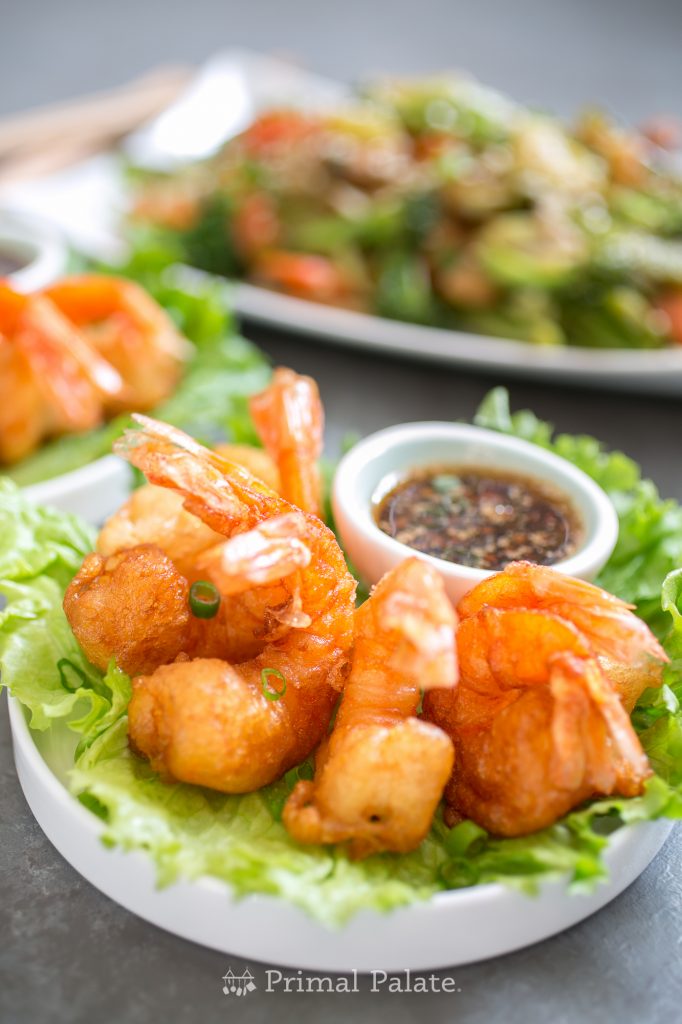 Shrimp is probably my favorite seafood, and I've loved it since I was little. I especially love it marinated in olive oil, fresh lemon juice, and herbs, and grilled. That to me is summer or beach food. In fact, I think we created our first grilled shrimp recipe at the beach, so that's probably why I love it so much. I think Bill has grilling shrimp down to a science now, with his double skewer move.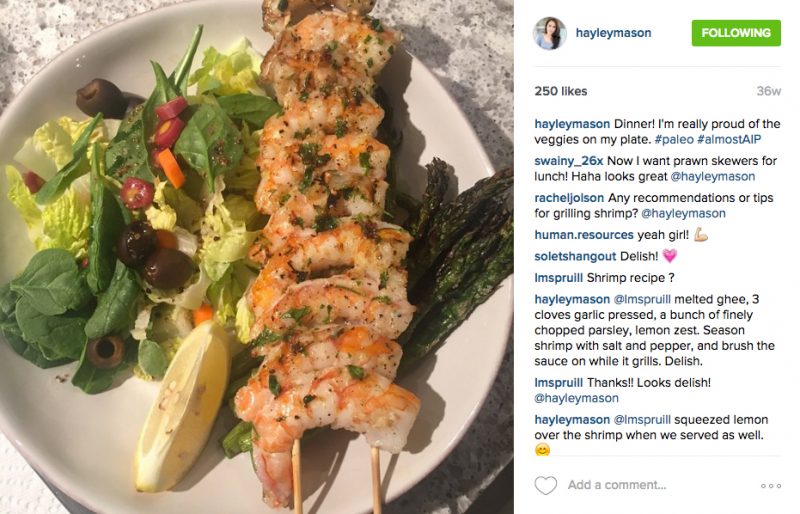 We've had an extremely warm winter this year (so far). We just got our first snow today, and it all melted by lunchtime. Although we haven't had a typical winter, we have been getting our share of dark, grey days lately, so it's been particularly hard to get motivated to make new recipes to post on the blog. I have quite a few recipes I'd love to post, but they are all things we eat for dinner, and it's challenging making them for lunch, which is necessary to have enough light to photograph them. Lunch is usually grab and go for us. Lettuce wraps, or leftovers. For whatever reason, we prefer to cook breakfast and dinner, but not lunch. Luckily, we were surprised with a beautiful, sunny day, and took advantage of it by making this new recipe for lunch.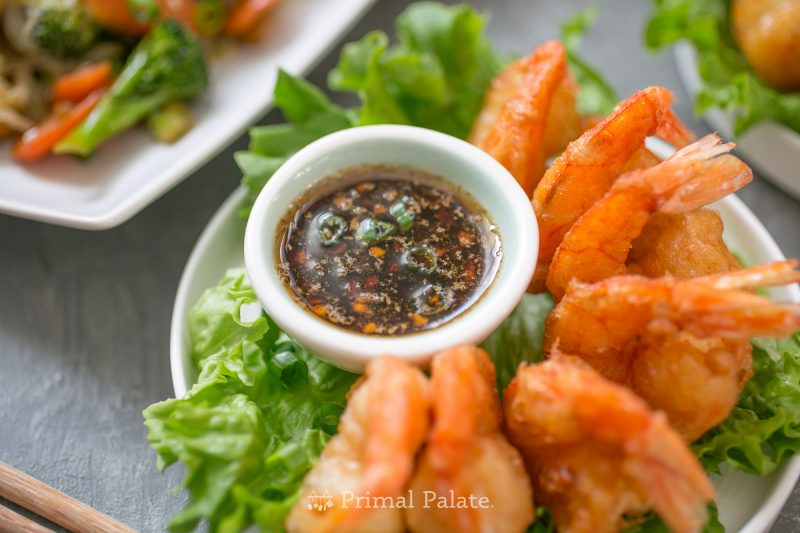 For this recipe, we modified the batter Bill created for the fish and chips, just by giving it a bit more Asian flavor to it by adding some Coconut Aminos, fish sauce, and ground ginger.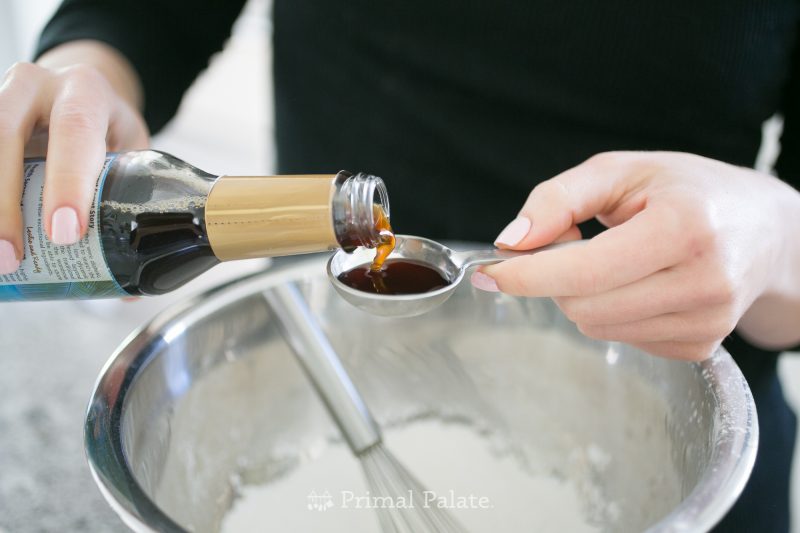 We used the ginger from our original 4 pack of spices, The Healing Pack, which we have temporarily discontinued. (We still have a few of these packs left in our Canadian warehouses. Email us to special-order them!) Do not worry, we hope to be bringing back ginger, garlic, and turmeric to our lineup in the future, along with some other kitchen staples that you will all love! (Shop our full line of spices here)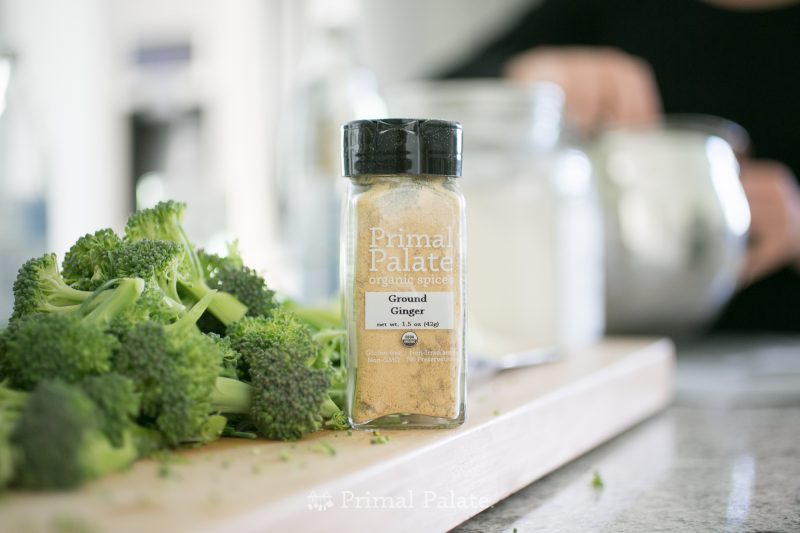 I whipped up a delicious dipping sauce for the shrimp as well. This was super easy to make, and I also dipped some of the stir fry veggies we made in it too. So much flavor!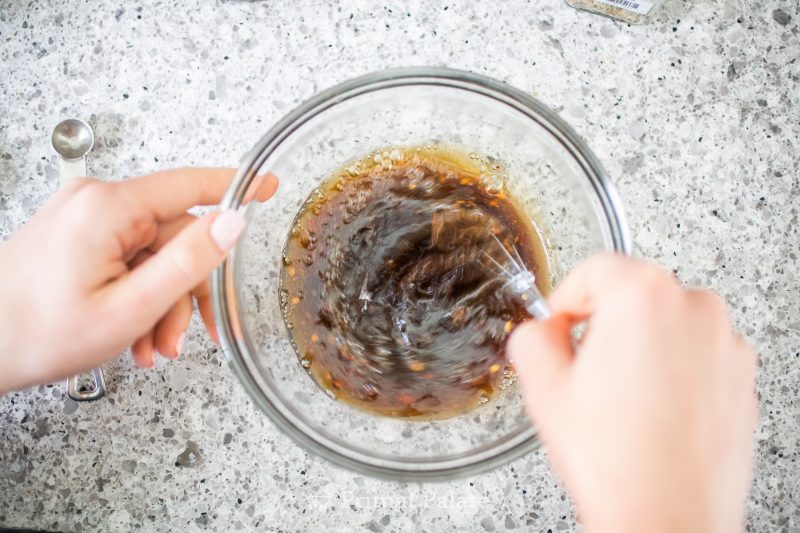 For the veggies, I just sautéed up some vegetables, and seasoned them with coconut aminos, a few drops of fish sauce (I never use much, because that stuff is STRONG), ground ginger, granulated garlic, salt, red pepper flakes, and toasted sesame oil. I then garnished them with some thinly sliced green onions, and sesame seeds. We have a few similar recipes for this side dish which you can find here on our blog, in Make it Paleo, in Gather, and in Make it Paleo 2. I guess we really like stir fry veggies…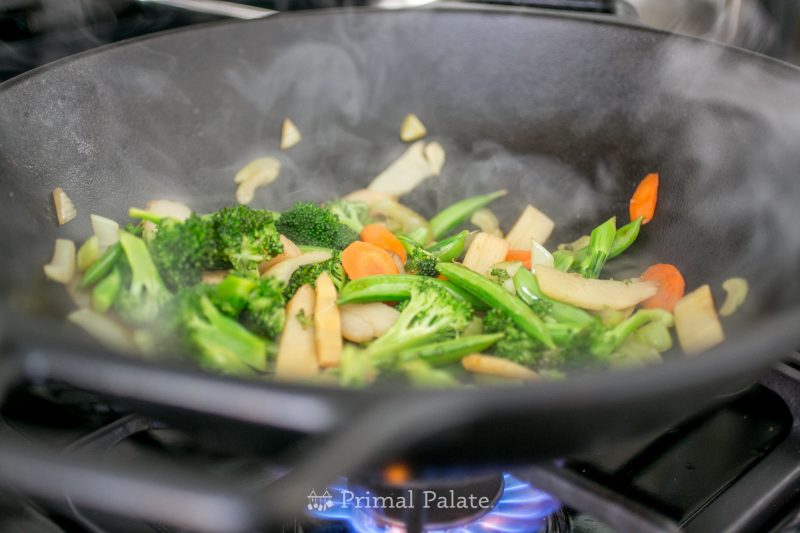 This meal was so delicious. It takes some work for sure, because you really have to babysit the shrimp while it is frying, but since the shrimp are small and do not take long to cook, it's worth the effort! When you are frying, carefully hold the shrimp half-dipped into the hot oil. This will help them cook a little, and not stick to the bottom. I can't help but think of The Little Mermaid when I see this photo. Sadly, none of our shrimp got away.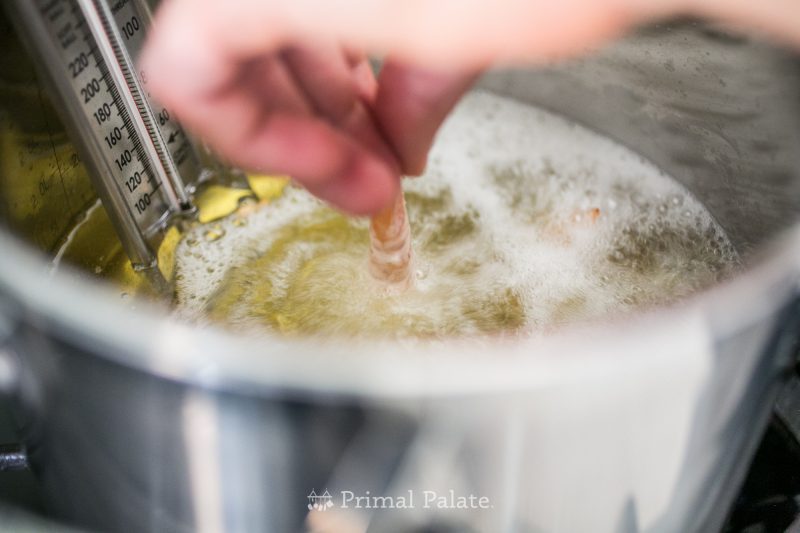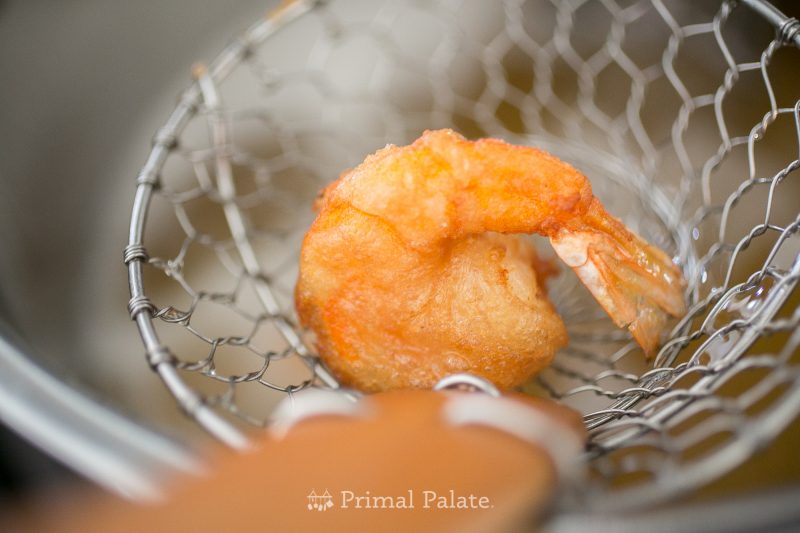 Bill is so great at making food that takes a little extra love and patience, so I let him man the fry scene. Definitely give this recipe a shot. It is well worth the time!
I hope you guys enjoy!
-Hayley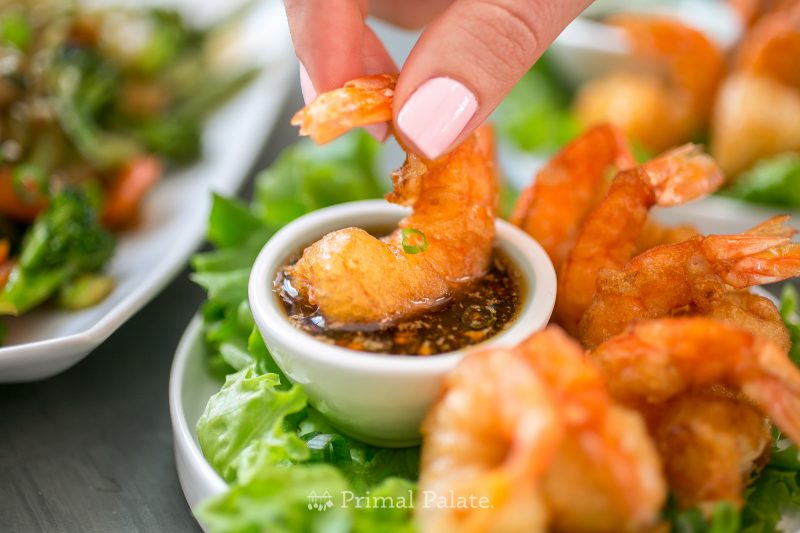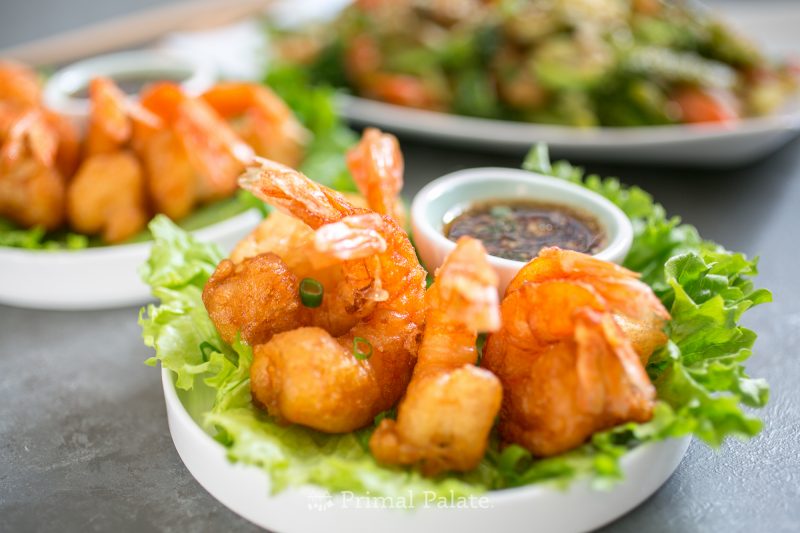 ---