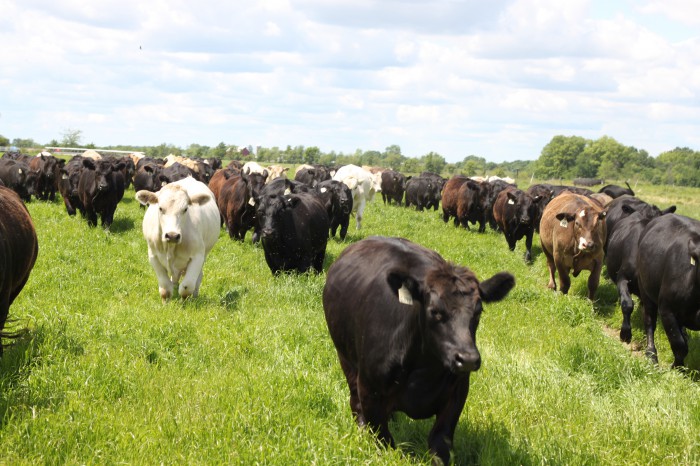 In our early days of blogging, I can remember seeing something on Facebook about US Wellness Meats. I immediately checked it out, turned to Bill and said "Oh my goodness, we need to order some of this!" Bill didn't get a chance to really look at the amazing online store for US Wellness like I had, so he didn't really "get it" at the time. We unfortunately put off placing an order, but US Wellness was always in the back of my mind.
Months later, to our surprise, we were contacted by one of the lovely ladies in the
US Wellness Meats
office, Tressa. In typical Tressa fashion, she sent us an email that was genuinely overflowing with compliments. I can recall looking at Bill and saying, "There is NO way someone can be this kind in real life." I was wrong. She is every bit as selflessly sweet as she came across in that very first email. Our introduction to US Wellness via email was the start of a relationship that Bill and I are grateful for every day. Not just because we are connected with such a highly respected company, but because we get to communicate often with some of the most kind, generous, honest people we have ever met.
I must shamefully admit that I wasn't aware of grass fed meats until I started following a grain-free diet. Of course I always knew to buy organic and free range, but I never put much thought into the diet of the animals I was eating, or how that could effect my health. In fact, I was vegetarian for a year before Paleo.  I didn't eat red meat for five years prior to Paleo, and avoided it throughout the first year I followed a Paleo diet. By the time we received our first shipment from US Wellness meats, I knew that I was missing out in a huge way by only eating fish and poultry. My health was suffering because of it, and I desperately wanted to incorporate grass fed meats into my diet, not just vegetarian fed chickens and turkeys (chickens are NOT vegetarians!). I was also extremely jealous at the thought that we were going to receive a giant order from US Wellness Meats and Bill would be the only one enjoying that precious CLA and Omega 3-filled meat! Although I was a bit nervous, not knowing how my body would react to red meat after so long, I dove into that first steak and my body soaked up all of that grass fed goodness–I have never looked back!
After months of communicating back and forth with our friends at US Wellness and creating a book in which many of our recipes used their meats, they graciously donated meat to a few of our online giveaways to help us promote our new book.  We decided we really wanted to go visit their farms and meet them in person. There were so many people at USWM that we hadn't gotten a chance to meet, and we really wanted to see where all this grass fed magic was happening! The US Wellness family jumped at our request to come out and visit for a day, and with that I threw on a pair of Hunter rain boots perfect for tromping around grasslands, Bill grabbed our camera, and we jumped on a plane to Missouri!
We landed in St. Louis on a gorgeous, sunny day, picked up our rental car, and drove about two hours North to Monticello Missouri, home of US Wellness Meats. We were greeted at our hotel by the one and only John Wood, a fifth generation cattle farmer, and founder of US Wellness Meats. We couldn't believe that John took a day from his busy schedule to personally show us around his farmland. I can definitely say that I was a bit nervous to meet John. I knew he was a highly respected man, and worked very hard to build a company that he really believes in, even when faced with challenges and doubt from those around him. Bill and I were praying that we wouldn't let John down and hoped he wouldn't regret letting us come visit!
When we walked into the hotel, we immediately knew who John was. There stood a tall, good looking, healthy, strong, and lean man, who turned around to greet us. Exactly what we would expect from a grass fed cattle farmer–well that and also the fact that he had the US Wellness Meats logo on his shirt–that may have given it away too!  John politely thanked us for coming to visit, shook our hands, asked if we needed to freshen up after our travels, and then led us out to his big red Chevy pickup. He also informed us that there was a bag with some "paleo snacks" in the back seat for us courtesy of Tressa; upon opening the bag I found our FAVORITE snack sticks (I'm sure she knew which ones I loved because I pretty much raided her whole booth at AHS), and bottles of water. (Search for Beef Jerky under the Beef category
on their site
, and click "Beef Jerky Sticks – Plain" – they are amazing, and a great snack!)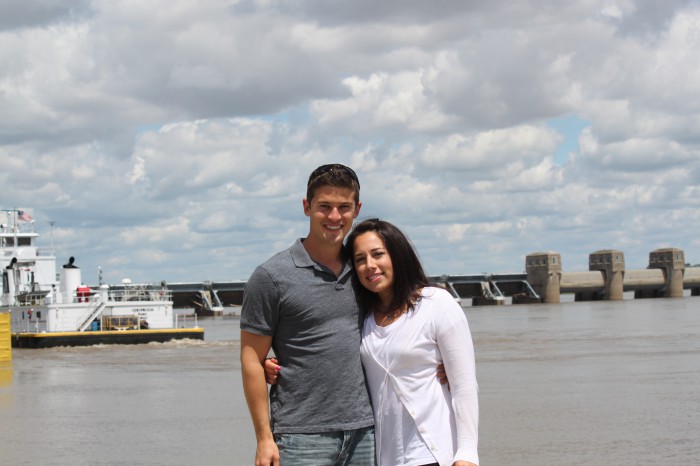 John really wanted to show us the Mississippi before heading to the farms, so off we went. At that point it seemed quite surreal and we were asking ourselves: Were we really in John Wood's truck, being shown around his home town? This couldn't actually be happening. After getting a few shots of the river (John did his research and knew how camera crazy we are), we jumped back in the truck to go check out some cows. John opened up the gate at the edge of his farm, and we drove through the beautiful grasslands, off on our cattle adventure. Throughout the day we learned about all the different species of grasses that grow in Johns' pastures (Don't ask me what they are, because for the life of me I can't remember. I will say that they were beautiful, lush, and looked quite tasty even to me, and I'm no grass-eating cow!) We got up close and personal with the gentle cattle grazing on his land; we got to move cattle from one pasture to the next, and we got to see the difference in the land between John's pastures and his neighbor's corn field.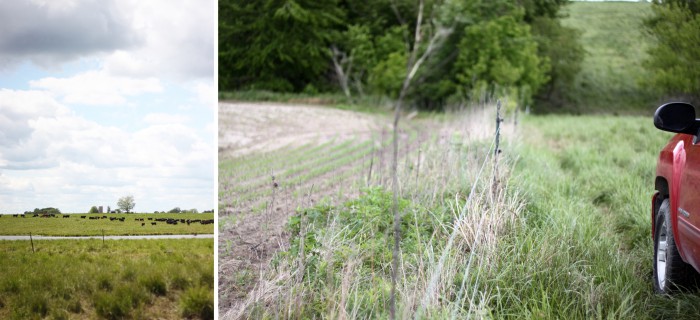 We learned from John that he sets out mineral bins for the cattle, and in these bins are a mixture of salt and powdered apple cider vinegar. The apple cider vinegar kills bacteria in the cattle, and keeps a good bit of flies off of them. We also learned that they have a whole system to the grazing process. The cows graze for a day or so, and then are moved to a neighboring pasture to graze on fresh grass. Once the cows move on, the pasture will then need thirty days rest before it can be grazed on again.
Our first introduction to the cows was in the safety of John's truck. I asked John on our way to the farm if I could pet a cow, but I didn't think I would actually get close enough to one of the cows to pet it. I was wrong. The moment we pulled into the pasture and turned the engine off, all the cows flocked to the truck. They formed a circle around the vehicle, and continued to inch in closer to us, very slowly, all while mooing what I'm guessing in cow language was "who are these people driving over our lunch?!" John told me if I put my hand out the window and didn't move a muscle one of them might lick me. I got a few sniffs, but apparently they didn't like the way I smelled, because at first sniff they would quickly back away from me. John then gave me a handful of grasses to see if one would be brave enough to eat from my hand; it took a good ten minutes or so before one was brave enough to take a bite.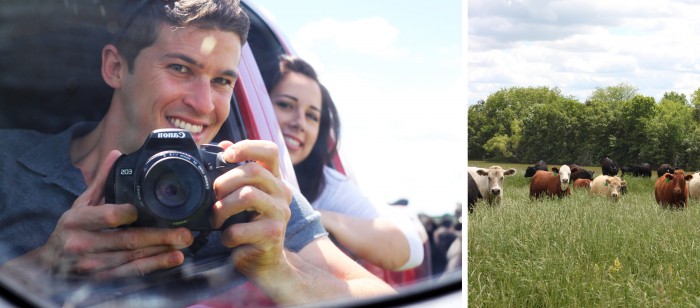 We quietly sat in the car while one cow licked the hood of John's truck, another nibbled at his bumper, and a few others nudged the truck enough to make it rock back and forth a bit. This was quite the experience. Finally, John asked us if we wanted to play "pied piper." You guessed it, we were going to move the cattle to a new pasture! John called to his cows out the window, and we slowly drove to the neighboring pasture while the group of cows ran behind us. They knew we were leading them to more food! When we got into the new pasture John told us we were going to get out of the truck this time and hang out with the cows. Anyone who doesn't know me very well should know that I am not very brave. I don't like roller coasters, scary movies, haunted houses, or anything else that is "thrilling." Growing up I also never advanced in gymnastics, horse back riding, or soccer. Why? Because I was scared I would break my neck in gymnastics, I was scared I would fall off a horse, and I was scared the soccer ball would hit me in the face. So you can imagine I wasn't too keen on the idea of standing in the middle of a large group of giant cows. Of course I couldn't let John or Bill see my fear, so I trailed along anyway.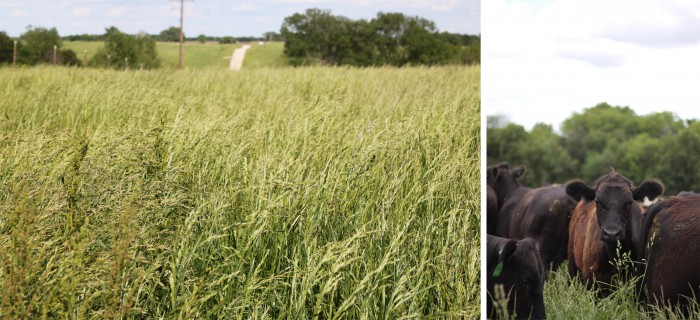 When we were out in the pasture with the cows we had a similar experience to when we stayed in the truck. The cows surrounded us on all sides, mooing, sniffing, and staring at us with great curiosity. They were extremely gentle–their demeanor was just more proof that they are raised with extreme care and compassion. It was really inspiring spending the day with John. He reminded me a lot of my grandpa, Buz, not in that he was old enough to be my grandfather (because he's clearly not), but in his passion for what he knows is right. My grandfather was treating patients alternatively through nutrition and supplementation his entire cureer (and still is)–many other doctors thought he was crazy, and I'm sure plenty still do. That is what I saw in John. An absolutely brilliant man, working so hard to make a difference because he knows that is what is best, despite the negativity he has been faced with from others around him.
After our up close and personal encounter with John's cattle, he took us to meet another founding farmer, Kenneth Suter. The best way we can describe Kenneth is the mad scientist cattle farmer. He showed us around his land in his rigged up Geo Tracker. We drove over electric fences and barbed wire, built fences, and pulled giant metal shade structures all with his little 4×4. Kenneth was hilarious, and just as kind and generous as he is funny. After we toured his land, and made it back in one piece (there were a few close calls), it was time to make dinner.  With his bare hands, Kenneth built a beautiful cabin on his property next to a lovely little pond. This place is an absolute masterpiece, though it does not have running water, or electricity. We were greeted at the cabin by Kenneth's wife, John, and a ton of fresh fruit, veggies, and US Wellness Meat's steaks and chicken! We offered to cook dinner for the entire US Wellness group. It was the least we could do to show them our appreciation. We made a big salad, cooked veggies over an open fire, grilled chicken breasts with lemon and garlic under the skin, and grilled our favorite skirts steaks just simply with salt (That is all they need!) Dinner was lovely, and we were quite proud that we made it work with only natural lighting from outside, two grills, and an open fire. Kenneth even managed to heat water over the fire for us to wash our hands throughout the cooking process! We hope one day we can cook again for everyone in a real kitchen and really impress them!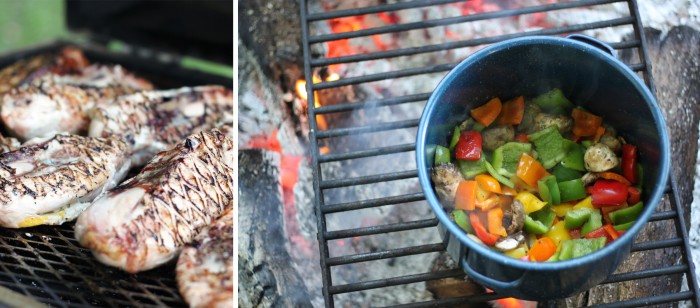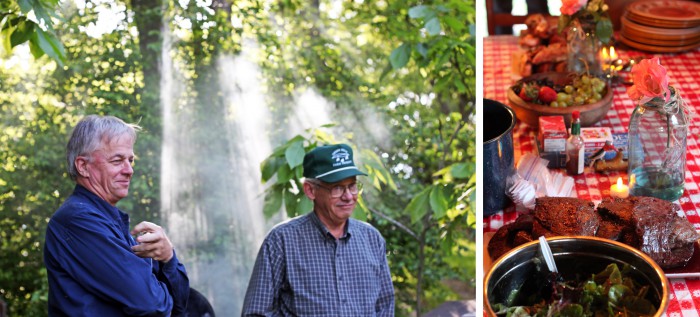 The next morning we checked out of our hotel, and were greeted by John's lovely daughter, Jennifer. Jen offered to take us fishing on one of their lakes for an hour before breakfast. Words can't describe the beauty we saw that morning. The water was calm, the sun was shining, and the cows were grazing on the land around us. The three of us sat on her boat talking, laughing, and hoping to catch a few fish. I got a few bites, Jen caught a fish, and Bill finally caught a fish after catching several large sticks. I had a bit of trouble casting my line–if it was lucky enough to make it off the pole then chances were it landed in a tree, but all in all it was a pretty successful fishing adventure. After fishing, we met up with the rest of the USWM crew and drove across the river to Quincy, Illinois. There we were treated to breakfast at a restaurant called Thyme Square, which supports local farms, one of which is US Wellness Meats! We had a delicious breakfast, and got to spend the last hour of our trip talking with all the wonderful ladies of US Wellness Meats. We were sent home with lots of hugs, and requests to come visit again.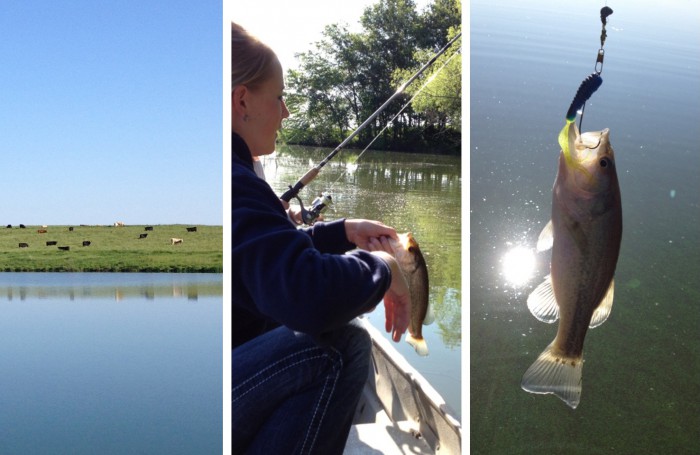 In this video, John shows us around his farm, and talks about the science behind grass-fed beef.
Here is a little more up-close and personal video from our trip!
We left Missouri with much more knowledge about pastured animals than when we arrived. We learned so much from John in the short bit of time we spent with him, and if any of you are lucky enough to have a conversation with him one day, then you will understand our new passion and inspiration for spreading the word of grass fed meats. We have so much respect and admiration for the entire US Wellness Meats family. They really made a mark on our souls, and we left wanting to support them more than ever. They are doing some amazing things, all driven by a passion for raising healthy animals and promoting healthy food choices. Their animals eat right, so we can too, and for that we are forever grateful.
If you would like to learn more about US Wellness Meats or support their business