Hi friends!
First of all, thanks again for the very warm welcome you've given to our new website. We are still working out all the kinks with the login issues, finding errors, and the like. If you see anything that needs to be corrected or adjusted on the site, please contact us here! We are doing our very best to keep up with the requests and suggestions, in an effort to get the site up to speed as soon as possible.
We are delighted about how far we have come in the last two years of blogging. Last year, we promised ourselves that we'd make every effort to win a Saveur Food Blog Award in 2012, but had no idea about how that could possible happen. Fast forward to today – we just found out that nominations are now open for the 2012 Awards. It would mean the world to us if you could take an extra moment to visit the Saveur website and nominate us! It will only take a second.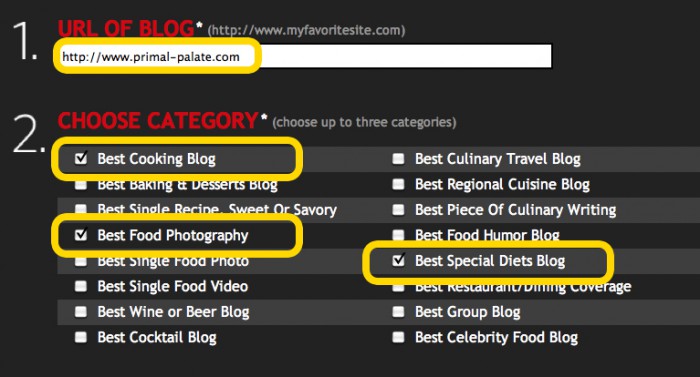 Visit the Saveur Nominations Site: http://www.saveur.com/food-blog-awards/nominations.jsp
Nominate our old URL: http://www.primal-palate.com
Check the boxes beside "Best Food Blog", "Best Food Photography"

and MOST IMPORTANTLY

, "Best Special Diets Blog"
Thats it! We'll keep you guys posted about the results. Thank you so much, in advance, for your nominations! Let's get a Paleo food blog at the top of these VERY prestigious food blogging awards!
Thanks so much,
Bill & Hayley