You could say we've been building up to this day for five years, exactly. Five years ago this week, we started our little blog called The Food Lovers' Primal Palate. Ever since the early days, our mission has been to inspire people to cook healthy food, and show them how easy it can be. Today, we are incredibly proud to announce the launch of our line of organic spices and seasonings.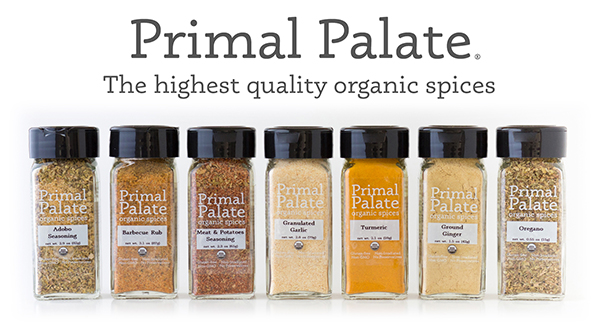 Quality has always been a compass for Primal Palate, and it was a huge driving factor in the development of Primal Palate Organic Spices. In fact, we originally had the idea to do seasonings back in 2011, but we couldn't figure out how to make them the quality we wanted, so we put the project on hold. Nearly four years later, we revived the project earlier this year and set out to create a collection of spices and seasonings that reflect "How we actually eat" (it's an instagram hashtag that was born while Diane Sanfilippo was staying with us to shoot the recipes for Practical Paleo). We were fanatical about quality in developing our spices. These spices are incredibly fresh. In fact, the production run is getting bottled this week. They are THE FRESHEST spices you can get. We had to tailor the blend proportions significantly from what we were purchasing in stores, because they really taste different. The stuff in stores doesn't seem so fresh or impressive anymore, honestly.
We wanted to bring something to your kitchens with quality you trust, expect and deserve. All of our spices are certified USDA-Organic. They are all certified Gluten-free. Spices are naturally gluten free, of course, but for those of you with severe allergies, you can BE 100% SURE they contain no gluten. They are certified Kosher by the Orthodox Union. Since they are organic, they are also non-GMO. And the spices are also non-Irradiated (our spices are not exposed to radiation). It's quality you can trust.

Writing cookbooks has always been a hugely enjoyable endeavor for us, but at a certain point, we realized that our everyday cooking was far more simplistic. Like most healthy eaters, meals are uncomplicated: meat, vegetables, healthy fats, seasonings… and it's all on the table in about 30 minutes. Spices and seasonings are at the core of simple, healthy cooking. For years we have cooked with a core group of spices and spice blends, so when we laid plans for our line of seasonings, we knew exactly which ones we wanted to include. The blends and seasonings you find below are the same ones we use in our kitchen every day.
Our new blends and spices will begin shipping the week of July 15th! Want to be one of the first to get them?
Click Add to Cart below to pre-order!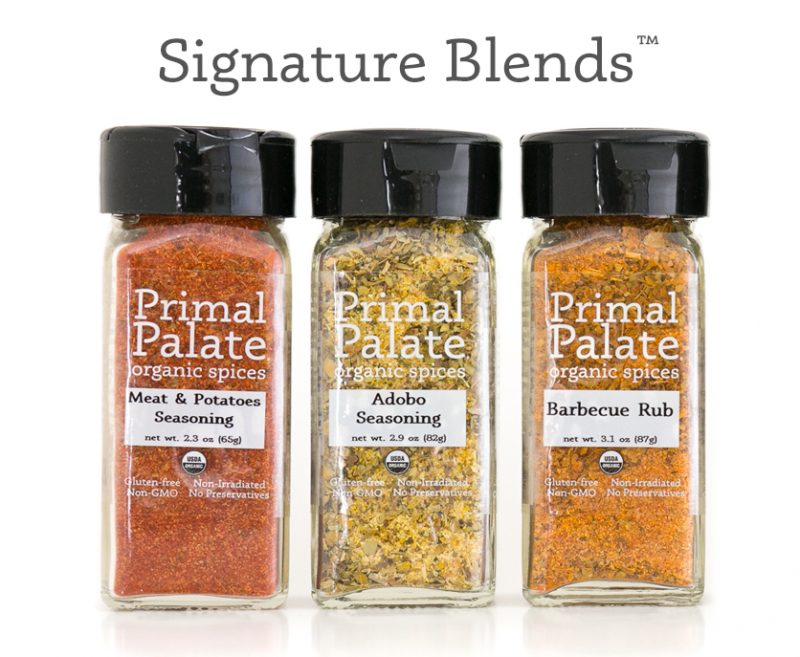 Our Signature Blends™ pack are the spices we use every day in our cooking. You might think that's some sort of exaggeration, but it's not at all. Breakfasts around here are typically a skillet of diced sweet potatoes, seasoned ground beef, and sliced Brussels sprouts. The ground beef and potatoes are both seasoned with our "Meat & Potatoes" seasoning™, which is actually how we came up with that name. The spices we use in the blend are equally suited for meat or vegetables, so it can be used on a lot of things. The Brussels sprouts we have with breakfast are tossed with Adobo seasoning. Adobo seasoning (known as Adobo Seco) is a very popular spice blend used throughout latin american cooking, though it's a fundamental ingredient of Puerto Rican cooking. Our version of adobo includes mineral-rich Pink Himalayan Salt, as well as antioxidant-rich organic Turmeric. The result is a beautifully balanced version of the popular blend. Our third blend is a super-versatile Barbecue Rub, which can also really be used for anything. One look at the ingredient list, and you'll see many familiar flavors that go well with anything. (Check out how we use it with olive oil to make a yuca cracker dip in our video below.) Our blends all include mineral-rich Pink Himalayan Salt, which helps to balance body electrolytes, supports proper nutrient absorption, eliminates toxins, balances the body's pH, and increases circulation.
Adobo Seasoning: One of our favorite spice blends, Adobo is versatile, and brings all sorts of dishes to life. Try it on grilled meats and sautéed vegetables.
Ingredients: Pink Himalayan Salt, Garlic, Onion, Black Pepper, Oregano, Turmeric
Barbecue Rub: This "cookout hero" nicely flavors all sorts of meats, from wings to ribs and everything between.
Ingredients: Pink Himalayan Salt, Onion, Garlic, Paprika, Oregano, Turmeric, Black Pepper, Ginger, Cumin, Cayenne, Coriander
Meat & Potatoes Seasoning™: Our signature blend for seasoning home fries and meatballs. It adds wonderful flavor to just about anything. Unsure how to season a certain dish? Try this!
Ingredients: Pink Himalayan Salt, Paprika, Onion, Garlic, Black Pepper, Oregano


This pack includes our favorite flavor staples in everyday cooking: Garlic, Oregano, Ginger, and Turmeric. We've called it the 'Healing' Pack because each of these ingredients have health benefits. In addition to each spice offering a different health benefit, they also provide incredible flavor lifts to a variety of dishes. These are not like your typical grocery store spices, even the organic ones (which have been probably spent time sitting in a warehouse, and then on the store shelves for who-knows-how-long.) Our spices are as fresh as it gets: from the fields to your table in no time at all. It may be necessary to adjust how much you use in dishes, because you will notice they pack quite a bit more flavor than what you may be used to.
Turmeric is a staple in Asian cuisine.  For a slightly peppery taste, ours is imported from India and provides that special lift to marinades, rice, chicken and of course curries.
Health Benefits: Contains curcumin, which is a powerful anti-oxidant and anti-inflammatory substance. Turmeric also shows promise with cancer treatment.
Ginger is most widely used in far Eastern & Indian cooking.  Also used in baked desserts and cookies.
Health Benefits: Ginger is great for pain-relief, containing anti-inflammatory compounds called gingerols. It also is famous for helping to quell uneasy stomachs.
Garlic: Our signature Granulated Garlic comes from California.  A universal spice that has many uses in cuisine around the world.
Health Benefits: Boosts the immune system, and provides cardiovascular benefits.
Oregano: Indispensable to tomato based sauces, Italian, Mexican and Spanish dishes.  Whole leaf oregano is prized for its aroma and mild, sweet flavor.
Health Benefits: Beneficial in the treatment of respiratory tract illnesses, skin conditions, and reduces inflammation. It also contains anti-microbial compounds, making it a great choice for fighting the common cold.
Can't decide which one to get? How about getting both! You'll save 17% of the price of the 'Healing' Pack, and get to enjoy the full range of flavors we have in our lineup.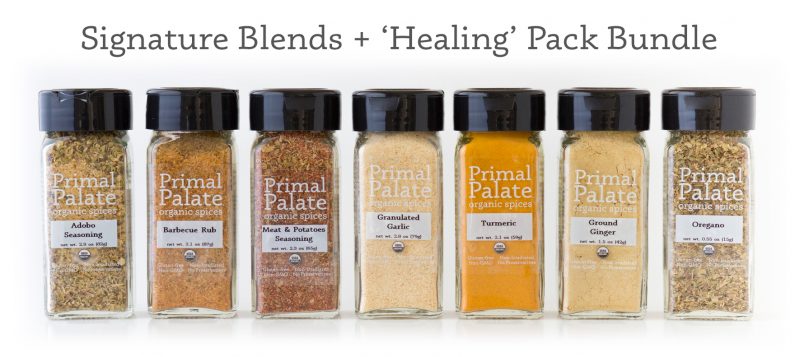 ---
These spices are truly a dream come true for us, and give life to our mission of making cooking easier for everyone. When you cook with them, it's like having us there in your kitchen with you. We've been blown away with the quality of our own spices. It definitely makes us want to add more to the lineup, so that we can ditch the seemingly-stale (and certainly less-potent) spices in our cupboards. Let us know below what you think, and what you'd like to see in the future as a part of our lineup!
Yours in good health and great food,
Bill & Hayley