We are super excited to announce the biggest, coolest giveaway we've EVER DONE!
In celebration of our new cookbook, Make It Paleo 2, (which releases in 2 weeks!) we are giving away an incredible prize package for one lucky person that will give them everything they need to take amazing photos.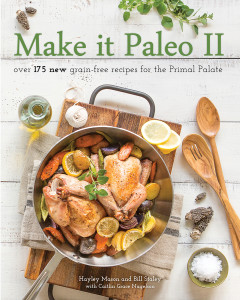 We hand-picked this prize package, which is perfect for Food Photography. One lucky winner will win it all! Here is the prize package: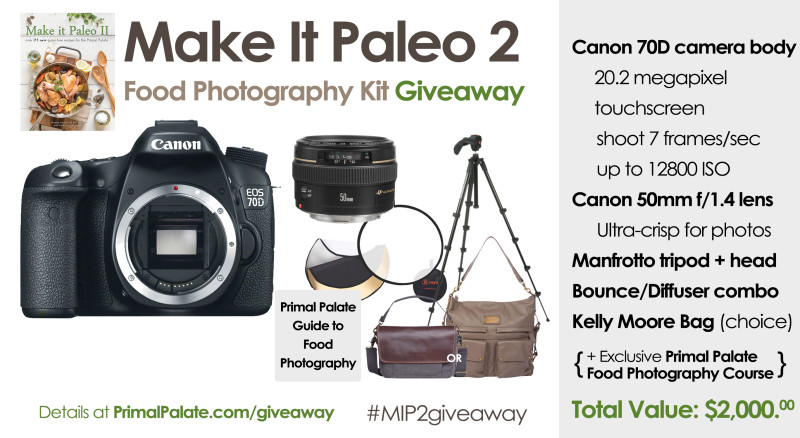 HOW TO ENTER
There are two ways to get entries for this giveaway. (two SIMPLE options, totaling 50 entry points)
1. Pre-order* a copy of our new cookbook, Make It Paleo 2  (25 points)
IMPORTANT: For your order to count, you must email proof of purchase to [email protected] (And use subject line "PRE-ORDER")
*Alternate Means of Entry for this option is to join our email list (25 points), Pre-ordering the book does not increase your odds of winning this contest, though it does increase your odds of winning at life. Plus we will love you forever. (Well, now that you put it that way, I think i WILL order it!)
2. Repost the contest image on Instagram* 

up to 5 times

during the Giveaway period  (giveaway ends March 3, 12:01 pm est)
You can choose when to re-post (do a screen capture, OR use Repost App)
Re-post the official contest image up to 5 times (we appreciate that you might want to post more, but additional posts will not count for more entries.. only 5).
*No instagram? We will also accept contest shares on Facebook and Twitter. (It is up to the entrant to email links to shares on Twitter and Facebook. Email these alternate entries to: [email protected], USE subject line "SHARES")
PRIZES
Grand Prize
One grand prize winner will be chosen at random from all entries. The grand prize is a Make It Paleo 2 Food Photography Kit, consisting of:
Canon EOS 70D DSLR Camera (Body Only)
Manfrotto MKC3-H01M Compact Series Tripod with Photo/Video Grip Head
Raya 5-in-1 Collapsible Reflector Disc (42″)
Kelly Moore Bag (Up to $200 value)
+ an exclusive Primal Palate guide to Food Photography eBook
5 Runners Up
5 lucky runners up will also be chosen at random to receive a prize package consisting of:
Cappello's "Make It Paleo 2 Sampler Pack" (Cookie Dough, Fettuccine, and Lasagne Sheets)
"I don't eat crap." bumper sticker
Giveaway Rules
Open to residents of US & Canada only
Purchase does not increase odds of winning.
Giveaway ends on March 3 at 12:01 pm EST Winner will be notified via Email OR Instagram Direct Message (if an instagram share is chosen as the winning entry)
GOOD LUCK!
-Hayley & Bill