This past Sunday was the Super Bowl, in case you missed it. I have pretty much zero interest in sports, but I've always liked Super Bowl parties and the fun food that is usually served. You know… wings, chips and dip, pizza… all that good stuff.
Meanwhile, in "real life" – we've been working on building a non-toxic headboard for our bed (more on this soon), and since Sunday was warm and sunny here, we spent the entire day outside in our driveway working on our headboard.
At 4:30 I realized that we didn't have anything to eat for dinner. I also knew that Bill would want to watch the Super Bowl, and I realized we had all of the ingredients we needed to make a batch of chili. I put a green bell pepper and a jalepeño in the oven to roast, and went back outside to keep working on our headboard. After we were done for the day outside, I came back inside and continued to work on dinner.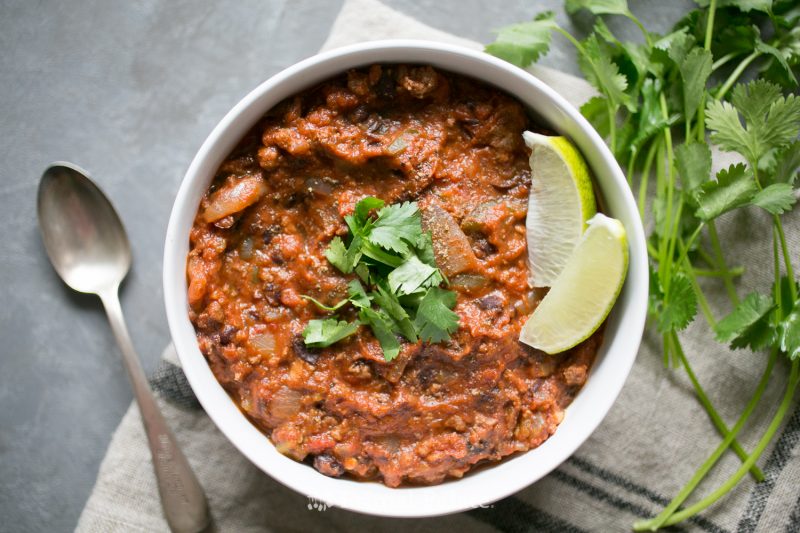 This chili does take some prep work, as most home cooked meals typically do, but it comes together really quickly, and doesn't take long to cook. We opted to add some organic black beans to this recipe. We don't usually add beans (which aren't quite accepted as "Paleo"*), but for some reason it sounded good, and we had a can of organic black beans in the house, so into the chili they went!
* If you want to read a little about legumes and how they might fit in a Paleo template, Chris Kresser has a balanced viewpoint on them. (read more)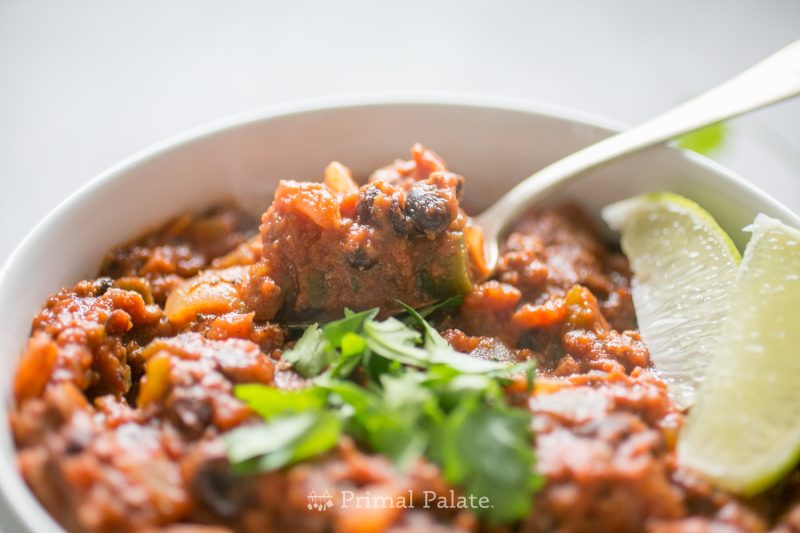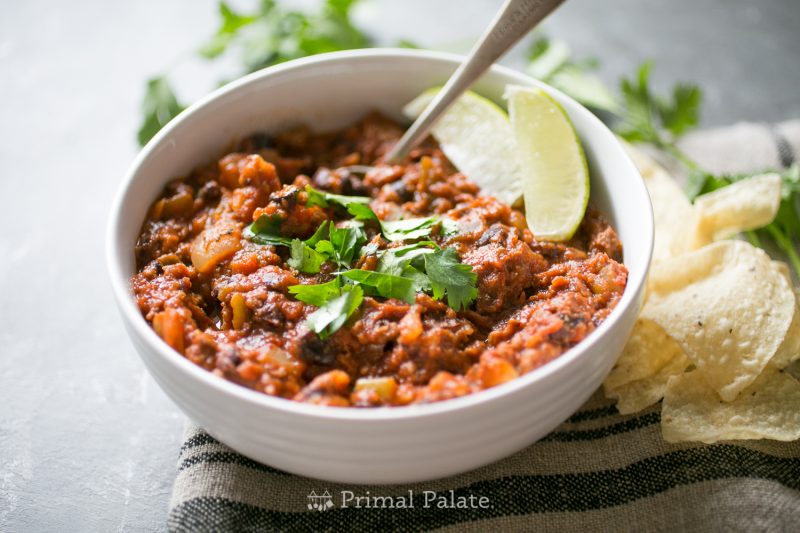 We also enjoyed this meal with organic corn chips...because Super Bowl! It was delicious, and we both really loved this meal. It was filling, comforting, and most of all, very tasty! I hope you guys love this recipe as much as we did!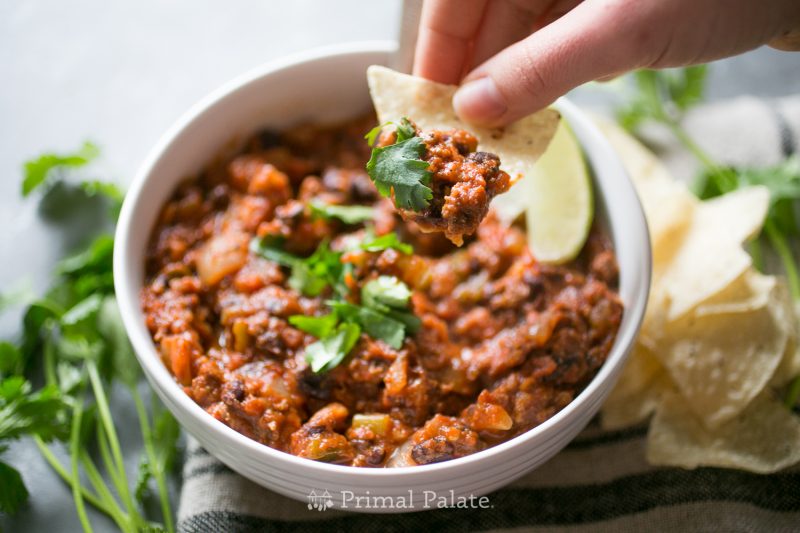 -Hayley
Difficulty



This Easy Weeknight Chili is a great comfort food to warm you up on a cold winter night, or a fun dish to serve at a fall football party! Enjoy with organic corn chips, or your favorite Paleo bread!
Process
Note, these instructions are written assuming the standard serving size, since you have modified the number of servings, these steps may need to be modified for best results
Roast the bell pepper and jalepeno, whole, at 450 degrees until the skin is charred, and peels away easily from the pepper. You can also accomplish this faster by grilling the whole peppers.
While the peppers are roasting, prepare the rest of the ingredients for the chili.
In a large pot, warm the olive oil over medium heat.
Add the onion and garlic, and saute until fragrant. Continue to cook until the onion starts to become translucent, turning the heat down to medium-low if the onion is browning.
Turn the heat back up to medium, and add the chopped tomato, and green chilies.
Add the seeded and chopped roasted green bell pepper, and jalepeno, and season with a pinch of salt and black pepper.
Add the chipotle powder, and cumin, and stir to coat all of the vegetables with the spices.
Add the diced tomatoes to the pot, as well as the tomato paste, and stir to combine.
Drain and rinse the black beans (if using), and add to the pot.
Add the browned ground beef, and stir to combine all ingredients.
Season again with a pinch of salt and black pepper, and allow to bubble slightly for about 5 minutes, and then turn the heat down to low, and allow to simmer until serving.
Serve with fresh cilantro.
Our recipes are created using Paleo, Primal and Gluten-free guidelines.
Learn more
about our diet and lifestyle
at www.primalpalate.com
.
---