Our new cookbook Gather is filled with 17 different menus of varying themes, organized by the seasons. To make cooking and entertaining from Gather easier, we've created these free, printable menu cards for each of the menus in the book! These are "A6″ in size, and can be printed from any home printer! A6 is a standard paper size (about 4″ x 6″), and you can find card stock in this size at nice paper stores like Paper Source. You can also take these to a print shop and they'll know exactly what to do. You could also print these menus on 8.5″ x 11" paper and cut them to size. Your choice! Either way, we designed these for the book and wanted to pass them along so that they could be enjoyed by everyone! There is a download button for the entire PDF at the bottom of this page.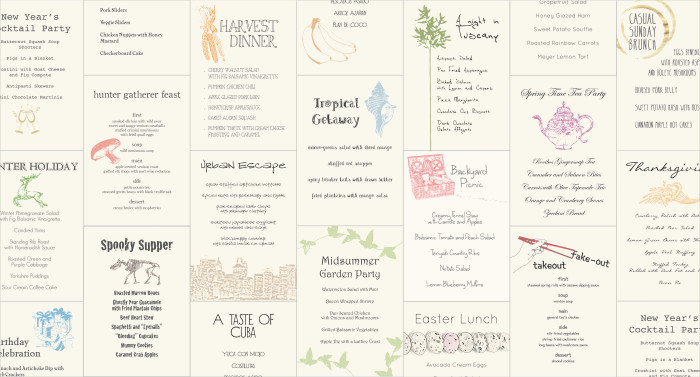 Read more about Gather here, or watch the trailer below!
Gather – The Art of Paleo Entertaining from The Food Lovers on Vimeo.
Spring:
Takeout Fake-out

Casual Sunday Brunch
Springtime Tea Party
Easter Lunch
Backyard Picnic
Summer:
A Night in Tuscany
Midsummer Garden Party
Tropical Getaway
A Taste of Cuba
Urban Escape
Fall:
Harvest Dinner
Spooky Supper
Thanksgiving Feast
Winter:
Hunter-Gatherer Feast
Birthday Celebration
Winter Holiday
New Year's Cocktail Party
You can print out the menus individually below. Click on each image, then click File>Print. To download and print all of the menus, scroll to the bottom and click "download pdf"
Gather is officially out on April 30th, so order your copy today!


(to download or save the pdf, right click the green button and select the "save as" option)