In Make it Paleo II, Hayley Mason and Bill Staley, along with Hayley's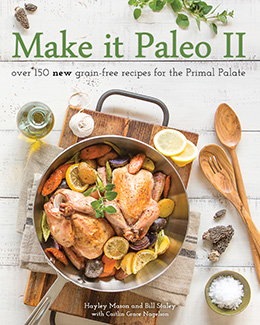 talented sister,Caitlin Nagelson, expand their collection of published recipes with over 175 new and innovative dishes, all in their signature style: approachable cooking techniques with delectable results! Much like the original Make it Paleo, this new cookbook continues the theme of transforming popular recipes into Paleo-friendly dishes. Readers will also delight in discovering recipes that are purely from the culinary imaginations of the trio. Hayley and Bill, widely known for their exquisite food photography, have created a feast for the senses as they guide their readers through various cuisines of the world. Make it Paleo II is a true culinary journey that includes a multitude of inventive entrees, elegant side dishes, and (of course) decadent desserts. Recipes include:
Lemon Blueberry Waffles
Apple Streusel Muffins
Thai Fried Chicken with Tangy Mango Sauce
Lamb Barbacoa Tacos
Ramen with Chashu and Marinated Eggs
Roasted Chicken with Aromatic Spices
Lobster Fettuccine Alfredo
Stuffed Acorn Squash
Caramelized Fennel with Sweet Potato Puree
Dark Chocolate, Olive Oil, and Sea Salt
Ice Cream
Luscious Lemon Cupcakes
As always, Hayley and Bill strive to make cooking fun and inspiring for anyone following a Paleo diet, whether they are new to this way of eating or not. Make it Paleo II is exactly that: fun and inspiring, with recipes that will excite you about grain-free cooking and leave you feeling satisfied long after the meal is over.

The true art of paleo entertaining is creating a delicious and satisfying menu that will also promote good health. In Gather, The Art of Paleo Entertaining, Hayley and Bill show you how to orchestrate the perfect dinner party—whether you are planning an elegant holiday feast or hosting a casual brunch with friends. Gather is widely regarded as the first "coffee table book" in the paleo world. With its glossy photos, delicious recipes, and gorgeous spreads – this book takes Paleo dining to an aspirational level. Gather includes:
17 elegant menu spreads, including detailed shopping lists (available here on our website for easy printing)
100 delicious dishes perfect for any party
Over 300 beautiful color photos
Tips and tricks to make entertaining fun and effortless
Thoughtful ideas on how to prepare dishes while enjoying the party you're hosting
Shortcuts and sequencing suggestions to time everything just right
Watch the trailer:

It can be pretty overwhelming to make a significant lifestyle change. For most people who take on the Paleo diet, their biggest concern is the question of "What will I eat?" Even when you understand which foods you can enjoy, and which foods you should avoid, the task of actually planning, shopping for, and cooking your meals can still be very confronting. To streamline this aspect of committing to eating Paleo, Bill and Hayley have created The 30 Day Guide to Paleo Cooking. In this book, Bill and Hayley guide you step-by-step through your first month of following the Paleo diet. They cover everything you need to know to have a basic understanding of why this way of eating is perfect for optimal health. We are all designed to be fit, healthy and happy people, and following the Paleo diet is a solid foundation for a happy, healthy life. The 30 Day Guide includes:
A complete 30-day meal plan broken down week by week
Detailed weekly schedules of the meals to make
Weekly shopping lists that go along with the meal plan
75 all NEW paleo recipes
PLUS an additional 24 bonus recipes for quick and easy meals beyond the plan.
Detailed information explaining the science behind the paleo diet to expand your knowledge of this lifestyle beyond the basics
Answers to frequently asked questions
And much more!
Adapted from Chinese, French, Mexican and classic American meals, the over 200 mouthwatering recipes are each accompanied by vibrant photos and thoughtful notes to ensure you recreate each dish with ease. Beyond its wealth of recipes, Make it Paleo describes fundamental cooking techniques, includes tips for selecting the best ingredients, and chronicles a variety of menus for holidays and special occasions.
Make it Paleo is our first book (first published in October, 2011), and has sold over 50,000 copies worldwide. Weighing in at 448 pages, this book is the best bang for your buck if you want a LOT of recipes. The recipes in this book are typically easy, require few ingredients, and are perfect for newcomers to Paleo (or cooking in general). The "treats and cheats" section in the book is worth the price of admission alone!
Make it Paleo includes:
215  mouth-watering recipes
Color photos throughout the book, accompanying each and every recipe
Recipes for Breakfast, Appetizers, Entrees, Side Dishes, Salads, Soups,
Sauces and Dressings, and of course – Treats and Cheats
Inspired menus for any special occasion
Paleo diet basics
Cooking tips and hints
Stocking a paleo kitchen
Guidelines for choosing the best ingredients
The 30 Day Guide to the Paleo eBook 
The 30 Day Guide to Paleo program is an absolutely fool-proof guide for anyone that wishes to give the Paleo Diet an honest shot for 30 days. When someone says "try it for 30 days," we actually show you how to do it. Nice, right? Adopting a foreign way of eating can be a major challenge, and one that we have vastly simplified in our 30 Day Guide to Paleo eBook.
The 30 Day Guide to Paleo eBook Includes
Two different 30-day meal plans (that's 60 days of meals planned out for you!)
Over 180 recipes that are amazingly delicious, and easy to make
All the information you need to start Paleo today
30 Paleo Tips and Tricks Guide
Exclusive emails for two months of guidance, encouragement, and tips
Access to the 30 Paleo forums on our website
and, Additional online support via our facebook page 
That's just cents per day for our foolproof 60-day meal plan and 180+ recipes. But if you're not ready to buy the guide, no problem. Sign up for our free emails anyway – our gift to you!