Description
The 30 Day Guide to Paleo Cooking is aimed squarely at getting more people acquainted with the Paleo lifestyle in an easy-to-manage package. We hear it all the time (and some of us even say it), "try Paleo for 30 days…" and you know how the rest goes. The thing is, how can we expect people to try it for 30 days without a clear road map? Our new cookbook is the perfect guide for people looking to adopt a Paleo lifestyle.
What's in the new book?
Part 1 covers the basics of the Paleo diet. We have tailored the information in this section to include some of the many topics we've been asked to discuss over the last few years; the questions people actually need answers for. How do I build a meal? How do I go grocery shopping? What can I eat and drink? What sort of ingredients do I need to stock my kitchen?
Part 2 provides the actual meal plan, which guides the reader through their first 30 days of Paleo. This isn't meant to be trial by fire in the kitchen. Rather, the meal plan is geared towards busy people who need to find the balance between creating delicious AND easy meals. This section contains easy-to-follow weekly meal plans accompanied by handy shopping lists, all of which are available as tear-outs in the back of the book.
Part 3 of the book is a presentation of 75 of our best new recipes, which are squeaky-clean Paleo. You won't find any desserts or sweet treats in this book. The recipes are tasty, easy to execute, and won't put a strain on your wallet either. We've put a lot of thought into the recipes, and hope it shows.
We think this book not only has the ability to benefit anyone that cooks, but even change lives!
Whether you are new to Paleo or have been doing it a while. The recipe ideas are fresh and creative, so we think long time Paleo folks will appreciate the new meal ideas too. If you have loved ones or friends in your life you want to adopt a healthier lifestyle, this book is the perfect guide to get them started.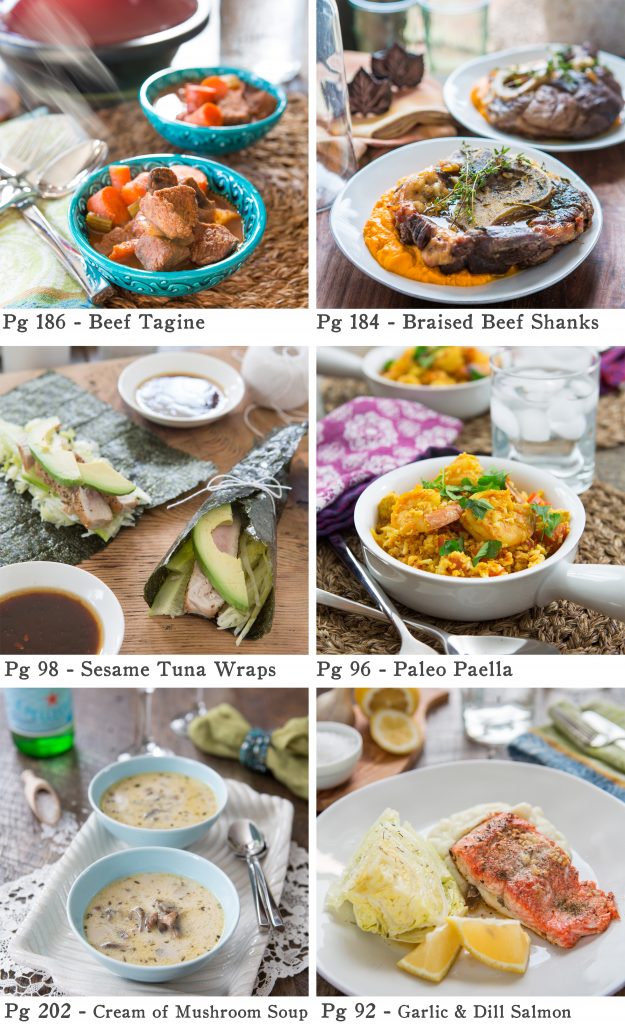 How is this book different from our other two books?
That's a great question! Here's how this one is different from Make it Paleo and Gather:
75 ALL NEW RECIPES. That means you wont find overlap between the recipes in Make it Paleo and Gather. There are a few very basic recipes that are necessary to repeat (like mayonnaise), but the real food recipes are all different, and we think you guys are going to love them.
The recipes are the most straightforward and "cleanest" out of our three books. The recipes are about as easy as those in Make it Paleo, but you won't find any desserts in this book. (The closest we get to an indulgence is a lone recipe for almond flour pancakes.)
30 Day Meal Plan with Weekly Shopping Lists and tear-out guides. This book lays out a full month long meal plan, which makes adopting a Paleo lifestyle easy and fun.
Accessible, easy to understand info on the Paleo diet. While the basic stuff hasn't really changed, we've added a ton of information to this section to make things plain and simple.
Tear-out Guides. Take the meal plans and shopping lists with you to the grocery store!
24 bonus "Express Eats" recipes in the back of the book to help you build additional meals on your own.
Meal building tips and shopping tips
Success Stories (will yours be in the next printing!?)
Answers to frequently asked questions about topics such as Cholesterol, Gluten, Carbohydrates, Soy, Fats, Calcium, and much more!