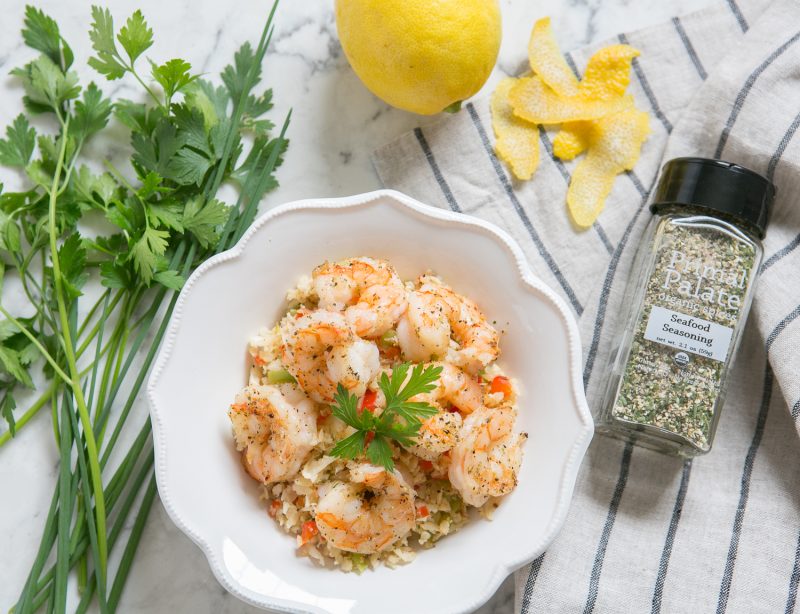 Lunch is such an oddity when you're Paleo. To cook, or not to cook? That is the question.
Normally, I'm like "Hell no, I'm not cooking! What do we have in the fridge? Leftovers, please." But for some reason yesterday, I was all about cooking up a tasty lunch. About a month ago, frozen & wild caught shrimp was on sale at our local store, so I snatched up a few extra bags because frozen shrimp is basically emergency-protein. It's easy to defrost inside of 20 minutes, so if you drop the ball and don't plan a meal, there's always shrimp in the freezer. Well, there is after a big sale, at least!
In addition to having shrimp, we always have lots of vegetables on hand. It's a no-brainer in the summer, when the garden and farm stands are all filled to the brim with fresh vegetables. I decided to pair the shrimp with a vegetable & cauliflower rice sort of dish. I just made it up, so it's kinda-sorta like Dirty Rice, minus the chicken bits and paprika.
First order of business is peeling and deveining the shrimp. You can set that aside (or refrigerate) while preparing the vegetables. Chop up 1/4 green bell pepper, 1/4 red bell pepper, 1 clove of garlic, and 1 tbsp of minced shallot. Add it to a cast iron skillet with some lard, duck fat, or olive oil to saute. While the vegetables are sauteing, grate 1/2 a head of cauliflower to make the 'rice.' Bring it all together over medium heat, and stir every few minutes until the cauliflower is soft and the dish is cooked. Season with Himalayan Pink Salt and fresh ground Black Pepper.
The shrimp cooks quickly so do it last, once the cauliflower rice is done cooking. Heat 1 tbsp of cooking fat over medium heat in a skillet. When the fat/oil is hot, saute the shrimp until they are opaque and cooked through. Season liberally with our Seafood Seasoning (a bright blend of Pink Himalayan Salt, Onion, Black Pepper, Lemon Peel, Garlic, Bay Leaves, Parsley, and Chives.) (View in our store)
This is -the perfect- seasoning for things like shrimp, salmon, and any other type of seafood (hence the name). A lot of people are also using it on chicken, which is excellent, too! Cook for another 1-2 minutes, then serve atop the vegetable cauliflower rice.
Enjoy!