Holiday baking is something that brings me a lot of joy. I love being cozy in the kitchen with twinkle lights and Vince Guaraldi Trio on while I bake up something for the holidays. I particularly love baking anything gingerbread flavored. A few years ago I made grain-free gingersnap cookies that are crunchy and delicious.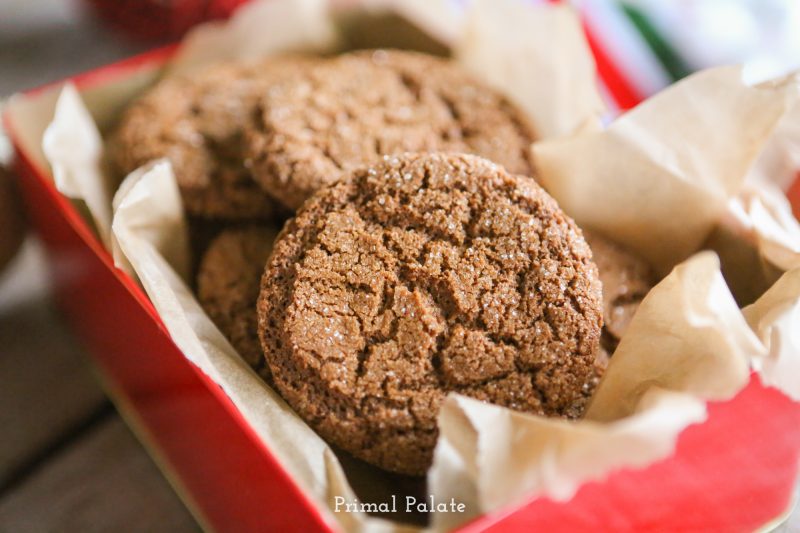 I've made a Gingerbread Bundt Cake in the past that was lovely.
I made tasty Gingerbread Friends with our Magic Cookie Dough.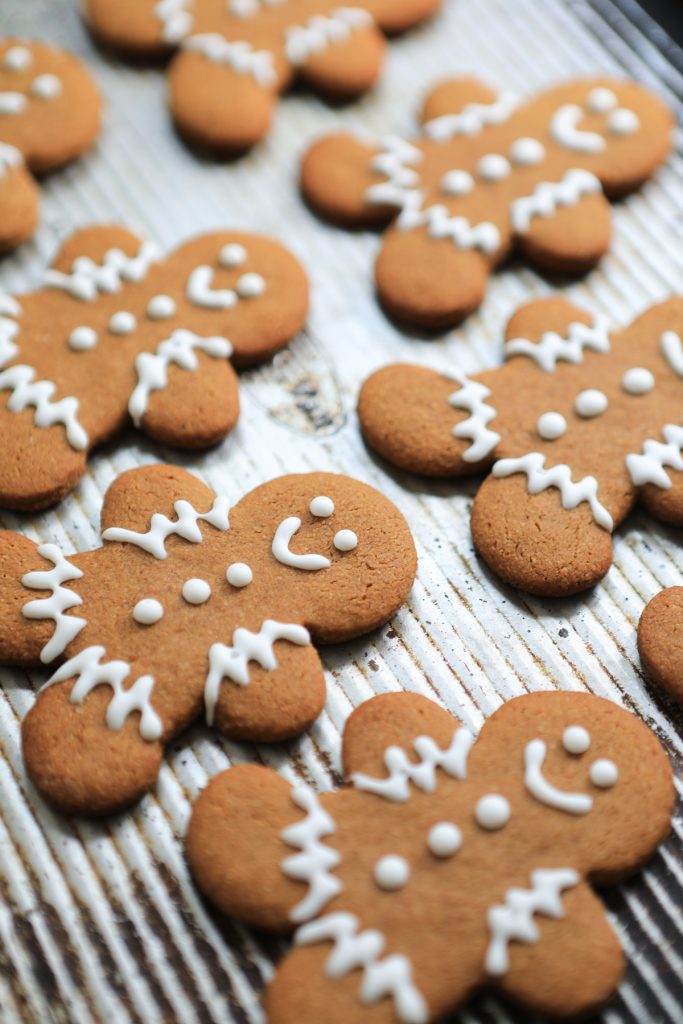 I've also made Gingerbread Loaf and Gingerbread Muffins.
This year I wanted to make classic gingerbread. I made a gluten-free gingerbread to take to Christmas dinner two years ago, and it was delicious. I just found the recipe online somewhere, and subbed out the flour for gluten-free flour. It was a hit – everyone loved it! This year I wanted to make a completely grain-free gingerbread. Gingerbread isn't actually bread, but it's cake that you bake in a square tin and cut into individual square portions. You can eat it on it's own, or served with whipped cream, powdered sugar, or a scoop of ice cream. Mmmmm.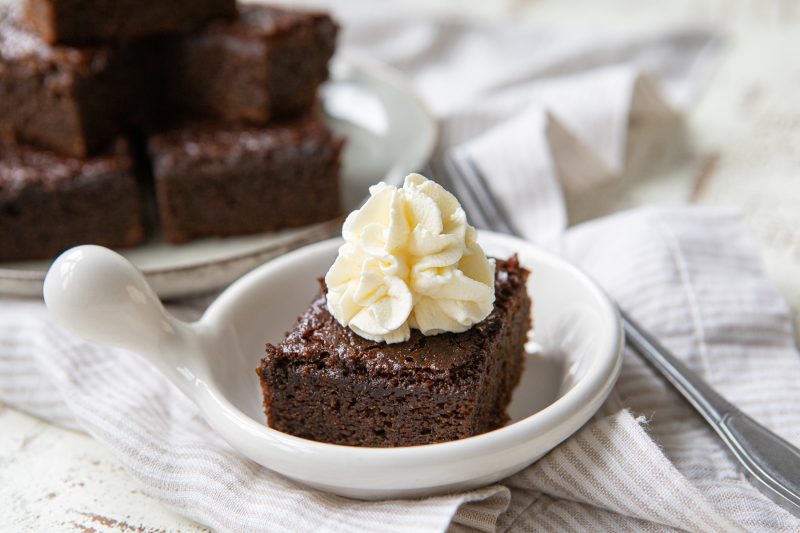 I looked through about a dozen "old fashioned gingerbread" recipes online, and most of them included hot water in the recipe. This was something I incorporated into my recipe, but I'm not sure I needed to. Apparently the hot water loosens the gluten strands in flour to yield a lighter cake. That's not necessary when baking with almond flour and arrowroot starch, but I do think the added water was beneficial to the texture of this cake.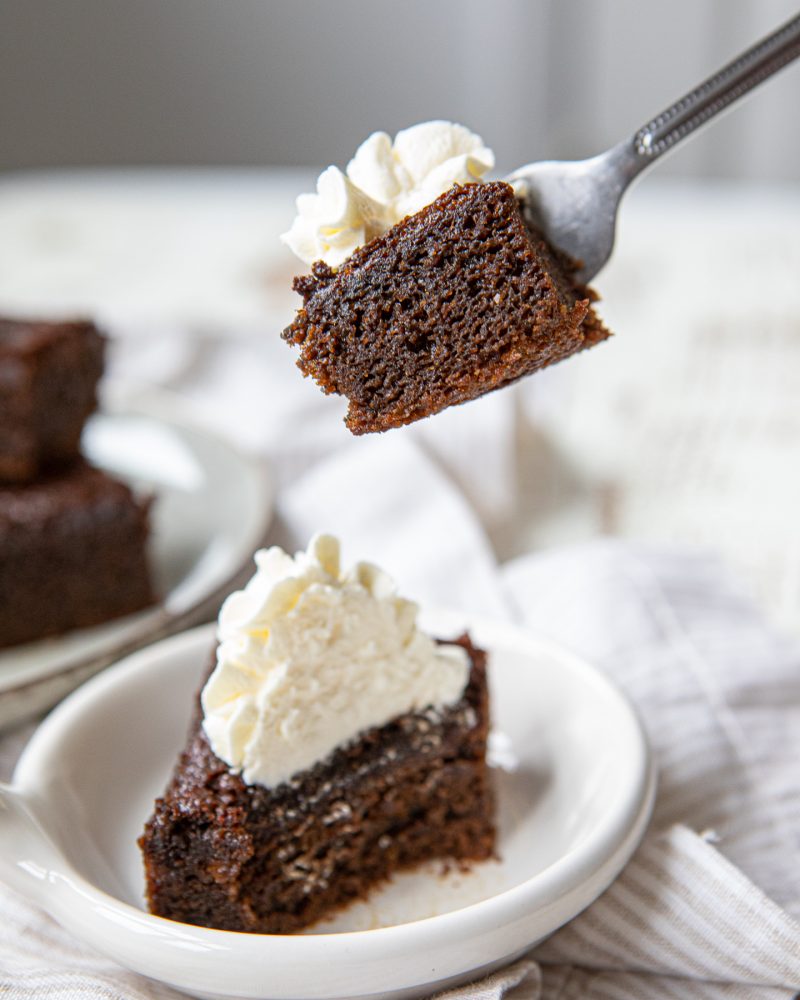 I did end up having to add more of my flour mixture because of the water in this recipe, but I think this recipe is just a starting point for me, anyway. Now that I have a grain-free gingerbread recipe that I'm really happy with, I can play with it a bit to see how I can improve it. It was pretty amazing as is, but maybe next year I will have something else to share!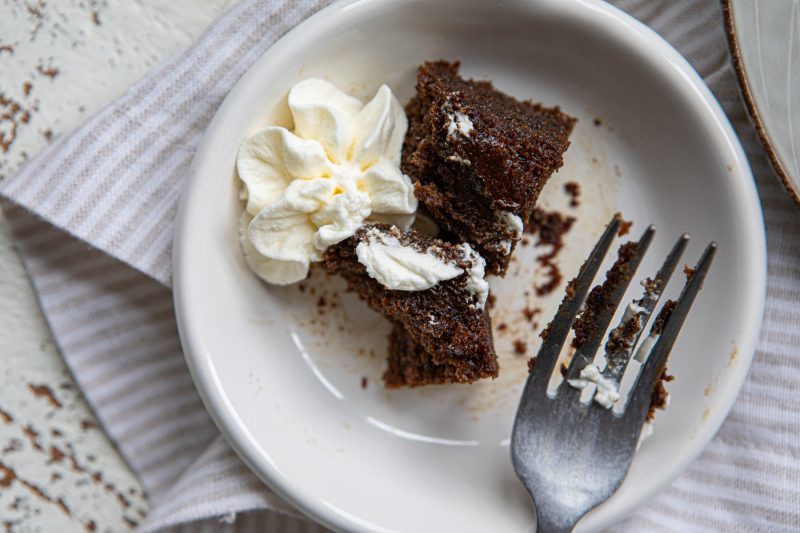 This recipe has really great texture, and flavor. It's light, yet has a little spring to it because of the molasses. I used our Gingersnap spice blend for the spice mixture, and it was perfect. I created that blend because I love baking gingerbread recipes in the winter, and it might be my favorite of our "sweet" blends. I also used our organic maple sugar and vanilla in this recipe.
I let the cake bake for about 40 minutes at 350. It still seemed pretty moist when it came out of the oven, so I covered the tin with foil, and let it cool on it's own overnight. I made this recipe around 9:30 at night. I cut into it in the morning, and the texture was perfect! After its initial rest on the counter overnight, I transferred it to the fridge, and that's where it's staying.
Do you love gingerbread as much as I do? Give this recipe a try. It's easy, and delicious, and will make a great dessert option for your Christmas dinner!
xo,
Hayley