A couple weeks ago, we got an unexpected care package in the mail from our friends at Siete. They make awesome Cassava & Coconut Flour, and Almond Flour tortillas that are perfect for Paleo folks like us. Ever since they sent the tortillas to us, we've been making tons of meals with them. For a few days, we were totally lazy and went to Chipotle to get carnita salads, and bringing them back and making our own tacos. After realizing we were paying WAY more for the convenience, we decided to make some ourselves. We're so glad we did, because not only did we save a lot of loot, they were also just better. I mean… yeah no shock there, most home cooked food is. Duh.
We thought it was an awesome time to use our Instant Pot. TONS of people have come to adore the Instant Pot, and with good reason. It's like a pressure cooker and slow cooker all in one, with a lot of more advanced features. You can make hard boiled eggs in it (in like 5 minutes), you can make bone broth in it in 60 minutes. It's a godsend! We like ours so much, we gave one to all our family members at Christmas. Seriously. This is the exact model* we got for ourselves and as Christmas presents.
So this recipe is super simple to make, and unless you're a family of 8, you're going to have extra for more meals (a big bonus here!) We paired this with our new Easy Avocado Salsa recipe, which is extremely tasty. It's a concoction I came up with that blends my favorite parts of Pico de Gallo and Guacamole. The flavor of avocado, cilantro and lime, paired with some tomato, jalapeno, and red onion. It's the best of both worlds, and an amazing flavor combination that's perfect for these carnitas. We finish it off with the Siete tortillas, and some shredded lettuce. If you don't have Siete tortillas, you can try making our Paleo Tortillas from Make It Paleo 2.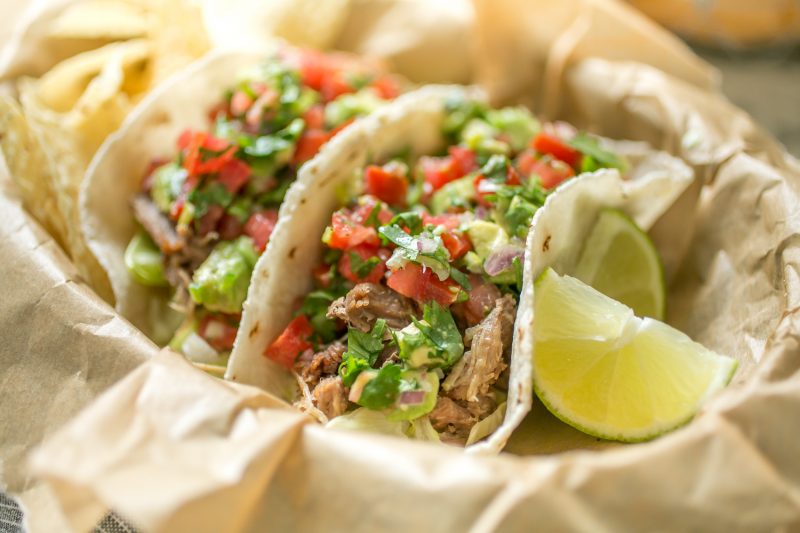 We hope you love these! Try them and let us know what you think!
Bill