Today we're bringing you another installment of our Featured Contributor Friday spotlight, highlighting the fantastic and unique work of Mark and Elizabeth Rudd at Compass & Fork. They have been contributors on Primal Palate for several years now, and we've always been intrigued with their awesome recipes. As lovers of travel ourselves, their blog concept is really interesting to us.
View their recipe collection on Primal Palate here!

How did you get started with your blog Compass & Fork?
Before Elizabeth and I met, we were both keen travelers and hikers. In our younger years, we both traveled overseas for pleasure and loved it. Learning about different cultures, experiencing the food and drink, enjoying the sights and meeting people from all over the world were great experiences. That joy of traveling in our teenage years, never left either of us.
When we met each other and eventually married, Elizabeth and I spent many years hiking together and made plans for a "bucket list" of places we both wanted to visit. But then work intervened and our joy limited because of lack of time! Elizabeth and I held responsible, "corporate" jobs all of our working careers, together with all of the politics that goes with it. Both of us have extensively travelled during our work careers on multiple continents. But traveling for work is a very poor substitute for taking a holiday to the same destination. We also managed bringing up 3 children.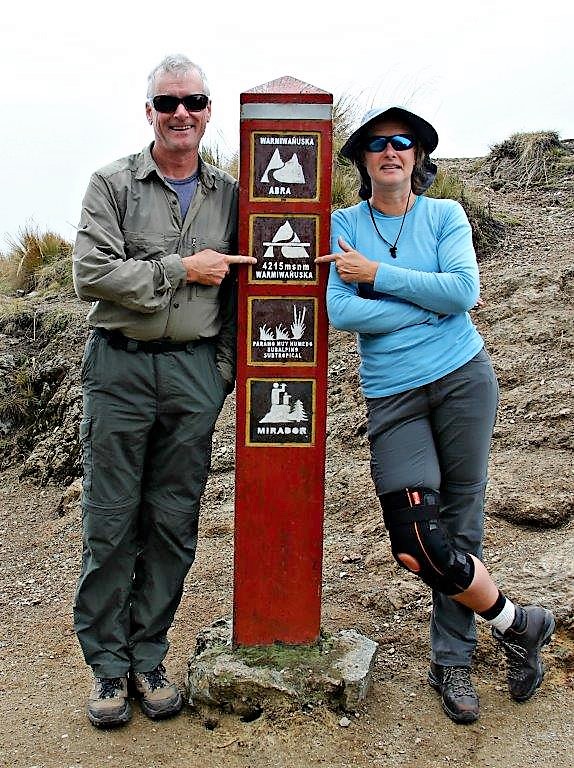 Mark and Elizabeth, at Machu Picchu
Eventually about 6 years ago finding our children off our hands we realized that our "bucket list" hadn't really changed that much since we started working. In other words, too many places to see and foods to eat but not enough time to enjoy going there. Decision: Ditch the corporate lifestyle and spend more time traveling for pleasure! This is something we hear people talk about all the time, but how many people actually do something about it and follow their dreams?
It was a life changing experience. Since then, we have checked off most of the travel destinations and signature hikes, from our early "Bucket List". However, there is no shortage of new destinations to replace those old "bucket list" destinations. So of course, our "bucket list" never gets any smaller. When I look back at our experiences of the last 6 years I just pinch myself.
About 2 years ago we decided to create a website featuring food and travel from different cultures to encourage people to follow their dreams. And so, we created Compass (travel) & Fork (food). Elizabeth tends to look after the travel side and I focus on the food side.

Via Compass & Fork on Instagram
How do you select destinations, and how often do you travel?
In terms of selecting the destinations, our bucket list controls that. We update it at the end of the year, removing those destinations we have visited and adding in new destinations that have come to our attention. We also categorize each of the destinations by cost (High, Medium, Low) and physical degree of difficulty (high, medium, low). For example, hiking Machu Picchu in Peru or Torres del Paine in Patagonian Chile (surely the most stunning scenery anywhere in the world, shown below) can't really be tackled in older age, so we have a bias to tackle those high degree of difficulty bucket list items earlier rather than too late in life. Cost is obviously also a factor.
As to how often we travel, that is more difficult to answer. We live in Australia, so we tend to take multi-month trips. And, we like to travel slowly, so we can experience the true culture of a destination and see what's there outside of the tourist zones, experience the food the locals eat, attend the local markets and so on. We also like to reduce our air travel, so typically we might visit a few adjacent countries. There is no shortage of great places to experience.

When you're home, what types of dishes are your favorites to cook?
I love cooking anything to be honest. Melbourne, Australia is blessed with high-quality food and markets, which I think surprises most non-Australians. It is one of the most multicultural cities in the world and you can find an incredible range of fresh ingredients at the markets. I also like to grow my own vegetables.
I do have a bias towards South East Asian food, Moroccan and Middle Eastern spices, winter braises and anything cooked on the outdoor BBQ or grill. My favorite day is to go early to the Collingwood Children's Farm Market (voted Australia's best Farmer's Market for something like 15 years in a row), enjoy a coffee, take in the stunning setting, see what vegetables and fruit are in season and work a menu out from there. Then in the afternoon, I cook up that evening's meal and might prepare another 1 or 2 for mid-week. To me cooking is relaxing and a mind release. I enjoy it.
As you may have guessed, we love to cook what is in season and to be honest we are not strictly paleo. (We may be a little older than your average contributors). When growing up there wasn't much known about "paleo". We just naturally migrated over the years to cooking with fresh vegetables and high-quality meat and fish, for the superior taste and health benefits. I have also observed over the last 20 odd years how many people have started to become "gluten-intolerant", something unheard of previously. I now have great suspicion about the pesticides and herbicides big business uses to grow grains and cereals and we tend to avoid them unless they are heritage grains or organic.