ready in:
1 hour and 10 minutes
Serves: 8
Thanksgiving Casserole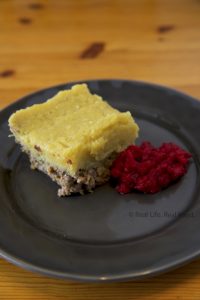 I really love Thanksgiving, and this came out of a casserole evolution I worked on for a couple of months. Once I realized I could make something that would taste like the best parts of Thanksgiving any time I wanted to, I was overjoyed! It's the best combination of stuffing, mashed potatoes, and turkey, and the leftovers make a fantastic breakfast!
cook:
20 minutes per pound
ready in:
25 minutes, plus 20 minutes per pound
Yield:
Thanksgiving Turkey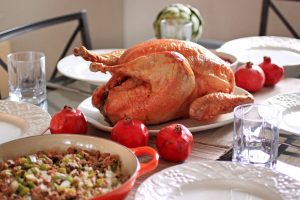 One Dish Fish and Veggie Bake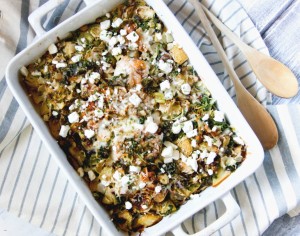 A quick easy bake fish and veggie casserole that is full of flavor! You'll love it the next day too!
Deep Dish Dark Chocolate Cake with Almond Butter Swirl
Paleo Taco Dip
Fun, festive and FREE of dairy, legumes and corn - this is the perfect Paleo Taco Dip to bring to a party or enjoy while watching your favorite game! Can be made as individual servings or one big casserole dish.
Tuscan Chicken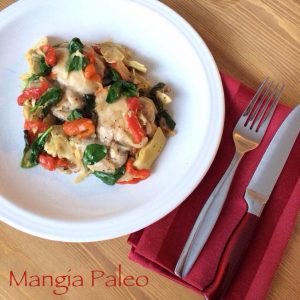 Not only is this dish absolutely delicious, but it's all cooked in ONE skillet! Washing dishes? Aint nobody go time for that. Have you ever ordered a Tuscan Chicken dish at the restaurant claiming when you're there you're family? Well first of all, my family has never made fake Italian food that disgusting before. The Olive Garden is a disgrace. But they do have an item called Tuscan Chicken. It's nothing like a dish you would get in Tuscany and, frankly, it is full of cream and has an identify crisis. Instead, I made a Tuscan Chicken dish that made me think, "damn, I'd order this in a restaurant!".
Spiced Cranberry Relish
This spiced version of cranberry relish is a fantastic side dish for your Thanksgiving meal!
cook:
45 minutes to 1 hour
ready in:
1 hour to 1 hour and 20 minutes
Serves: 8
Carrot Soufflé
Carrot soufflé is a dish always served at Thanksgiving in my family. Always known for her delicious home-cooked meals, my Grandma Jo, graciously handed over her recipe to me, to create in a "paleo way."
Beef with Broccoli
Growing up, we both enjoyed the flavors of Chinese cuisine. This dish brings all those flavors to life, but with a much healthier approach. Simple, bold flavors will make this dish an instant classic in your house.
Pumpkin and Chorizo Soup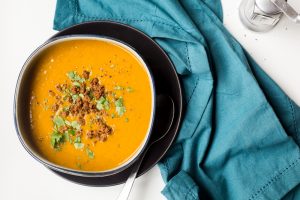 Like many foods we enjoy today, pumpkins are a product of the New World, and entered Europe in the 15th century. Most foods introduced during that time took a while to gain momentum in Europe – sometimes hundreds of years – but not the pumpkin. Because they resembled gourds and squashes common in the Old World, pumpkins were readily adopted and prized for their robust flavor and easy cultivation. It was quickly made into various soups, and mixed with honey and spices as early as the 17th century – a precursor to pumpkin pie. For today's recipe I wanted to keep pumpkin closer to its place of origin – North America – so I decided to focus on a Mexican soup commonly referred to as Sopa de Calabaza, often flavored with cumin and chorizo sausage. I really like the cyclical nature of this dish. Cumin was first cultivated in India and introduced to the Americas by the Portuguese and Spanish. Chorizo is the best of both worlds: Old World sausage flavored with paprika made by New World peppers, and later re-introduced to the Americas. So this dish is the product of the unique culinary marriage of these two continents and cultures. While pre-roasting a whole pumpkin inevitably lends more depth of flavor, using canned pumpkin puree drastically cuts down on your cooking time and effectively turns this dish into a 30-minute meal.