Paleo Thanksgiving Sweet Potato Casserole
cook:
1 hour and 25 minutes
Serves: 9
Paleo Thanksgiving Sweet Potato Casserole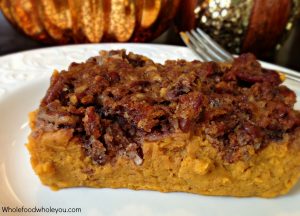 My FAVORITE Thanksgiving side dish growing up was the "sweet potato soufflé". When my mom would ask us what dishes we wanted in the Thanksgiving round-up, I always made sure that was included. So when I decided to re-create the dish, I took a look at the recipe…and saw that it calls for TWO CUPS of sugar (some recipes also call for a marshmallow topping)! No wonder I always liked it! The thing is, you can recreate amazing traditional dishes without using all the fake ingredients and loads of sugar. This delicious side is sure to be a hit at your Thanksgiving Day table (or for any other special occasion)! The maple syrup enhances the natural sweetness of the sweet potatoes, leaving you with a dish that tastes like a treat, but isn't as sugar-laden as the original. …And my favorite part? The slightly caramelized pecans…Mmm! :) Yes, it is possible to have a Paleo Thanksgiving without totally changing the menu. Try this dish out, and let me know what you think!