Scrambled Eggs with Lox and Capers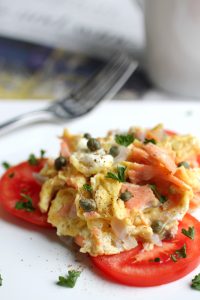 Growing up, my family would often serve lox with bagels and cream cheese at family brunches. This was always a special occasion when family came into town. In my mind, I can still taste the flavors of a toasted bagel topped with cream cheese, lox, red onion, tomato, and capers. For our version of this dish, we replaced the bagel and cream cheese with eggs for an equally delicious and much healthier version.
—Hayley
Cauliflower Couscous (from Make It Paleo 2)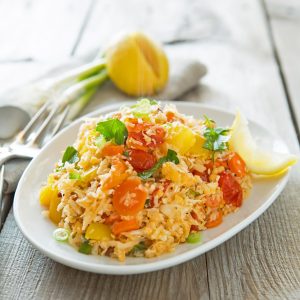 This is another Staley Family favorite recipe, remixed into a grain-free version. The major swap in this dish is replacing all the couscous with riced cauliflower. This summery side dish is the perfect way to utilize fresh, seasonal ingredients in a dish that is light on the palate.
Ginger Lime Green Smoothie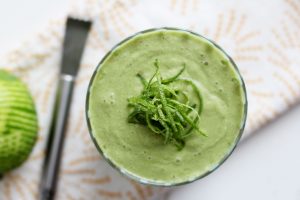 A perfect green smoothie for New Year's Resolutions! I refer to this smoothie as being for the tart of heart. I personally love tartness from citrus and this one has a lot of lime in it. If you are not so tart of heart you may want to put a little less. I find that I really enjoy smoothies that are not fruit forward. Just enough to flavor the drink without causing a major blood sugar crash
Mixed Berry Smoothie Bowl Dessert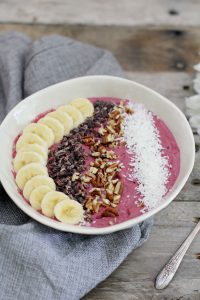 I had a major sweet tooth and it was freakishly hot outside so decided to make a dessert smoothie bowl and it was SO good! I felt like I was eating fro-yo which I haven't had in years so I was pretty excited! I really love how this has no refined or added sugars! It's just mixed berry and banana frozen fruit and delicious toppings. I chose to put cocoa nibs on top so satisfy my chocolate chip craving. Even though I have added chocolate chips and cocoa nibs and that is pure magic! Frozen fruit lends the best texture for these smoothie bowls because you want it to be thick. I have a blendtec and it definitely gives it a run for its money. I would recommend starting with less liquid and adding as you go. Feel free to add your favorite fruits and toppings and enjoy this delicious fro-yo style smoothie bowl!