cook:
45 minutes to 1 hour
ready in:
1 hour to 1 hour and 20 minutes
Serves: 8
Carrot Soufflé
Carrot soufflé is a dish always served at Thanksgiving in my family. Always known for her delicious home-cooked meals, my Grandma Jo, graciously handed over her recipe to me, to create in a "paleo way."
Souffle Spice Pancakes
Flourless pancakes made with squash and almond butter. Light and fluffy centers with crispy edges. Delicious with butter and real maple syrup!
cook:
45 minutes to 1 hour
ready in:
1 hour to 1 hour and 20 minutes
Serves: 8
Carrot Soufflé Revisited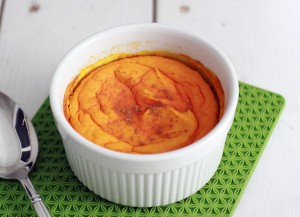 Scrambled Eggs with Lox and Capers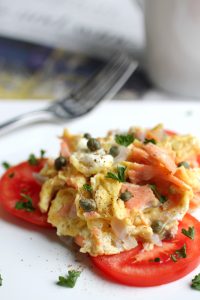 Growing up, my family would often serve lox with bagels and cream cheese at family brunches. This was always a special occasion when family came into town. In my mind, I can still taste the flavors of a toasted bagel topped with cream cheese, lox, red onion, tomato, and capers. For our version of this dish, we replaced the bagel and cream cheese with eggs for an equally delicious and much healthier version.
—Hayley
Winter Squash Souffle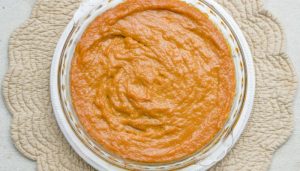 This fall-flavored soufflé is a personal weakness of mine… Once I start eating it, it's hard for me to stop!
Strawberry Tartlets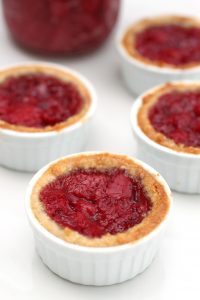 These strawberry tartlets are like a perfect miniature serving of strawberry pie. For these pretty pink fruit tarts, we used a cookie dough crust to hold a few spoonfuls of our fresh strawberry preserves.
Crab-Stuffed Salmon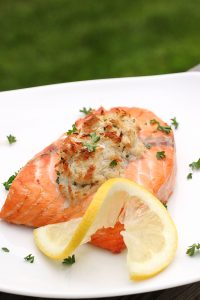 This dish is inspired by a creation of my sister Nellie and her husband, Chris. According to Nellie, "as long as we've been together, whenever Chris wanted to make a nice meal for me, it was always crab-stuffed salmon. To this day, it is still a go-to recipe if we want to treat ourselves."
ready in:
2 hours to 3 hours
Serves: 8
Rosemary Roasted Turkey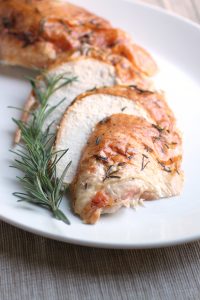 A holiday feast wouldn't be complete without a golden roasted turkey. Rosemary is our first choice when enhancing the flavor of poultry, and it fills the home with a wonderful aroma during cooking. This recipe is one to enjoy with your entire family or loved ones for any holiday.