ready in:
2 hours and 30 minutes
Serves: 6
Lemon and Herb Roasted Chicken with Winter Root Veggies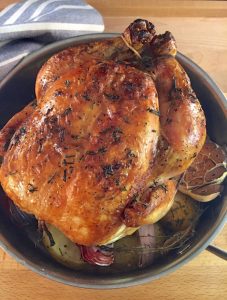 Flavorful roasted chicken with very simple ingredients and seasonal veggies. Cooked all at once in one pan the chicken rests atop the roasting vegetables for an hour and a half and served after a brief rest under a tin foil tent. Moist, lemony, buttery goodness and best of all, easy to make!
ready in:
1 hour and 15 minutes
Serves: 4
Grilled Cilantro Chicken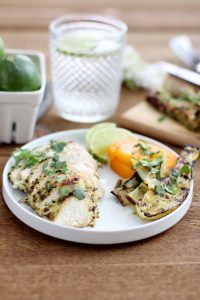 I promise I do use other herbs than cilantro. I am really sorry if you are one of those people who genetically hate cilantro because it tastes like soap. This has been one of my favorite ways to make grilled chicken for a long time. I am not really sure why it has taken me so long to post the recipe for it. It is super simple and always a huge hit for a crowd. You can easily double this recipe and grill a bunch of chicken for a BBQ or if you just want to eat a lot of chicken. I prefer to grill this recipe because the flavor really shines. You can also pan fry it if you don't have a grill. I find that it usually takes long to cook on a stove (or maybe my stove stinks). This chicken is great by itself or served on top of a salad, cauliflower rice or with a bunch of super fresh summer salsa.
Blood Orange and Cumin Roasted Chicken Legs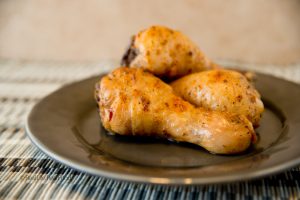 Roasted chicken legs marinated in a blood orange and cumin marinated with just a hint of chipotle for some heat!
Roasted Tomatillo Avocado Chicken Salad
An easy and flavor packed alternative to a mayonnaise based chicken salad. Perfect for summer meals or as dip to bring to parties.
Roasted Red Pepper Chicken Mini Pizzas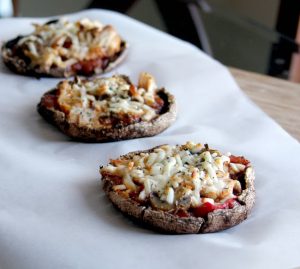 Why not use portobello mushroom caps as bases for these delicious chicken mini pizzas!
Slow Roasted Chicken Legs with Sun Dried Tomatoes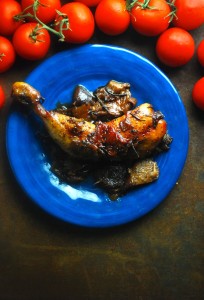 Delicious comfort food! Loving this chicken with sun dried tomatoes and wild mushrooms. One pot meal that cooks all day over low heat
Autoimmune Paleo Creamy Lemon Chicken Kale Soup
An easy crockpot Autoimmune Paleo recipe that is coconut free
ready in:
1 hour and 20 minutes
Serves: 6
Thomas Keller's easy roast chicken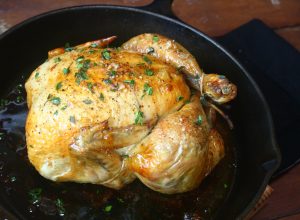 I feel that everyone should learn to roast a perfect bird. In this following recipe based on a recipe from the great chef Thomas Keller, anyone can. I didn't believe it could be so easy and good till I tried it and I'm a devotee! Stretch your wings and learn how to trust a chicken for this recipe. It's not hard and there is a very simple You Tube video that will show you how if you search for "How to truss a chicken." Use kitchen twine available at almost any store. Make this as a lovely spring Sunday dinner and your status will be elevated to super chicken.
Slow Cooker Butter Chicken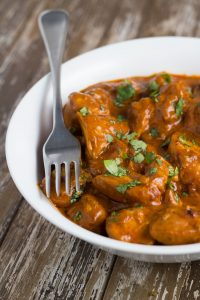 A long, long time ago, I used to eat out and get takeaway a few times a week. I did love to cook, but when I was getting home late from work, it was easy just to buy dinner. When we would eat at an Indian restaurant (or get Indian takeaway), I would order one of two dishes - Butter Chicken or Chicken Tikka Masala. If I ever made one of these dishes at home, it would usually be from a jar. These days I like to know what goes in to the meals that my family eats - and this means fresh, whole foods and a variety of herbs and spices - no numbers, and no crap. I have made Butter Chicken several times before from scratch, but never using a slow cooker. Seriously, why did I not have one of these babies before!! Cooking is so easy when you use a slow cooker (easy enough that you don't need to settle for takeaway, so long as you plan a little bit ahead) and the results are fantastic. If you are cooking meat, it is always really tender or falling off the bone, depending on what cut of meat you are cooking. This version of Butter Chicken is delicious, healthy and so easy to prepare. I would have to say it is in my top four slow-cooker meals, along with my Slow Cooker Cashew Chicken, Slow Cooker Lamb Shanks and Slow Cooker Osso Bucco.
cook:
15 minutes to 25 minutes
ready in:
25 minutes to 35 minutes
Serves: 2
Grilled Split Chicken Breasts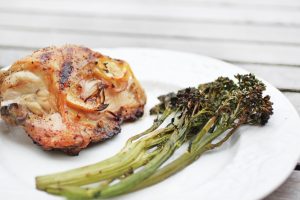 Lemon and garlic are classic flavors often paired with chicken. For this dish, the lemon and garlic, along with the shallot, infuse the chicken under the skin, resulting in wonderful flavor, all tucked under crispy grilled skin.