ready in:
2 hours and 30 minutes
Serves: 6
Lemon and Herb Roasted Chicken with Winter Root Veggies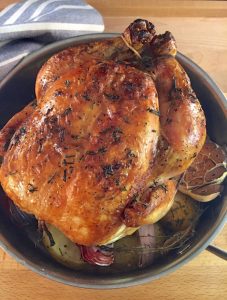 Flavorful roasted chicken with very simple ingredients and seasonal veggies. Cooked all at once in one pan the chicken rests atop the roasting vegetables for an hour and a half and served after a brief rest under a tin foil tent. Moist, lemony, buttery goodness and best of all, easy to make!
Blood Orange and Cumin Roasted Chicken Legs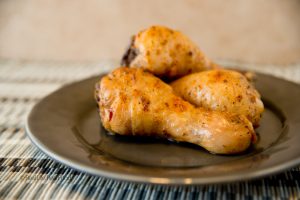 Roasted chicken legs marinated in a blood orange and cumin marinated with just a hint of chipotle for some heat!
Slow Roasted Chicken Legs with Sun Dried Tomatoes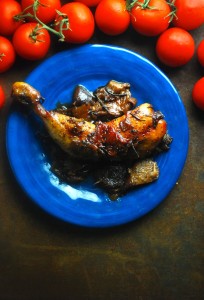 Delicious comfort food! Loving this chicken with sun dried tomatoes and wild mushrooms. One pot meal that cooks all day over low heat
Roasted Red Pepper Chicken Mini Pizzas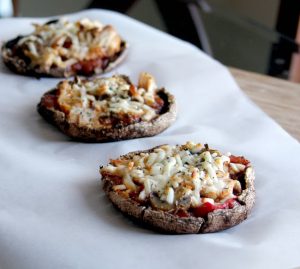 Why not use portobello mushroom caps as bases for these delicious chicken mini pizzas!
Roasted Tomatillo Avocado Chicken Salad
An easy and flavor packed alternative to a mayonnaise based chicken salad. Perfect for summer meals or as dip to bring to parties.
Autoimmune Paleo Creamy Lemon Chicken Kale Soup
An easy crockpot Autoimmune Paleo recipe that is coconut free
Slow Cooker Butter Chicken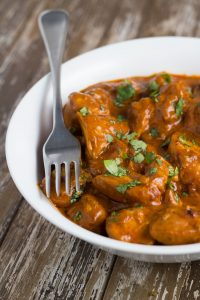 A long, long time ago, I used to eat out and get takeaway a few times a week. I did love to cook, but when I was getting home late from work, it was easy just to buy dinner. When we would eat at an Indian restaurant (or get Indian takeaway), I would order one of two dishes - Butter Chicken or Chicken Tikka Masala. If I ever made one of these dishes at home, it would usually be from a jar. These days I like to know what goes in to the meals that my family eats - and this means fresh, whole foods and a variety of herbs and spices - no numbers, and no crap. I have made Butter Chicken several times before from scratch, but never using a slow cooker. Seriously, why did I not have one of these babies before!! Cooking is so easy when you use a slow cooker (easy enough that you don't need to settle for takeaway, so long as you plan a little bit ahead) and the results are fantastic. If you are cooking meat, it is always really tender or falling off the bone, depending on what cut of meat you are cooking. This version of Butter Chicken is delicious, healthy and so easy to prepare. I would have to say it is in my top four slow-cooker meals, along with my Slow Cooker Cashew Chicken, Slow Cooker Lamb Shanks and Slow Cooker Osso Bucco.
cook:
15 minutes to 25 minutes
ready in:
25 minutes to 35 minutes
Serves: 2
Grilled Split Chicken Breasts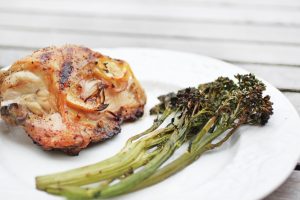 Lemon and garlic are classic flavors often paired with chicken. For this dish, the lemon and garlic, along with the shallot, infuse the chicken under the skin, resulting in wonderful flavor, all tucked under crispy grilled skin.
Paleo Cauliflower Chicken Chowder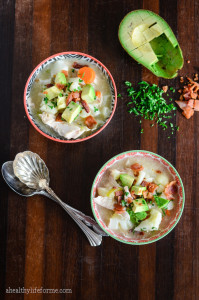 Paleo Cauliflower Chicken Chowder is unbelievably good and good for you, gluten free, grain free, dairy free, and soy free. You will be amazed at how hearty flavorful and satisfying this chowder is, and it is super easy to pull together. Use a Cooked Organic rotisserie chicken from your local store to cut down on cook time. If you want to keep this vegetarian, skip adding the chicken the chowder.
Spicy Chicken Thighs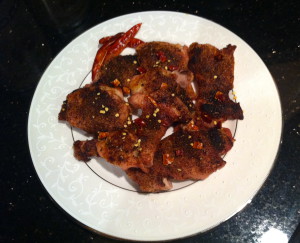 This spicy chicken dish goes well with, just about any side. You can grill it or bake it on a rack. I recommend using boneless, skinless chicken thighs as there is something very flavorful about darker meat when cooked in its own juices, but you can use any part of the chicken you like. It's both healthy and delicious, easy to make, and requires very little prep time. You'll find yourself making this recipe often.