Raw Chocolate Mousse Brownie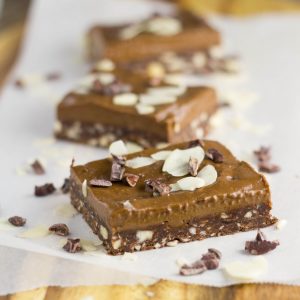 My love affair with raw treats continues this week and I am sure this slice will impress you. I decided to combine two of my recipes - the base layer of my Raw Peppermint Slice with a top layer of my Easy Chocolate Mousse, and I came up with this Raw Chocolate Mousse Brownie. This slice is pure chocolate heaven and you don't have to feel guilty if you decide to eat an extra piece, which just might happen! This slice in particular is packed full of healthy ingredients, including banana, avocado, medjool dates, raw almonds, coconut oil, cacao powder and raw honey. If you are vegan, you can substitute the honey with organic maple syrup, it will still taste amazing.
Raw Peach & Macadamia Cream Tart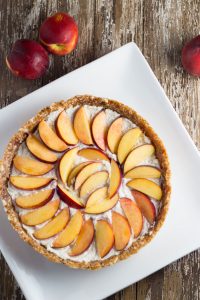 I have combined some of the elements from my Raw Lemon Tart and Raw Carrot Cake with one of my favourite summer fruits, peaches. This recipe suggests using cling wrap when preparing the base, as it makes life a whole lot easier. However, if you are trying to avoid plastic, then you can press the mixture straight into the tart pan (or pie dish). You may find it harder to remove the base this way, so you may need to serve it from the pan. I also found that the base is quite soft and is best kept in the freezer. You may want to divide the recipe over two smaller tart pans as would keep the base a little firmer that way
Raw Caramel Macadamia Bliss Balls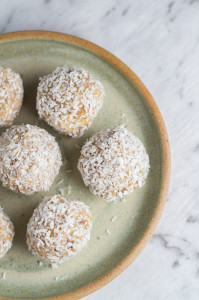 Today's recipe, Raw Caramel Macadamia Bliss Balls, is an adaption of my popular Raw Caramel Slice recipe – one of the first recipes I shared on Becomingness, nearly 12 months ago. It is still my favourite dessert recipe and I wondered if it work as a bliss ball. I was really happy with the results – I may even prefer it to the original, as you still get the amazing caramel flavour, but in a easier to make recipe. You can't go wrong with that!
Raw Strawberry, Lemon & Macadamia Cheesecake
This Raw Strawberry, Lemon & Macadamia Cheesecake is one of the very first raw desserts that I have ever made and have since made several times for friends and family. So it was only fitting that it has ended up as a dessert in my first ever mini eCookbook. It tastes amazing, will really wow your guests, and best of all is suitable for paleo, vegan, primal, clean eating, gluten free, dairy free & egg free diets.
Sweet Potato Skillet Bread with Cinnamon Pecans and Honey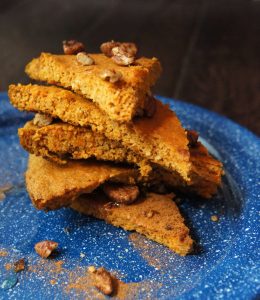 Some foods are cozy and comfortable whether you grew up with them or not. Avgolemono soup, cashews, and winter squash make my short list of "new" comfort foods. A few things immediately come to mind when I think of what comfort food used to mean to me: microwaved zucchini with garlic salt, creamy chicken over rice, dad's fried rice, and marshmallows. Not much overlap, is there? Zucchini is still one of my favorite vegetables, but I can't remember the last time I microwaved it, or had creamy chicken over rice. Some days you just want your food to make you feel cozy from the inside out. This bread does exactly that. It sends cinnamon aromas through the kitchen, swirled with scents of nutty toasted pecan and sweet bread. You start to feel cozy even before it's out of the oven. Still warm, butter and honey melt over slices of this bread with ease. That's the real secret: melty butter and sticky honey. It doesn't matter if this is the first time you've had a bread made of sweet potatoes. There's something about this home-style bread that wraps you up in a blanket and takes you home. This rustic skillet bread will be on your list of "new comforts" soon. Very soon. How could a single slice that marries cinnamon-roll smells and pecan-pie flavors not make your list? Paleo bread made from sweet potatoes and almond flour! Topping with cinnamon pecans. My one regret: cooked in a 10-inch cast iron skillet, this bread comes out thin, like a flat bread. This is great for optimizing the pecan-topping to bread ratio, but I found myself wishing the bread was a tad thicker. I foresee some kitchen experiments in my future.
Raw Caramel Slice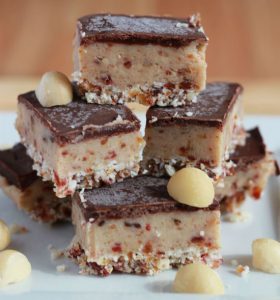 There are not too many words that need to be said about Raw Caramel Slice. It is delicious and is a wow factor dessert and best of all is packed full of healthy ingredients.
Raw Apple and Cinnamon Bars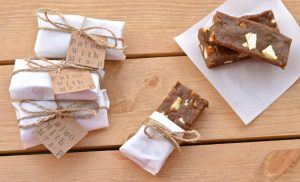 These raw bars are so simple to make, last for ages and are always handbag / manbag ready! Perfect for munching on the go, for kids lunch boxes, for taking on the plane, pre/post gym session or just curled up on the sofa with a purring cat watching a good boxset (where you are most likely to find me).
Raw Lemon Tart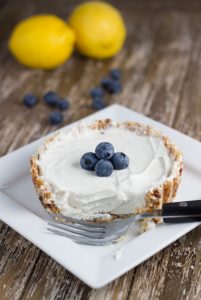 I recently asked the Becomingness tribe which desserts they would like to see me (re)create next. One of the requests was a Raw Lemon Tart. So I got cooking, and here it is! I have to say this, dessert is pretty damn good. It did take me a few attempts and a few adjustments to perfect it, but I am really happy with the result. On my first attempt I did not use cling wrap and then base stuck to the tart pans, I also did not use macadamias in the lemon cream. All part of the (still very tasty) learning process! The bases will soften once you add the cream mixture, so I suggest only removing the bases from the tarts shells and adding the lemon cream, once you are ready to serve.
Paleo Raw Oysters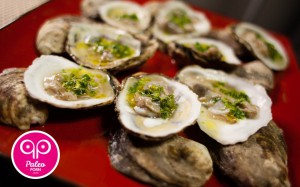 For an appetizer that is both elegant and simple, this raw oysters recipe is a winner.
French Apple Tarte (grain free)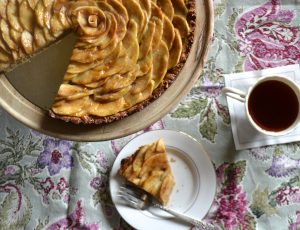 This "French Apple Tarte" is inspired by all the beautiful and pastry filled bakeries I gawked at, while in Paris. This tarte makes the perfect easy and elegant dessert to share with your friends and family; and it's gluten free, grain free, paleo, and oh so fun to make and of course eat too! Enjoy!