Espelette Chili Sirloin Steak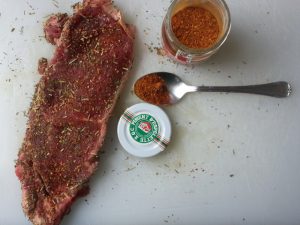 Sometimes there's nothing better than a well-seasoned steak. Espelette chili is a small and flavorful chili pepper from the South of France. Recipe with step by step guidelines to cook the perfect steak!
Asian Steak Salad
When it comes to steak, I usually just want a good grilled rib eye with just a pinch of salt on it. Not so with this tasty steak salad. The marinade for the steak imparts incredible flavor, so to me, the salad is simply a bonus on top of an amazing steak dish.
Gluten Free Steak Salad Flatbread
Making a meal gluten free can be simple and delicious! All you need are the right ingredients. Our favorite "fit and healthy" recipe trick is to use gluten free pizza crust to create a delicious steak and salad flatbread. It's simple, effortless, and ready in 15 minutes.
prep:
1 hour and 15 minutes
Serves: 6
Salad-e Shirazi (Chilled Tomato and Cucumber Salad)
Salad-e Shirazi is a chilled salad of tomato, cucumber, onion and mint dressed in olive oil and fresh lime juice. I read it's often enjoyed in summer time in Iran, and while it is far from summer here in Minnesota, we always enjoy a refreshing salad with a meal. It's similar to a cucumber salsa I often make in the summer when the cucumbers are taking over the garden, and you might find it similar to something you already enjoy as well.
Spanish Steak Salad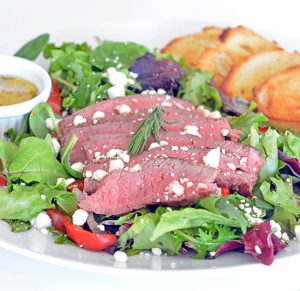 Easy Spanish Steak Salad perfect for the summer! Enjoy it warm or cold. No oven needed, just slap it on the grill.
Sesame-Ginger Flank Steak Salad
The easiest way to add new flavors to salads, is to combine roasted vegetables with raw ones. Here, grilled asparagus and seared flank steak are combined with fresh spring greens, adding a whole variety of textures to the dish.
Balsamic Flank Steak Salad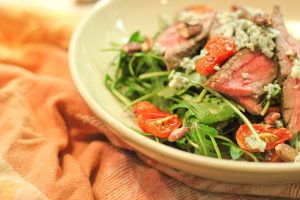 Flank Steak with Chimichurri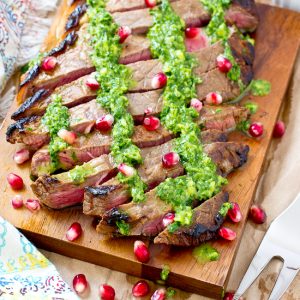 This beautiful steak is deceptively easy & tastes fantastic with simple homemade chimichurri. It's a restaurant-style meal at home!
Greek Cauliflower Salad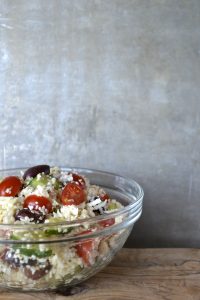 This salad was inspired by a Greek quinoa salad my mom used to make, but I used cauliflower and one of my favorite super foods to make it grain free! You can even add some feta cheese if you want, but this salad is so flavorful you don't even need it! Did I mention it is super easy to make, and super delicious too!
Broccoli Cauliflower Salad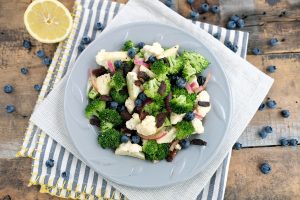 Do you ever find yourself wanting a salad, but don't feel like having the same old greens and dressing? If so, this broccoli cauliflower salad could be just what you are looking for on those days when you want to be healthy and have a salad, but also feel like mixing it up a bit. Plus, this salad has bacon in it. Enough said.